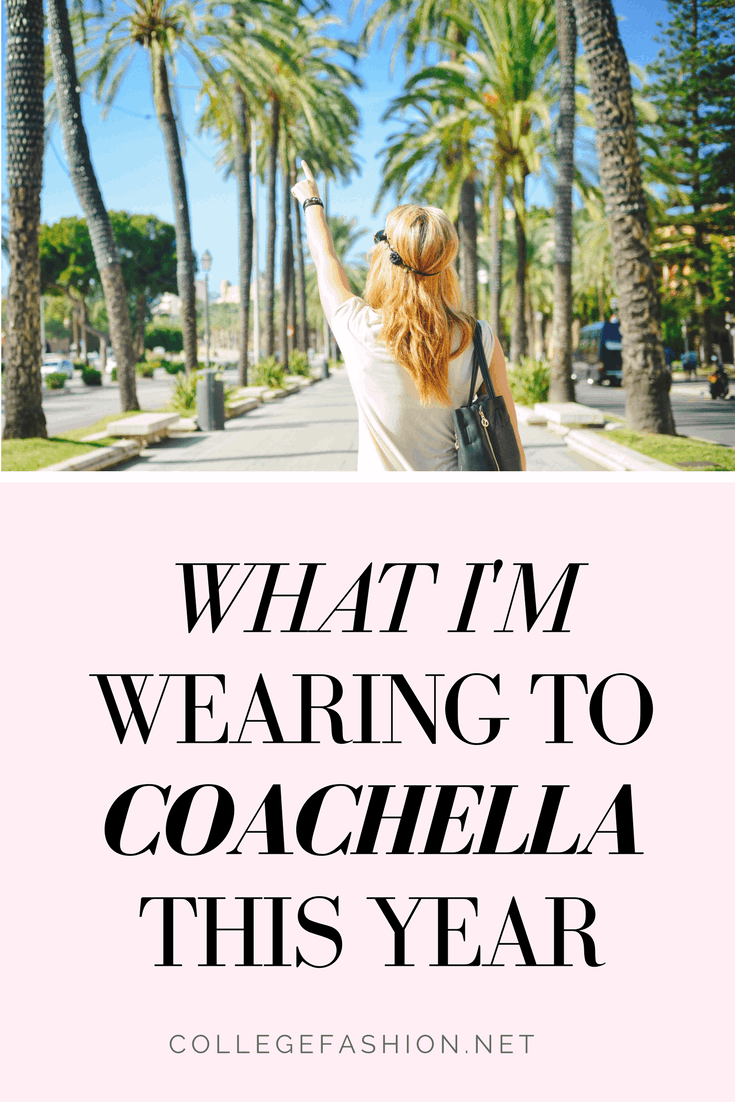 In April I will be attending Coachella for the very first time in my life. As exciting as it sounds, it is also rather intimidating. So many people are Coachella regulars. They know what to expect, what to pack, and what to wear.
I'm totally lost on what I should wear, so naturally I've taken to the internet for advice. Most of what's out there for music festivals isn't really my style so I've compiled all of the tips I've found into the following outfits I'd actually wear to Coachella. I figured I wasn't the only one who might be at a loss on what to wear so if you'd like, continue scrolling for some Coachella-approved fashion that won't break your bank.
Without further ado, here are some outfits I'd totally wear to Coachella this year:
Coachella Outfit 1
It's hot in California and, newsflash, it's even hotter in the desert. (I am definitely not looking forward to that at all.)
I'm not usually one to show a lot of skin, but I'll be pulling all the spaghetti straps I have and packing them in my suitcase. High-waisted, cutoff shorts are my favorite summer staple and are perfect for that "not trying too hard" look.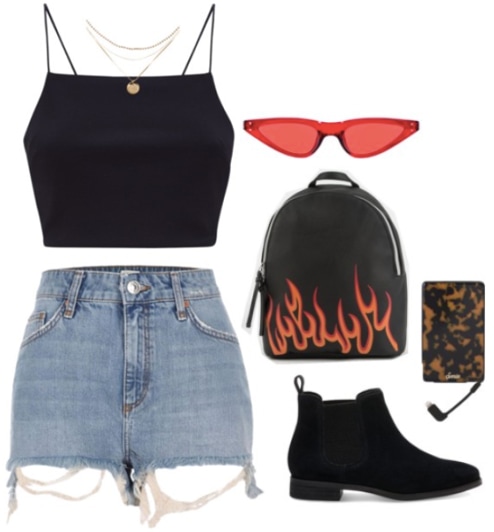 Products: Shorts – River Island, Top – Newlook, Shoes – Toms, Backpack – Tilly's, Sunglasses – Genuine People, Portable charger – Bloomingdale's, Necklace – H&M
Coachella Outfit 2
If you can't fathom denim shorts at Coachella and you want your dress to flow in the wind, then this look is perfect for you. I might pack a dress or two. In case you weren't aware, I overpack for everything. Don't you? I've also been living for this color lately — it's so pretty for spring!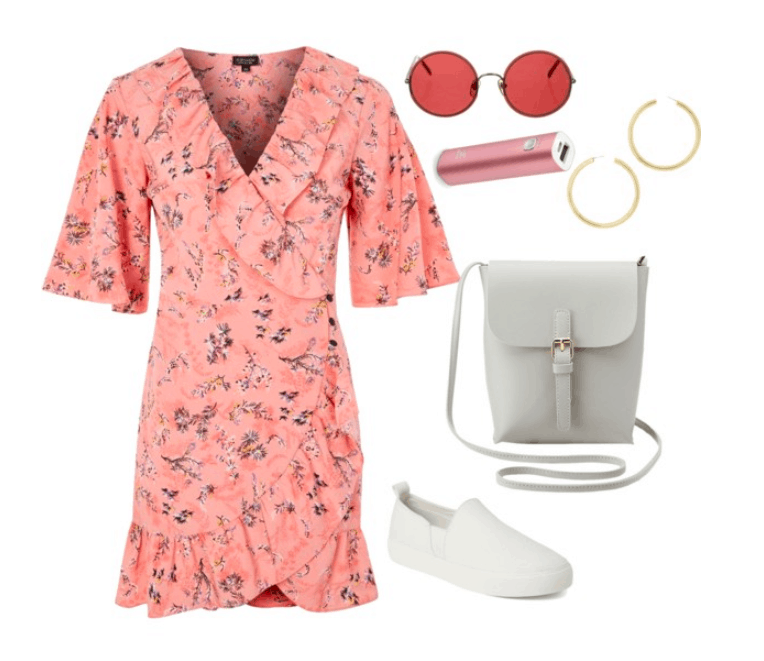 Products: Dress – Topshop, Shoes – Gap, Purse – Charlotte Russe, Sunglasses – The Real Real, Portable charger – Amazon, Earrings – Bloomingdale's
Coachella Outfit 3
Before you attack me about the heat, let me say that I have seen people wear jeans to Coachella before. My old roommate did last year.
In my defense, these are super wide leg jeans and I'm sure they catch a breeze unlike super skinny jeans. I'm not gonna lie, I planned this entire outfit around the waist wallet I included. I saw it when I was scrolling Polyvore and knew it was necessary.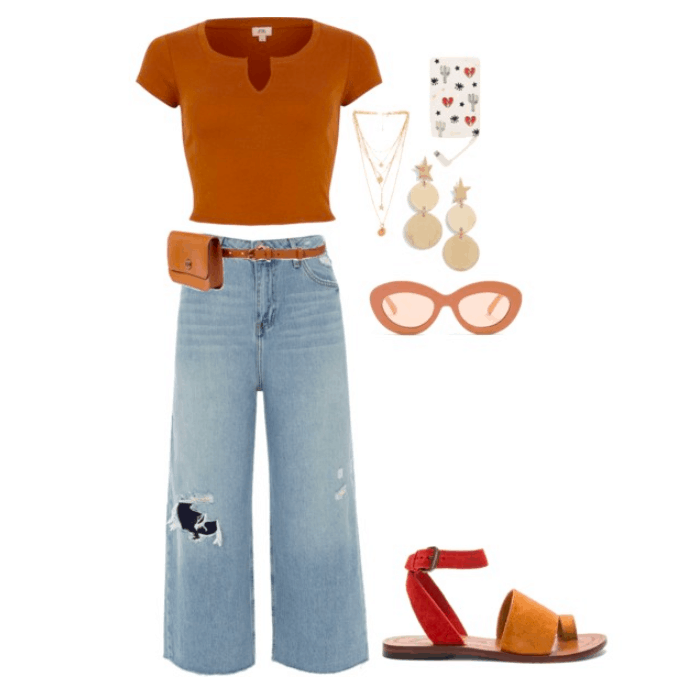 Products: Jeans – River Island, Top – River Island, Shoes – Revolve, Belt Bag – Macy's, Sunglasses – Matches Fashion, Necklace – Revolve, Earrings – Nordstrom, Portable charger – Saks Fifth Avenue
Coachella Outfit 4
I know, I know — some of you will be annoyed that I added a bodysuit to this post. Indeed, they're not the easiest to use the restroom in, but some bodysuits do have snaps or buttons on the bottom. And they look so sleek under your outfits, so for me, they're a "do".
I love this style of shorts in hot weather, they're so light and breezy. Perfect for those of you who aren't a fan of denim shorts constricting you.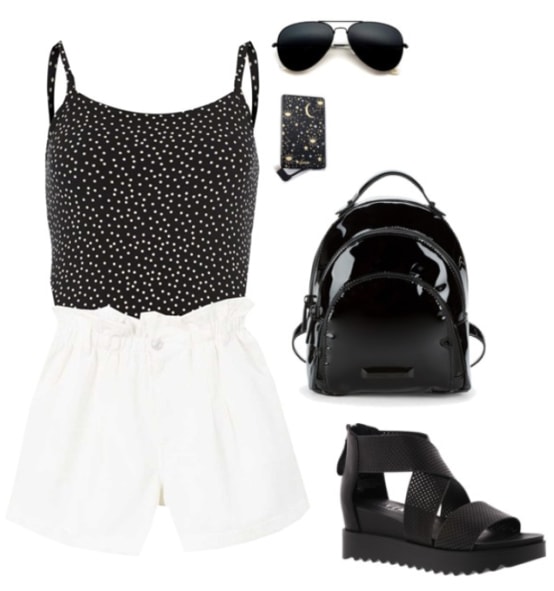 Products: Bodysuit – River Island, Shorts – Mango, Shoes – Shoemall, Backpack – Saks off Fifth, Sunglasses – Popmap, Portable charger – Lulu's
Coachella Outfit 5
Another super light and airy dress. This has so many layering possibilities when it comes to jackets or layering tanks/t-shirts underneath so you can definitely tailor this to your personal style.
I finished this look with blush/rose gold accessories. Blush is such a popular color this season and I love it paired with basic black.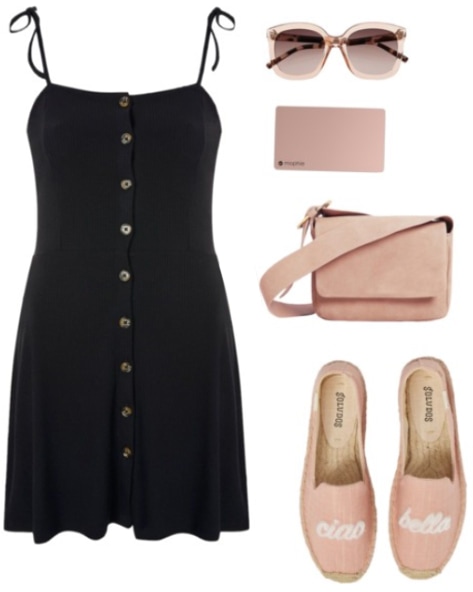 Products: Dress – Topshop, Shoes – Nordstrom, Purse – Mango, Sunglasses – Witchery, Portable charger – Best Buy
What will you be wearing to Coachella?
I hope I was able to provide some inspiration for all of you. I know I definitely did for myself.
Those of you that have been to Coachella before, do you have any recommendations? It doesn't have to be about just the outfits. Anything you can offer is greatly appreciated. Let us know in the comments!