This post may contain affiliate links, which means we may receive a commission if you purchase through our links. Please
read our full disclosure here
.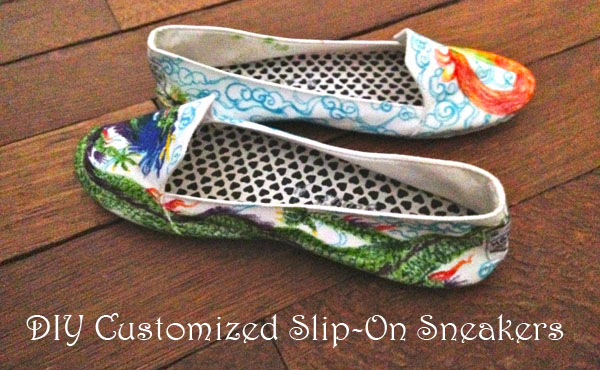 I don't normally wear flat shoes, but when I do, they're DIY.
But in all honesty, since I'm 5-feet tall, not wearing heels usually results it my friends losing me in a crowd. (Yes, it has happened before.) However, heels were no longer an option as soon as I landed in Paris, land of old, historical cobblestone streets.
In anticipation of this, I had bought a pair of inexpensive slip-on sneakers prior to departure, but their plain boring selves basically were asking to be DIYed. And so I did.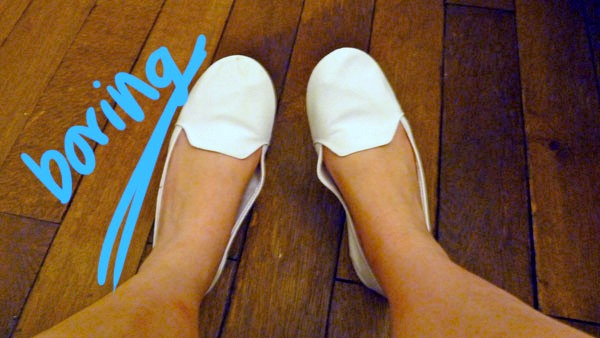 My design is inspired by my stay in China, but this technique works no matter what your artistic level. Here are some other trendy ideas that might help spark your creative juices: cat flats, flamingo print, pineapples and other fruits, animal prints, like zebra or leopard – the list goes on. The beauty of this DIY is that you can create whatever you'd like!
Read on for step-by-step instructions on how to make your ownone-of a-kind, customized slip-on sneakers:
Materials
Plain white, slip-on sneakers (Not your style? Any sort of canvas material-like shoes work.)
Markers (but if you prefer fabric pens, paint, etc… those work, too!)
Pencil and paper
Step One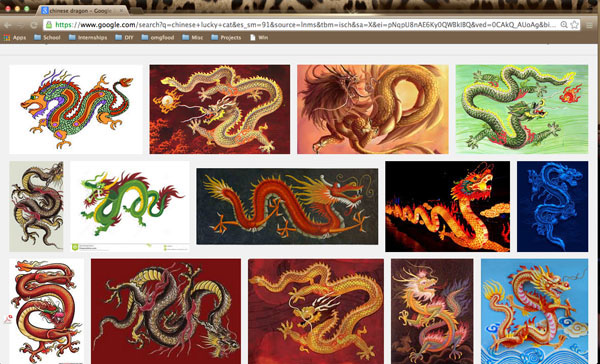 Find inspiration and do "research." Experienced artists have a large "reference libraries," which is just a fancy way of saying they have seen a lot of source material to base their art off of. Though creating art from scratch looks daunting, it's not that much different than analyzing what the latest fashion trends are: both require one to notice certain patterns and motifs that are repeated.
For example, I noticed in my research that all Chinese dragons have a long, serpentine body, antlers, and so on. This is also true for something as simple as a cat: they all have triangle shaped ears, an upside-down triangle nose, a "3" shaped mouth, etc.; differences arise in proportions and each individual artist's style.
Step Two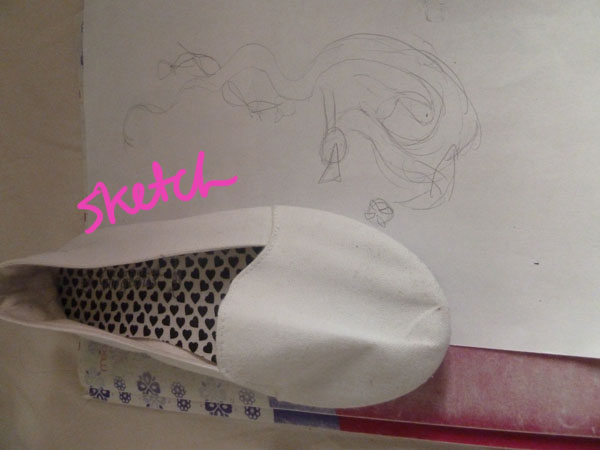 Plan ahead! Sketch out the basic outline of your design onto a piece of paper, staying close to the "true size" that it will be when placed on the shoe. It helps to break complicated images down into simple lines and shapes, like I did above.
Step Three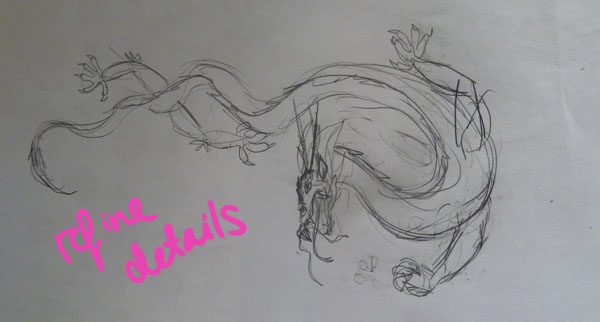 Refine your sketch by adding in small details and writing down whatever notes you may need later. This is also a good time to plan out your colors.
Step Four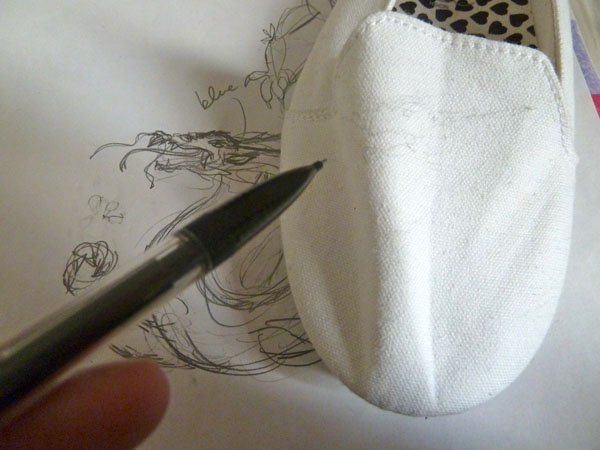 Lightly trace your design onto your shoe, using your sketch as a guide. Faithfully transferring designs is a tad tricky for those not formally trained in art, but a good tip would be to measure out how big certain details of the sketch are, and then measure and mark those same details on the shoe.
Step Five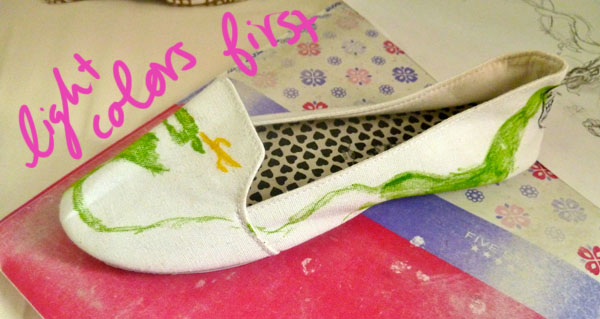 Place the lighter colors first. Quick coloring tip: use the tip of the marker to first draw out the outline, and then use the side of the marker to quickly place the color, making sure to color in the same direction of the outline.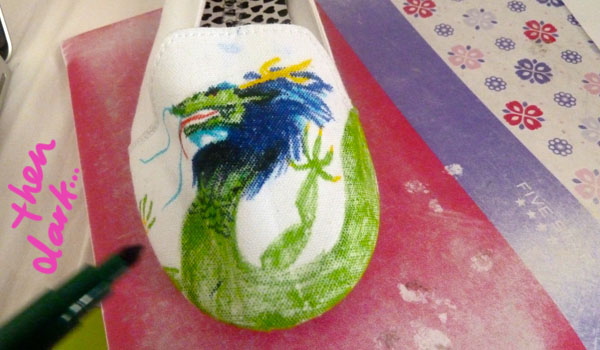 After you've added the lighter colors, place any darker colors on top.
Step Six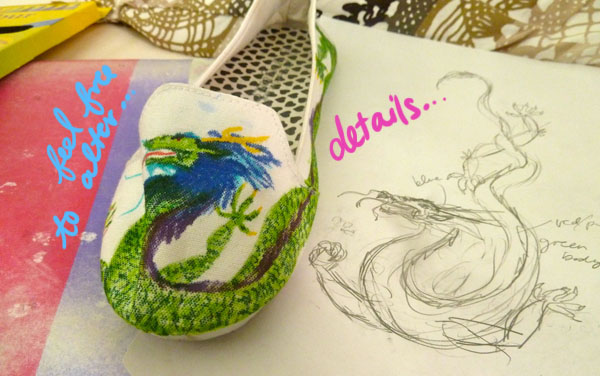 Add in additional details. Don't feel restricted by your sketch, and feel free to alter, since the creative process never ends! I ended up changing the position of the legs, and made the dragon's head more dramatic.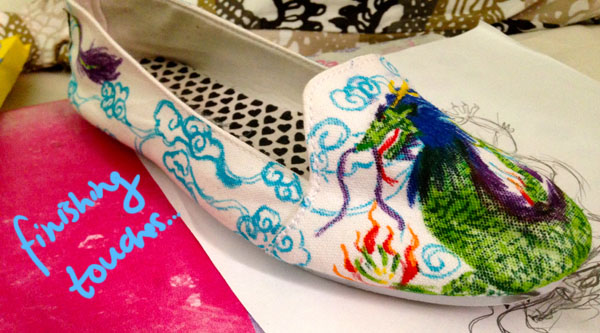 Make sure to go back to your design and add finishing touches; I drew on Chinese style clouds and added fire. I also touched up on some shading and added more depth onto the dragon. And of course, remember to repeat the process on the other shoe!
Feedback please:
Would you personalize plain shoes by doodling on them? Is this DIY tutorial helpful? Are there any other DIYs you would like to see the tutorials for? Let me know in the comments!