This post will show you 25 cute outfit ideas for women for every season and occasion.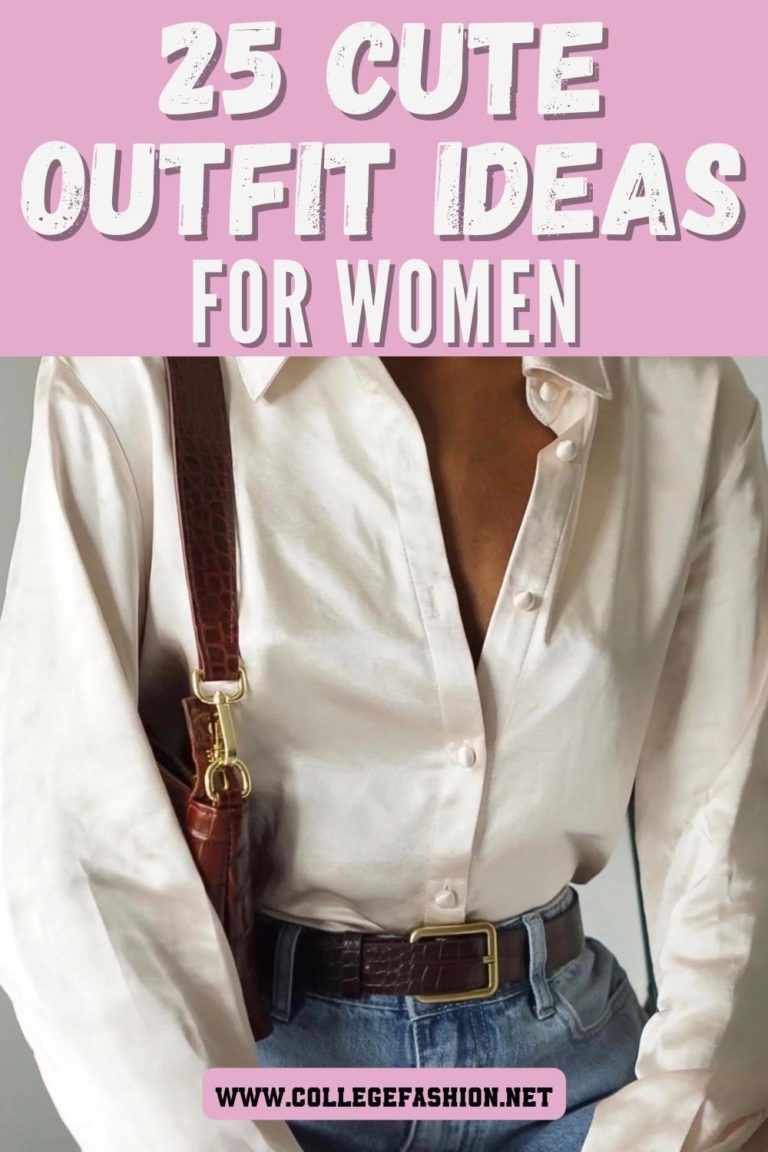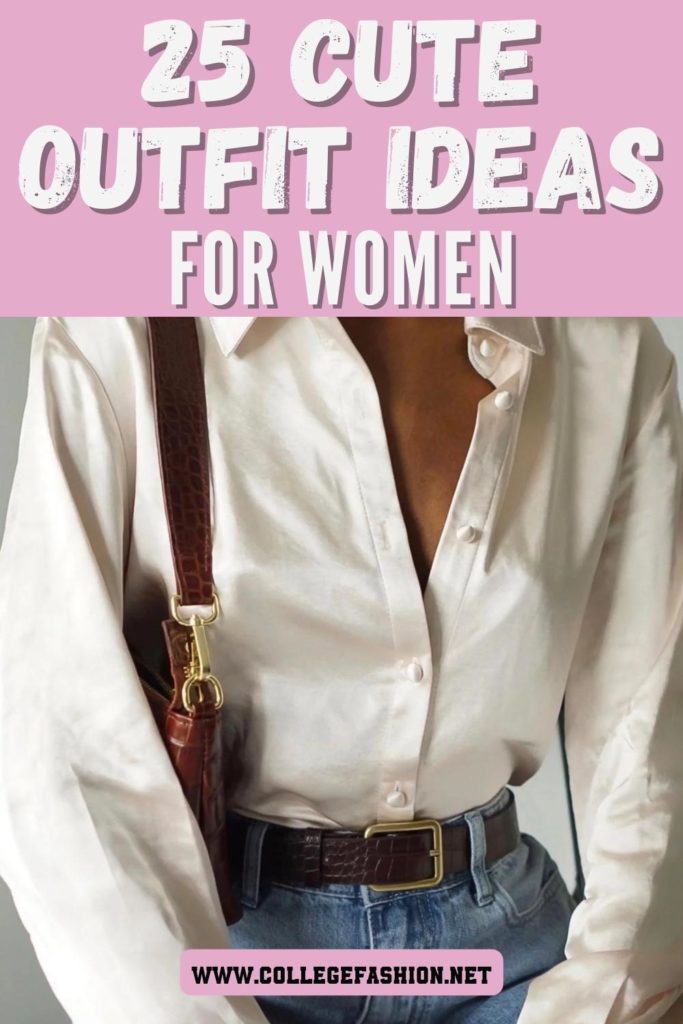 If there's one goal I am almost always trying to achieve when getting dressed, it's looking cute. But coming up with cute outfits day in and day out can get tricky at times… sometimes, you just run out of outfit inspo. That's why I've compiled 25 cute outfit ideas for women that you can refer back to anytime you're out of outfit ideas –– no matter the season or occasion!
In this post, you'll find outfit ideas for summer, fall, winter, and spring, along with everyday outfits, brunch outfits, and date night outfits.
Be sure to bookmark this post so that you can come back to it anytime you're feeling stuck in a style rut, or want to spruce up your wardrobe with some versatile new items.
Related reading: Casual College Outfits: 10 Laid-Back Looks Perfect for Campus
Cute Summer Outfit Ideas
Trying to beat the heat while still looking cute can be a challenge, but these summer outfit ideas will help you do both with ease.
1. Jean Shorts & A Crop Top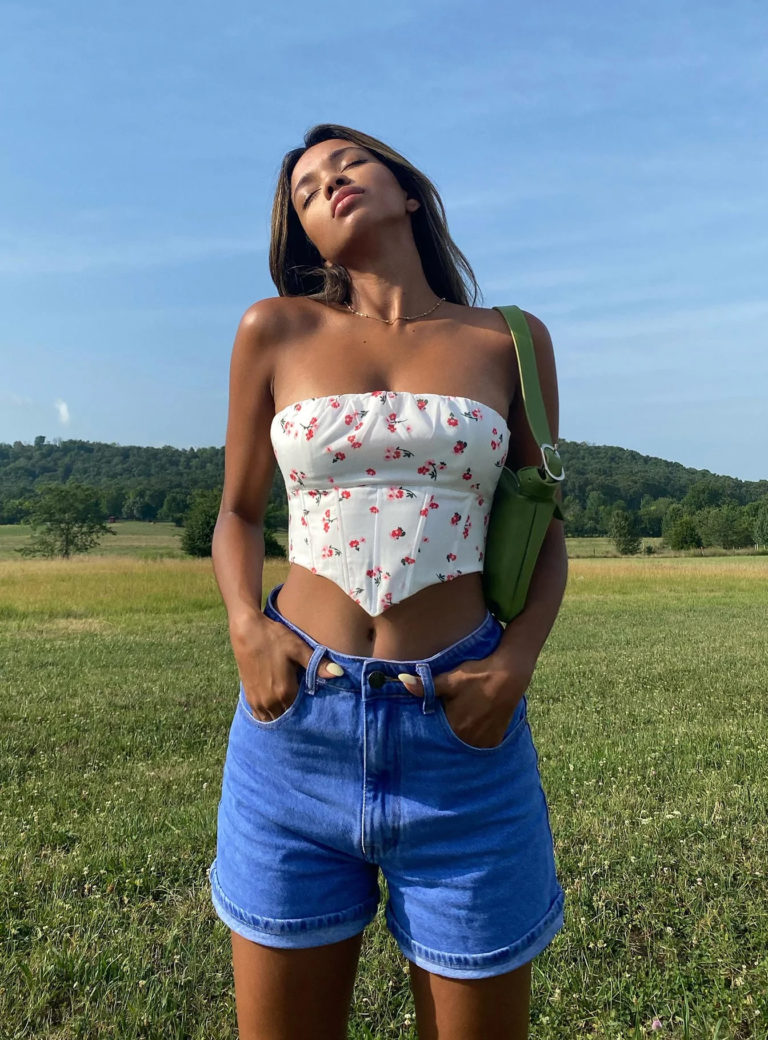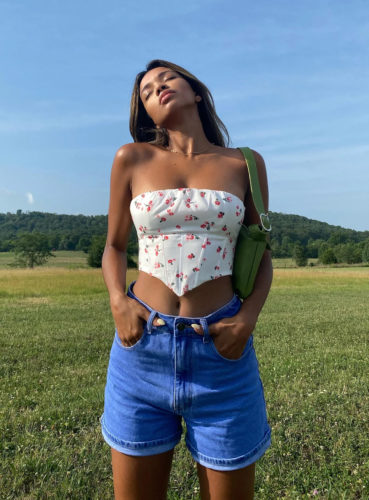 When it's hot in the summertime, one of the best outfit options is jean shorts with a cute crop top. This is an outfit you can wear day or night and with all kinds of shoes, from sandals to sneakers to heels. It's just the right mix of casual yet stylish and is easy to recreate many times over.
2. Printed Mini Skirt & Sandals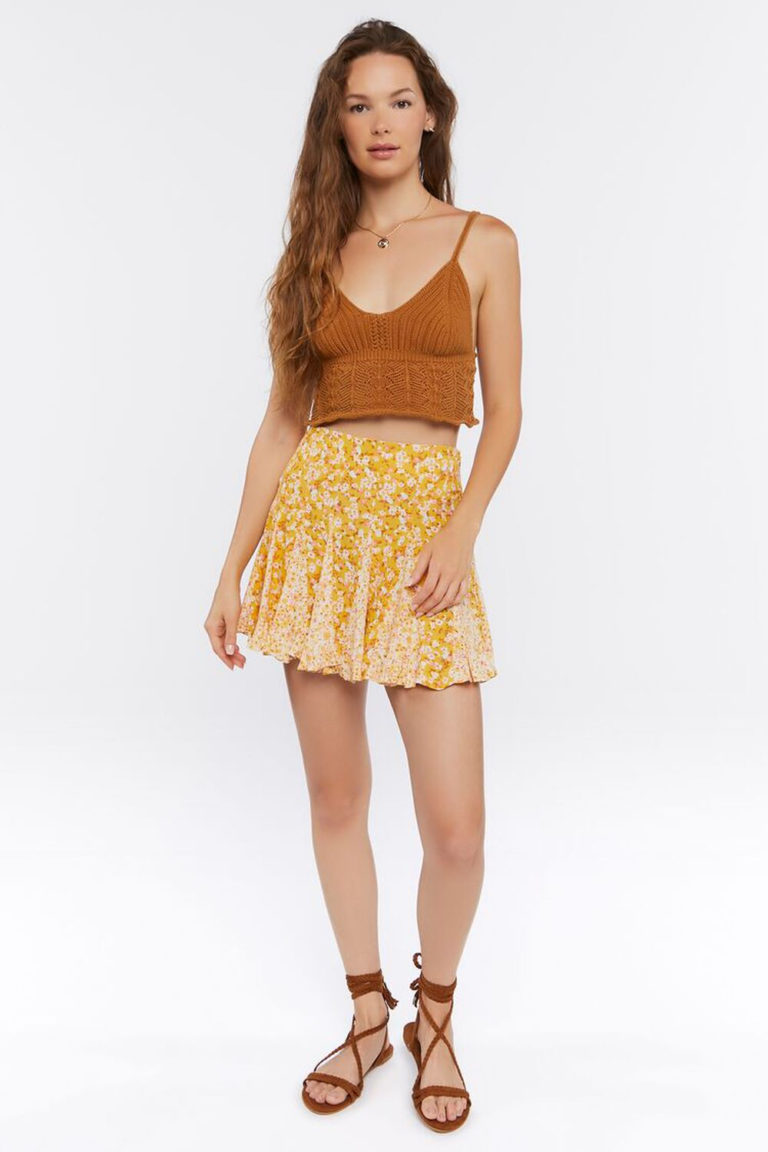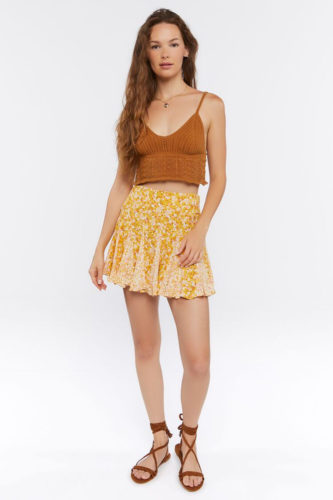 Keep cool while looking cute in a printed mini skirt with flat sandals and a crochet crop top. Of course, you could also wear a regular tank top or t-shirt, but the crochet texture combined with the skirt's floral print gives this outfit a boho vibe that is perfect for summer.
3. Floral Print Mini Dress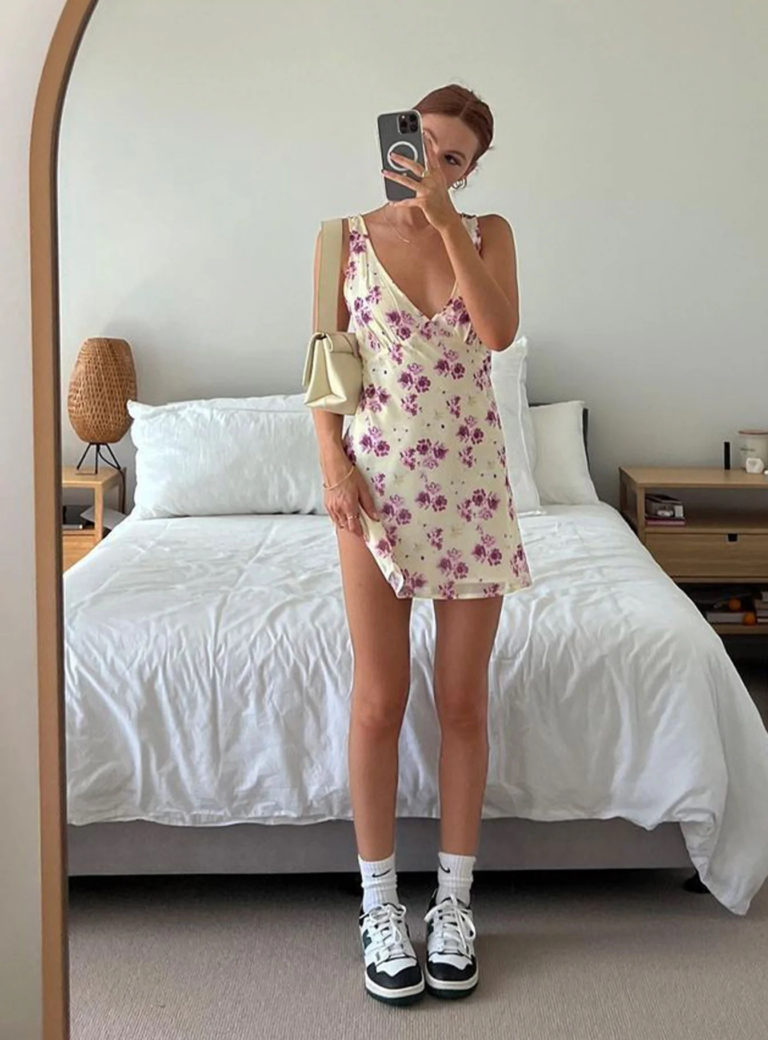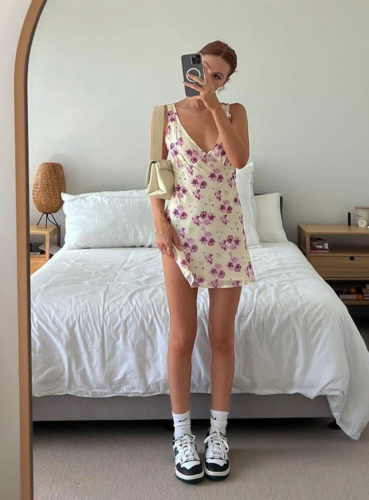 Everyone needs a floral print dress in their wardrobe, and one with a mini length is ideal for beating the summertime heat (though midi and maxi dresses are fab, too).
Wear your printed dress casually with sneakers, or dress it up with some heeled sandals depending on where you're headed.
4. Jean Shorts & A Colorful Button-Down Shirt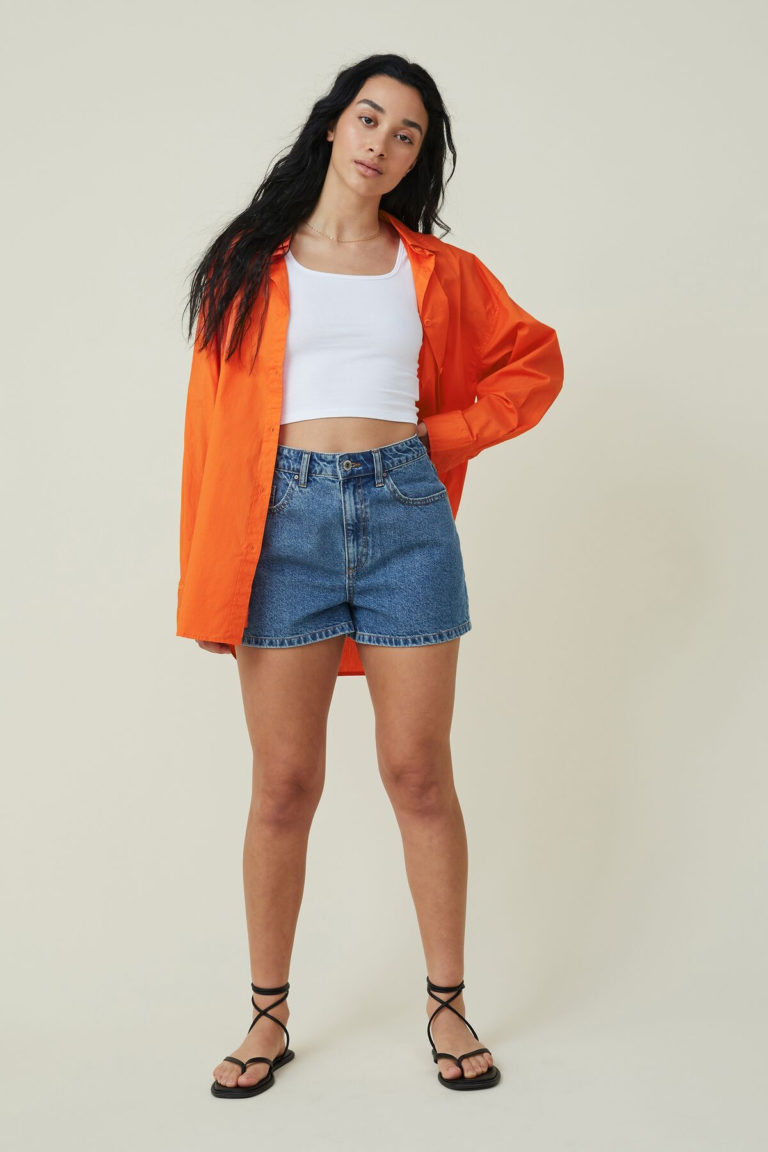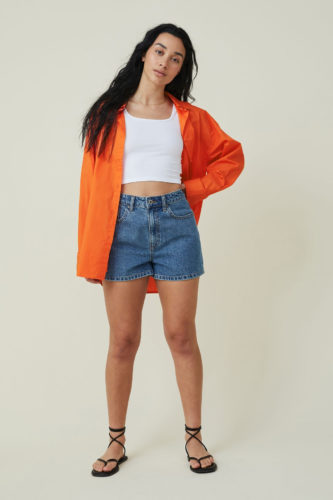 Summer is a great time to have fun with your outfits and incorporate bright colors into your looks. One cute way to do this is by wearing a brightly-colored button-down shirt with an oversized fit with your jean shorts and tank top.
This outfit is giving total Clean Girl vibes, especially if you wear gold jewelry and your hair in a sleek bun or claw clip.
Cute Fall Outfit Ideas
Flannels, cozy sweaters, comfy boots… what's not to love about fall fashion? These autumn outfits will have you layering like a pro and ready for all the fun fall activities that come with the season.
5. Jeans, Plaid Jacket, & Boots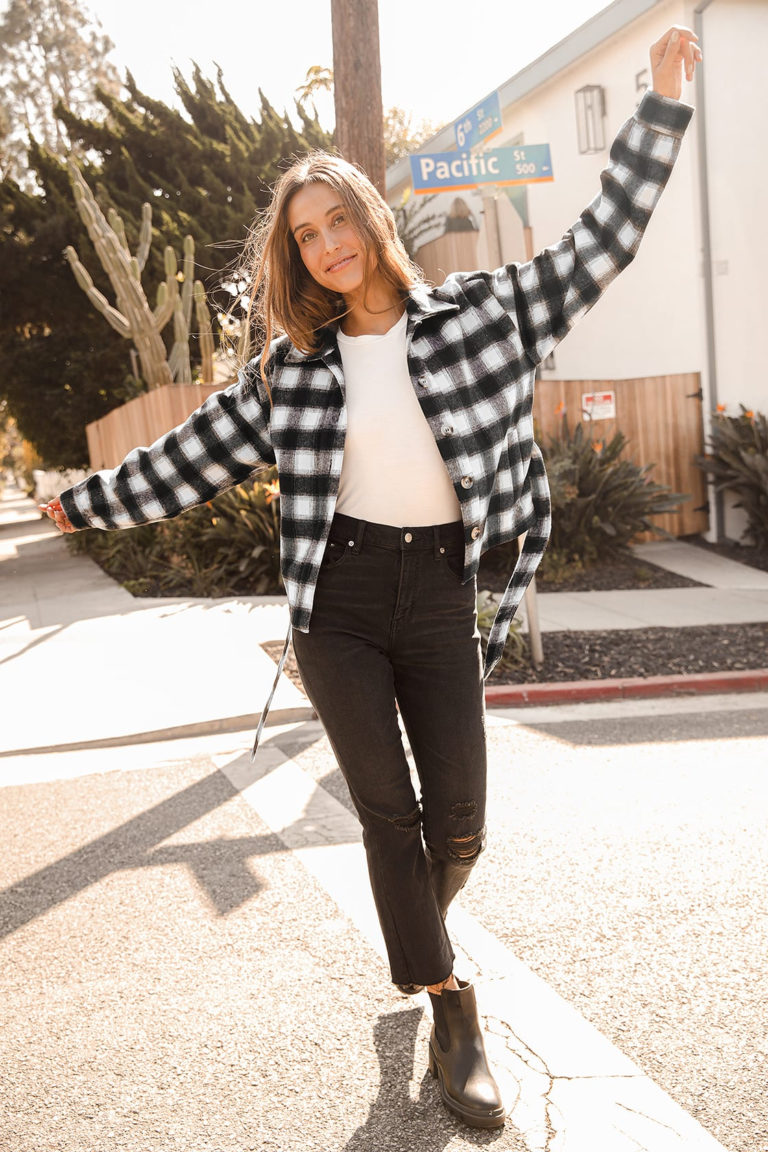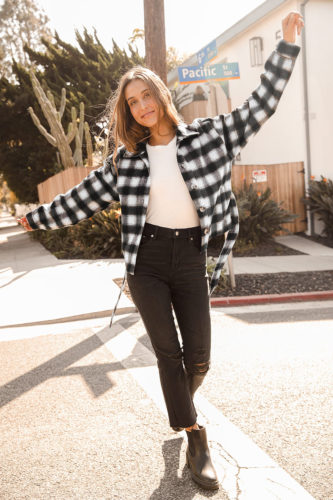 Some may say plaid in the fall is basic, but I say that it's timeless! This print gives all the fall feels and is a must during autumn.
One easy way to incorporate this print into your outfits is in the form of a plaid jacket or shacket. You can wear it with simple items like a basic top and jeans, along with some ankle boots, for a laid-back fall look.
6. Plaid Mini Skirt & Cardigan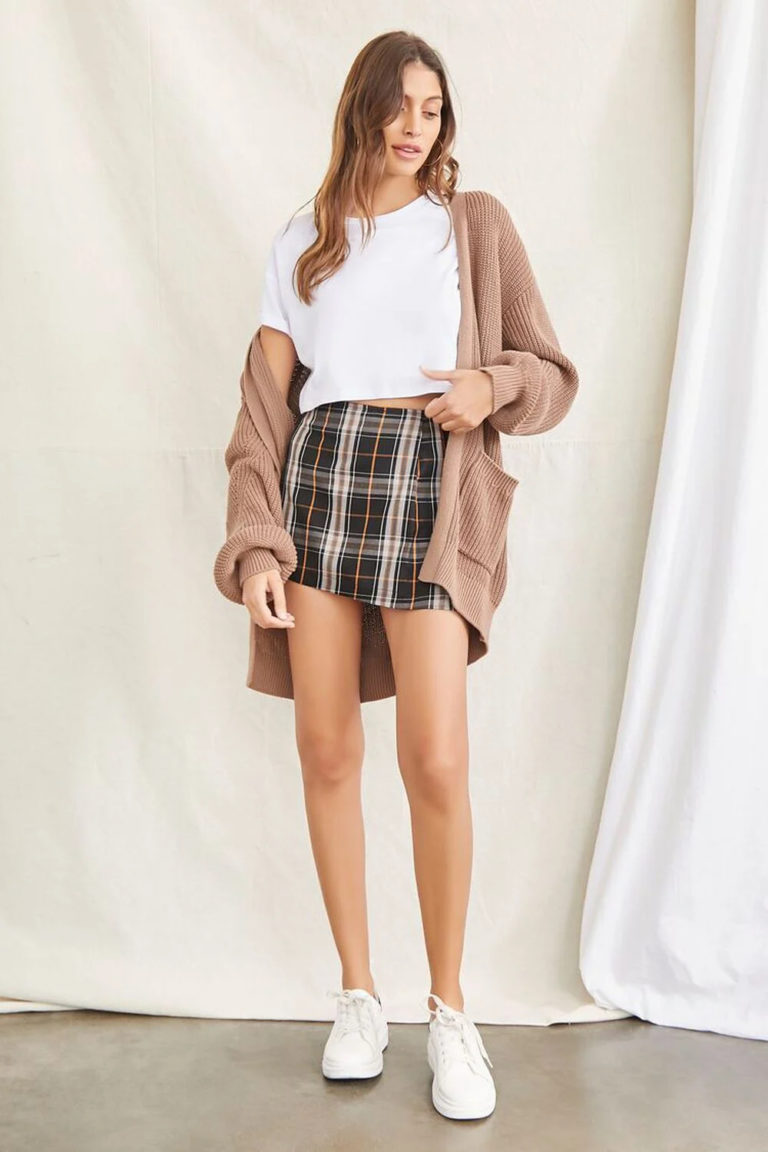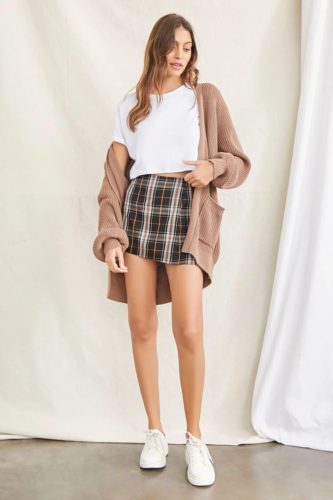 Another fall favorite? Plaid mini skirts. And while these look great dressed up on Thanksgiving with a turtleneck and knee-high boots, you can also wear them casually throughout the season by styling them with white low-top sneakers.
Add a simple top and a cozy cardigan sweater and you'll be looking on point.
7. Dress, Turtleneck, & Boots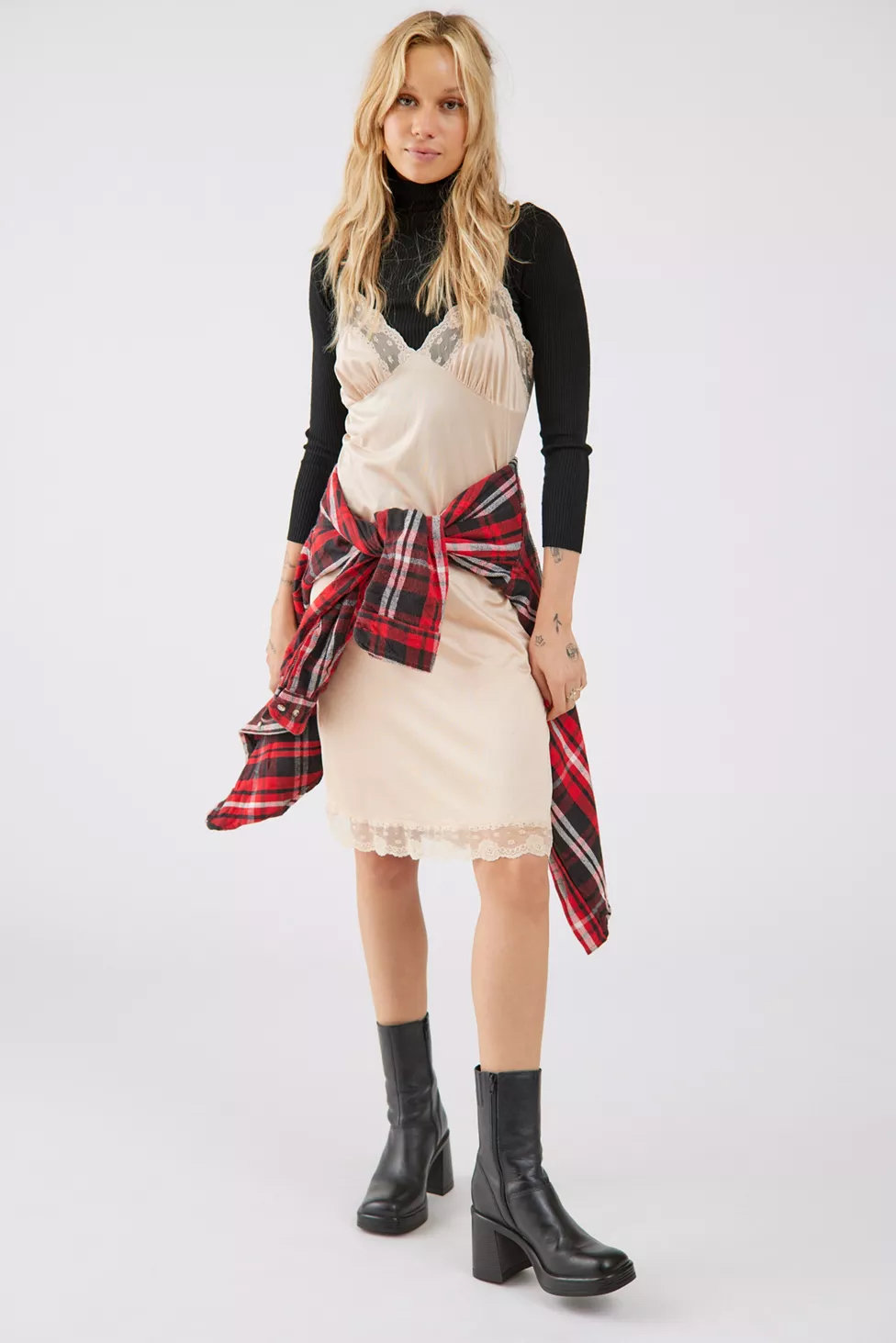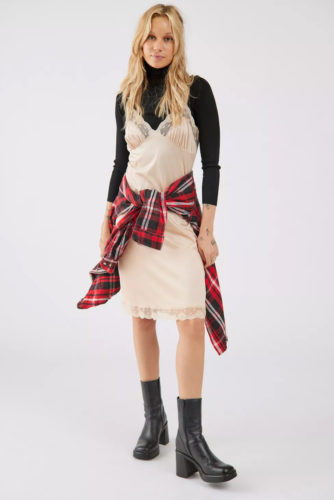 Layered looks are ideal in the fall; for example, transition your summer slip dress into the autumn by layering it over a turtleneck top, and tie a plaid flannel shirt around your waist for extra style points. These clothing layers add interest to the outfit (while also keeping you warm when it's a bit chilly out).
8. Midi Skirt, Sweater, & Ankle Boots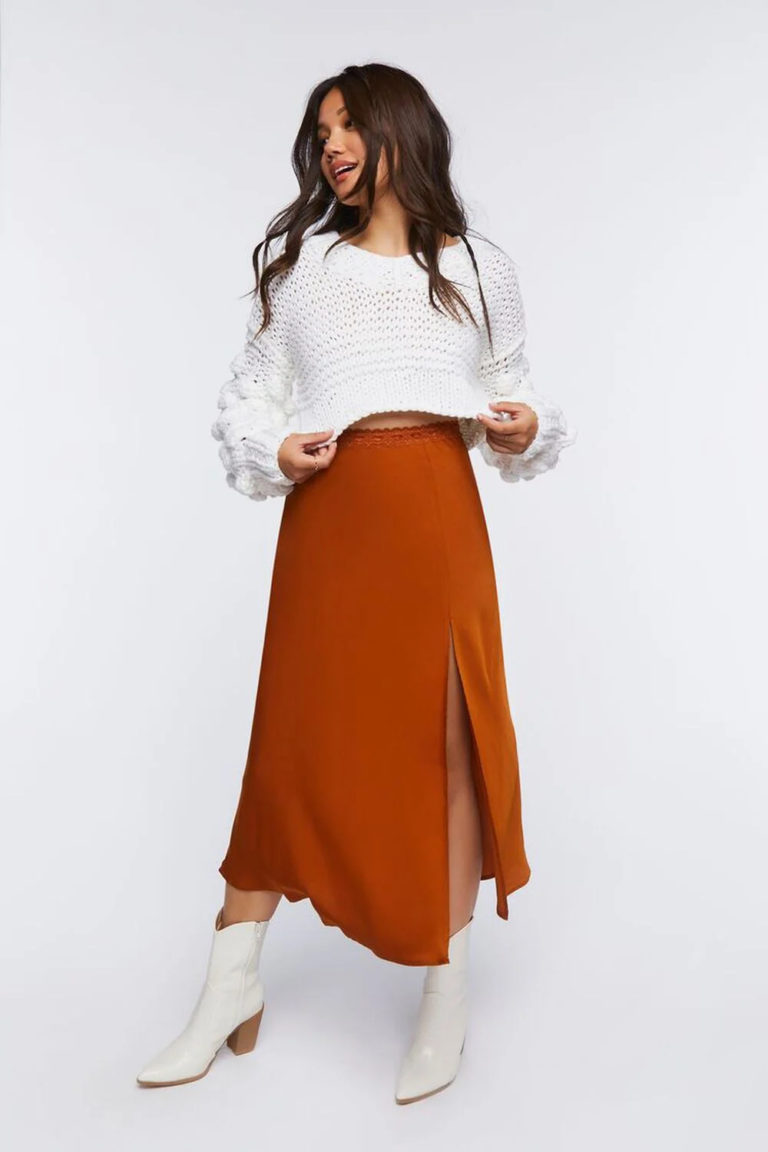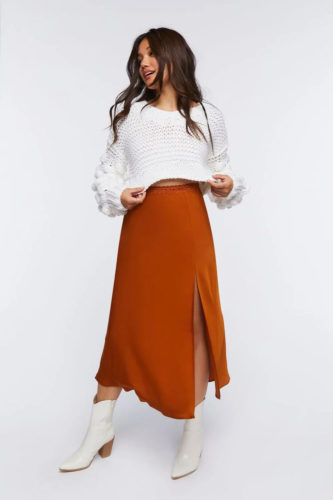 For a fashion-forward fall look, incorporate different textures in your outfit, like wearing a sleek satin midi skirt with a chunky knit sweater. This unexpected combo, along with some western-inspired ankle booties, looks super stylish. Add to the outfit's fall feel by choosing a skirt with a warm color tone, such as rust.
You could totally wear this look to brunch, or even on Thanksgiving.
Cute Winter & Cold Weather Outfit Ideas
Take on the cold with these winter outfit ideas that will keep you warm and stylish no matter the occasion.
9. Faux Leather Pants & Long Coat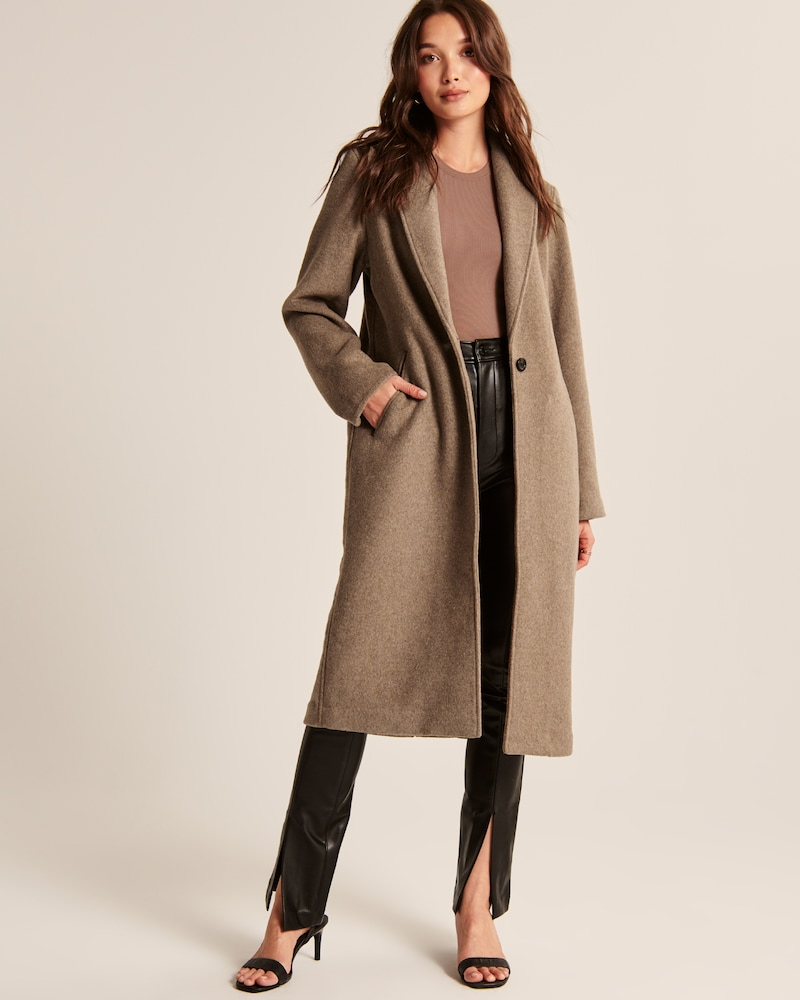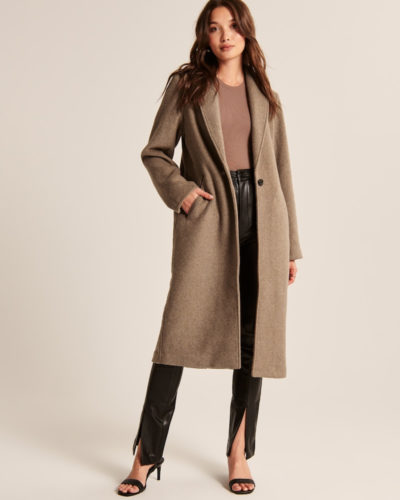 Long coats are a chic outerwear option for the winter and can be worn day or night. For a dressier winter look that's perfect for a night out, wear a long coat with some faux leather pants and a bodysuit, plus ankle booties.
10. Coat, Jeans, & Lace-Up Boots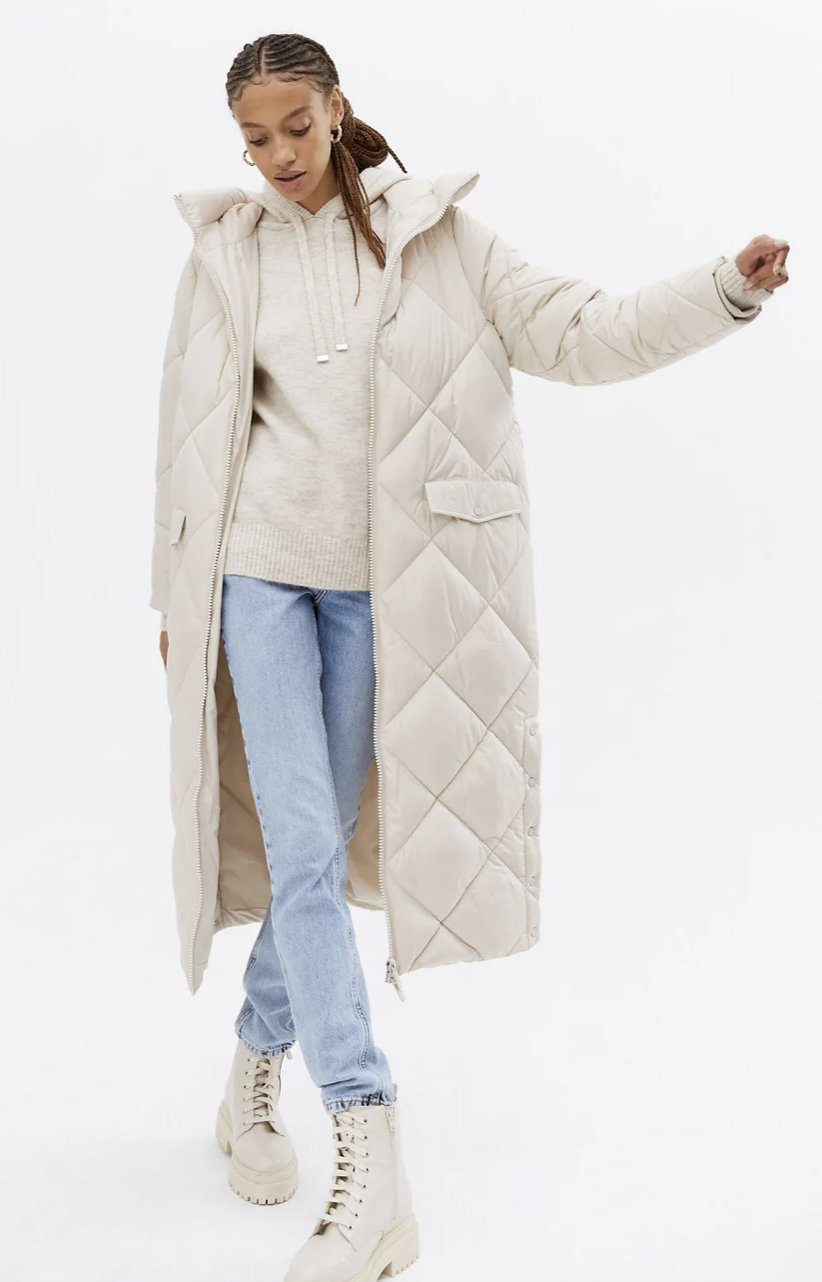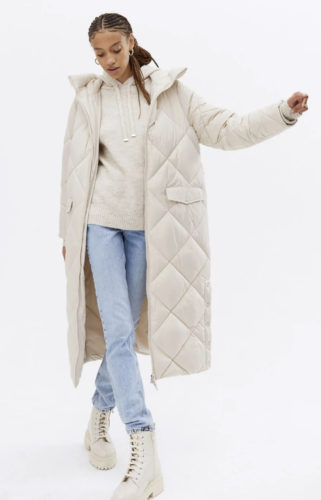 In the wintertime, you can't go wrong with a coat, jeans, a sweater, and some lace-up boots. Lace-up boots and combat boots are solid footwear options for wintry weather, while heavy denim, a knit sweater, and a winter coat will help to keep you warm in the cold.
11. Aviator Jacket, Jeans, & Sneakers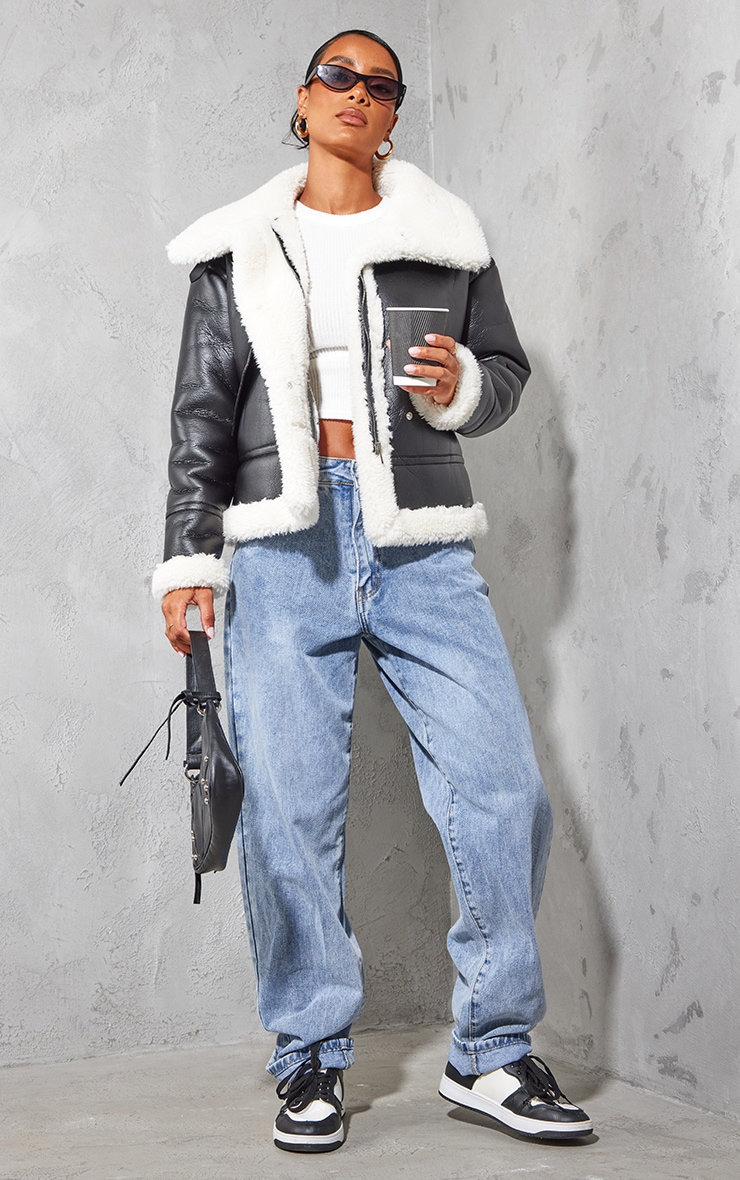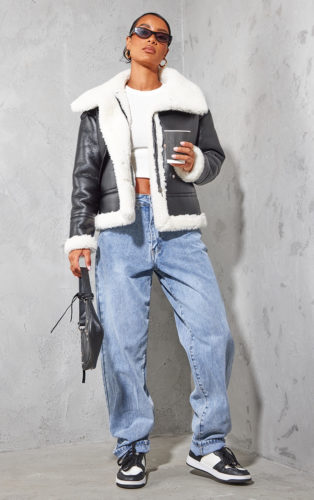 For a winter street style look, try a trendy aviator jacket with a faux fur lining. The faux fur lining will help to keep you extra warm, while the edgy jacket design looks cool with some loose-fitting jeans and casual sneakers.
Don't forget eye-catching accessories like a mini handbag, chunky hoop earrings, and sleek sunnies.
12. Puffer Coat, Leggings, & Sneakers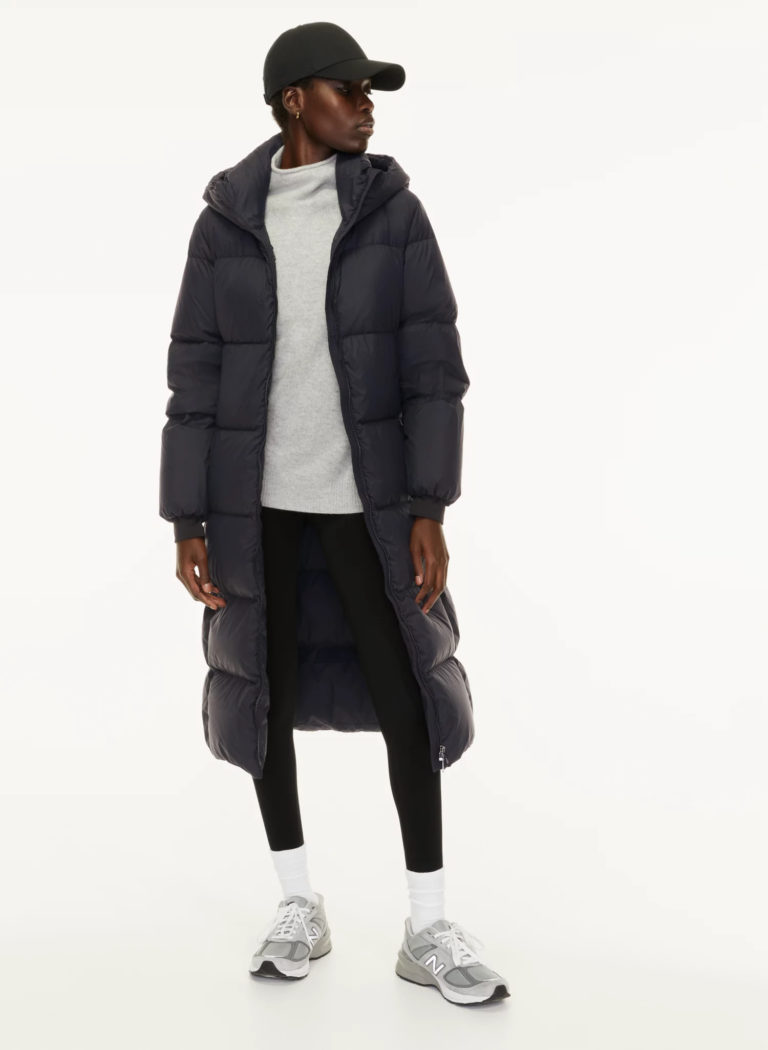 Go for a sporty athleisure look by wearing leggings, sneakers (with high socks, of course), and a puffer coat. This outfit is simple but ultra-comfortable… and warm! It's perfect for running errands or heading to class in the wintertime.
Cute Spring Outfit Ideas
Wondering what to wear when it's chilly in the morning and warm in the afternoon? Spring weather can be finicky, but these stylish outfit ideas will have you prepared.
13. Sweater & Mini Skirt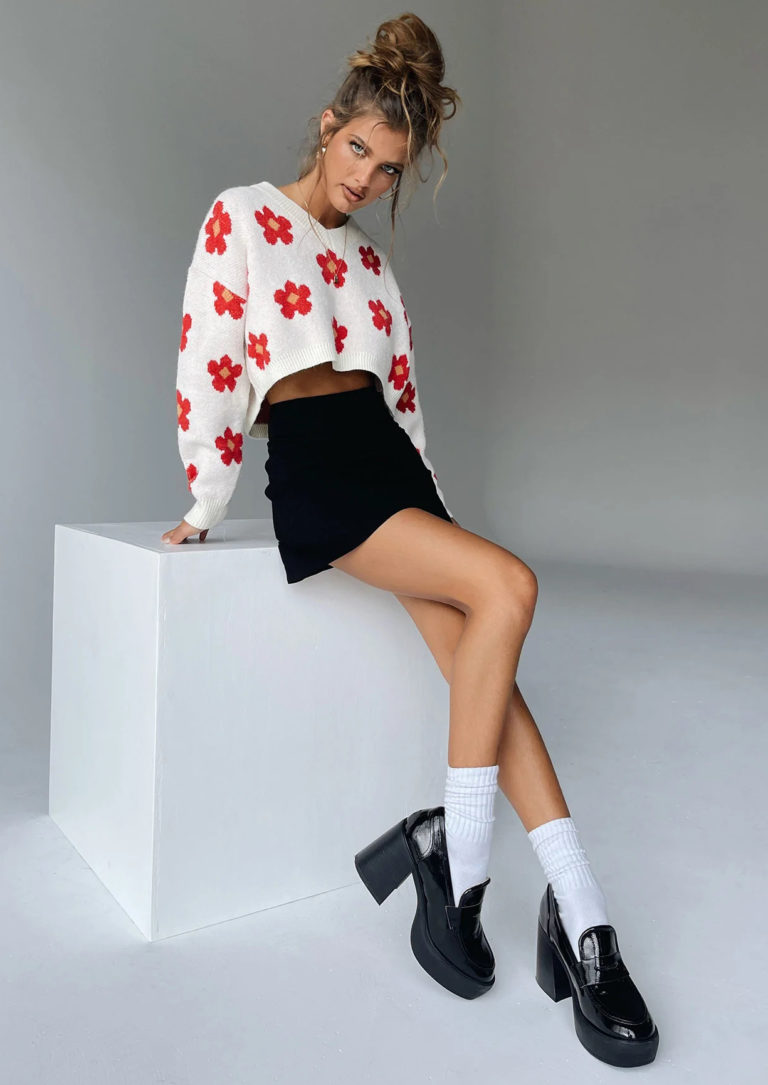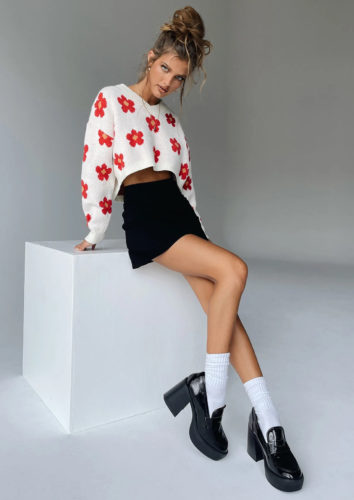 Spring outfits are a balancing act. If you're going to wear a warmer item on the top like a sweater, go for a less-warm item on the bottom like a mini skirt. Bonus points for a floral print sweater, which is the ultimate springtime print!
For a trendy vibe, wear some loafers with the look, which are a major trend this year.
14. Jean Shorts & A Shacket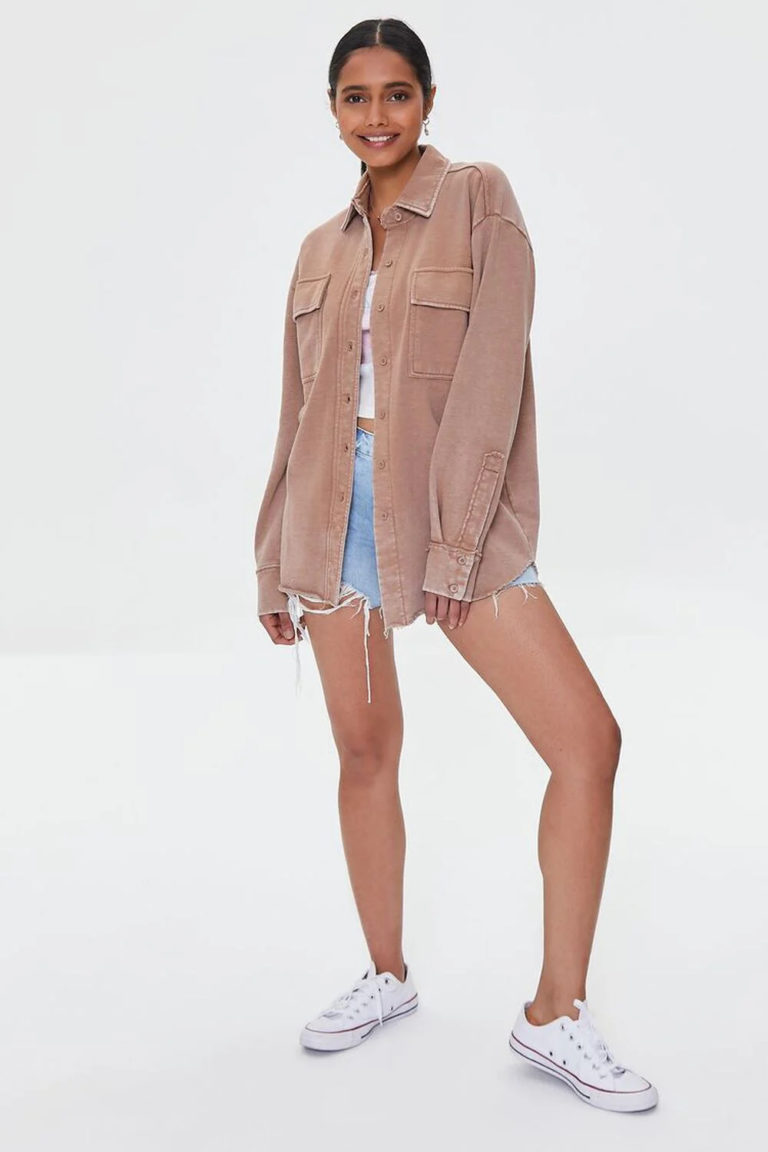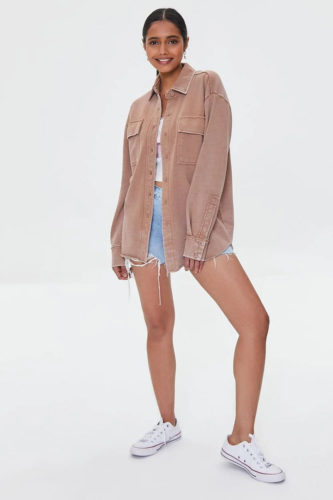 A shacket made from a material like terry cloth makes for the perfect lightweight layer in the springtime. Wear it with denim shorts, a t-shirt, and sneakers for a laid-back look (and ditch the shacket when it gets hot by the afternoon).
15. Chambray Shirt & White Jeans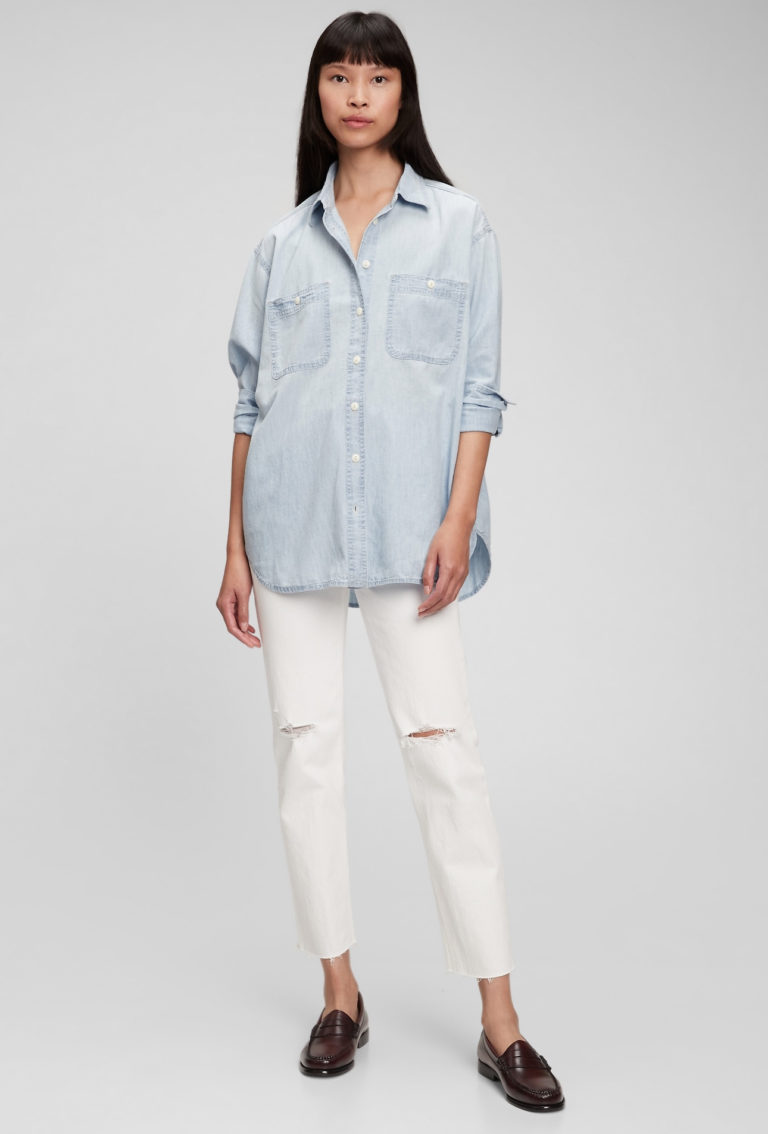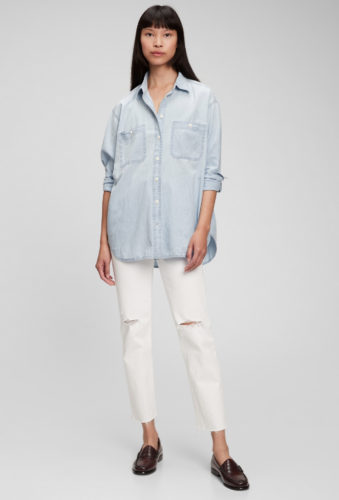 Go for a denim-on-denim look with a chambray shirt and some white jeans. Even though you can totally wear white denim in any season, wearing them in the spring feels (and looks) especially fresh, and they contrast nicely with the chambray shirt. For a polished look, wear loafers, or for a more casual look, opt for sneakers.
16. Jean Shorts, A Cardigan, & Clogs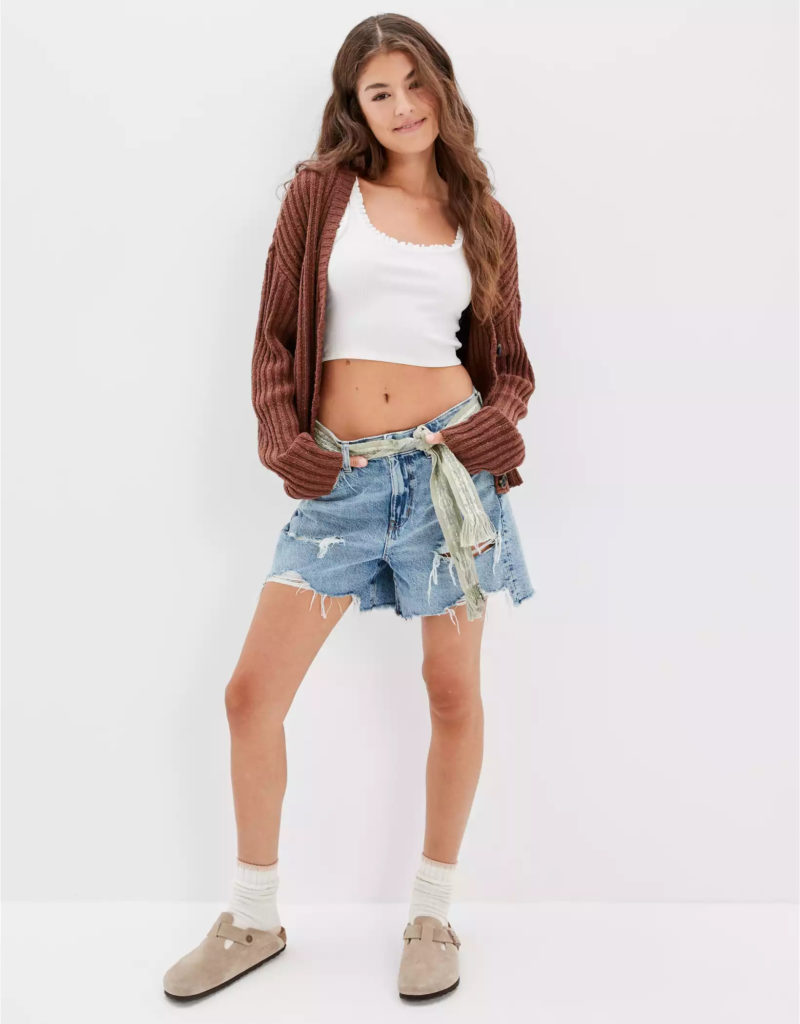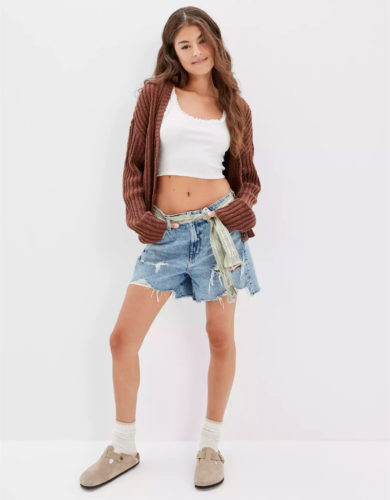 Keep it casual with some denim shorts and a cozy cardigan, along with a tank top and clogs. Birkenstock's Boston clogs are a huge fashion trend, and while you can wear them all year long, they're especially amazing for the spring as a prelude to sandals.
Cute Everyday Outfit Ideas
No more stressing over what to wear each day. These everyday outfit ideas will give you all the inspo you need when you're getting dressed, with casual, cute looks you can copy ASAP.
17. Jeans, Top, & White Sneakers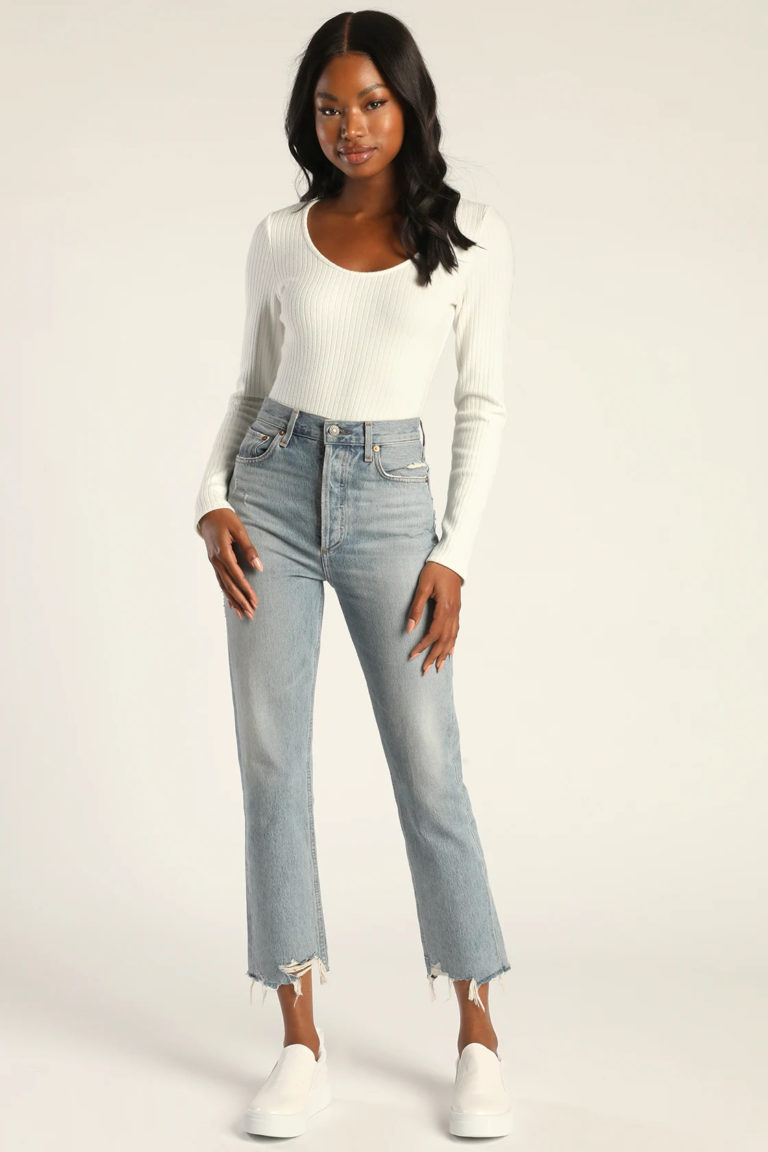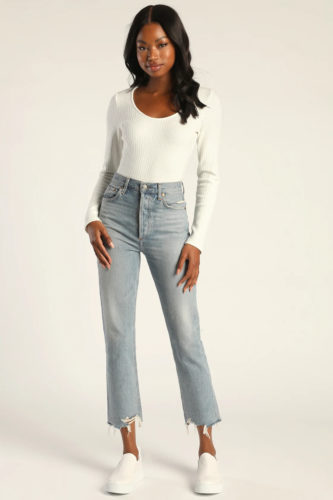 You can never go wrong with jeans, a simple top, and some white low-top sneakers. This is an easy, timeless outfit combination that is a go-to when you don't know what to wear and are short on time. Plus, it works nearly all year round (just add a coat when it's cold out).
18. Trench Coat & Matching Sweats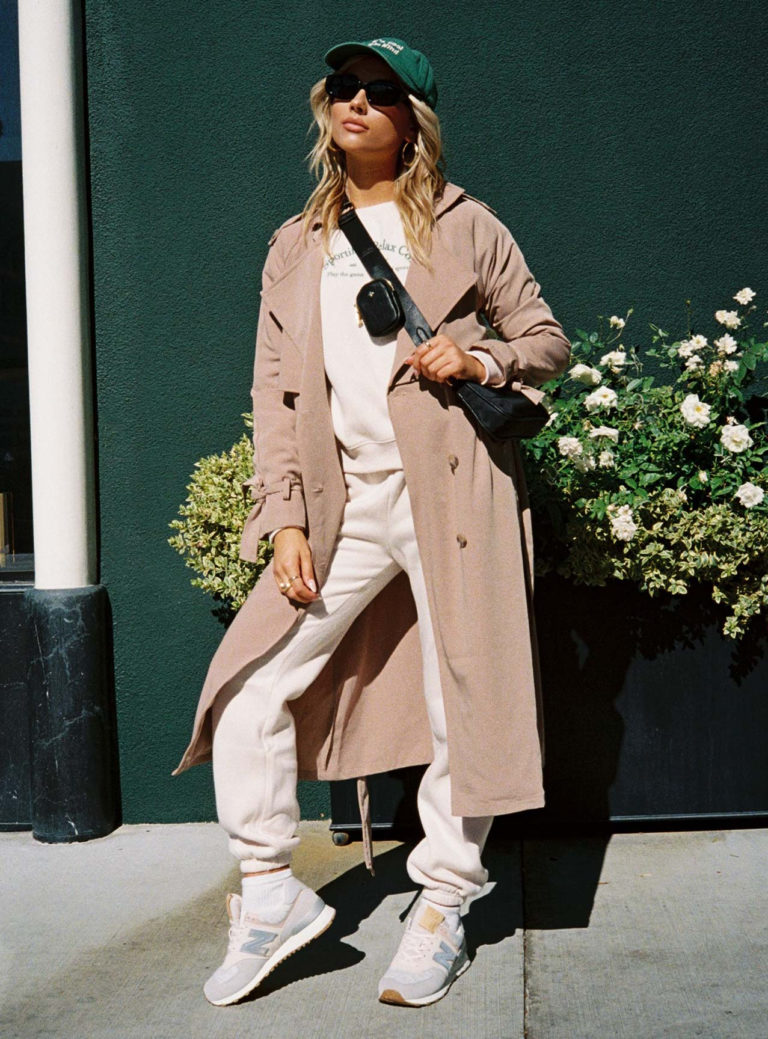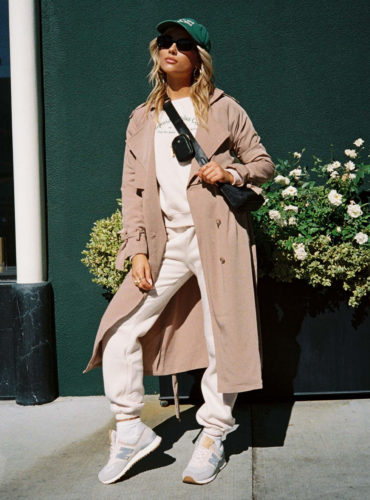 A trench coat makes any outfit look instantly polished –– even sweats! For a more elevated look, opt for a matching sweat set with a sweatshirt and coordinating jogger sweatpants.
Wearing a classic trench coat over top gives this outfit a chic vibe, even though you'll still be super comfy. Don't forget some sneakers and a baseball hat to round it out.
19. Denim on Denim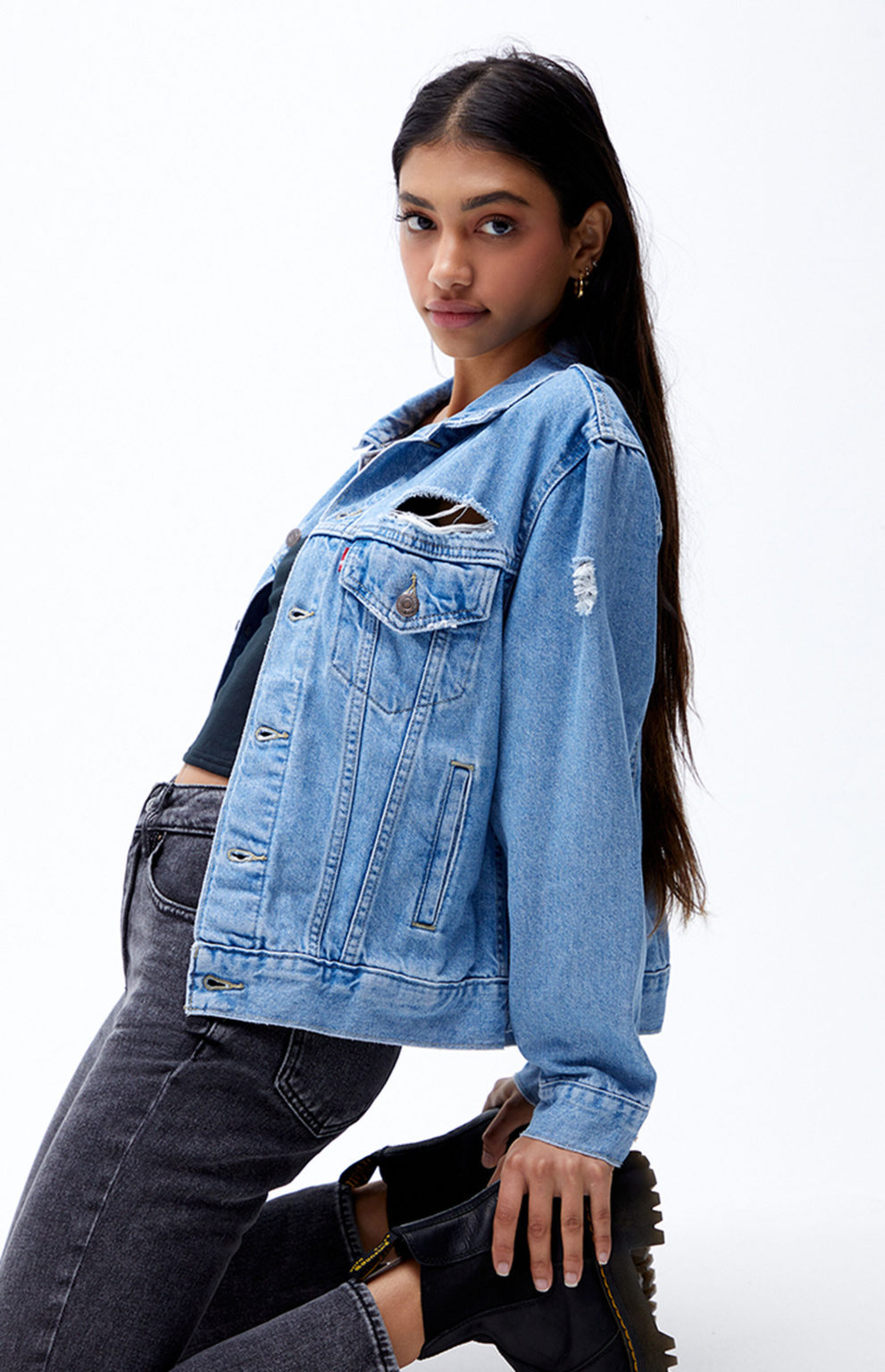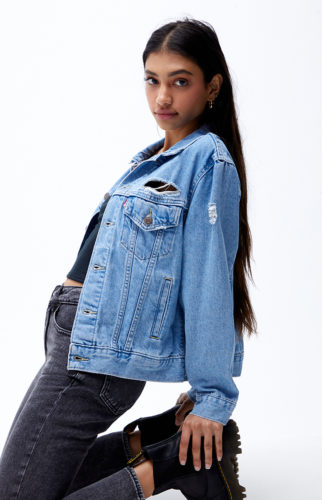 You can wear denim on denim for a cute look no matter the season. Whether you pair dark jeans with a lighter wash denim jacket and boots in the fall or winter or jean shorts with a chambray denim shirt and sneakers in the spring or summer, there are tons of ways to do double denim. Just be sure to pick two different denim washes for a stylish contrast.
20. A Button-Down Shirt & Jeans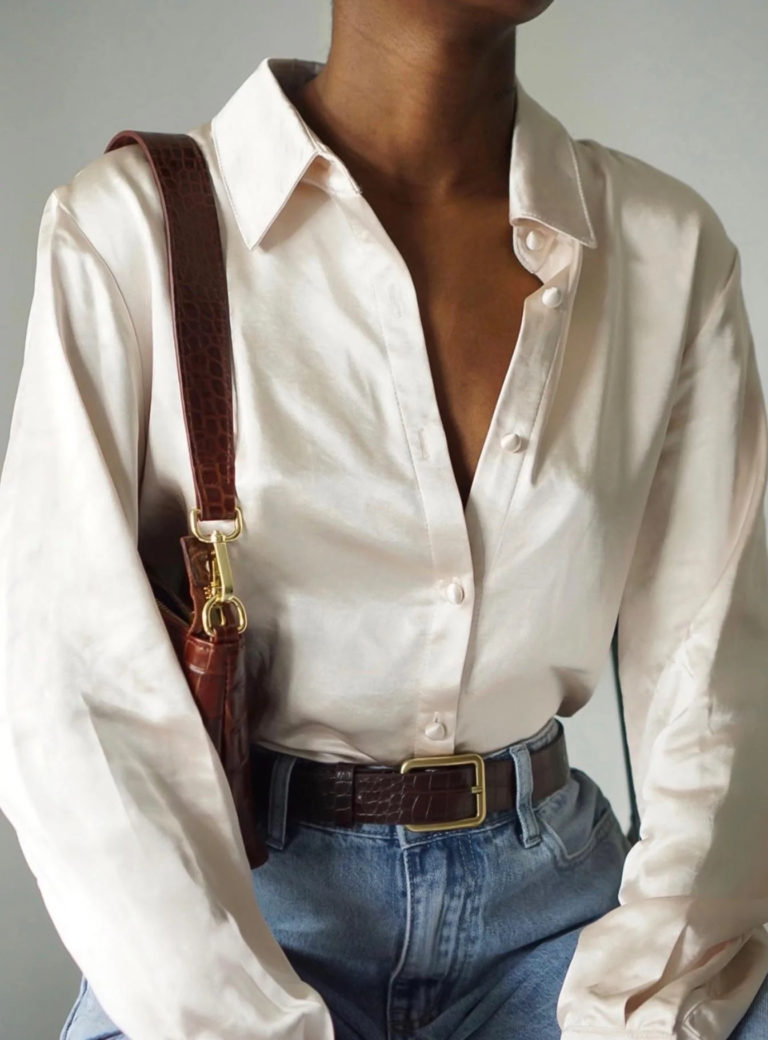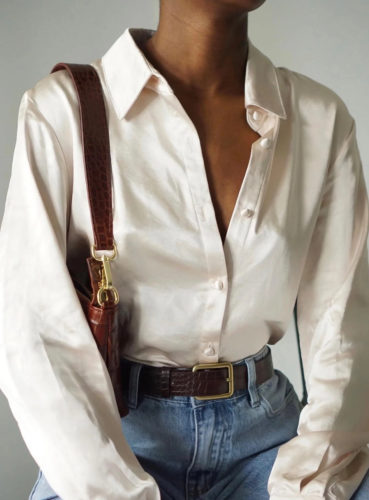 When all else fails, go for the classic combination of a button-down shirt and jeans. This timeless outfit never goes out of style, and always looks polished, especially if you add in some chic accessories like a statement belt and cute handbag.
Cute Date Night Outfit Ideas
When you're going on a date, you want to look and feel your best. And with these cute date night outfits, you will!
21. Black Mini Dress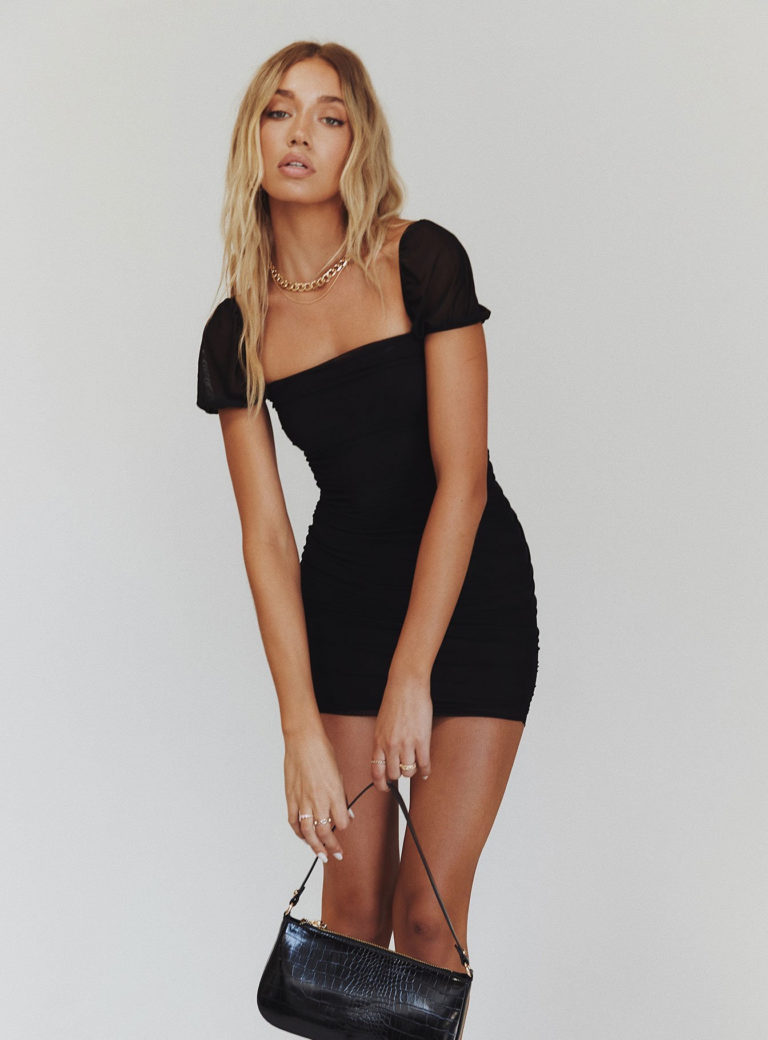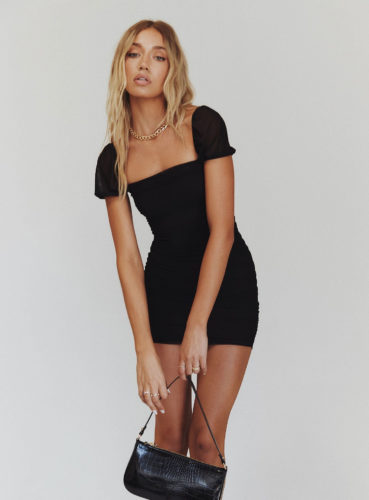 When it comes to date nights, you can never go wrong with an LBD, a.k.a. a little black dress. A black mini dress is a versatile piece that you can dress up or down and accessorize in a ton of different ways.
For a fancier date, wear it with heels and cute jewelry; for a more casual date, wear it with flat sandals and a denim jacket.
22. Slip Midi Skirt & Crop Top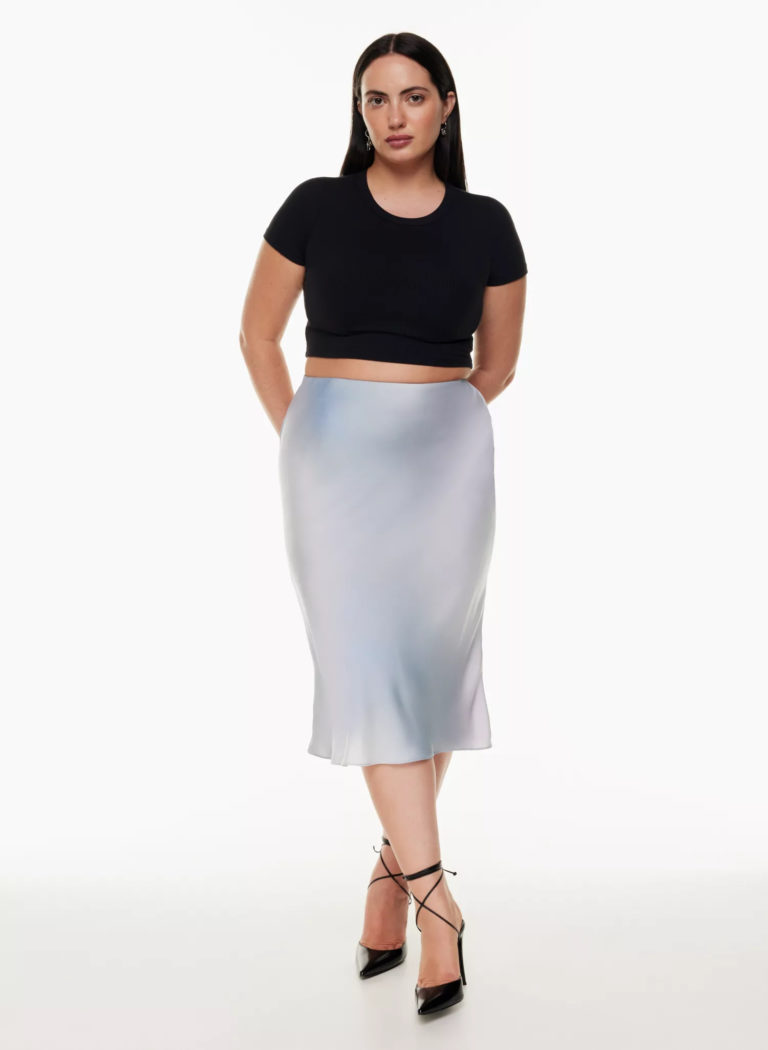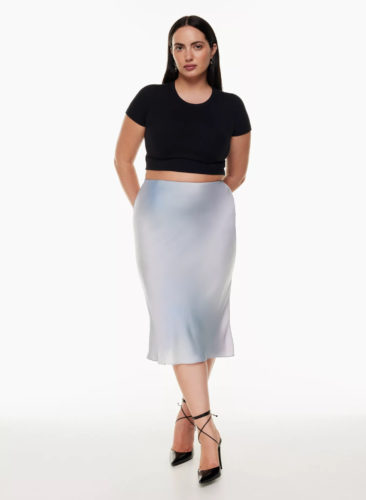 Strike the perfect balance between dressy and casual with a slip midi skirt and a simple cropped t-shirt or top. The silky material of the skirt elevates the outfit, while the crop top keeps it a bit more casual, making it ideal for a bar or dinner date. Go for heels if you're feeling fancy or sandals for a more laid-back feel.
For more date night outfit ideas, check out this post.
Cute Brunch Outfit Ideas
Heading to brunch with your friends? These outfit ideas are perfect for brunching in… and for taking cute photos during your brunch outing, of course.
23. A Cute Top, Jeans, & Heels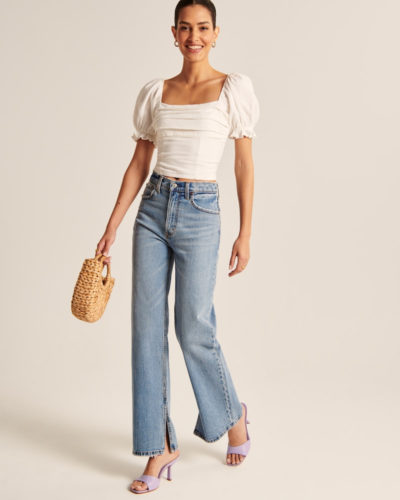 You can't go wrong with "jeans and a cute top," and brunch is the perfect occasion for this clothing combo. You can wear a crop top, blouse, or any top that has a bit of a dressy vibe to it to elevate your denim, along with heels and cute accessories like a stylish handbag and jewelry.
24. Printed Skirt, Top, & Heels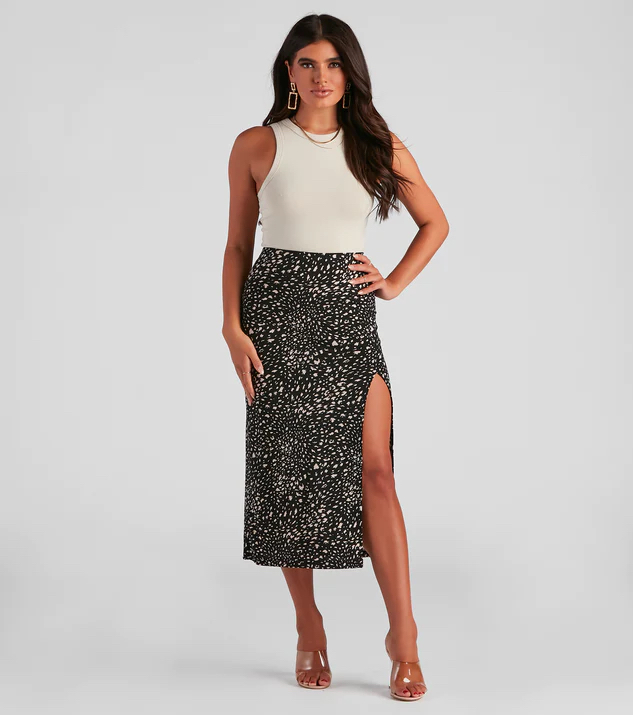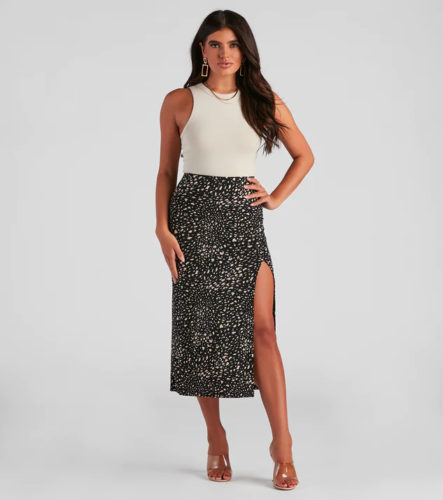 Pull out a cute, printed midi or mini skirt for brunch and jazz it up with heels, some layered jewelry, and a bodysuit or top. A print (think animal or floral print) is going to add an eye-catching element to your brunch look.
25. Biker Jacket, Jeans, & Ankle Booties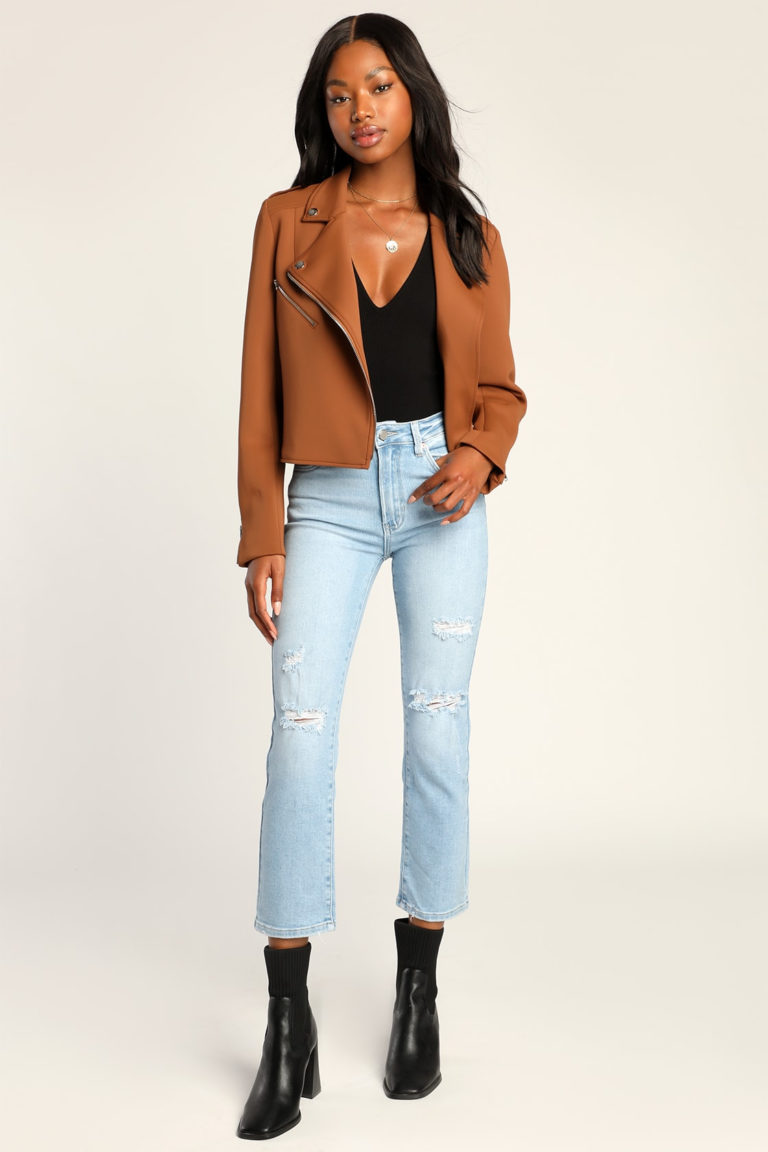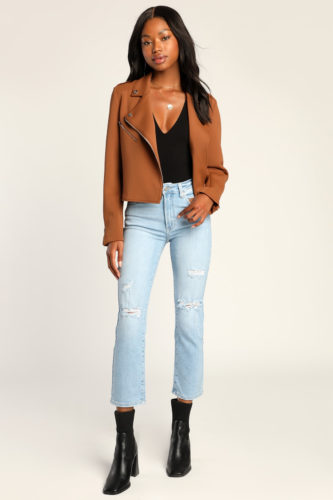 Jeans, ankle booties, and a biker jacket are a no-fail outfit combination that is super cute for brunch or going out with friends. A bodysuit looks great with this outfit, as do crop tops and blouses. This outfit's sleek vibe is always in style.
What do you think of these cute outfit ideas for women?
Would you wear these outfits? Which look is your favorite? Leave a comment and let us know!