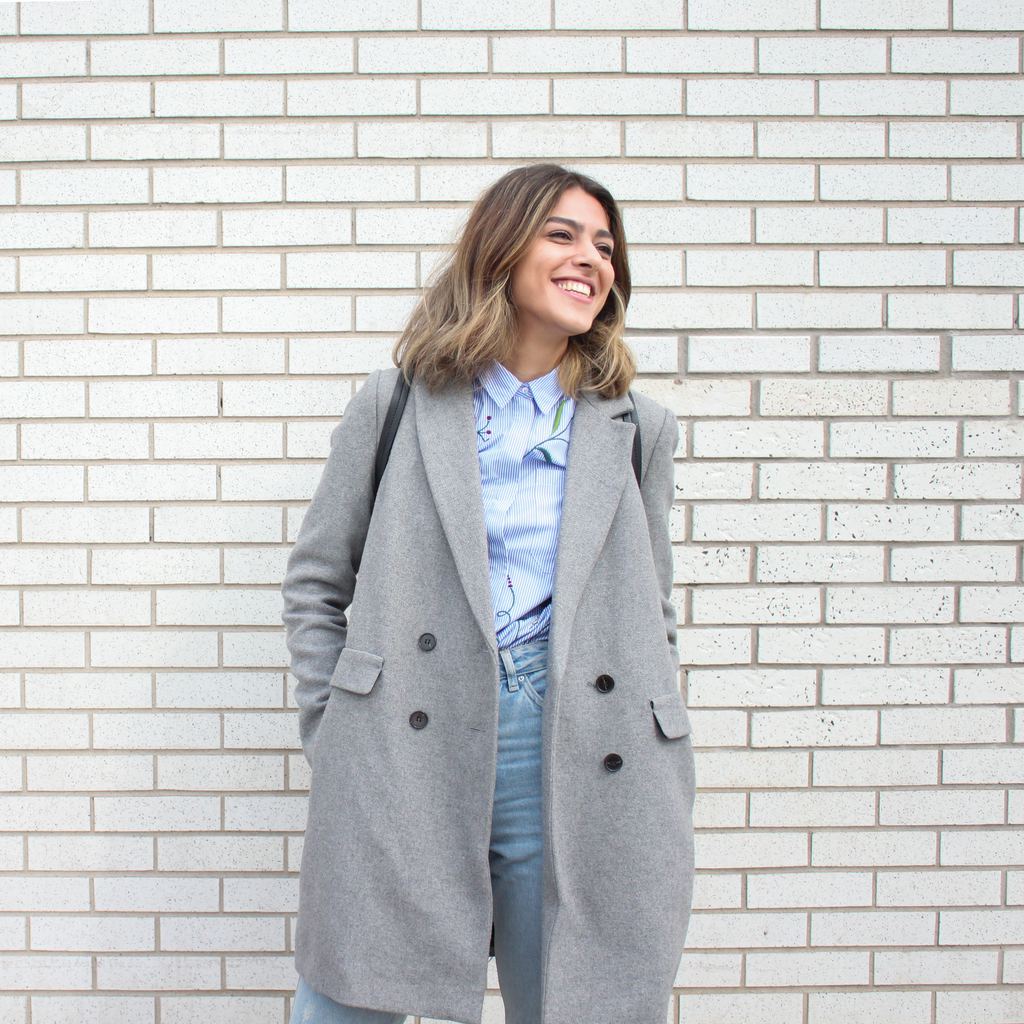 As a fashion lover, one of the things I dread most when temperatures drop is finding a cold-weather jacket/coat that doesn't just keep me feeling comfortable, warm, and dry, but is also something that I actually look good in and feel confident wearing.
However, as a Canadian who has braved more than her share of horrible weather, I like to think that, despite my negative feelings towards the cold, I have learned a thing or two over the years about how to dress for it without looking frumpy and/or like a giant marshmallow.
So, I've decided to put my experience to good use and style four of my favorite fall/winter outerwear pieces that span a variety of temperatures, ranging from "It's Cool Out" to "I am Literally a Human Popsicle"; keep scrolling to see them all!
Outfit #1: It's Cool Out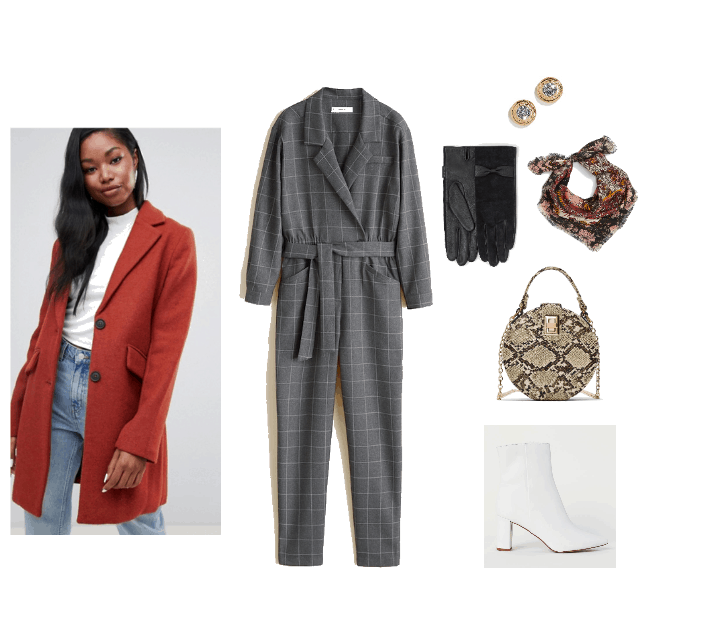 Products: Coat – ASOS, Jumpsuit – Mango, Earrings – Shopbop, Gloves – H&M, Bandana – Nordstrom, Bag – Zara, Ankle Boots – H&M
This outfit, which I styled around a classic and sophisticated rust-colored car coat, is perfect for crisp, cool days. Not only is it super-stylish, but it is also really easy to put together!
To get the look, throw on a sleek and modern checked jumpsuit. Because the necklines of the coat and jumpsuit are open, I decided to add a silk bandana to keep out any chilly breezes that may come your way; however, if it's really windy out, feel free to swap it for a regular scarf for more warmth.
The bow detail on these black gloves adds a touch of femininity, while this round, snake-print chain-strap bag is a great way to participate in multiple trends with only one piece.
White ankle boots are very much still in style and offer a fun "pop" against the muted tones of the look, while minimal stud earrings are the only jewelry this elegant ensemble needs.
Outfit #2: The Big Chill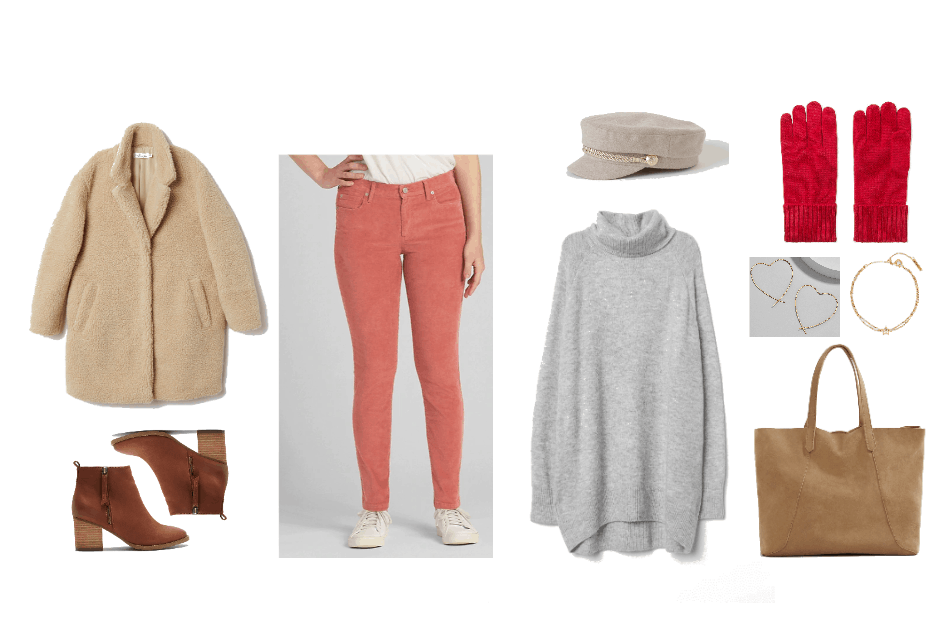 Products: Coat – H&M, Ankle Boots – Nordstrom Rack, Pants – Gap, Hat – H&M, Sweater – H&M, Gloves – Uniqlo, Earrings – BaubleBar, Bracelet – Nordstrom, Tote – Mango
Although you may be tempted to reach for a plain, dark-colored outfit as the weather gets colder, this outfit proves that you can look seasonally appropriate in lighter colors as well, starting with an ultra-trendy pile-fleece coat that is sure to keep you nice and snug on days when there's more than just a nip in the air.
Here, I've styled the coat with clothes in warm fabrics that are comfortable and not super-bulky, such as a cozy turtleneck tunic-length sweater and coral corduroy skinny pants.
These cognac-brown ankle boots subtly bring out the pants' unique color (and can be worn in the rain/snow, as they're waterproof), while a pair of reasonably-priced cashmere gloves in a cheery shade of bright red will help keep the winter blues at bay.
A baker boy cap is a fun way to add some early-2000s flair to the outfit; a roomy suede tote makes for a sophisticated way to carry your essentials around with you.
Put on a pair of large heart-shaped hoops and a pavé star bracelet to add some sparkle and shine to the look, and you're done!
Outfit #3: OMG Frozen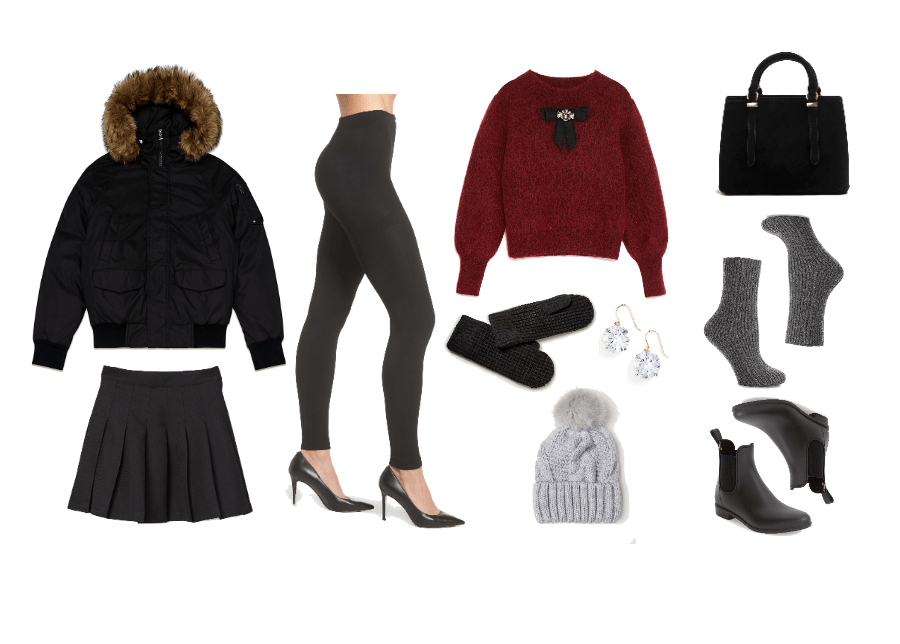 Products: Jacket – Aritzia, Skirt – H&M, Leggings – Nordstrom, Sweater – Zara, Mittens – Aritzia, Earrings – Nordstrom, Hat – H&M, Bag – Mango, Socks – DSW, Rain Boots – Nordstrom
This outfit is for days when the weather is definitely not fooling around; perhaps it's snowing, or maybe it's just really, really cold, but either way, you're going to need some serious winter gear to help you get through it.
Canadian store Aritzia is a place that I highly recommend checking out if you're looking for a winter jacket/coat that'll actually keep you really, ridiculously warm. This one, which is similar to one that I bought from there a couple of years ago, is not only water and wind-proof; it is also designed to keep you warm in temperatures as low as 4 degrees Fahrenheit (-20 degrees Celsius).
At $278, it's definitely not cheap, but if you live in a place where the winters are long and super-cold, like I do, then it's definitely something that you'll want to look into investing in. Also, it's worth noting that it's an almost-as-warm, and significantly less expensive alternative to the Canada Goose jackets that I saw a lot of college girls wearing around campus when I was an undergrad at University of Toronto.
I decided to style the coat with a fuzzy maroon sweater with a cute jeweled bow, along with a pleated black skirt which is made wearable in the cold thanks to a pair of fleece-lined leggings. (Tip: If the leggings aren't warm enough for you, feel free to layer a pair of tights underneath for some extra insulation!)
A pair of cozy mittens is a must-have (I own this exact pair and can attest to their warmth), as is a knitted beanie that covers your ears; bonus points if it has an adorable pom pom on top!
Thick wool socks look amazing scrunched up and peeking out over the tops of ankle-length rain boots, while a pair of glittering drop earrings are an easy way to bring attention to your face–something that you'll definitely want to do when you're all bundled up!
Finally, I know from personal experience that wearing a shoulder bag with a bulkier jacket made of a "slippery" material is an exercise in futility and frustration, which is why I chose this hand-held bag to complete the look so that you won't have to worry about constantly adjusting a bag that keeps sliding off your body.
Outfit #4: I am Literally a Human Popsicle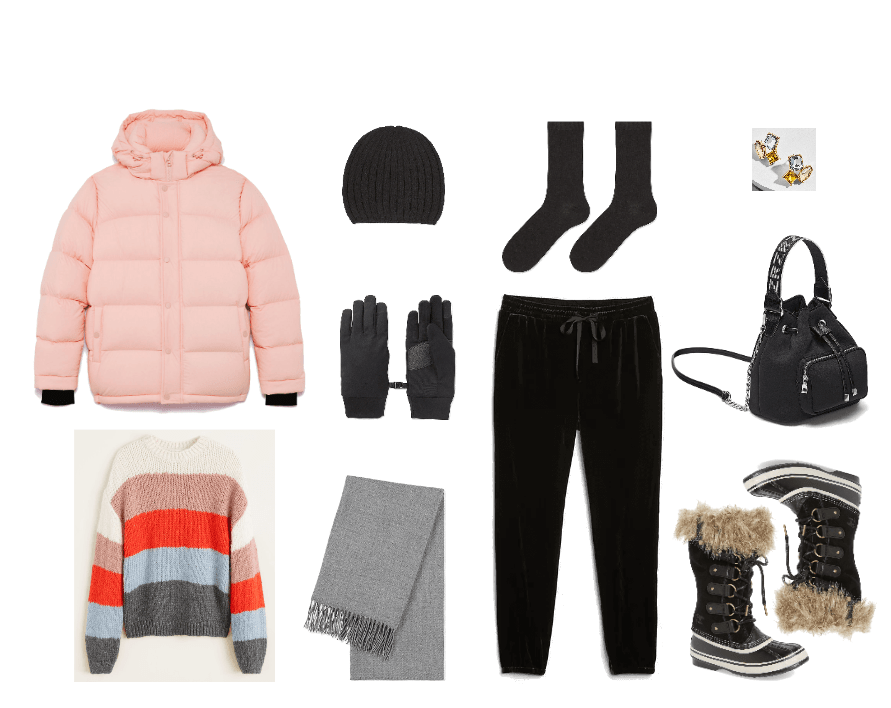 Products: Jacket – Aritzia, Sweater – Mango, Hat – Uniqlo, Gloves – Uniqlo, Scarf – Uniqlo, Socks (set of two pairs) – Uniqlo, Joggers – Gap, Earrings – BaubleBar, Bag – Zara, Boots – Nordstrom
As the title of this outfit suggests, this ensemble was put together with the coldest of cold, miserable winter days in mind.
Once again, I turned to Aritzia for a super-warm puffer jacket; this one is designed to keep you warm in temperatures as low as -22 degrees Fahrenheit (-30 degrees Celsius)–although I would hope that if it actually gets that cold, you wouldn't be spending much time outside!
Like the other Aritzia jacket, this one is a splurge (though this one is a bit cheaper), but again, it's a worthy investment if sub-freezing temperatures are something that you have to deal with on a regular basis.
I chose the Millennial pink color for this look because it's so cheerful, which is something you'll want when you're struggling not to get frostbite on every exposed part of your body!
This on-trend colorful striped sweater would work well with many different looks, but I especially like the way it stands out against the jacket's pink hue, as well as the neutral tones of the rest of the clothing.
Velvet joggers are a more put-together alternative to regular fleecy sweatpants, and can even be layered over tights or leggings for extra warmth.
As for boots, if you're dealing with heavy-duty snow and/or cold, you'll definitely want to get a pair that is made especially for those conditions, such as this pair by Sorel. Like the Aritzia jackets, these boots are on the pricey side, but you'll definitely think they're worth it when your feet are warm and dry. This pair is suitable for temperatures up to -25 degrees Fahrenheit (approximately -32 degrees Celsius).
Here, I decided to accessorize the outfit with a beanie, scarf, gloves, and socks which all feature Uniqlo's HEATTECH technology (something that I can personally vouch for, as I own a couple of HEATTECH accessories myself)–in addition to a pretty and colorful pair of stud earrings, and a sporty bag that can be either carried by hand or worn cross-body to avoid the dreaded bag-sliding that I mentioned earlier.
What do you think?
Do you have a favorite, tried-and-true jacket/coat that keeps you both warm and stylish when it's cold outside? What are some brands that you rely on to make quality fall/winter outerwear (and other cold-weather pieces)? Which of these looks do you see yourself getting the most use out of during the fall/winter where you live?
Let me know in the comments!