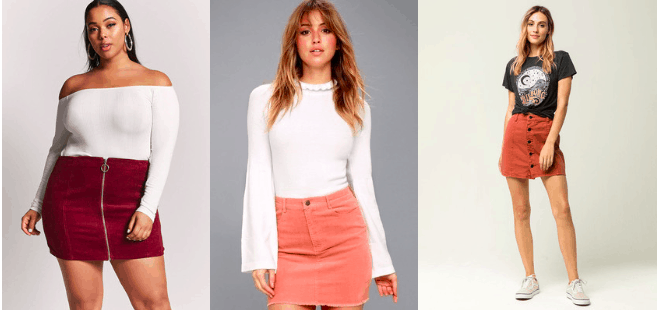 A corduroy skirt is the ultimate transitional piece to incorporate into your winter wardrobe. Coming in various lengths and styles, it can make an effortless transition whether you're preparing to go to class or to a club. It's such a timeless piece that will never steer you wrong.
Corduroy skirts come in various colors, but for our class to night transition, this red corduroy skirt from Forever 21 is the perfect choice. Bold hues of red have been popping up everywhere, both on and off the runway. With these corduroy skirt outfits, you'll be sure to be a trendsetter on your campus.
Corduroy Skirt Outfit for Class: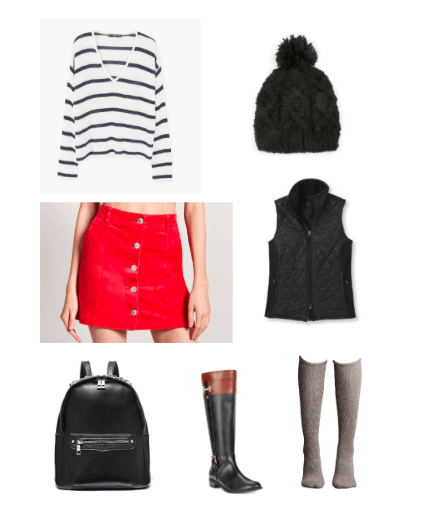 Products: Skirt – Forever 21, Sweater – Mango, Vest – L.L. Bean, Backpack – NY & Company, Boots – Macy's, Socks – Lord & Taylor, Hat – Sole Society
For our class look, let's pair our corduroy skirt with a slightly oversized striped sweater. Our skirt is so bold that we don't want to add on too many shades, so as not to overshadow the skirt. A sweater in neutral shades like black and white is always a safe bet.
For shoes, riding boots are the perfect addition to this look, and you can further accessorize the boots by adding a pair of knee-high socks. Go the extra mile to make this look cozy by adding on this quilted vest from L.L. Bean and a warm, fuzzy hat. With this look you'll be both comfy and stylish as you're hitting the books.
Corduroy Skirt Outfit for a Night Out: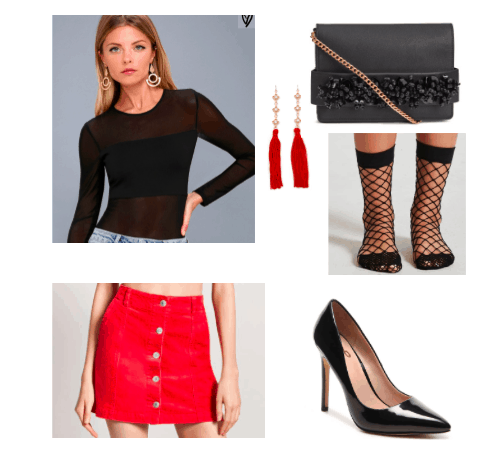 Products: Skirt – Forever 21, Bodysuit – Lulus, Bag – H&M, Earrings – Forever 21, Shoes – DSW, Socks – Forever 21
For tonight's look we're swapping out that oversized sweater for a fitted mesh bodysuit. Mesh can be a bit intimidating to style, but the darker shade of the bodysuit somewhat blocks it from being completely see through. The panel across the chest also provides some additional coverage.
Get excited to accessorize this look! Let's continue on with adding socks to our look as we move into the night. Instead of adding socks purely for comfort, let's go with something a bit more trendy and show them off. Wearing decorative socks with a pair of heels is one of the latest trends to pop up on the scene. No matter what pair of socks you decide on (we love these fishnet ones), you're sure to have a great time tonight wearing the perfect outfit.
Do you own a corduroy skirt?
If so, how do you style it? Do you like these outfit ideas? Which one is your favorite? Tell us by leaving a comment below.