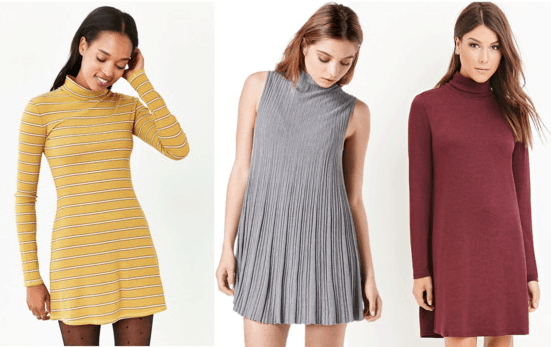 Do you struggle with transforming your outfits from day to night? Don't worry, CF is here to help turn that daily annoyance into a fun challenge. Class to Night Out focuses on one piece per week, and aims to help you take your look from study sessions in the library to dancing the night away.
I don't know if I've made it clear before, but in case nobody knew: I have a scarf obsession. Naturally, my love of cozy neck-warmers has extended to high-neck garments of all kinds. It's refreshing to wear a higher neck piece once in a while, and fall is the perfect time to try this look.
While scarves are great, turtleneck dresses are must-have wardrobe staples this fall since they are so versatile. They give you some extra warmth while still looking tres chic.
Keep reading to see how I styled one of these turtleneck dresses for class and for a night out!
Turtleneck Dress: Class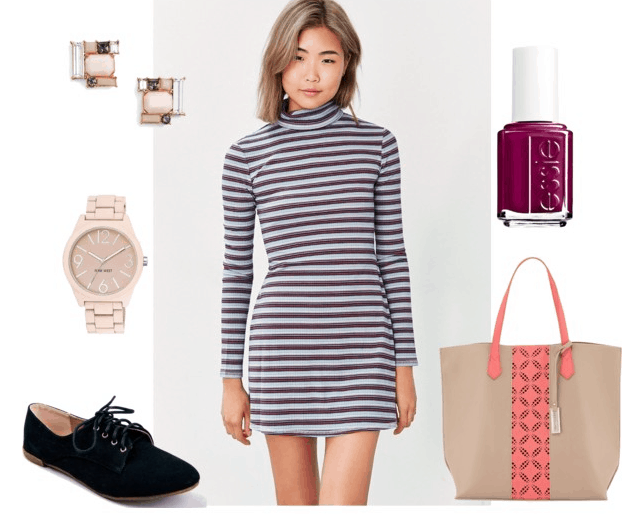 Products: Dress – Shoes – Bag – Watch – Earrings – Nail Polish
You don't really need to do much with a striped dress – it's a statement on its own. No necklace is necessary either because of the high neckline, just add some stud earrings and a nice rose-gold watch. I've discovered that having a watch is nice when your phone is dead – here's to being a little old school!
Now let's accessorize. This dress pairs well with some black lace-up oxfords and a large beige-and-pink tote. Paint your nails a nice deep plum color to ease yourself into the fall vibe.
Turtleneck Dress: Night Out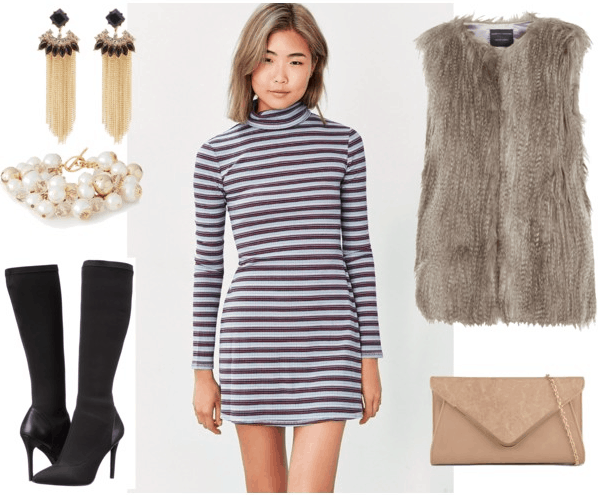 Products: Dress – Vest – Boots – Clutch – Bracelet – Earrings
Add a little more glamour for your night out by wearing the dress with a faux fur vest and black knee high boots.
As with the class outfit, I recommend skipping the necklace. Instead, accessorize with a gold pearl cluster bracelet and some flashy black-and-gold tassel earrings. I'm curious, though, would you accessorize a turtleneck dress with a necklace? I've seen statement necklaces with turtlenecks that I loved but I'm on the fence about it. Okay, tangent over. Just throw your essentials in a beige clutch and you're good to go!
Your Thoughts?
What do you think? Would you wear a statement necklace with a turtleneck dress or go sans-necklace all together? How would you style one for class and a night out? Let me know in the comments, I love hearing feedback!