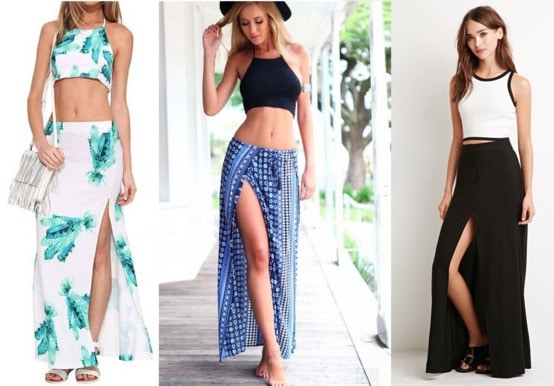 1. Style Moi – 2. MayKool – 3. Forever 21
Do you struggle with transforming your outfits from day to night? Don't worry, CF is here to help turn that daily annoyance into a fun challenge. Class to Night Out focuses on one piece per week, and aims to help you take your look from study sessions in the library to dancing the night away.
You know that feeling when you're trying to sleep and it's too hot to be under the covers, so you take them off and then you're too cold, but once you stick one leg or foot out it's magically the perfect temperature?
In a sense, slit maxi skirts are similar to that feeling (as weird as that sounds). They offer the total coverage of a maxi skirt, yet you're able to show some skin, too. I don't know about you, but sometimes my legs feel like they are suffocating in maxi skirts or dresses.
There are short slits, long slits, double slits… triple slits? I'm partial to the single slit, so this week I'm going to style a single slit maxi skirt that can be worn both to class and for a night out.
Slit Maxi Skirt: Class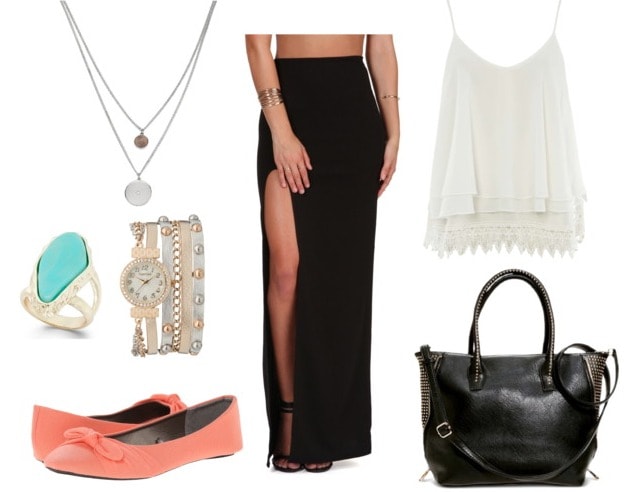 Skirt – Top – Shoes – Bag – Necklace – Watch – Ring
Since the slit maxi skirt is a bold move on its own, pair yours with a flowy white tank and cute coral flats. For accessories, add a mixed metal wrap watch, a double strand necklace, and a turquoise statement ring for an additional pop of color.
Throw your essentials into a studded black tote and you're set for the rest of the day! This outfit is a great middle-ground between girly and edgy, especially with the studded tote.
Slit Maxi Skirt: Night Out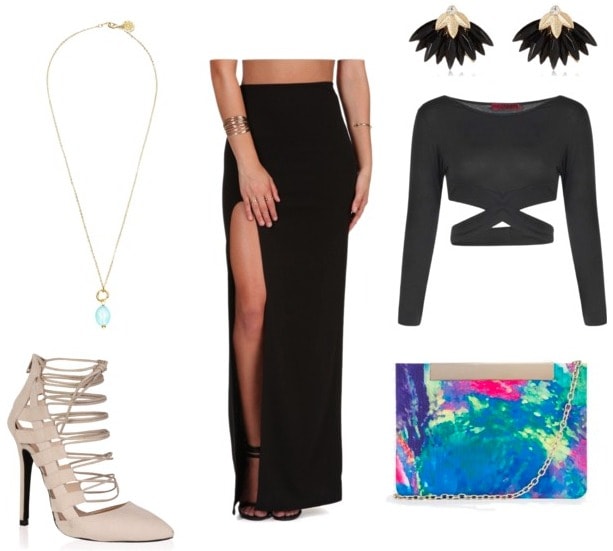 Skirt – Top – Shoes – Clutch – Earrings – Necklace
Find an equally interesting long sleeve black crop top for your night on the town, then put on some strappy, neutral-colored pumps. I had mixed feelings about this clutch, but I actually really love how it adds color to the outfit without overdoing it. Please let me know your thoughts on this clutch, I'm very curious!
As far as jewelry goes, I chose a delicate gold necklace with a light blue charm, along with these glamorous black-and-gold earrings.
What do you think?
Is a slit maxi skirt too risqué for your liking? If not, how would you style one? Let me know in the comments, and also let me know what you think about that watercolor clutch!