We all know the drill. Fall starts off with so much excitement as everyone breaks out their cardigans and realizes boots are officially acceptable again. Then, the momentum fades and the bolder the leaves get, the blander our outfits become.
If the season has left you with a lack of inspiration, it's time to incorporate a good statement piece – something to add spice to even your most basic looks. Specifically, I'd like to recommend a skinny scarf. This piece is insanely versatile and goes with every outfit.
Read on to learn how to wear a skinny scarf for day and a night out:
Skinny Scarf: Class
I know this combo is nothing new, but it's hard to beat a classic white tee and jeans, especially when you want to add a bold accessory or two.
I paired this simple outfit with an eye catching leopard skinny scarf and quilted sneakers. For a long day of classes, a good tote is a must. This one is affordable, reversible, and did I mention faux leather? To top off this look, a gold bangle adds slight sophistication.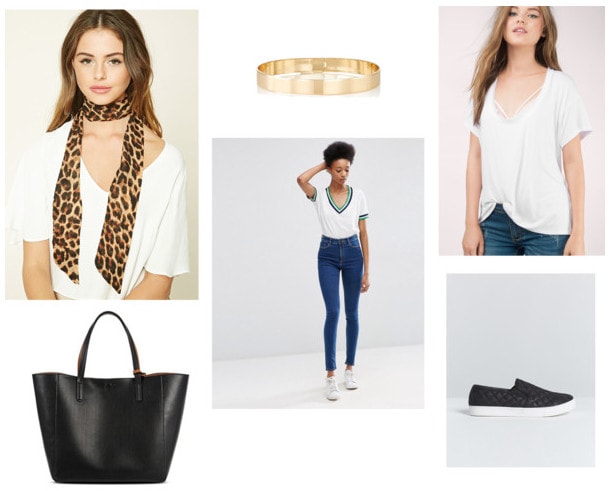 Products: Scarf, Jeans, Tee, Sneakers, Bangle, Tote
Skinny Scarf: Night Out
A skinny scarf can take any nighttime outfit to the next level. Pair it with an off-the-shoulder bodysuit and a basic black denim skirt to let it shine.
To take full advantage of the cool weather, a light burgundy bomber jacket keeps you both warm and fashionable. Also, shaped crossbody bags are all the rage right now so grab one to stow your essentials. Complete the look with a chunky bangle in a fall tone.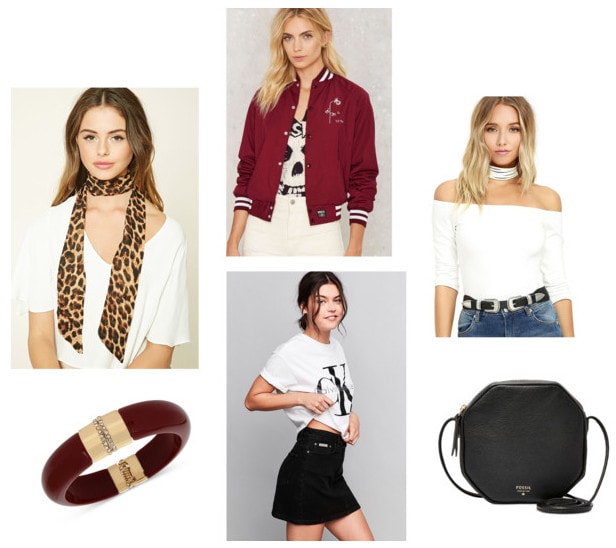 Products: Scarf, Skirt, Bodysuit, Jacket, Bag, Bracelet
Let me know!
Do you love the look of skinny scarves? Have you tried one? Which one of the scarves featured would you make your statement piece? Let me know!