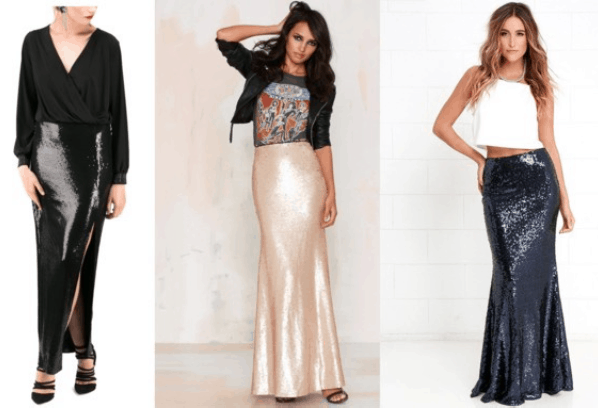 Do you struggle with transforming your outfits from day to night? Don't worry, CF is here to help turn that daily annoyance into a fun challenge. Class to Night Out focuses on one piece per week, and aims to help you take your look from study sessions in the library to dancing the night away.
It's about that time. The end of one year and the beginning of another. Where does time go? Though we aren't there yet – we still have lots of celebrating to do. But who says it's too early to start searching for your NYE outfit?
Sequins and sparkles dominate the end of the year, and a sequin maxi skirt is sure to make heads turn. And they aren't just reserved for your nights out on the town, either. With some styling tricks, they can work for daytime, too.
To see some tips and tricks on how to style a sequin maxi skirt for class and a night out, keep reading!
Sequin Maxi Skirt: Class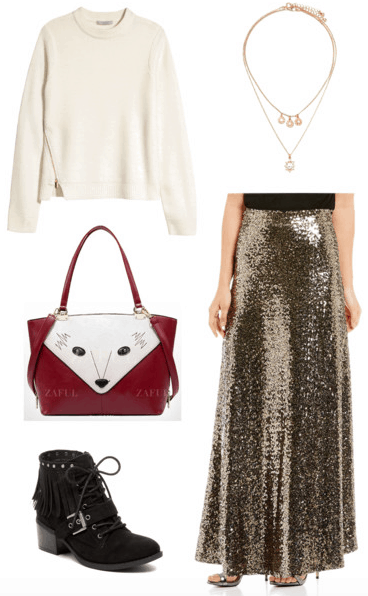 Products: Skirt – Top – Tote – Shoes – Necklace
Wearing a sequin maxi skirt to class is a bold move. However, if you're willing to take a risk, you can totally pull it off. This might not work for a conservative accounting or engineering class, but liberal arts majors, go to town. This could also be a good general daytime outfit, especially if you're up for standing out in a crowd!
To dress the skirt down, pair it with a cream or white sweater and black booties. You definitely don't need jewelry since the skirt has so much bling. Consider wearing a pretty gold necklace to add a little something to your sweater if it's looking too basic. Also, how cute is this fox tote?!
Sequin Maxi Skirt: Night Out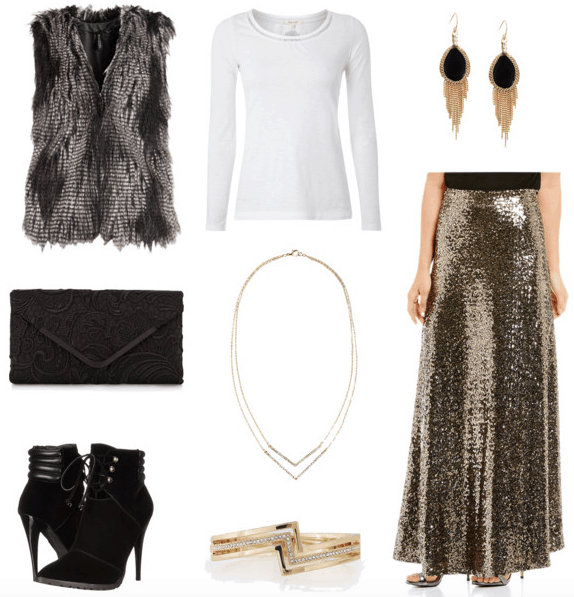 Products: Skirt – Top – Vest – Shoes – Clutch – Necklace – Bracelet – Earrings
Now you can glam it up for NYE or just your Friday night out. Wear a plain white long-sleeve tee under a faux fur vest for some extra luxury. Now, you've got two bold trends in one outfit, so don't go crazy with jewelry. Keep it simple with black and gold earrings, a necklace, and a bracelet. Finish the whole ensemble with some black high heel booties and a black clutch, and you now have the perfect New Year's Eve outfit!
What do you think?
Would you be daring enough to rock a sequined maxi skirt? If so, how would you style it? I'd love to hear from you in the comments!