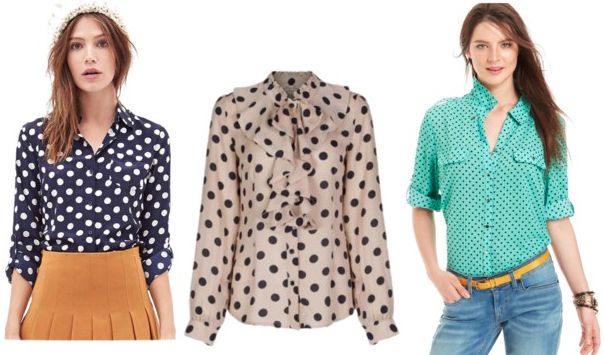 Do you struggle with transforming your outfits from day to night? Don't worry, CF is here to help turn that daily annoyance into a fun challenge. Class to Night Out focuses on one piece per week, and aims to help you take your look from study sessions in the library to dancing the night away.
"I don't think there is ever a wrong time for a polka dot." – Marc Jacobs
You heard the man! Polka dots are an excellent way to incorporate some pattern into your wardrobe, but in a very wearable and not-too-overwhelming way. A polka dot blouse is a very fun, classy piece that I think everyone should make a wardrobe staple.
This week, I'm going to show you how to style a chic polka dot blouse for class and a night out. Scroll down to see both looks:
Polka Dot Blouse: Class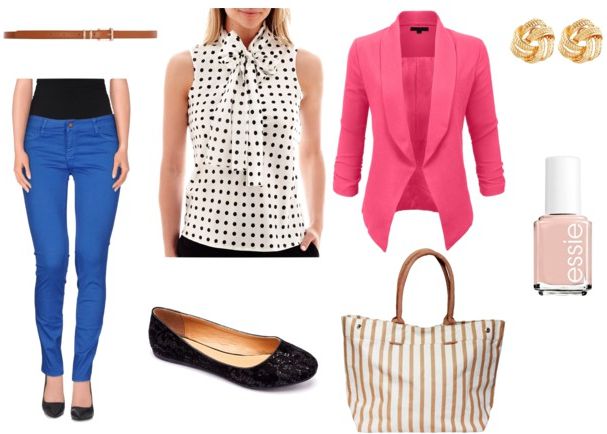 Blouse – Pants – Blazer – Shoes – Bag – Belt – Earrings – Nail Polish
Okay, the bow on this shirt is just too cute. Find a pair of casual cobalt blue pants to amp up this classic shirt, and don't forget to wear your favorite tan skinny belt. Wear a bright pink blazer to add even more color. Carry around a tan-and-white tote bag and slip into a pair of simple black flats.
Accessorize with these gold knot stud earrings and polish your nails with a classy neutral color. This would be my go-to "job interview in-between classes" outfit. It's polished, but shows plenty of personality.
Polka Dot Blouse: Night Out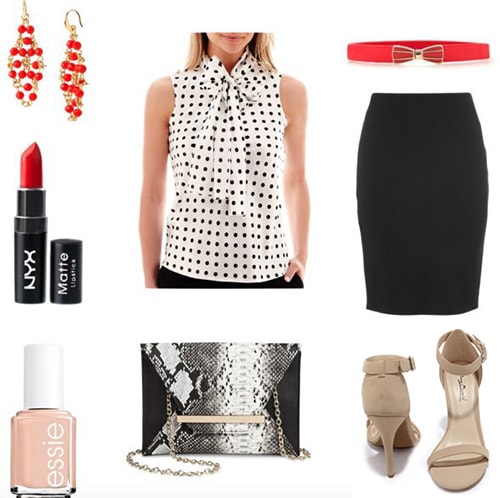 Blouse – Skirt – Shoes – Bag – Belt – Earrings – Nail Polish – Lipstick
For your night out, keep your silhouette sleek and elegant. A high-waisted black pencil skirt, red bow belt, and sky-high stilettos will have you looking fabulous. Pull the outfit together with a snakeskin-print clutch and red-and-gold dangly earrings.
Make your lips pop with a spicy matte red lipstick, paint your nails with that neutral polish you love, and you're ready for a night on the town!
What Do You Think?
Is a polka dot blouse a wardrobe staple for you? How would you style one for class and a night out? Let me know in the comments!