The oversized denim jacket has been around the fashion block many times and seems to be taking yet another stroll. From two-sizes-too-big styles to denim dusters, this '90s throwback trend ranges in length and size and is easy to tailor to your aesthetic.
Fair warning: the longer the denim jacket is, the heftier the price tag. To keep this post college budget-appropriate, I focused on a simple oversized denim jacket in a classic medium wash. Read on to learn how to style it.
Long Denim Jacket: Class
School is back in session and for some that means the early morning grind has also made its comeback. Save yourself the morning "what do I wear?" scramble and stick to a simple ensemble comprised of neutrals.
This outfit is relaxed and easy but still has a classy feel to it. Throw your jacket over an olive green tee and some loose shorts, then grab a go-with-everything tote and don neutral sandals. You'll be ready to take on whatever life throws at you, including that 8 AM lecture.
Products: Jacket, Tee, Shorts, Sandals, Tote
Long Denim Jacket: Night Out
I love mixing a few fashion trends at once and this look does just that. For night, the denim jacket looks great paired with the slip-dress-and-white-tee trend. Add studded sandals and a tasseled clutch for a fall-perfect look.
Everyone knows the Coco Chanel quote "Once you've dressed, and before you leave the house, look in the mirror and take at least one thing off." Today, however, we are ignoring Coco's advice. This outfit is ideal for pairing with plenty of jewelry. I added a few rings and a bracelet, but you could layer on even more to amp up the glamour.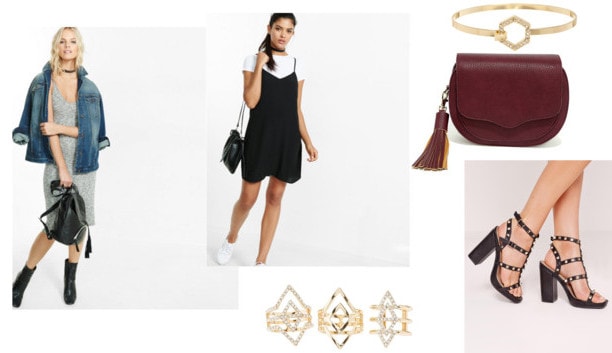 Products: Jacket, Tee Dress, Heels, Purse, Rings, Bracelet
What do you think?
Is this piece worth the splurge? Which outfit is your favorite? Let me know!