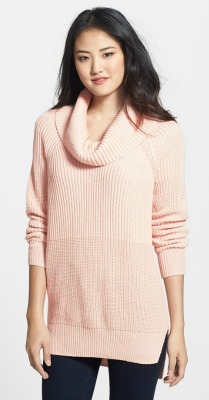 Do you struggle with transforming your outfits from day to night? Don't worry, CF is here to help turn that daily annoyance into a fun challenge. Class to Night Out focuses on one piece per week, and aims to help you take your look from study sessions in the library to dancing the night away.
Sweaters in different textures, colors, and styles were all over the runways for Fall 2014 – as they usually are. This year though, it seems as though there was a focus on chunkier knit sweaters. Cowl neck sweaters are one of the coziest wardrobe options when the weather starts to get cooler. This style of sweater is super easy to throw on, and can be paired with jeans, leggings, skirts, you name it!
In this post, I'll be showing you how to style a cozy black cowl neck sweater for both class and a night out! Since this weekend is Halloweekend, I thought I would add some Halloween flair to both outfits without going too over-the-top.
Cowl Neck Sweater: Class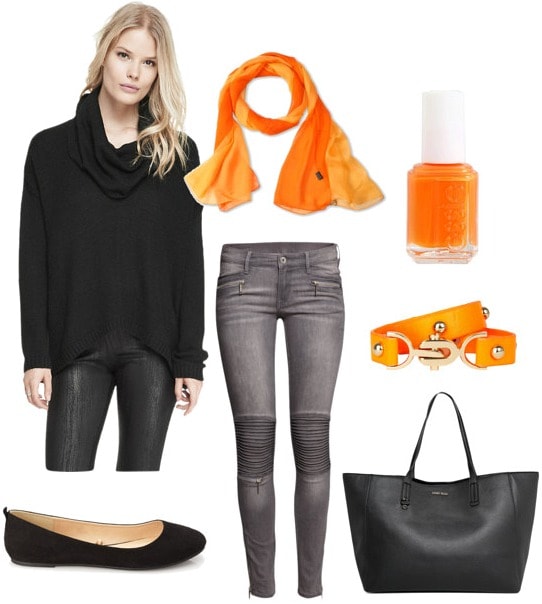 Product Information: Sweater, Pants, Flats, Scarf, Nail Polish, Bracelet, Bag
Pair this comfy-looking black cowl neck sweater with a pair of edgy, moto-detailed gray jeans. Simple black flats and a faux leather tote keep this ensemble sleek and simple. Add pops of orange to this black and gray look to show some Halloween spirit. A two-toned orange scarf layered under the cowl neck of the sweater brings some much needed color to the outfit, while a matching wrap bracelet and fingernails continue to provide pops of color throughout the look.
Cowl Neck Sweater: Night Out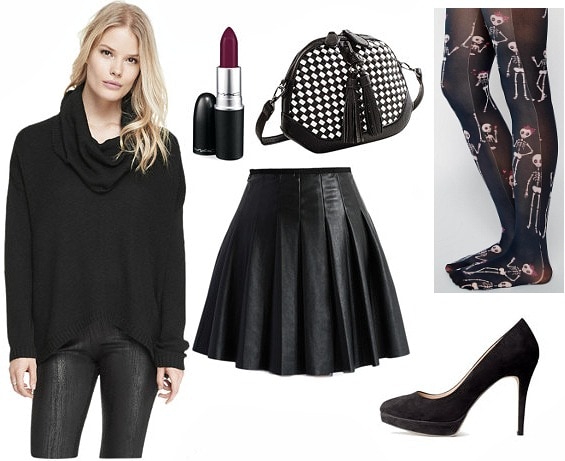 Product Information: Sweater, Skirt, Tights, Heels, Lipstick, Bag
This sweater gets a little more festive for nighttime when paired with a pleated faux leather skirt and sheer black tights with printed skulls on them. Add chic black pumps to elongate your legs and keep the focus on these super fun Halloween-themed tights. An adorable houndstooth crossbody bag with tassel closures is perfect to store all of your night out essentials, plus it complements the black-and-white theme of the outfit. Finish the look with a vampy deep plum lip – perfect for Halloween!
Your thoughts?
Would you ever wear a cowl neck sweater? To class? For a night out? How would you style this sweater for Halloween? How would you style this sweater for every day wear? Let me know what you think of the outfits in the comments, and tell me what other pieces you'd like to see featured on Class to Night Out!