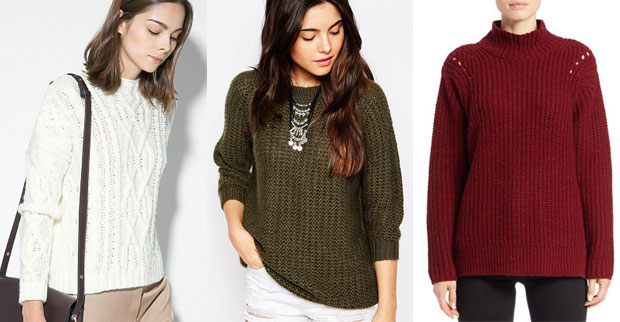 Do you struggle with transforming your outfits from day to night? Don't worry, CF is here to help turn that daily annoyance into a fun challenge. Class to Night Out focuses on one piece per week, and aims to help you take your look from study sessions in the library to dancing the night away.
Cool weather is here to stay for a while, so it's time we start perfecting that "cozy-chic" look. Between jackets, cardigans, sweaters, ponchos, and huge infinity scarves, there are many ways to be warm and trendy. Gotta love it when you have options!
Chunky sweaters are a hot (warm?) item in stores right now so you should have no trouble finding one. They look amazing when they're a little oversized, so it may even be a good idea to size up, depending on what kind of look you are going for.
To see how to style a chunky sweater for class and a night out, keep reading!
Chunky Sweater: Class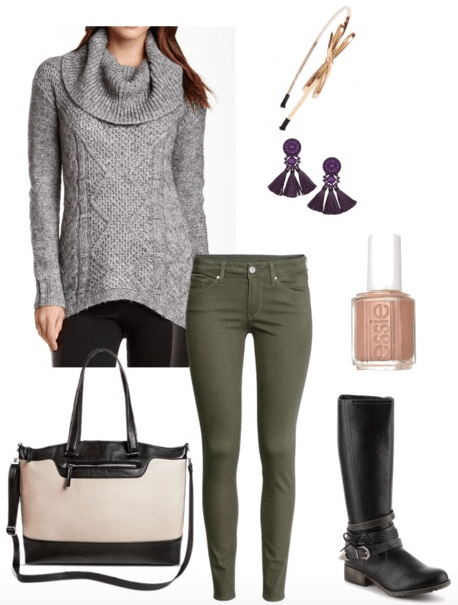 Products: Sweater – Pants – Tote – Boots – Nail Polish – Earrings – Headband
This sweater gets extra chic points because of the cowl neck. Pair it with some olive green skinny pants and black riding boots for a timeless vibe.
Since the sweater's neck is so exaggerated, I don't think we need a necklace, so just accessorize with some deep purple earrings and a fun headband if you're feeling girly. The tote and nail polish complement each other with their neutral tones and bring the outfit together.
That's it – you're ready for class. This outfit would also be a great Thanksgiving-with-the-family look!
Chunky Sweater: Night Out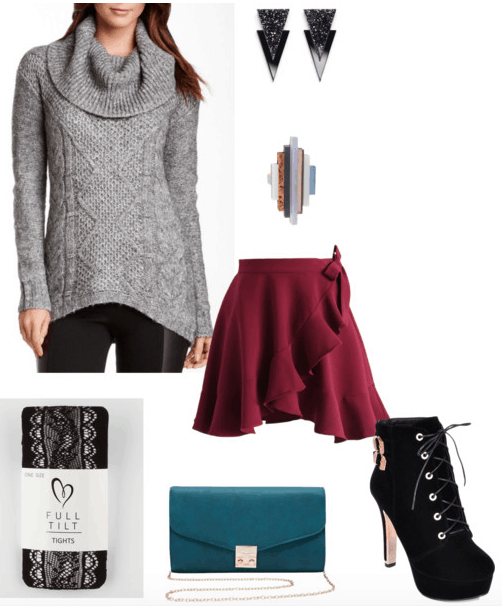 Products: Sweater – Skirt – Tights – Shoes – Clutch – Earrings – Ring
Add a little more color for your night out with a wine-colored skirt paired with some lace tights (for both warmth and trendiness). Wear some chunky black heels to coordinate with the chunky sweater: I chose these killer black platform lace-up boots.
Again, I think we can skip a necklace, so accessorize with these black triangle earrings, a blue-and-purple cocktail ring, and a teal clutch. You are ready to have the coziest night out ever!
Your thoughts?
What do you think? Are you going to pick up a chunky sweater? If so, how would you style it for class and a night out? Let me know in the comments, I love hearing feedback!