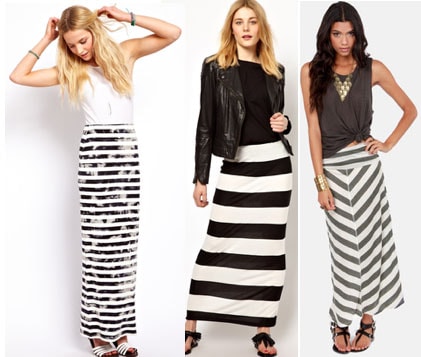 Do you struggle with transforming your outfits from day to night? Don't worry, CF is here to help turn that daily annoyance into a fun challenge. Class to Night Out focuses on one piece per week, and aims to help you take your look from study sessions in the library to dancing the night away.
I'll be the first to admit it: The black and white striped maxi skirt trend is NOT something I would usually go for. The bold stripes are way too dramatic for my typically down-to-earth style, and when styled improperly, these skirts can easily veer towards a jailbird vibe.
However, I've really warmed up to this trend recently. With the right styling, black and white striped maxi skirts can look extremely chic and trendy. This trend is also a great way to wear a maxi skirt without giving your look a boho feel, so it's perfect for girls with edgier sensibilities.
If you've been hesitant about this trend (or even if you're already obsessed) look no further, because this week's Class to Night Out is devoted to the black and white striped maxi skirt. Learn how to rock the trend or just grab some inspiration below!
Black and White Striped Maxi Skirt: Class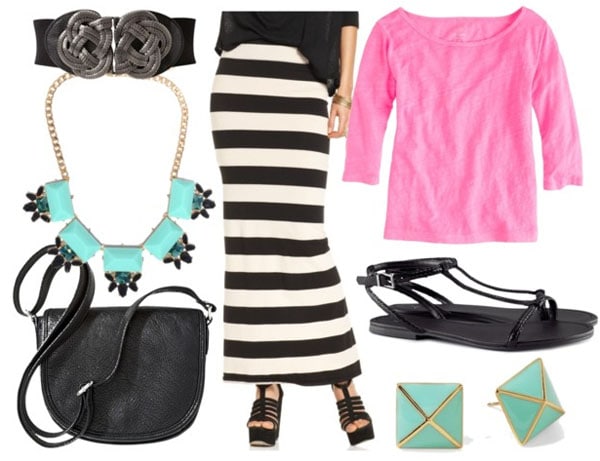 Skirt, Top, Belt, Sandals, Bag, Necklace, Earrings
Even though these skirts are super-edgy, it's still easy to look feminine and polished while wearing one. This skirt, from Free People, is so very versatile! Pair it with a preppy pink long-sleeved tee, making sure your top is well-fitted. Balance the look by cinching everything in at the waist with a bold black belt. Since we're going to add color with our jewelry, accessorize with simple black sandals and a matching shoulder bag. Then, add pops of color with an aqua tab necklace and matching studs.
Black and White Striped Maxi Skirt: Night Out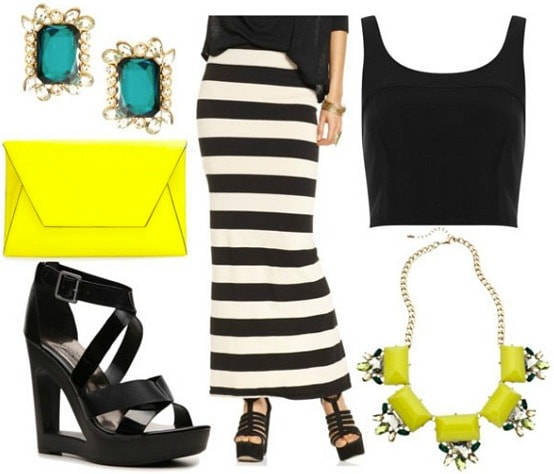 Skirt, Top, Sandals, Clutch, Necklace, Earrings
Go rocker-chic for your night out ensemble by pairing your skirt with a tight black cropped tank. Not only does this create visual balance, but it's also a super-sultry, yet understated look. Grab a pair of killer cut-out wedges, and play with pops of yellow and blue for a bold feel. Try a bejeweled tab statement necklace and big crystal studs in an elegant teal shade to complete the outfit.
Your thoughts?
What do you think of the black and white trend? How would you style this skirt? Be sure to let me know what you think of the outfits in the comments, and what other pieces you'd like to see featured on Class to Night Out!