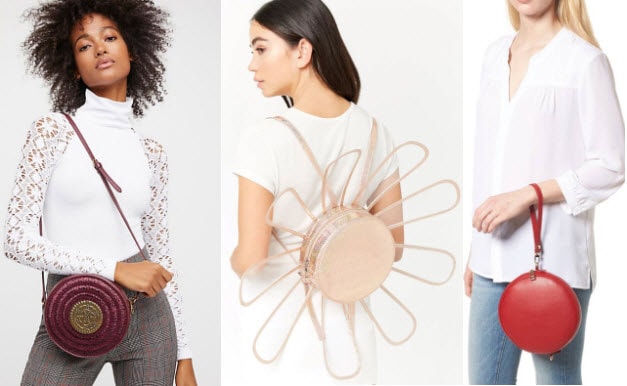 Products L-R: Free People, Forever 21, & Sole Society.
Who needs rectangular bags when circle bags are so trendy — and adorable? These bags are — naturally — round, and range from sizes small to large. They've been trending for a few seasons now and we're still loving them for summer. Circle bags are perfect for going to concerts, going to the club, or just for events where you don't want to carry a huge purse and want something a bit more unusual than your typical crossbody.
Here are some circle bag outfits to show you show to style this trend:
How to Style a Circle Bag – Outfit for Class: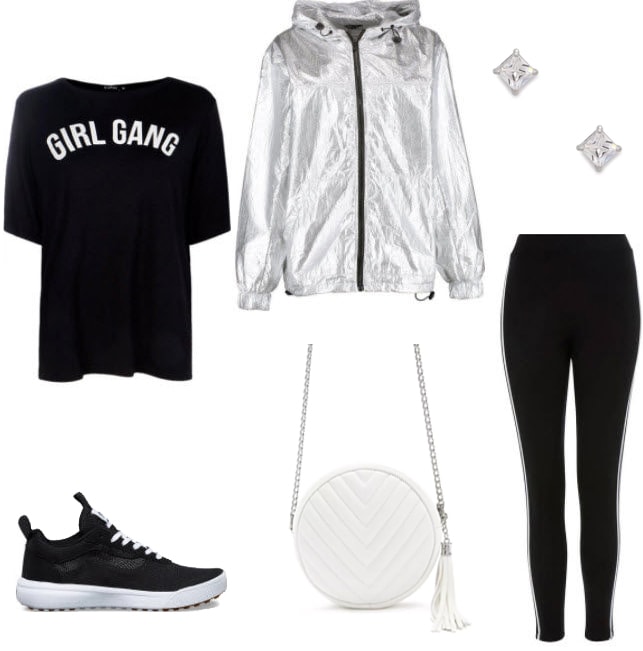 Products: Bag – Forever 21, Leggings – Topshop, Studs – Forever 21, Top – Boohoo, Sneakers – Vans, Jacket – Boohoo.
This outfit is the definition of chill. It's perfect for class, studying, or hanging out on the weekends. Boohoo's "Girl Gang" shirt and their silver metallic jacket blend effortlessly with Forever 21's white quilted circle bag. I love this bag because it features a cool tassel detail and classic chain strap. These extras make it both dressy and casual, perfect for basically any occasion.
Vans are always trendy, and I love these unexpected ones. You might not realize they're Vans at first glance! Adding the sneakers to this predominantly black and white ensemble is the perfect ending for this modern-cool outfit.
How to Style a Circle Bag – Outfit for Going Out: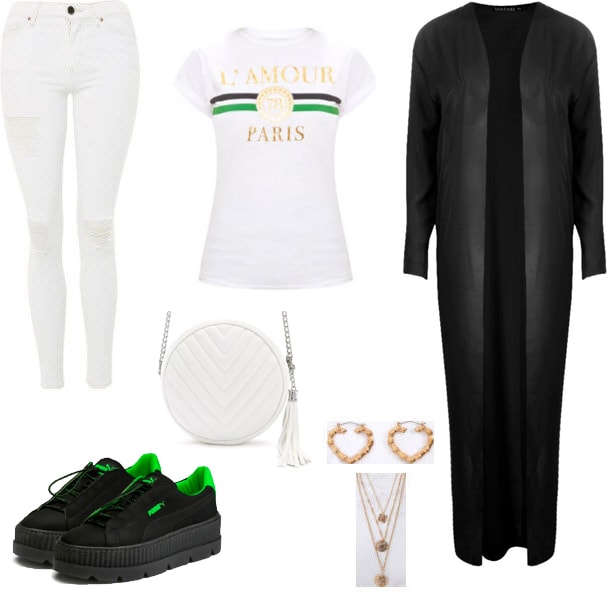 Products: Shoes – Fenty Puma, Bag – Forever 21, Jeans – Topshop, Top – Pretty Little Thing, Earrings – Pretty Little Thing, Necklace – Pretty Little Thing, Duster – Boohoo.
As our readers may know, the Fenty Puma creepers are a trending topic in fashion so much that the other color (green and blue) were sold out the first day of release (to this day they haven't been restocked yet). I love these trendy shoes for a night out because they give you height but still have a casual feel.
For a fun look, mix white jeans with Pretty Little Thing's L' Amour shirt (which matches the creepers). You can never go wrong with adding a light duster to your ensemble either. Finish with standout jewelry for the perfect night out look.
What are your thoughts on circle bags?
Circle bags are one of our favorite trends in recent memory and we're super excited to keep wearing them all summer long. Will you be grabbing a circle bag? If so, how will you be styling it? CF wants to hear from you so comment and let us know!