Editor's Note: This is a guest post by our friend Katrine from Make It & Fake It. She created this DIY tutorial exclusively for CF readers, and you guys are gonna love it! Read on to check it out and don't forget to visit K's blog for more tutorials!
I have been loving College Fashion since the day I discovered it, and I am so happy to be sharing some love in a post made especially for all of you! Below, I'll share an easy runway-inspired DIY that will take your shoe collection to the next level.
DIY Viktor & Rolf Bow Heels
Have you girls been noticing the Viktor & Rolf shoes that have been making their way through the blogosphere lately? I'm personally in love with them, hence this DIY.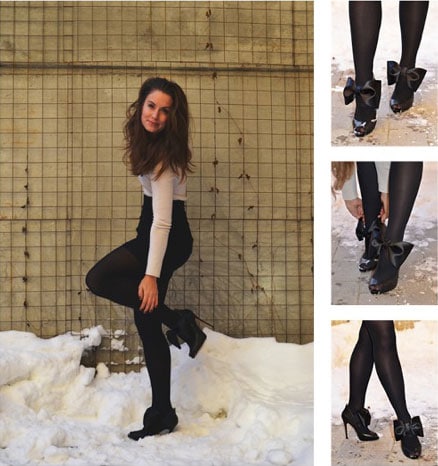 For this tutorial, start with any pair of heels in your closet. You can add this shoe accessory to the shoes you already own, creating multiple looks without buying new shoes… how great is that?
If you have a sewing aversion (like most of my friends), feel free to glue anything I say to sew, but make sure your glue is strong enough: You don't want your bow falling off during a stroll or hot date! Step by step instructions for creating the detachable shoe bow are below:
Hope you all spend the coming week sewing (and loving every second of it), and flaunting your bows on campus! If you feel like procrastinating some more, I have more DIYs at my blog, Make it & Fake It – come say hi! Thank you so much for having me over, CF. I hope to see you all again soon!