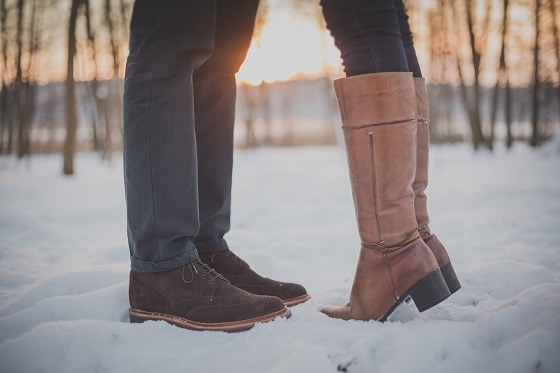 Going on elaborate, fancy dates can be a challenge in college (hello, budget), but that does not mean you and your significant other have to skip going out altogether! There are many fun, affordable things you can do for Valentine's Day, from dinner and a movie to ice skating or just spending the evening in the city together.
Here are some easy and casual date night outfit ideas for Valentine's Day or any casual date. Have fun this year and enjoy the day, no matter where it takes you.
Related reading: 5 Cute Valentines Outfits We Love for 2021
Casual Valentine's Day Outfit 1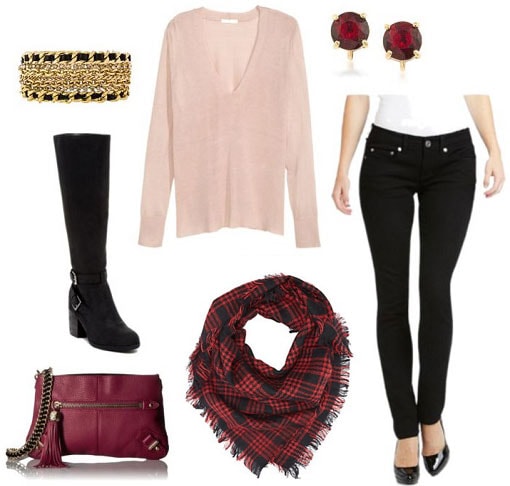 Products: Bracelet, Boots, Bag, Sweater, Scarf, Earrings, Jeans
The world's easiest way to add a Valentine's vibe to your outfit is to use pinks and reds in your look. This outfit will keep you warm with a pale pink sweater and red checked scarf. Pairing tall black boots with black jeans will really elongate your legs and add a bit of high-fashion to your look. I also love how the bracelet matches the chain on this deep red bag!
Casual Valentine's Day Outfit 2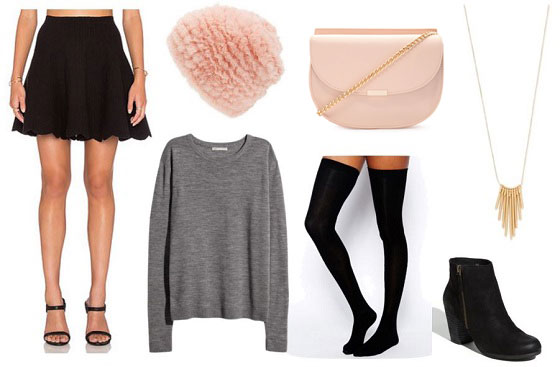 Products: Skirt, Hat, Sweater, Bag, Socks, Necklace, Boots
This pink hat reminds me of pale pink roses – it's perfect for Valentine's day! The scalloped edge on this skirt gives off a bit of a flower vibe as well. Pair these with a sweater and black socks and you will stay nice and warm throughout the evening. A girly pink bag adds a nice pop to the outfit, and this long gold necklace will dress up the sweater. This look is great if you want to look super feminine for your date night!
Casual Valentine's Day Outfit 3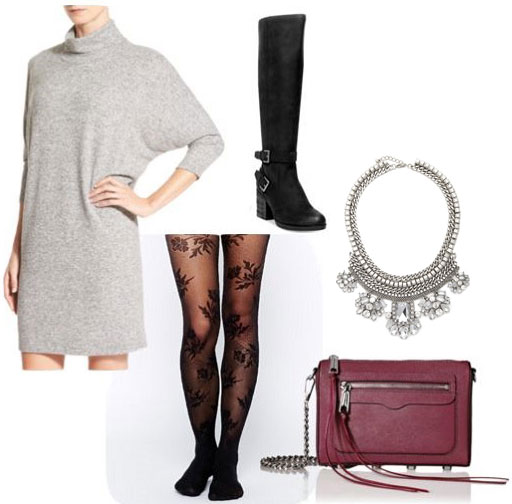 Products: Dress, Tights, Boots, Necklace, Bag
This is a bit of an edgier look for your Valentine's plans. The simple sweater dress and tall boots will allow these floral tights to pop. The statement necklace has a similar look to the floral tights and will sit perfectly on top of the dress' high neckline. And of course you have to add a fun berry colored bag to tie in with the holiday theme!
What do you think?
For those of you in relationships, do you prefer more low-key dates on Valentine's Day or do you like to dress up and go somewhere really nice? Or do you just stay in and have a chill night with your significant other? Let us know what your plans are below and what you are wearing for the night!