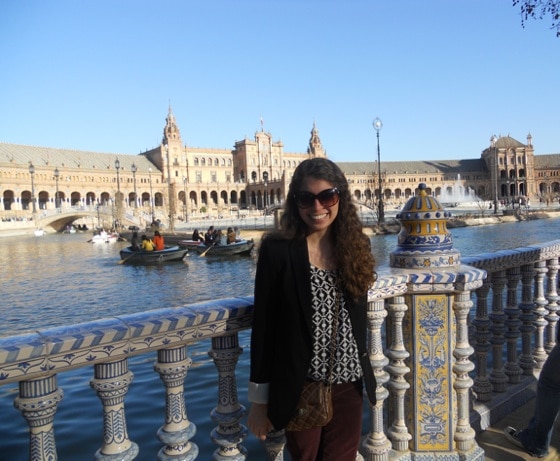 This is me in Plaza de España in Seville, Spain. This was my favorite outfit I wore while touring because it was so comfy and I loved the way it looked!
Welcome to the latest edition of Ask CF! Every couple of weeks, we select a reader fashion question and answer it here on the site. Do you have a specific fashion question for us? Scroll to the bottom of this post to learn how to send it our way!
Ask CF Question
Dear CF,

I always have trouble finding comfortable fashionable shoes and outfits for walking around on vacation. I'm going to Europe this summer and I know I will be walking around a lot. There will even be the infamously uncomfortable cobbled streets! If you could point me towards some outfits and shoes that would work well for long days walking around that would be a great help! Thanks!

Sincerely,
Eurotrip
Our Response
Dear Eurotrip,
How exciting that you are going to Europe! I just got back from six months studying abroad in Europe and I had an absolute blast! I hope you enjoy your trip as well, as I'm sure you will.
As someone who has experienced those infamous cobbled streets on a daily basis and who spent many weekends touring around countless cathedrals, national monuments, and museums, let me be the first to tell you that you have the right idea about bringing some comfy clothes — especially shoes! — on your trip.
Additionally, since you will surely be taking tons of pictures on your adventure, you will want to find the perfect combination of style and comfort for your trip. I have created a few outfit options below to help you do that. I hope you find them useful. And lastly, enjoy Europe!
Sincerely,
Jessica
Outfit # 1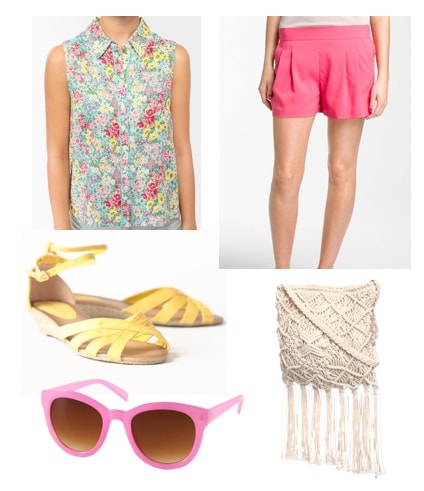 Product Information: Top, Shorts, Bag, Sunglasses, Sandals
This look would be perfect for a warm day touring around a city. Shorts like these pink ones above provide both comfort and functionality. Sleeveless, collared tops have been all the rage recently and this top combines the look with this season's floral trend. Accessorize with some pink jelly sunglasses to keep your eyes protected, and add some yellow sandals. Lastly, you need a bag. From my experience, I like to bring the smallest and lightest bag possible, as carrying them around day after day can get painful if they are too heavy. This crochet fringe cross-body would be perfect.
Outfit # 2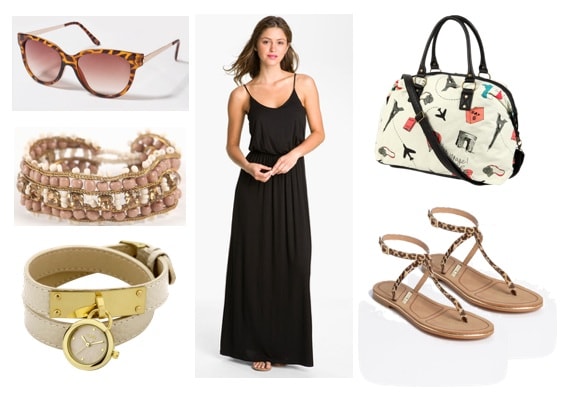 Product Information: Sunglasses, Dress, Bag, Sandals, Watch, Bracelet
Another great outfit option for vacation is a maxi dress. Start off with this black one and accessorize to your desire. For this look, I choose some leopard print sandals, a simple watch, bracelet, and tortoiseshell sunglasses. Even though it might seem kind of touristy, this Paris bag stole my heart – just be careful not to fill it with too much stuff! And even though I don't have it pictured here, you could easily throw on a cardigan, leather, or jean jacket for added warmth or when touring any sacred places.
Outfit # 3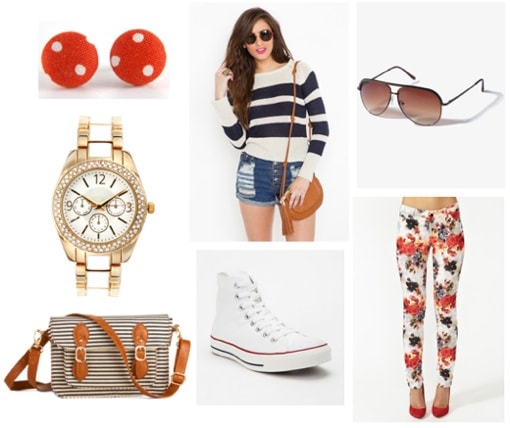 Product Information: Earrings, Sweater, Sunglasses, Pants, Shoes, Bag, Watch
If you want a little more coverage, I created this unique look with pants and a sweater. Floral pants have been extremely popular lately, and I always love the idea of mixing prints. The trick to mixing these prints is the scale – since the stripes are large, they won't compete with the floral pants. I think most people would agree that sneakers are the way to go when it comes to comfy shoes, and there's nothing more classic than a pair of white hi-top Converse. Finish the look with some sunglasses, a striped tote, a watch, and polka-dot post earrings.
Outfit # 4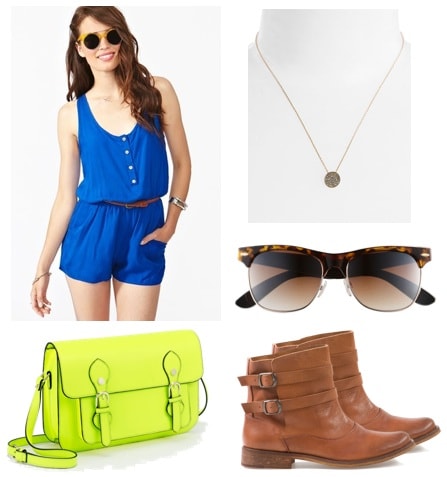 Product Information: Romper, Necklace, Sunglasses, Boots, Bag
A romper is a great addition to your packing list for any vacation. Similar to a dress, a romper takes care of an entire outfit with one piece making it easy to pack as well as to throw on for a day touring the city, heading to the beach, or exploring the new city's nightlife. This bright blue belted one would work great with fun accessories like a simple pavé necklace and cool sunglasses. For functionality, add on some comfy ankle booties and a neon cross-body bag for that extra pop.
Do you have a fashion question? Send it our way!
Is there something in your closet that you can't seem to figure out how to wear? Do you have an event coming up and need an outfit idea? Do you have a specific fashion conundrum you need help with?
If you have a question you want to see answered in this column, just send it on over via email to askcf @ collegefashion.net and one day you might see your question answered right here on the site!
Please note: We get A LOT of email and unfortunately cannot respond to every single question. However, we will read through every question and then decide which ones will be most helpful to the most readers. Thank you for your understanding.
What do you think?
Do you have any summer trips coming up soon? What do you like to wear when touring? Do you have any further tips? What has been your favorite vacation spot? Which places are you dying to visit? What would you wear there? Please let us know what you think by leaving a comment below!