Welcome to the latest edition of Ask CF! Every two weeks, we select a reader fashion question and answer it here on the site. Do you have a specific fashion question for us? Scroll to the bottom of this post to learn how to send it our way–including a brand new way to submit your most pressing fashion dilemmas!
Ask CF Question
Hi College Fashion,
I've been reading College Fashion for years now and loving it. I am a woman [with] a disability, which means I cannot wear heels or shoes with little support, like ballet flats. Which was easy in college when I rocked my sneakers and casual boots. Now, however, I'm starting a job in government administration and I need to dress formally. I don't wanna look like an old lady, but also don't wanna make my illness worse by wearing bad shoes for me.
Any advice?
Iris
Our Response
Dear Iris,
Shopping for cute shoes that are also work-appropriate can be really difficult, especially when it seems like many, if not most, comfort shoe brands make shoes that are clunky, and, let's face it, often downright hideous to look at.
This becomes even more apparent if you're on a budget, as I learned while putting together the outfits for this article. Presumably, making shoes that are good for your feet costs more than making pretty but not-that-comfortable shoes, which therefore causes the overall cost of the shoes for the consumer to go up.
However, the good news is that I was able to find quite a few pairs of fashion-forward and (relatively) reasonably priced shoes online by brands such as Clarks, A2 by Aerosoles, Softwalk, and Naturalizer, all of which are featured in the outfits below; other good brands to check out include Dr. Scholls, CC Corso Como, and Söfft.
So, without further ado, let's get to the outfits, all of which feature a pair of fashionable and functional shoes, along with advice on what to wear them with for work!
Outfit #1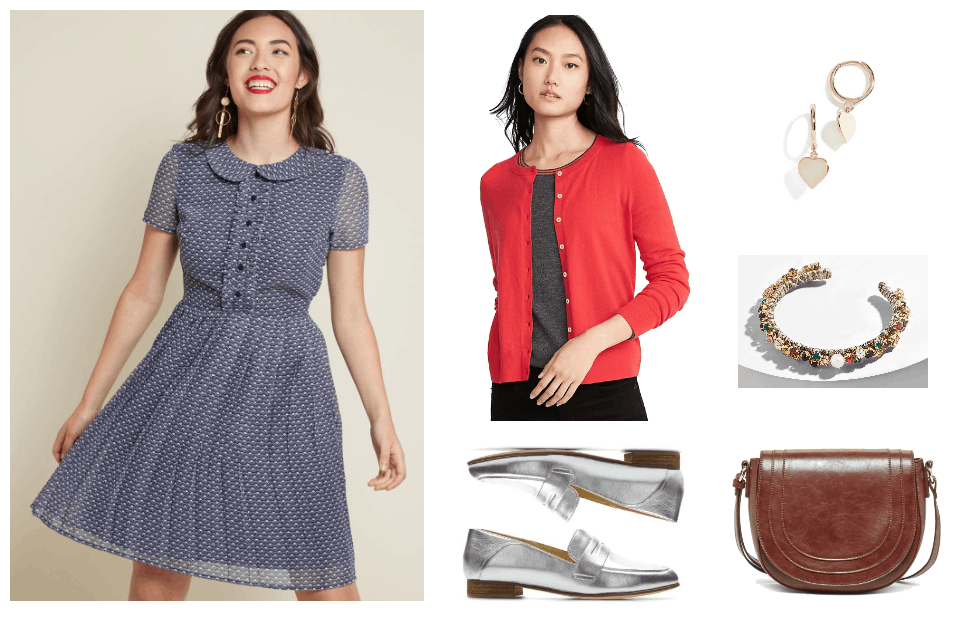 Products: Dress – ModCloth, Cardigan – Old Navy, Loafers – Clarks, Earrings – Shopbop, Bracelet – BaubleBar, Bag – Sole Society
This easy-to-copy look is perfect if your style is feminine and a little bit quirky, and you want to look professional without going for "typical" workwear attire.
First, put on a super-cute printed dress with a fun Peter Pan collar. Next, add a cardigan in a bright color to create contrast; personally, I think that this punchy bright red looks amazing when paired with darker blue tones, but other colors, such as fuchsia, yellow, or kelly green would also work well.
Small gold hoops with dangling hearts make for a sweet touch, while a beautiful cuff bracelet with various colored stones is a great way to add even more pops of color to your look without going overboard.
As for bags, you can't go wrong with a classic cross-body saddle style, while a pair of stylish silver penny loafers by comfort brand Clarks not only provides more support than your typical ballet flats, but also acts as a sort of "pseudo-neutral" that ties the whole look together.
Outfit #2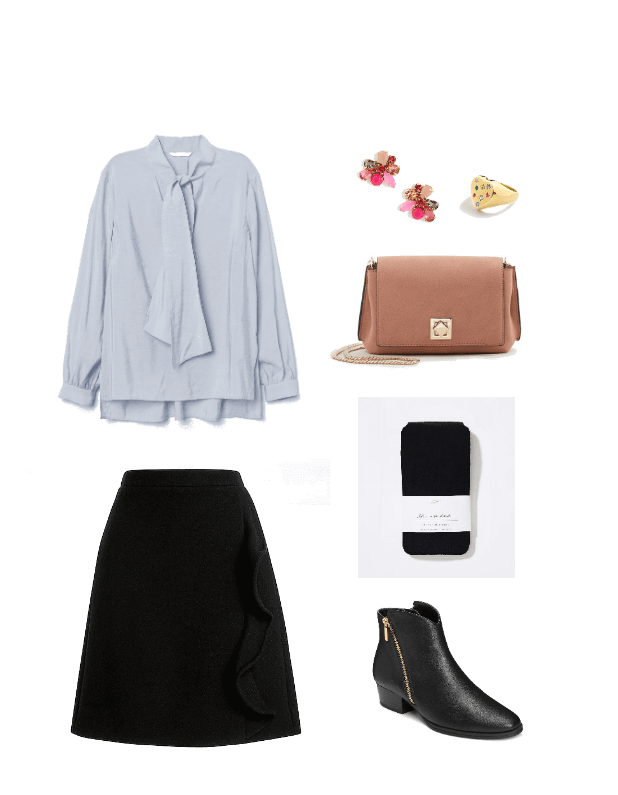 Products: Blouse – H&M, Skirt – J.Crew Factory, Earrings – J.Crew, Ring – J.Crew, Bag – Mango, Tights – Loft, Ankle Boots – DSW
In your letter, you mention that you like wearing boots on casual occasions, so I decided to find a pair that could either be dressed up or down, depending on how they are styled.
These cool ankle boots by A2 by Aerosoles fit the bill perfectly; I especially like the diagonal gold zipper, which subtly adds a bit of edge to any look.
Here, I've chosen to pair them with a simple, girly outfit; to get it, tuck a classy blue tie-neck blouse into a black wool skirt with a pretty ruffle detail.
A pair of opaque black tights streamlines the look (and keeps you warm in colder temperatures!), while a pale pink chain-strap bag is a timeless way to carry your essentials for work.
Finally, pink cluster stud earrings and an oversized heart ring with multi-colored stones are both great ways to add an element of fun to this understated ensemble.
Outfit #3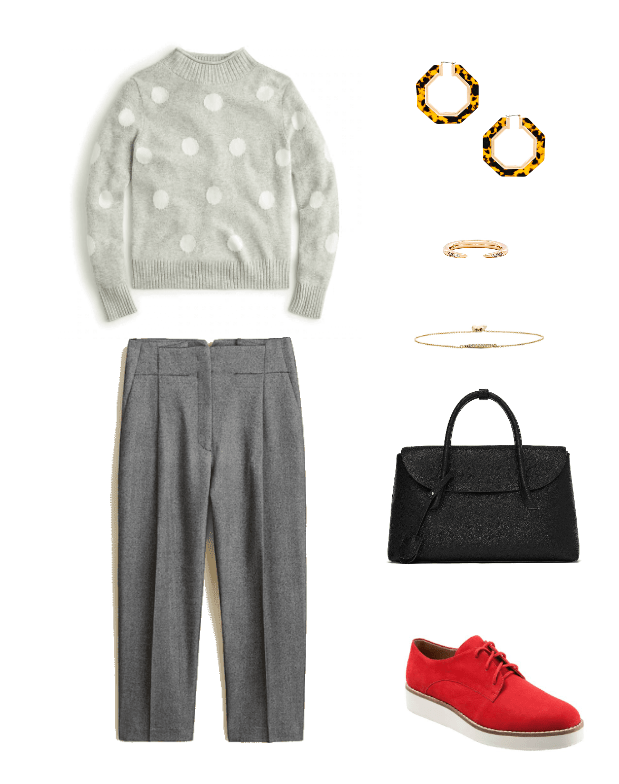 Products: Sweater – J.Crew, Pants – Mango, Earrings – Revolve, Ring – Revolve, Bracelet – Revolve, Bag – Zara, Oxfords – SoftWalk
This menswear-inspired ensemble features subtle details–including three separate prints–that make it stand out from the crowd–most notably these awesome SoftWalk oxfords, which feature a platform–a much more comfortable option than a heel!
Since the color of the shoes is so bright, I've decided to go with a more subtle neutral color palette for the rest of the outfit.
To get it, begin by pairing a gray-and-white polka dot sweater with herringbone pants that have an ultra-modern uneven waist detail; be sure to tuck in the sweater to show it off!
Next, accessorize with a simple black satchel, as well as a pair of trendy tortoise-pattern resin hoop earrings, a dainty open pavé ring, and a delicate bracelet.
Finally, lace up the oxfords to finish off this chic, work-ready look!
Outfit #4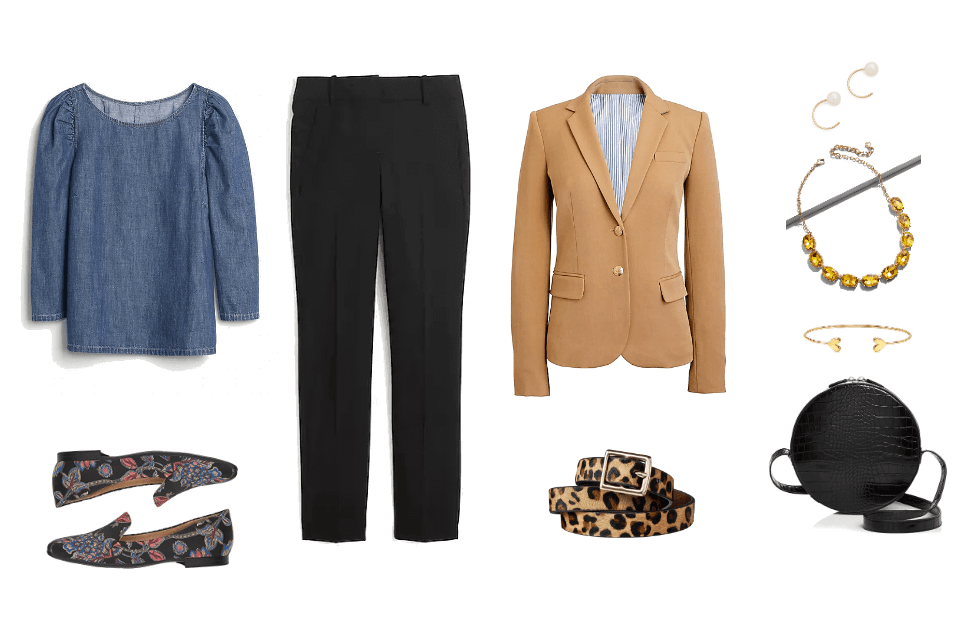 Products: Top – Gap, Loafers – Zappos, Pants – J.Crew Factory, Blazer – J.Crew Factory, Belt – Target, Earrings – Shopbop, Necklace – Baublebar, Bracelet – Bloomingdale's, Bag – Bloomingdale's
For the final outfit, I decided to put a twist on the classic "blazer + blouse + black pants" work look by making some subtle changes, as well as by adding some modern accessories into the mix.
The first change I made to this outfit formula was swapping a typical button-up blouse for a more feminine denim puff-sleeve top, as well as pairing the black pants with a blazer in a different color–in this case, beige–to create a bit more visual interest.
An of-the-moment leopard-patterned belt breaks up the neutral tones of the outfit, while these loafers by comfort brand Naturalizer–which feature a gorgeous floral pattern–also make this look pop.
As for accessories, I decided to go with some delicate pearl open huggie hoop earrings, as well as an adorable heart cuff bracelet, and a yellow statement necklace for extra sparkle.
Finally, I added a cool croc-embossed circular bag to round out (ha) this classy ensemble.
I hope that these looks have provided you with inspiration for picking out and styling comfortable-yet-fashionable shoes. Thanks for your question!
Do you have a fashion question? Send it to us!
Is there something in your closet that you want to wear but have no idea how to style? Do you need advice on what to wear to an upcoming event? Do you have a specific fashion conundrum? If you have a fashion-related question that you would like to see answered in this column, simply email it to askcf @ collegefashion.net, and one day you might see your question answered right here on the site!
Also, you can now message us your questions on College Fashion's Instagram account, @collegefashion!
What do you think?
Do you have any more advice for styling comfortable shoes in a stylish, work-appropriate way? Do you have any more brand recommendations for comfortable shoes? Which of these outfits do you like best?
Let me know in the comments!