Welcome to the latest edition of Ask CF! Every two weeks, we select a reader fashion question and answer it here on the site. Do you have a specific fashion question for us? Scroll to the bottom of this post to learn how to send it our way!
Ask CF
Hello CF!
Recently I have been brainstorming and looking for ways to match and style a pair of red ballet flats in a youthful, casual way. I have looked everywhere on the Internet for an answer to my question but to no avail.
Most of the outfits on Pinterest were appropriate either for more mature women at least over 25 years old or for formal occasions. Most of them did not feel like an outfit which could be worn to class or for coffee by the average college student.
Additionally, the only colours of clothing I saw in outfits were red, black, white and blue. It would be great of you if you could introduce a couple more colours to that palette.
Yours sincerely,
An anonymous 20-year-old fan.
Our Response
I totally get where you're coming from. Colorful shoes can be tricky to style, and red is about as bold as solid colors get.
Luckily, solid colors pair easily. The trick is to tie things together with a pop of the same shade of red somewhere else in the outfit. If you do this, you'll be able to pull off items you wouldn't have considered before.
Below are some outfits featuring bright red flats; feel free to play around with colors and cuts until you find something that expresses your unique style.
Pink Punk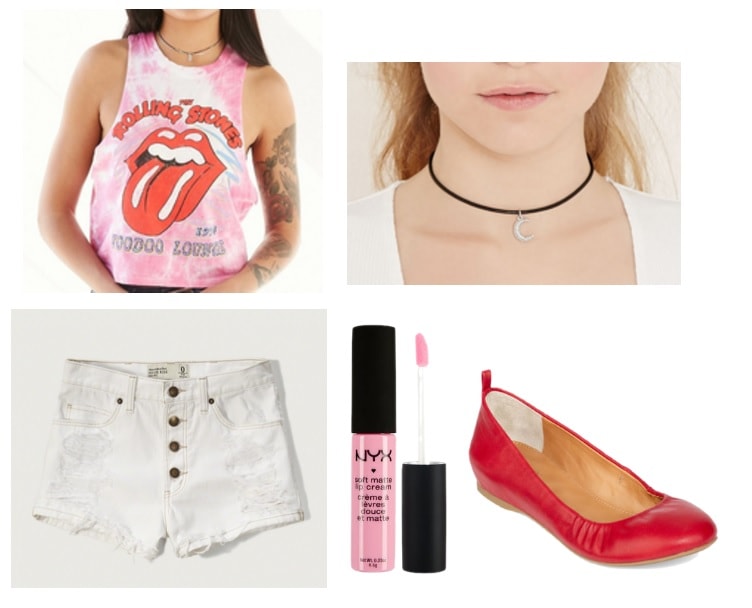 Products: Top | Shorts | Choker | Lip color | Flats
To mix up the color scheme a little, this outfit is based around pink and red. Some people are afraid to wear red and pink together. Don't be one of those people! This color combo is awesome.
Start with a cute pink crop top with a fun pop of red to tie in with the flats. Tuck the top into some white high-waisted shorts. Swipe on your pinkest, prettiest lip color, and finish it all off with a retro-cool choker.
Feminine Florals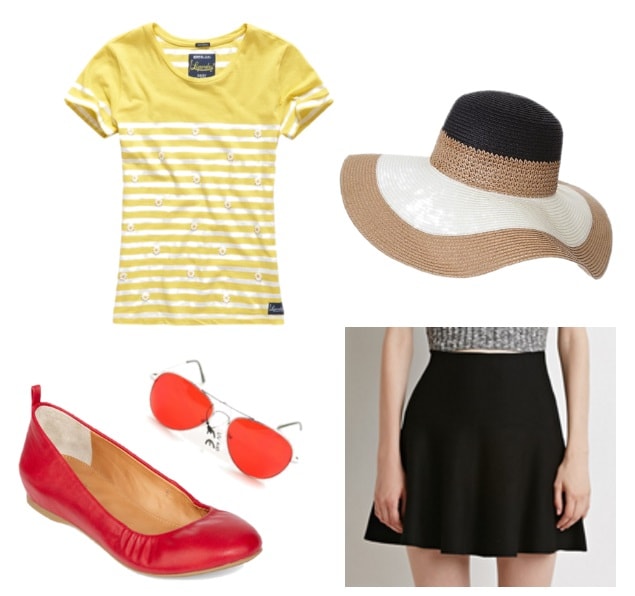 Products: Top | Hat | Flats | Sunglasses | Skirt
Another color that looks great with red is yellow! Primaries look great when paired with each other for a modern look. Wear this fun, flowery top with an understated black skirt for a slightly more grown-up take on casual. Match the red of the flats with some unique red sunglasses. This fun sunhat will keep rays off your face while pulling the whole look together.
Classic Romper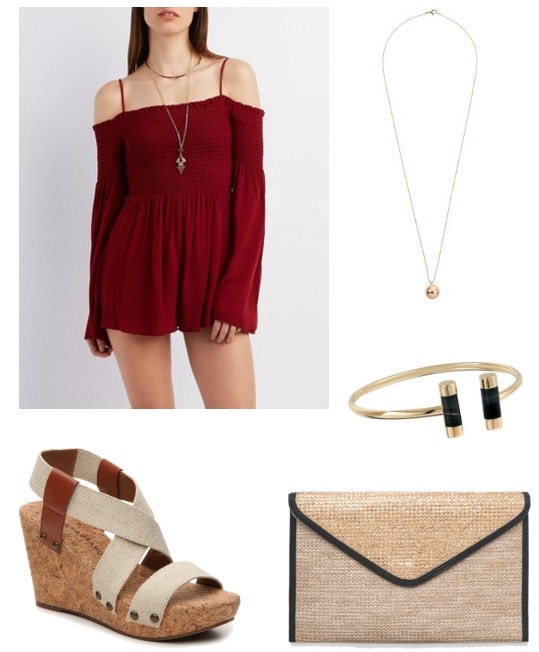 Products: Romper | Lipstick | Earrings | Flats
I know you wanted to avoid pairing red with blue, but this is my absolute favorite look to wear with my red flats. A denim romper is the perfect match for a bright, solid shoe. Gold drop earrings add elegance and sparkle, and it's hard to go wrong pairing a red lip with denim – there's nothing more classic!
Do you have a pressing fashion question? Ask away!
Is there a piece in your closet that you never know how to style? Do you have an important event coming up? Is there a certain trend that is completely lost on you?
If you have a question you want to see answered in this column, just send it on over via email to askcf @ collegefashion.net and one day you might see your question answered right here on the site!
Please note: We get A LOT of email and unfortunately we will not be able to respond to every single question. However, we will read through each question and then decide which ones will be most helpful to the most readers. Thank you for your understanding.
What do you think?
How would you style red ballet flats? Would you wear a denim romper? Let us know in the comments below!