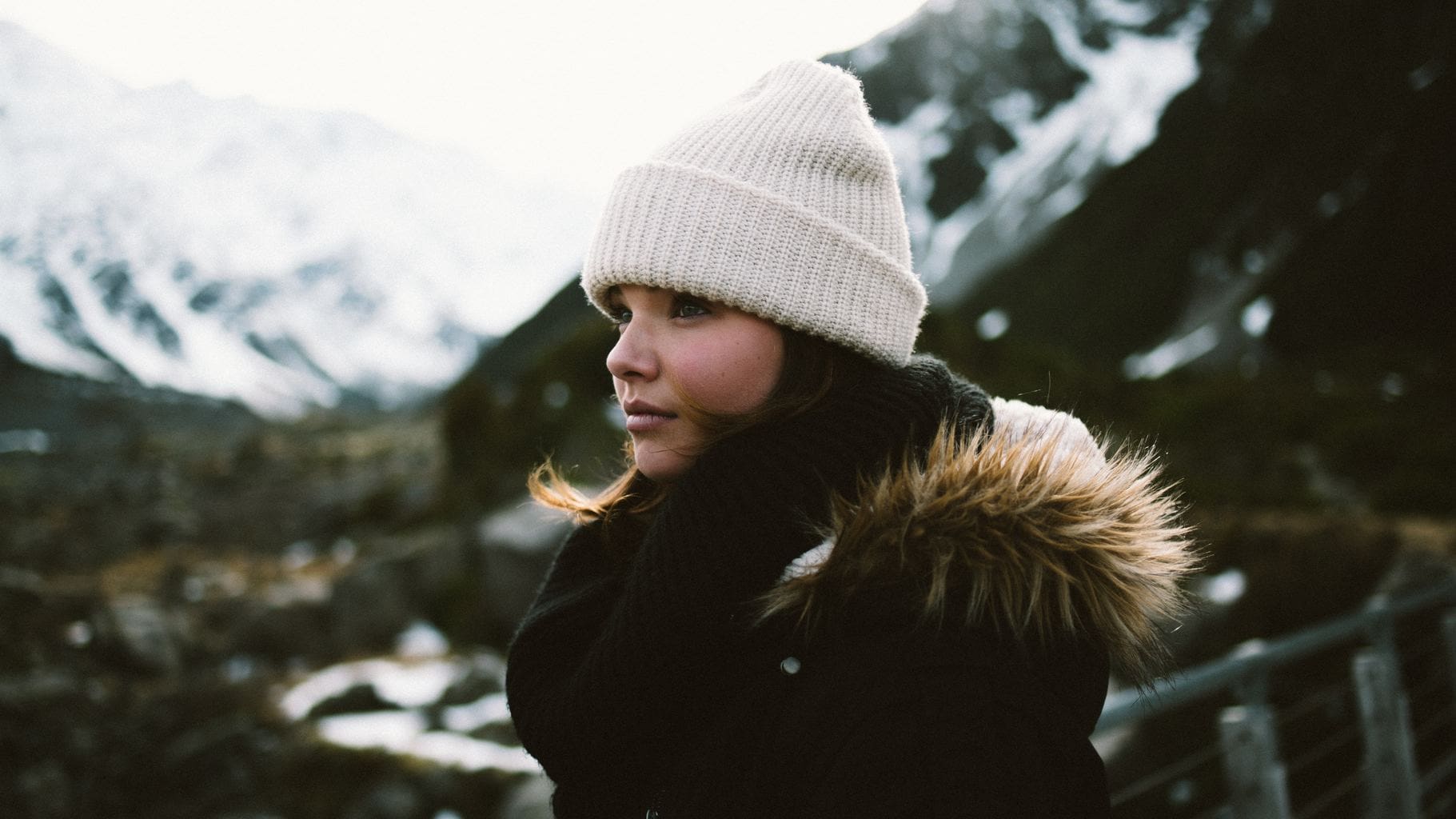 Welcome to the latest edition of Ask CF! Every two weeks, we select a reader fashion question and answer it here on the site. Do you have a specific fashion question for us? Scroll to the bottom of this post to learn how to send it our way–including a how to submit your most pressing fashion dilemmas via Instagram!
This week's question comes via CF's Instagram:
Ask CF Question
What's are some good ways to be stylish for a ski trip without breaking the bank?
Our Response
Dressing for a winter ski trip can be really hard as it feels like you have to spend a ton of money to A.) find pieces that'll keep you warm and cozy, and B.) find pieces that don't look frumpy and/or boring, as a lot of winter wear tends to be.
This can be made especially difficult when it seems like, even at stores that are supposed to carry lower-priced items, the warmer you want to be, the more money you need to spend. (I'm looking at you, well-over-$100 puffer from a supposedly "budget-friendly" retailer!)
But, worry not, as I have put together three ski trip outfits that both look chic and are entirely made up of under-$90 pieces that won't hurt your wallet!
Just keep scrolling to see them!
Affordable Ski Trip Outfit #1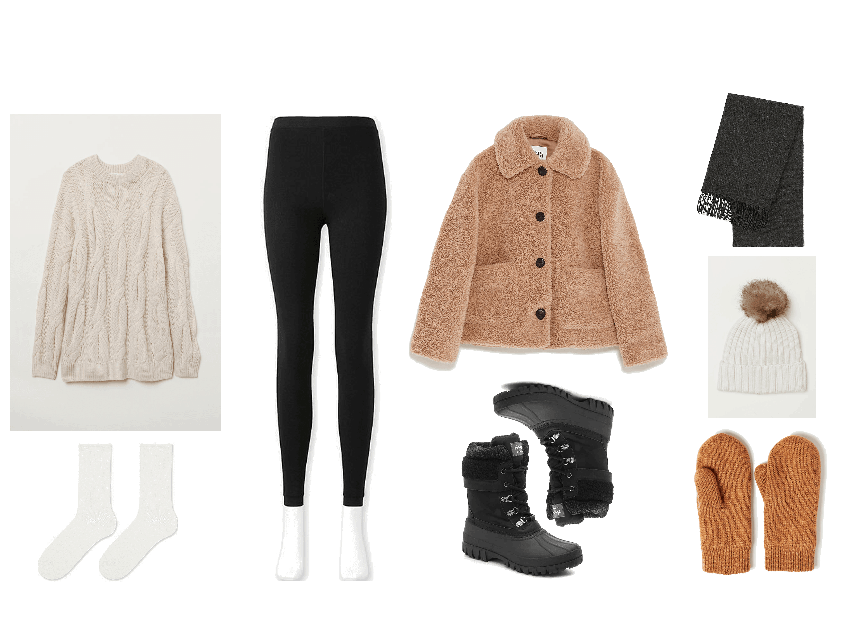 Products: Sweater – H&M, Socks (Set of two pairs) – Uniqlo, Leggings – Uniqlo, Jacket – Zara, Boots – DSW, Scarf – Uniqlo, Beanie – H&M, Mittens – Aritzia
For the first look, I decided to put together a practical-yet-fashion-forward outfit that will keep you warm and snug when you hit the slopes.
To begin, put on an oversized beige sweater over a pair of extra-warm pile-lined leggings.
Next, grab a trendy fleece jacket, and add some winter accessories, such as a cozy scarf, lightweight-yet-warm socks, a cute pom pom beanie, and a pair of wool mittens in a unique golden shade.
Heavy-duty winter boots are a must for this look, so go for these black waterproof ones with a super-subtle camo print, which are sure to keep your feet dry all day long.
Affordable Ski Trip Outfit #2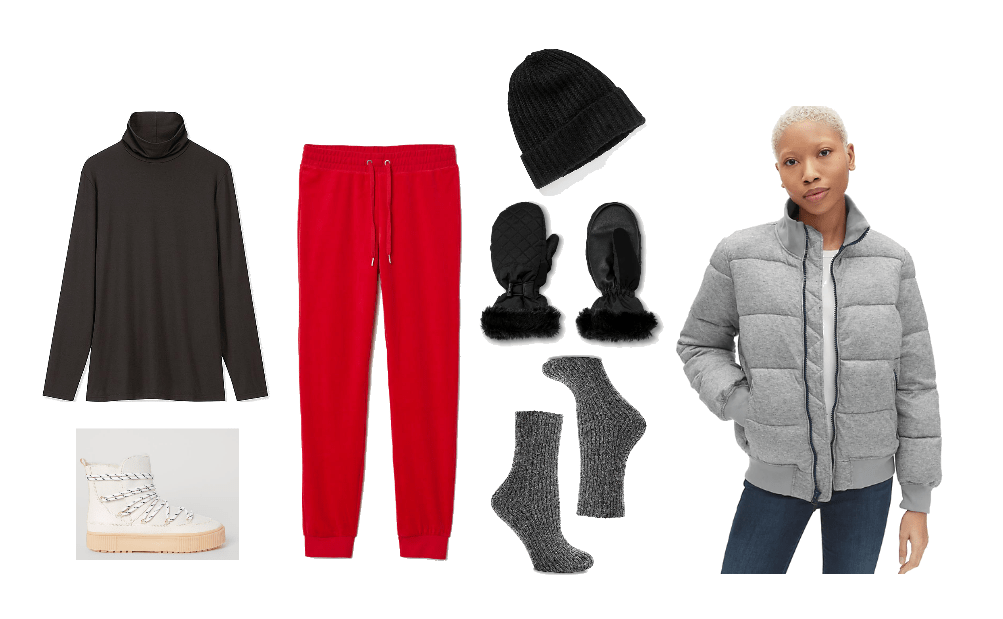 Products: T-Shirt – Uniqlo, Boots – H&M, Joggers – H&M, Beanie – Old Navy, Mittens – Target, Socks – DSW, Jacket – Gap
If your style is sporty, then you're sure to love this outfit, which mixes modern pieces in neutral tones with a bright pop of color for a look that's sure to stand out.
To get the look, pair a simple black turtleneck with red velour joggers for a fun take on the early-2000s-inspired track pant trend.
Wool socks will never not be a good idea when it comes to staying warm, so put on a goes-with-every-outfit dark gray pair.
A basic fold-over beanie and stylish quilted ski mittens are essential parts of any ski trip wardrobe, as is a puffer jacket; I love the color and finish of the one featured here, which gives of such a modern, minimalist vibe!
Finally, put on a pair of beyond-cool off-white winter boots to complete this sleek look.
Affordable Ski Trip Outfit #3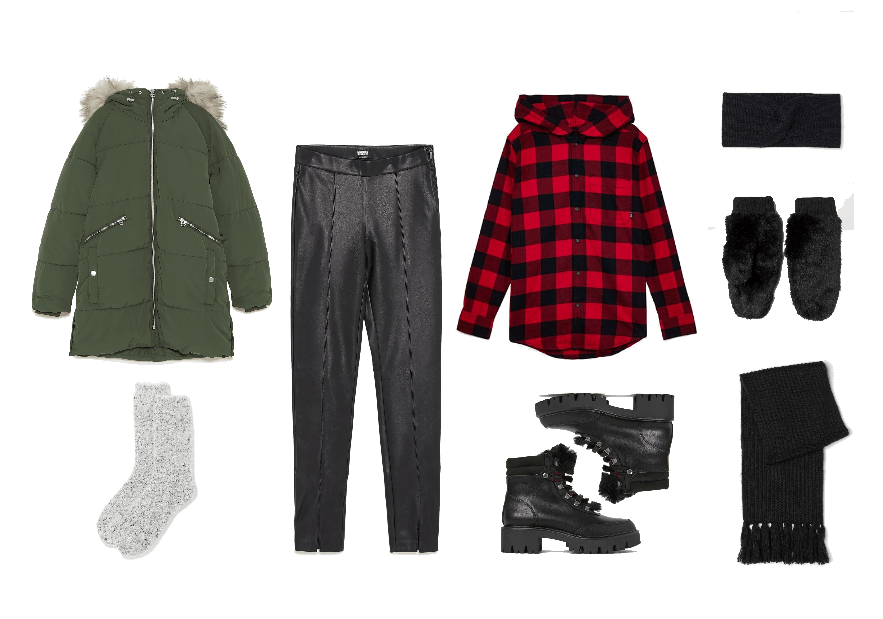 Products: Jacket – Zara, Socks – Old Navy, Leggings – Zara, Shirt – Aritzia, Boots – H&M, Headband – H&M, Mittens – H&M, Scarf – H&M
In addition to the previous two looks, which were put together with hitting the slopes in mind, I also wanted to create a look with more of an après ski vibe — although you could certainly wear this outfit to ski in if you wanted to!
First, put on an oversized hooded flannel over a pair of edgy faux-leather leggings; then, add some fuzzy wool socks.
An olive green puffer is a nice change from the typical black styles, while chunky hiking-style boots offer an of-the-moment alternative to more classic ankle boot styles.
For the final touches, add a twisted headband to keep your ears from freezing off, as well as a cozy scarf with tassels and sophisticated faux-fur mittens to keep your neck and hands nice and warm all day long.
I hope that these outfits have provided you with some helpful inspiration regarding how to look chic and stay warm, all while staying on a budget. Have fun on your trip, and thanks for your question!
Do you have a fashion question? Send it to us!
Is there something in your closet that you want to wear but have no idea how to style? Do you need advice on what to wear to an upcoming event? Do you have a specific fashion conundrum? If you have a fashion-related question that you would like to see answered in this column, simply email it to askcf @ collegefashion.net, and one day you might see your question answered right here on the site!
Also, you can now message us your questions on College Fashion's Instagram account, @collegefashion!
What do you think?
How do you dress warmly and fashionably on a budget? What else would you recommend wearing on a ski trip? What are some of the best places to buy wallet-friendly winter pieces?
Let me know in the comments!