When the summer weather hits and I want to feel like a chic fashionista, I grab my favorite maxi dress. Strapless, floral, halter, or striped, this summer staple is an easy-to-throw-on outfit that makes an awesome statement. I don't know about you, but when I walk down the street in my trendy maxi dress, I feel like a celebrity.
But here's my biggest issue with the maxi dress – it's so easy to fall into the necklace-and-sandals styling routine. Lucky for us, this wardrobe basic is easy to style a million ways. Keep reading to learn how you can vamp up your maxi dress look by accessorizing like a pro!
Look #1: Casual Chic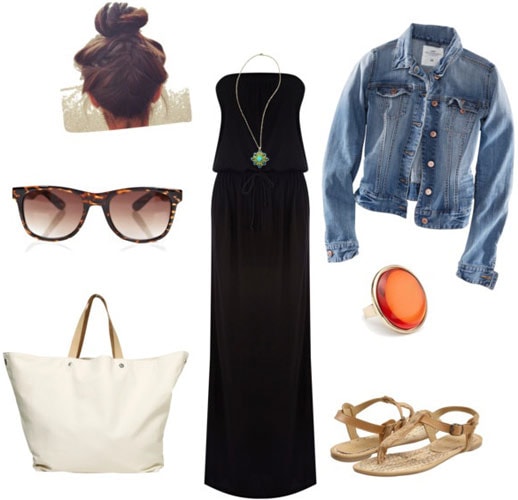 Product Information: Dress, Necklace, Jacket, Sunglasses, Tote, Sandals, Ring
Not all summer days are hot and muggy – sometimes a girl needs to layer up. Stay comfortable and stylish in a light denim jacket that's cropped at the waist – this will keep you from looking boxy and overwhelmed by fabric! Run your errands in comfortable sandals and grab a practical tote for those groceries, books, and summer supplies. Add pops of color with your favorite pendant necklace and statement ring. Finally, top the whole thing off with classic wayfarers and a topknot hairstyle.
Look #2: Effortlessly Cool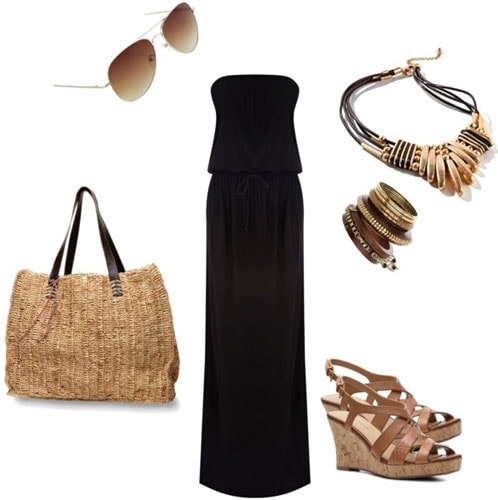 Product Information: Sunglasses, Bag, Necklace, Bangles, Wedges
Going to a bar? An outdoor patio? Out on a boat cruise? Look glam while you transition your favorite day dress to night by adding just a few key accessories. Aviators shield your eyes as the sun goes down, while gold, brown, and black jewelry looks fierce against the basic dress. Slip on a sexy pair of summer wedges and tie the whole look together with a simple straw bag.
Look #3: Artsy and Fun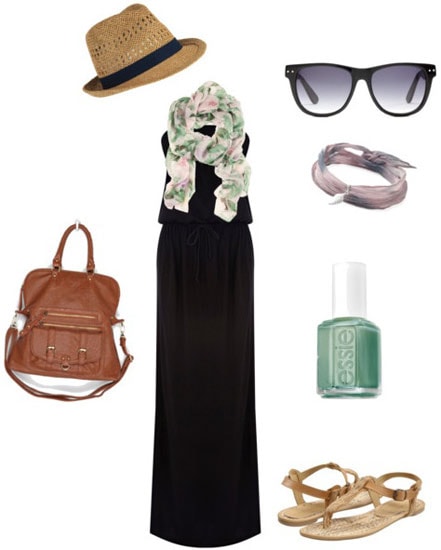 Product Information: Scarf, Fedora, Bag, Sunglasses, Wrap Bracelet, Nail Polish, Sandals
This look is perfect for those funky art fairs and casual outdoor concerts that you'll surely be attending this summer. Make your dress look boho-chic by adding a floral scarf, and highlight the scarf's colors by painting your nails a fun shade. Instead of wearing a chunky necklace that could compete with your scarf, try a simple bracelet, such as this silk wrap cuff. A carryall bag (this one can transition from crossbody to tote), sandals, and trendy sunglasses complete the look. For extra oomph, top everything off with a fun fedora.
Your turn!
Now, as always, it's time to hear what you have to say! What do you think of the outfits above? Where would you wear them? Do you have any other suggestions for accessorizing your favorite maxi dress? What are your staples? Make sure to leave your thoughts in a comment!