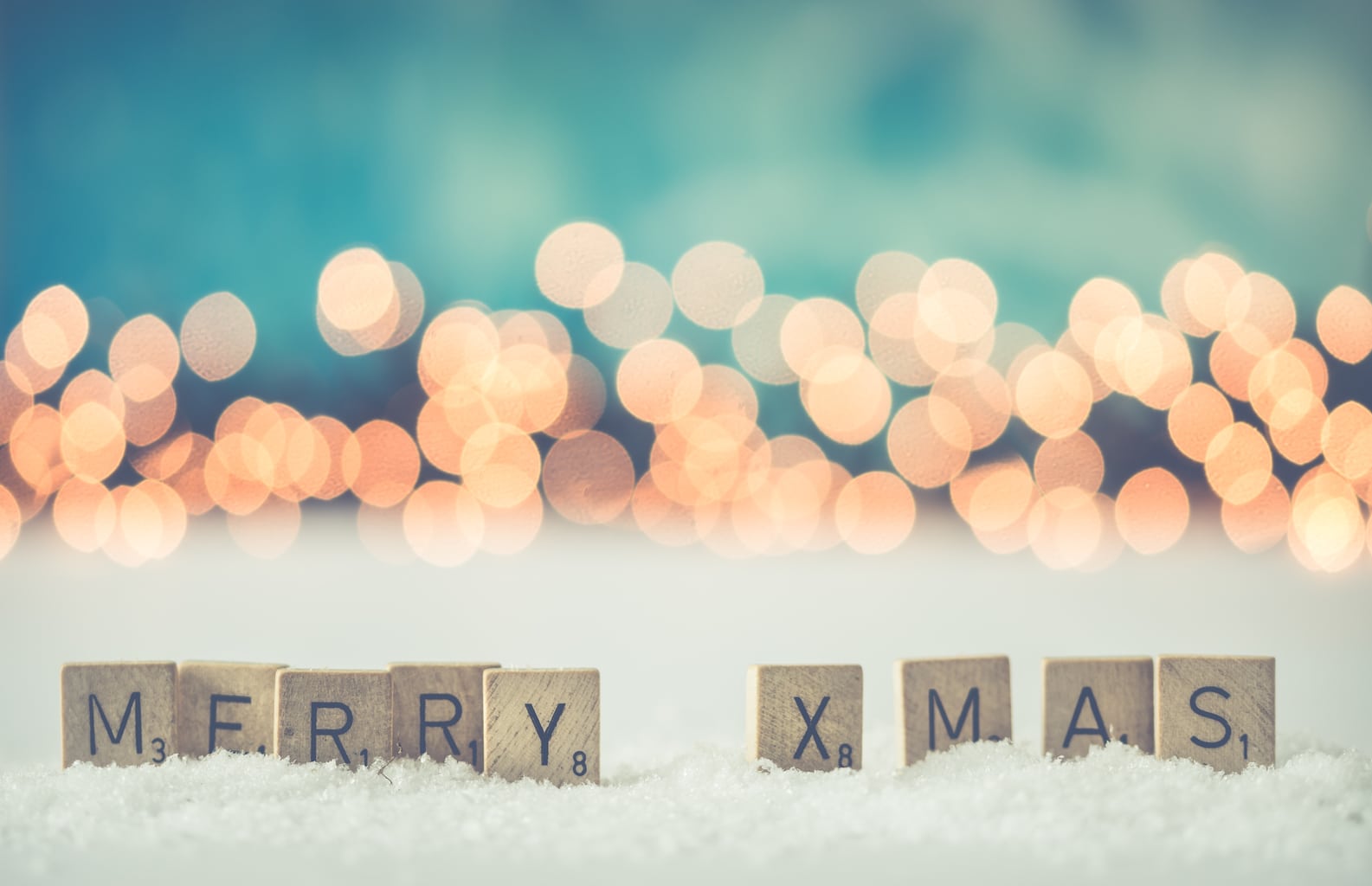 With its hot chocolate and cookies, winter break also brings us plethora of events that each come with their own fashion needs. It is, after all, the season of togetherness –we're all going to be spending time with our friends and families and want to look fabulous while doing so!
Here are five outfit ideas for common events you might be attending over winter break!
Ugly Sweater Party
It's pretty much inevitable that you'll be invited to an ugly sweater party (AKA a "Tacky Christmas Sweater Party") sometime this winter break. Obviously, the whole point of the party is to showcase a totally tacky sweater, but that doesn't mean the rest of your outfit has to be ugly!
What to Wear to an Ugly Sweater Party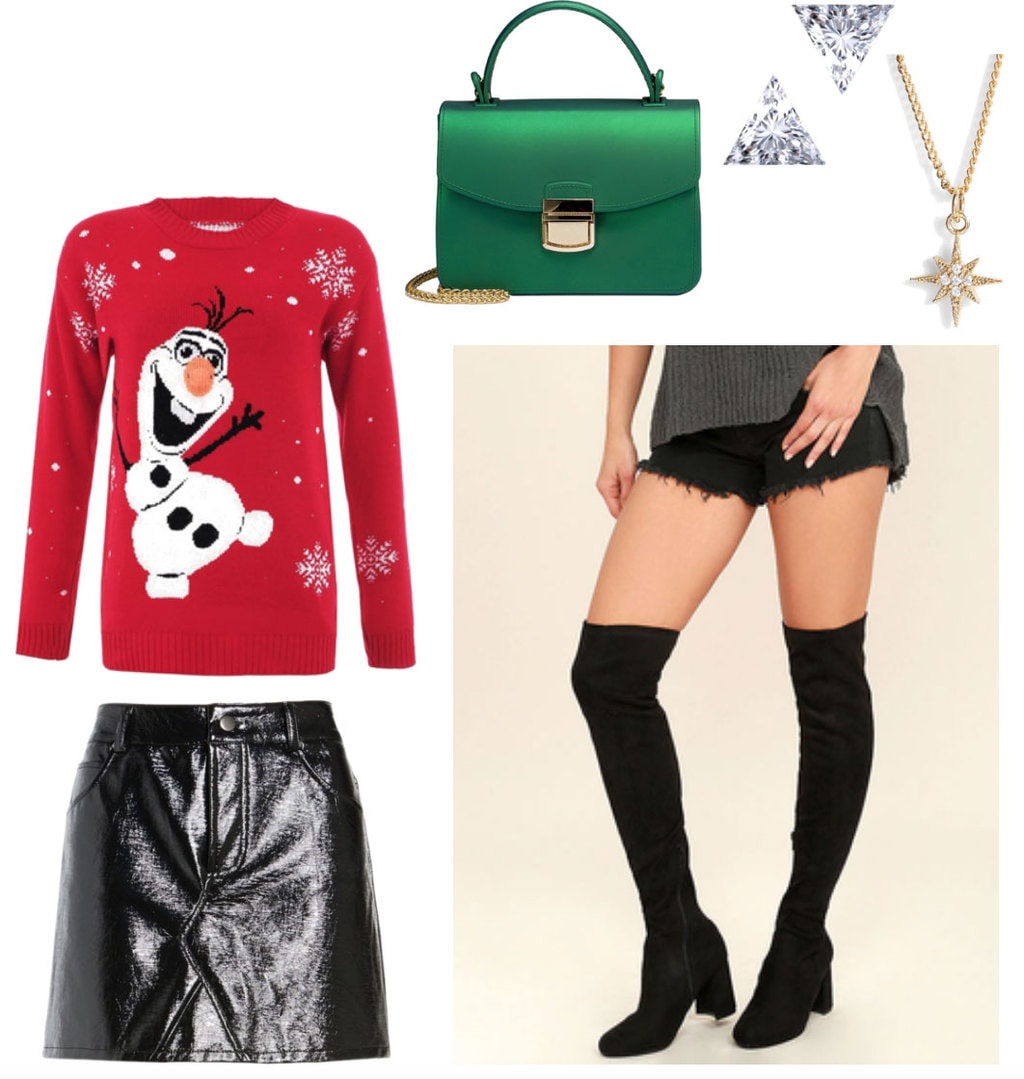 Products: Christmas Sweater – Amazon, Skirt – Nordstrom, Boots – Lulu's, Crossbody Bag – Amazon, Earrings – Amazon, Necklace – Nordstrom
If you have an ugly sweater party to go to, try wearing your ugly Christmas sweater with a cute high waisted skirt and over-the-knee boots. You'll fulfill the theme requirement, but still look totally cute. Add a crossbody bag in a contrasting Christmassy hue. (If your sweater is green, wear a red bag; if your sweater is red, go green!) Finish with simple sparkly jewelry.
Dinner with the Boyfriend's Parents
If you're dating someone, the holidays are usually a time when you'll be spending a bit of time with your significant other's family. While you want to showcase your style and look great, these occasions usually call for outfits that are a bit more conservative or dressy than what you'd usually wear, especially if you're meeting your boyfriend or girlfriend's parents for the first time!
What to Wear to Dinner with the Boyfriend's Parents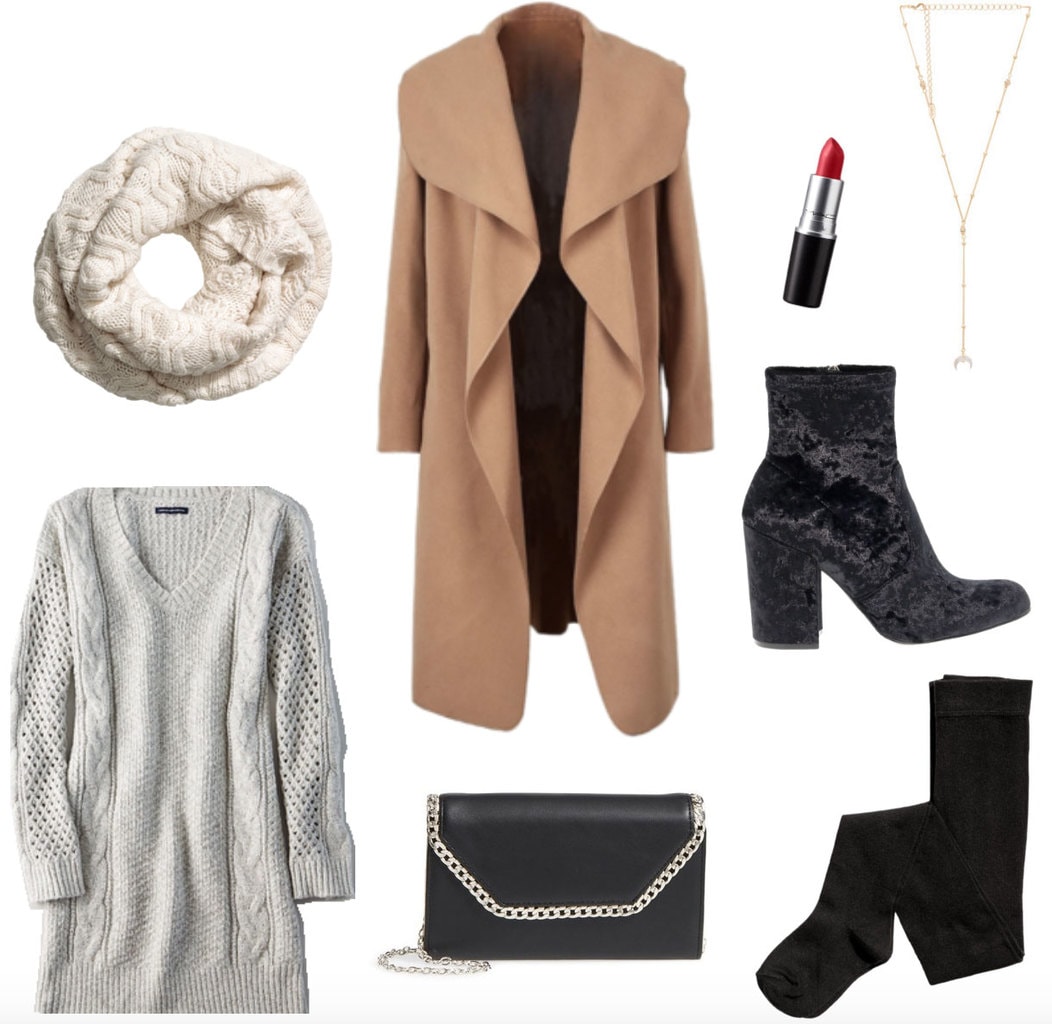 Products: Sweater Dress – AEO, Scarf – H&M, Coat – Amazon, Bag – Nordstrom, Tights – Amazon, Boots – Amazon, Lipstick – MAC, Necklace – Revolve
A good tip is to dress how you would for a religious ceremony — respectful, but fashionable. Nothing crazy, not too much skin, and nothing extremely tight. You want to show these people what a classy girl you are! Highlight your style with pieces with an interesting, simple additions. Here, I paired a simple sweater dress with tights, velvet ankle booties (these ones come in tons of fun colors!), and a statement coat. I also added a pretty scarf and chain strap bag.
Meeting with Friends from High School
Whether it's at an official reunion or at an alumni holiday party, you'll probably be meeting up with a bunch of people you used to go to school with.
Since they haven't seen you in a while, you have the perfect opportunity to impress them with your new college attitude and style. Just because you used to wear graphic tees and flares daily doesn't mean you have to now. Use the occasion to wear something more grown up and reflective of your new style.
What to Wear When Meeting with Friends from High School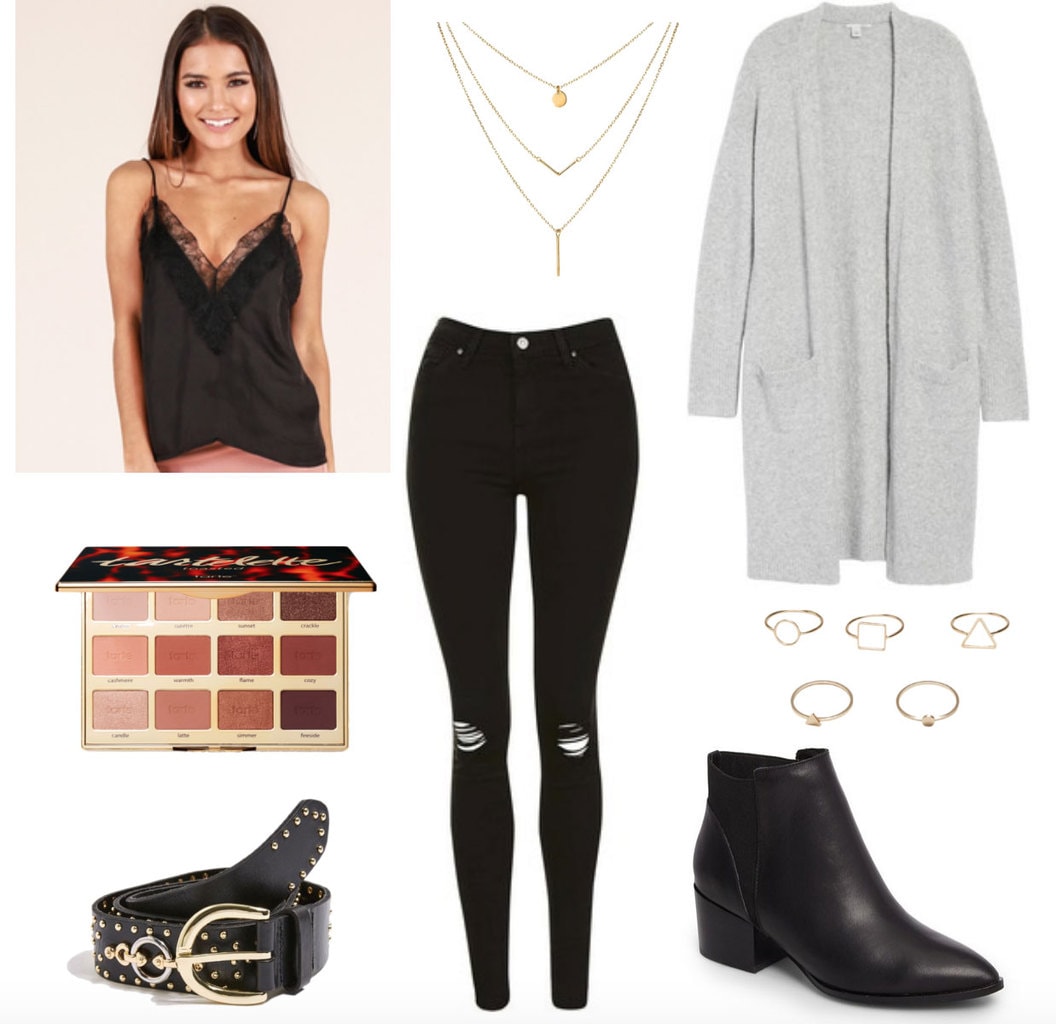 Products: Cami – ShowPo, Necklaces – Amazon, Cardigan – Nordstrom, Jeans – Topshop, Palette – Tarte, Belt – Nordstrom, Shoes – Nordstrom, Rings – Mango
This outfit is the perfect mix of casual, edgy, and sophisticated all in one. Start with classic black ripped jeans and a tank with lace detailing. Add a cozy-soft cardigan over top to dress the look down. Next, rock pointed-toe ankle booties and add a studded belt for interest. Complete the look with layered, thin necklaces and stacked rings.
Christmas Morning
If you celebrate Christmas, you know that Christmas morning can be one of the best days of winter break. If your family is anything like mine, Christmas morning usually includes waking up early, eating breakfast as a family, and opening all of our presents. Also, it normally involves taking lots of pictures – so you don't want to wear ratty old pants and an oversized tee!
What to Wear on Christmas Morning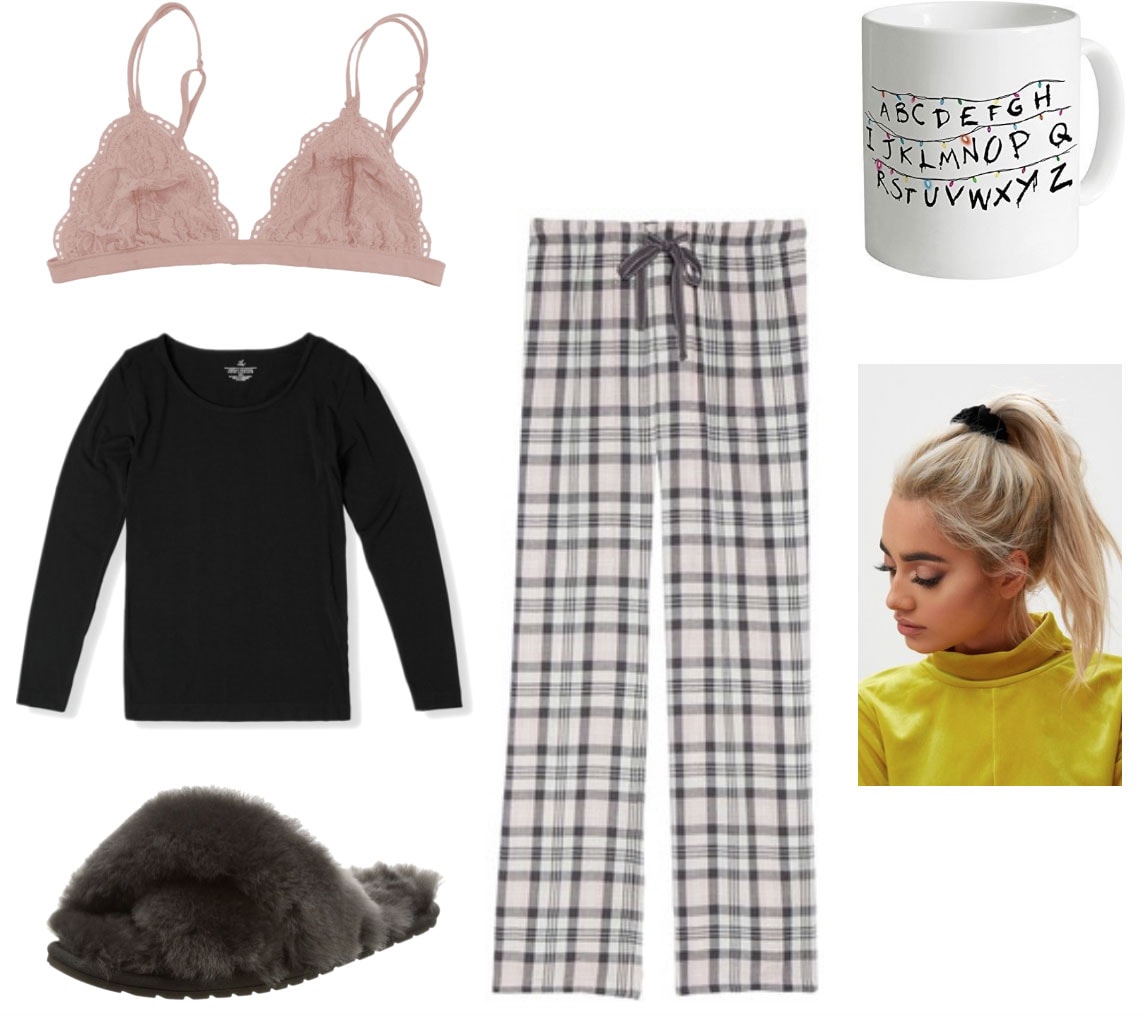 Products: Bralette – Amazon, Top – Boodywear, Slippers – Amazon, Pajama Pants – Nordstrom, Mug – Amazon, Scrunchie – Prettylittlething
Christmas morning is a great time to wear your favorite cozy-soft long sleeve top (love this eco-friendly one by Boodywear), cute pajamas, and comfy slippers. Throw in a scrunchie for some throwback appeal. This look is cozy and traditional — something that totally brings back childhood memories!
New Years Eve
If you're a glamour girl, you probably love NYE. It's a night where anything goes, from feathers to sequins to crazy bright colors,
New Years Eve is all about making a serious impression with your style. Attention-grabbing skirts and dresses are par for the course, but that doesn't mean that you can't rock jeans, leather leggings, or a trendy jumpsuit. Grab something you can dance in and put on the glitz: it's time to channel your inner glamazon!
What to Wear on New Year's Eve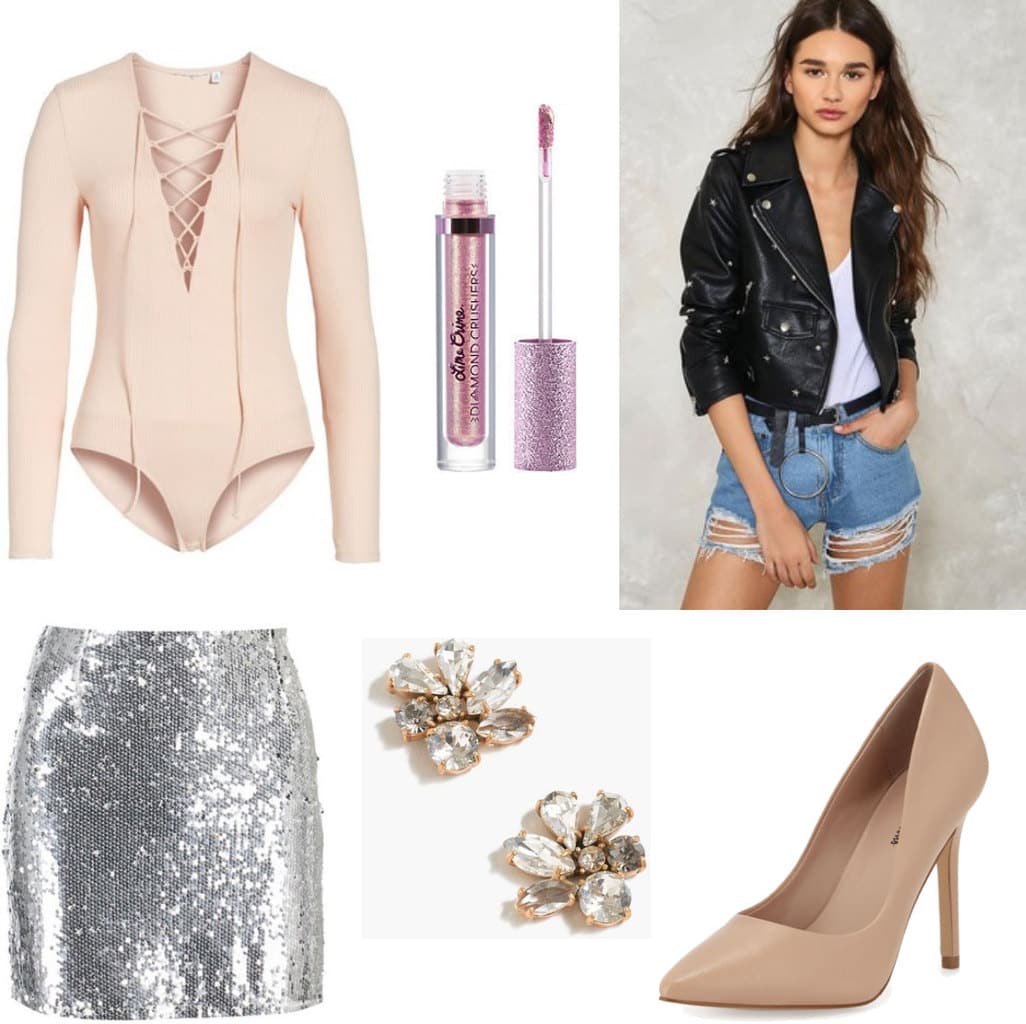 Products: Bodysuit – Nordstrom, Skirt – Boohoo, Lip Gloss – Ulta, Jacket – Nasty Gal, Earrings – J.Crew, Heels – LastCall
This outfit is all about placing the glitz and glam in a few strategic spots. Start with a statement making sequin skirt and pair it with a simple but eye-catching lace-up bodysuit in beige. Add neutral pumps for a classic feel and a star-studded leather jacket for warmth. Finish with jeweled statement earrings and a swipe of iridescent gloss.
Your thoughts?
What are you all wearing for the holiday events in your lives? Is there anything you go to or do every year that I missed? Let me know in the comments section!
Editor's note: This post was originally published in 2009; it was completely updated and revamped in 2017 with new photos, outfit sets, and information.