This post may contain affiliate links, which means we may receive a commission if you purchase through our links. Please
read our full disclosure here
.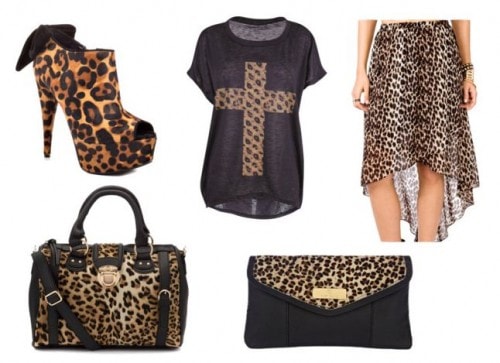 From the top left: 1, 2, 3, 4, 5
It's no secret that I'm totally wild (ha!) about leopard print. From my bed sheets to ballet flats, my winter coats to the throw pillows on my couch, it's pretty much impossible to find an area of my life not decorated by leopard print in some way.
There's just so much to be said for this timeless print. It somehow invokes an air of sophistication and class, while at the same time giving a stuffy outfit a trendy and fun edge. Think about it–is there any other print that you can find at literally every clothing store, from Hot Topic to J.Crew?
Today's post is a shout out to my secret fashion weapon, leopard print, and all the wonderful ways to wear it this season!
Leopard Tops
Leopard print blouses have been all the rage lately, and I can certainly understand why. They're just so versatile! Wear one with a pair of corduroys, or tuck it into a chic bandage skirt, for starters. If you're just getting used to leopard print, black bottoms are an extra-safe way to experiment. However, since leopard is considered a neutral, you will look classy and awesome if you want to rock bright colors as well!
The best thing about leopard blouses is that they're a pretty safe way to test out how you feel about leopard print. While some people worry that leopard pants, dresses, or jackets might come off looking a little too Jersey Shore, a silky leopard print blouse will certainly maintain its class.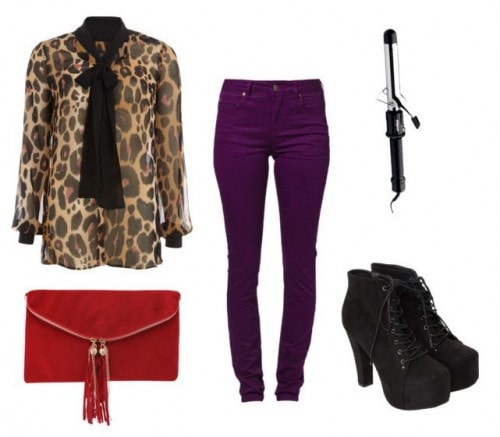 Shirt, Pants, Clutch, Shoes, Curling Iron
A fancy pussy bow blouse like the one above will look awesome with skinny purple pants and eccentric ankle boots. A bright clutch like this one transitions this daytime look into an amazing outfit for a night out!
Beauty note:I own the exact curling iron pictured above and I cannot express how much I LOVE it. At $10, you can hardly even call it an investment, but I use this thing at least three times a week! My trick to getting perfect waves is to leave the clamp closed and wrap 1-inch sections around the barrel, stopping about two inches from the end of the strand. If your hair is thin and slippery like mine, use a little hairspray before you curl to add texture and hold. Once you're finished, spray it once more then comb out each strand with your fingertips.
Leopard Coats
There is something insanely fancy and "high society" about wearing a leopard print coat. Yes, it's definitely a bold choice, but you'll look so stylish and confident that no one will even question your ability to pull it off.
Leopard coats go with almost everything — just watch out for outfits that are a little too low-key: Obviously, a leopard coat isn't something to throw on over your yoga pants and Vans while grocery shopping. However, it will look great with skinny jeans and ballet flats. See the difference?
Leopard coats will also look amazing with almost any outfit you wear to a party or on a date. They'll even work with printed dresses or sweaters!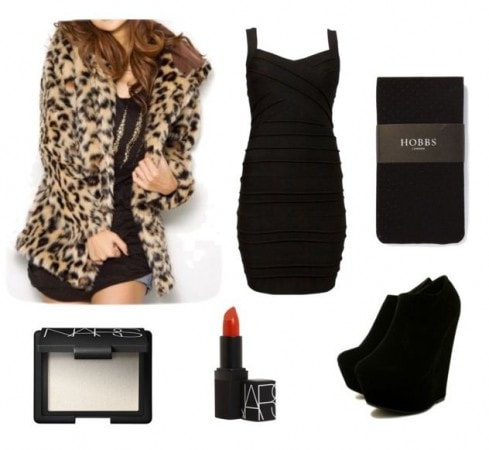 Coat, Dress, Tights, Shoes, Lipstick, Highlighting Blush
Because the leopard coat pictured is thick and not cropped, it's perfect for pairing with a body-con dress and worn unbuttoned. Add a pair of tights and chic ankle boots and you'll look gorgeous in very sexy, classic bombshell sort of way.
Finish the look with bright red lips and a little bit of highlighting powder on your cheekbones. If you've never tried highlighting powder before, I highly recommend it — just a touch can make you look awake and cheerful!
Leopard Pants
Ah, leopard pants — while some girls run away from these babies in terror, I embrace them as one of the most chic items in my closet. Once your mind grasps them, the possibilities are virtually endless as to what you can pair them with. From jumpers to concert tees, button-downs to that long-sleeve Ralph Lauren Polo shirt you snagged from your boyfriend, almost every top can look awesome with the right pair of leopard print pants.
When shopping for a pair, it's important to seek out styles that are neutral enough to wear with everything. I've found that leopard prints that are medium-sized and less contrasting — think dark brown or gray backgrounds vs. light tan or sandy backgrounds and black — are the easiest to pull off.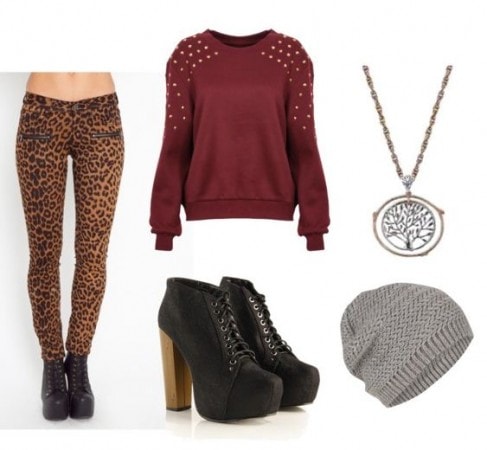 Pants, Shoes, Sweater, Beanie, Necklace
The outfit above would work for an evening with your family, out with your friends, or even for a casual date! This sweater will look perfect with a pair of leopard pants — it's a solid color so it won't overwhelm your look, but the studs are in keeping with the edgy vibe of the pants. Finish the look with a pair of lookalike Litas, a knit beanie, and a cool necklace.
Leopard Accessories
If large blocks of leopard print still aren't your thing, don't shy away from the greatest print ever. They make leopard print versions of almost anything you can imagine…even laptop cases and Kitchenaid Mixers!
I know that this is pretty obvious, but it's probably not a great idea to wear leopard accessories with other leopard print items. You might accidentally come off looking tacky. That's really the only rule I can think of when it comes to leopard print accessories, though. The sky's the limit — feel confident enough to mix and match leopard with any color, and even some other tame prints!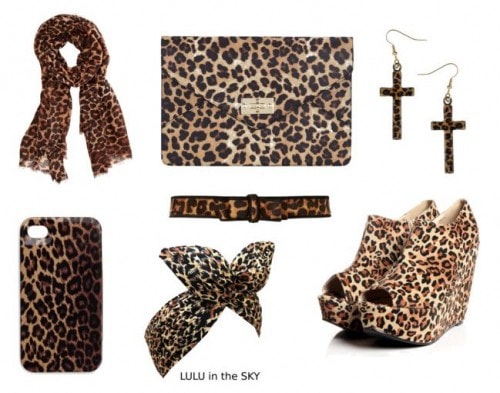 From the top left: 1, 2, 3, 4, 5, 6, 7
What do you think?
Are you a big fan of leopard print? What sorts of tactics do you use to look more chic and less "Jersey Shore" fabulous? Is there another print that particularly speaks to you? What's your favorite leopard print item that you own? Are you bold enough to pair leopard print with other patterns? Leave a comment and tell us what you think!