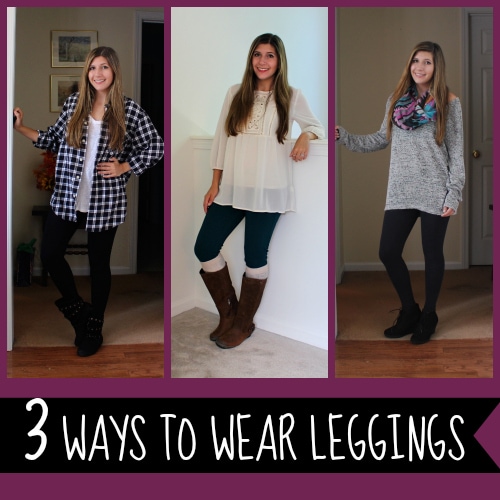 Gather around the campfire as I tell you the inspiring story behind this article.
Once upon a time, I got stuck in traffic. A girl passed by my car, wearing a chunky-knit sweater, wider than it was long. As the wind picked up, I could see this individual was only wearing a sweater.
Let that sink in.
Only. Wearing. A. Sweater. 
The sweater rose. And rose. And rose. It was a Marilyn Monroe moment, had Marilyn just been wearing a sweater and no skirt.
When in doubt, if your clothing is too short, please add leggings. PLEASE. That, dear Internet, is why I do not pick up my pitchfork and torch when I see leggings. There are situations in which leggings can improve an outfit, and these are those situations. Plus, we all have those days when we just want to dress comfy, right?
Here are three of my favorite ways to wear leggings:
1. With Long, Sheer Tunics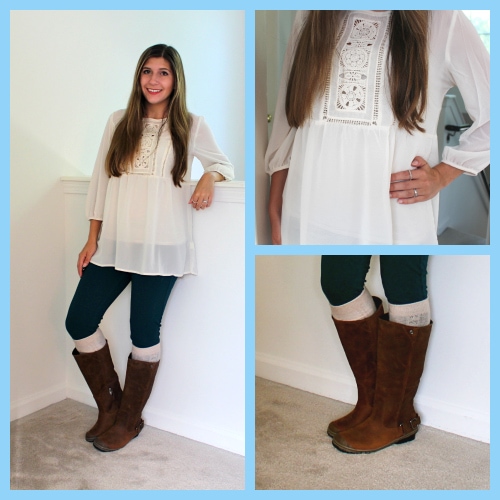 I have one goal when it comes to wearing a shirt with leggings: the gluteus maximus has to be covered. Sheer tops are thin, lightweight, and perfect for fall. To keep this outfit from looking too basic, I added some playful boot socks.
2. Experiment with Layers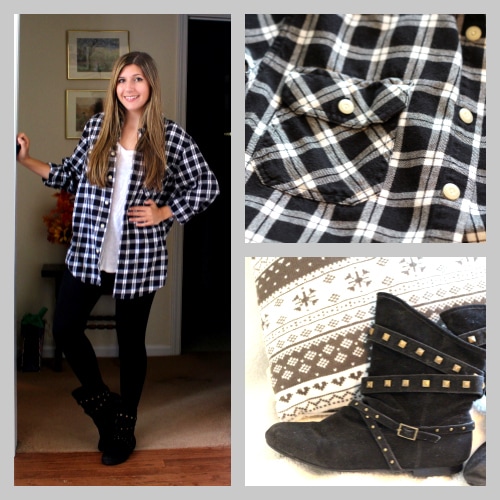 This outfit is great for those mornings when you have that terrible, soul-sucking feeling of having nothing to wear. A plaid flannel shirt will not let you down on those days.
I'm wearing leggings with a long white v-neck, and an even longer flannel shirt. Tip: if your flannel isn't long enough, borrow one from a guy in your life or take a look in the men's section the next time you go shopping.
If you're not into the grunge/tomboy vibes of this outfit, feel free to substitute the flannel for a boho kimono or a colorful cardigan.
3. Cozy, Long Sweaters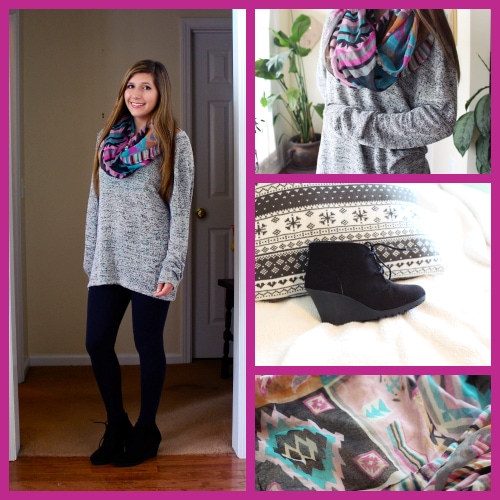 This sweater is a little too long to wear with pants, but combined with the power of leggings, it becomes a sweater fit for a superhero. (You know, since they wear tight pants…) To add some color and pattern to this otherwise basic outfit, I added a printed, multicolored scarf.
At first glance, this sweater may just look gray. In fact, it is gray. But it's many, many shades of gray. It's a rainbow of gray. One might even say it's fifty shades of gray.
This look has the comfort of leggings, but is much more stylish than the typical leggings-and-a-baggy-tee outfit.
Your turn!
How do you style leggings? Which of these looks is your favorite? What other posts would you like to see? Tell me your thoughts by leaving a comment!