I don't know about you, but Christmas is my absolute favorite time of year. I love everything about it – from Christmas music and Christmas songs to Christmas food… But Christmas clothes? That one phrase alone is enough to give any fashionista nightmares of tacky sweaters and Santa hats.
But fear not – there are ways to incorporate some Chrismassy fun into your wardrobe this year, without looking tacky or kitschy! Interested in hearing more? Read on!
Classically Christmassy
For this first look, I wanted to create a festive, fun outfit for drinks with friends on Christmas Eve that would keep your warm but also be cute and sophisticated.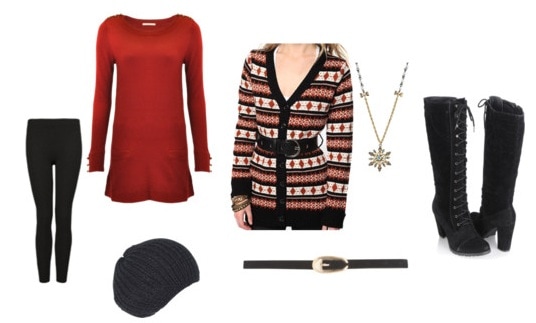 knit dress/cardigan/boots/necklace/beret/belt/leggings
This outfit is festive without being over-the-top. Red is, of course, a perfect color for the Christmas season, and I just adore this chunky, fair isle print cardigan. The sexy knee-high boots make this look perfect for going out, but you could always wear flats to dress it down- or if there's a lot of snow! I chose a cozy hat and leggings to keep you snug and this cute little snowflake necklace for a wintery touch.
Christmas Party
This is an outfit for those of you lucky enough to have a formal event or Christmas party to go to this year. Christmas is the perfect time to have a change from your LBD and invest in a LRD – little red dress.
dress/heels/clutch/earrings/stole
This dress just screamed Christmas to me, and I wanted to create a kind of Great Gatsby-style formal outfit with it. You could of course toughen this up with a leather jacket and ankle boots instead of the heels and stole. If the red shoes are too much festivity for you, this would also look great with silver or black shoes. Again, I couldn't resist snowflake-shaped earrings!
Christmas Cozy
What if you're just having a cozy time in for Christmas but want to look festive? This outfit is perfect for staying inside and keeping cozy!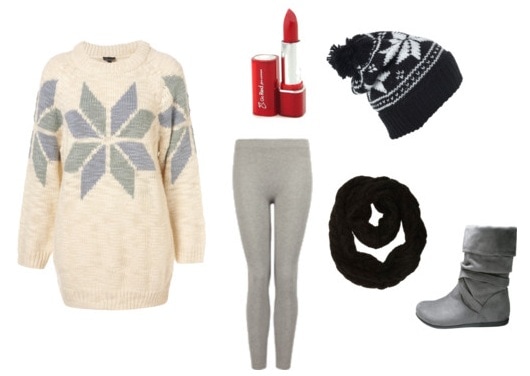 sweater/boots/hat/circle scarf/red lipstick/leggings
Nothing screams comfort like a big oversized sweater, and this huge snowflake sweater looked perfect. Leggings are much cozier than jeans and warmer than tights, so I added those, and I chose this cute hat and scarf if you decide to leave the comfort of your sofa! I thought a splash of red lipstick would add a sexy touch.
Bonus: Christmassy Accessories
If you don't want to completely update your wardrobe for the holiday season, you can add a festive touch with some of these winter-themed accessories. Fair isle print is a great way to add a festive, but stylish, feel to your outfit.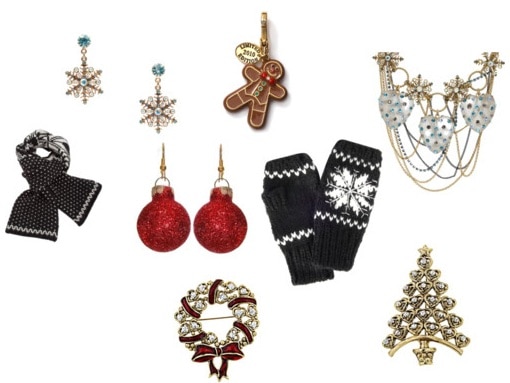 heart necklace/christmas ball earrings/christmas tree pin/gingerbread man charm/wreath brooch/snowflake earrings/handwarmers/snowflake scarf
Choose any of these to add a festive touch to any outfit.
Your thoughts?
Will you be wearing anything Christmas-inspired this year? Have you managed to work your Ugly Sweater in a fun way? How do you feel about fair isle print? Let us know with a comment!