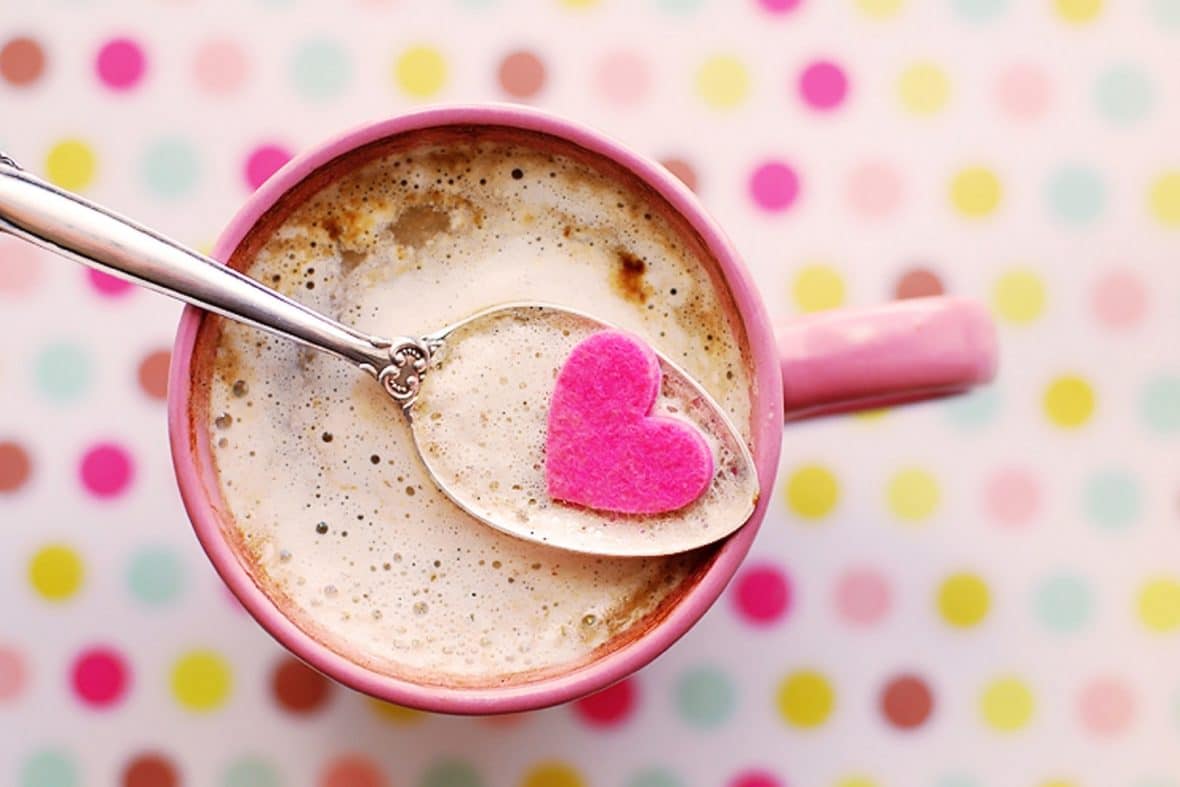 There are two kinds of people in life.
First, there are the ones who love Valentine's Day, and fully embrace what is probably the cheesiest day of the year. They love the heart shaped chocolates, the pink decorations, cute Valentines day outfits, and, of course, the many, many romantic movies that come out on TV every year. 
Then, there are the ones that hate it because they're single. Or, more specifically, that they're feeling the pressure of society's expectations on the holiday — that you can't spend it without a significant other.
But let me tell you right now, Valentine's day doesn't have to be a cry fest, this holiday really is what you make of it! Attached or not, there are plenty of fun activities you can organize with your friends (Here is a Galentines day list inspired by the TV show Parks and Recreation, if you're in need of ideas), and, plus, it gives you an excuse to go shopping for new clothes!
Whether you got a fancy date, drinks with your friends, or simply planning a rom-com marathon with your roommates, the perfect Valentine's day outfit doesn't have to involve too much time and effort.
Here are 3 casual and cute outfits that you can get inspiration from, no matter what your plans are on the day of love. (Yep, I just said that.)
1. Valentine Sweetheart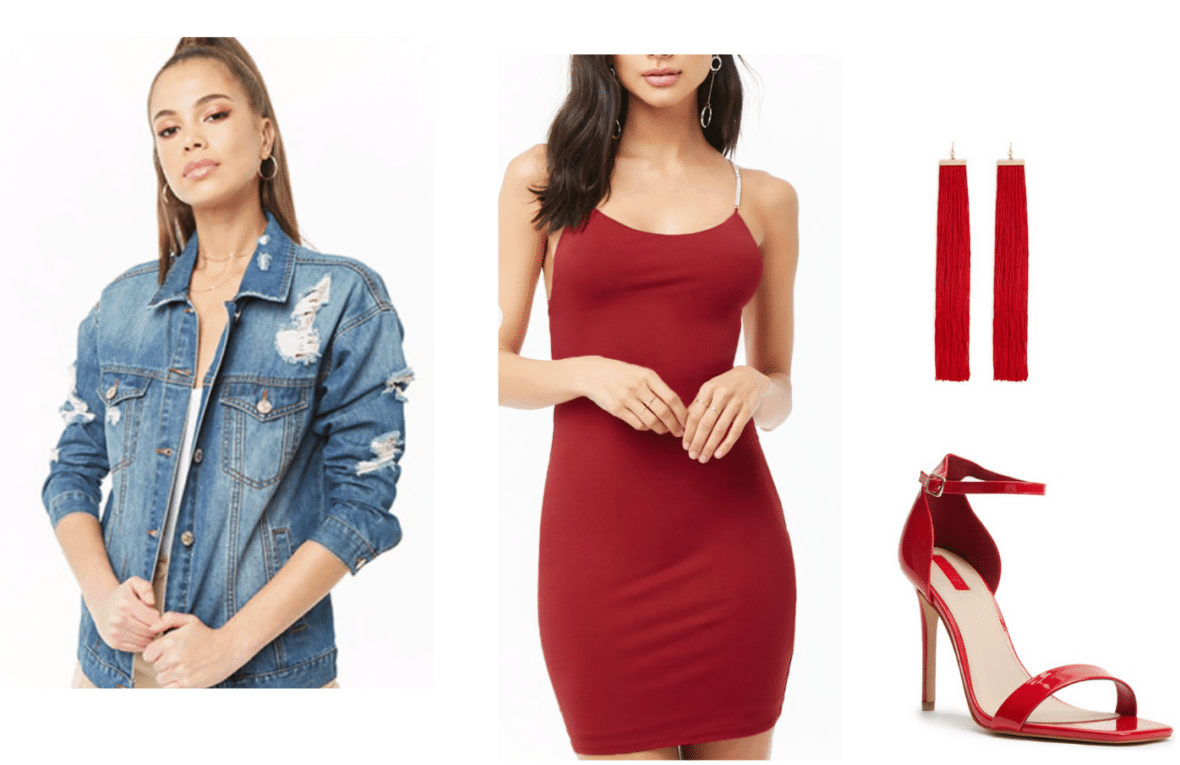 Products: (All Forever 21) Jacket, Dress, Earrings, High Heels
This outfit, made up of a red bodycon dress, a ripped denim jacket, red stiletto high heels, and red tassel earrings, is perfect if you're going on a date anywhere like a restaurant, cocktail bar, or even to the movies. If wearing heels is not something you're into, you could easily switch them for flat shoes, like ankle boots or plain colored sneakers.
2. Rom-com Character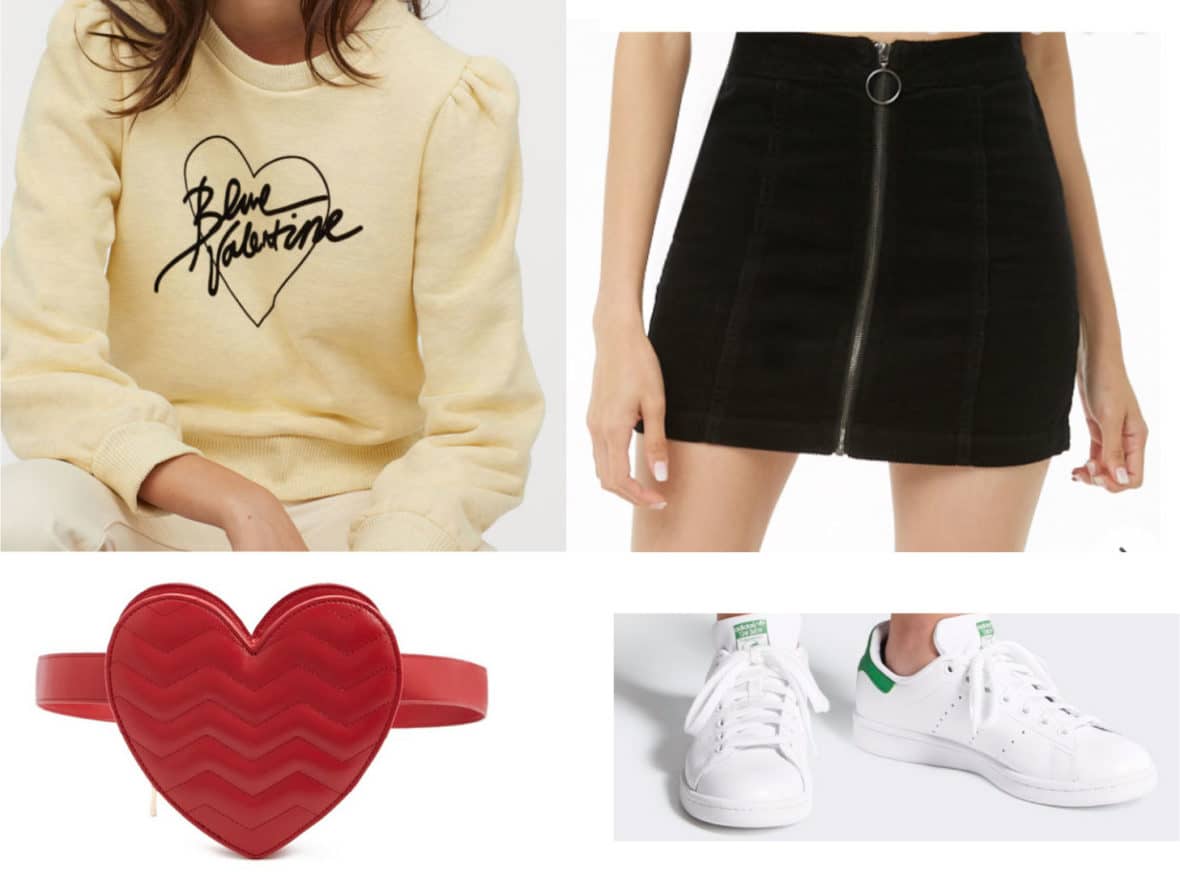 Products: Sweater – H&M, Bag – Forever 21, Skirt – Forever 21, Sneakers – Adidas
I really LOVE '80s romantic comedies such as Sixteen Candles and Ferris Bueller's Day Off, and what is more appropriate if you're heading out to watch a romantic movie (or staying in with your friends and a bunch of tasty snacks) than an outfit that looks straight out of a vintage rom-com? This sweater and black skirt combo, paired with white sneakers, is very quirky and laid-back, and most of all, comfortable. Plus, can we talk about how cute and V Day-appropriate this belt bag is?!
3. Galentine's Drinks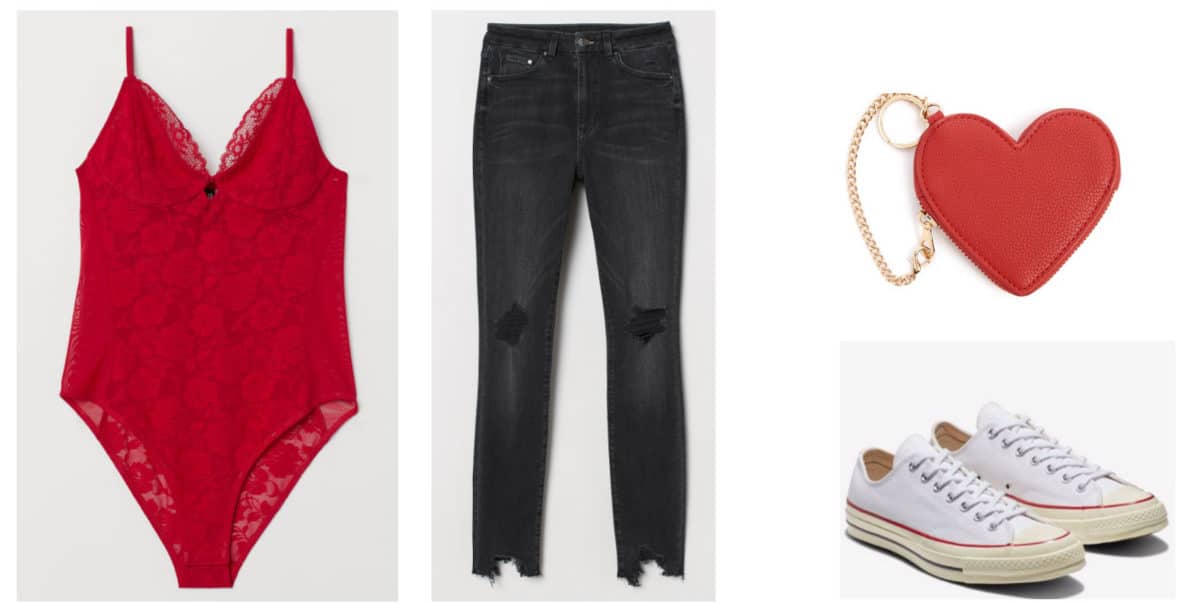 Products: Jeans – H&M, Bodysuit – H&M, Sneakers – Converse, Purse – Forever 21
If you're in the mood for partying and want to do something a little bit more exciting than a movie marathon at home, you could head out for drinks with your besties! In my opinion, this outfit perfectly embodies a Valentine's Day aesthetic. It's great if you're looking for a comfy outfit, with a very bold touch of glam, in the form of a red lace bodysuit. This outfit stands out on its own, but you could also add a black oversized blazer or a black denim jacket to complete the look.
What are your plans for Valentine's day this year?
Will you be celebrating with your significant other or with friends? Do you have any outfit ideas in mind? We'd love to hear your thoughts in the comments section!