This post may contain affiliate links, which means we may receive a commission if you purchase through our links. Please
read our full disclosure here
.
This is a sponsored post written by me on behalf of SOFIproducts.com. All opinions are 100% mine.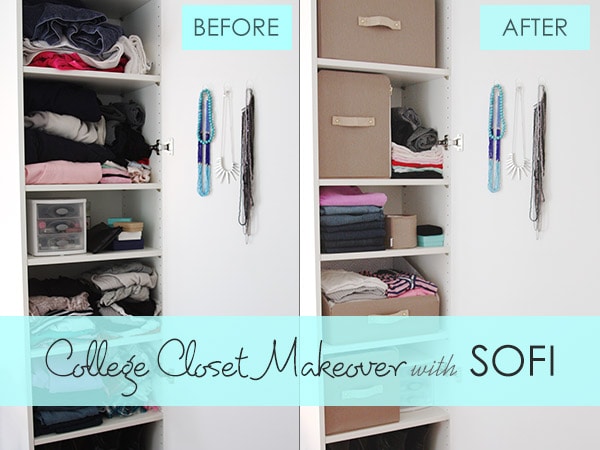 Last week, we shared some tips on organizing your closet for spring, and as promised, this week we have a full makeover of a real college student's closet for inspiration.
The Makeover
When SOFI offered me the chance to use their products for a closet makeover, I knew just which closet I wanted to tackle.
My good friend Sarah, a student at Northeastern University, just moved into a new apartment that's seriously lacking in storage. Her room has a tiny closet for hanging items, so she supplemented her storage by purchasing a large wardrobe with shelves: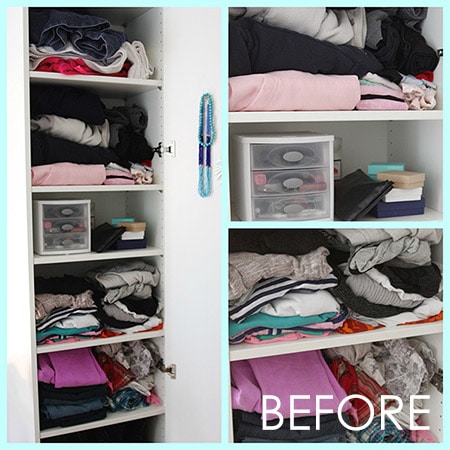 Thus far, Sarah's wardrobe has been working for her… sort of. Although her items were all stored, she had so much stuff to pile onto the shelves that it was impossible to keep things truly organized.
From top to bottom, this wardrobe is used to store towels, workout gear (Sarah is a fitness fanatic), extra beauty products, jewelry, casual tops and sweaters, jeans, pajamas, and a few pairs of shoes (at the bottom, not pictured) – whew!
Sarah had tried her best to organize, sorting her items onto different shelves and adding hooks for jewelry, but with no boxes or bins, the wardrobe quickly began to look messy. We definitely had our work cut out for us.
The SOFI Spread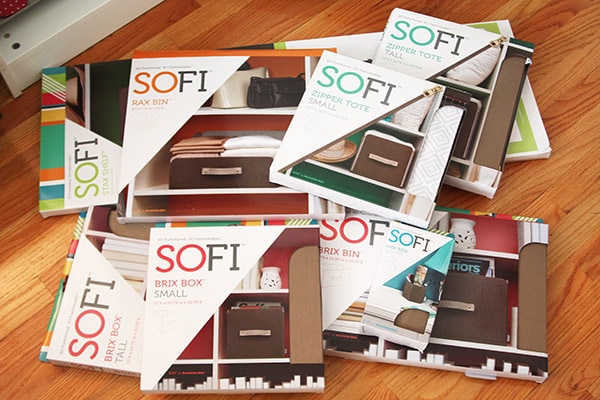 To help us complete this closet makeover, SOFI hooked us up with the following awesome products, seen above:
Hex Box (Set of 2)
Brix Box-small
Brix Box-tall
Brix Bin
Zipper Tote-small
Zipper Tote-tall
Rax Bin
Stax Shelf
All of these items were SUPER easy to put together – we're talking less than 30 seconds each. All you do is unfold them and insert the base for stability. No clips, screws, or other fasteners are required! With our organizers assembled, we got to work transforming Sarah's wardrobe.
Finished!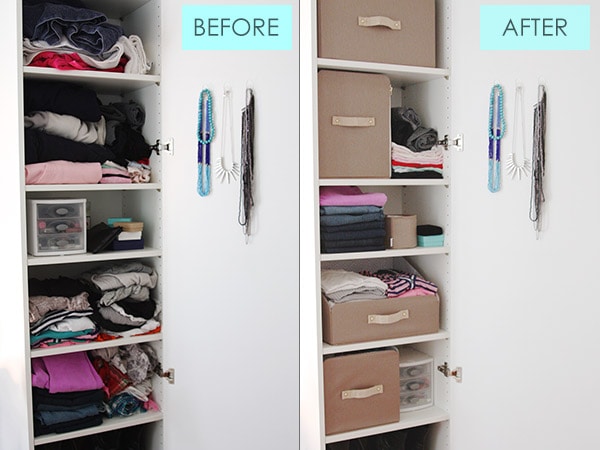 Here's the final before and after – is that a 100% improvement or what?! Sarah loved that her closet looked more stylish and streamlined despite containing the exact same amount of stuff as before.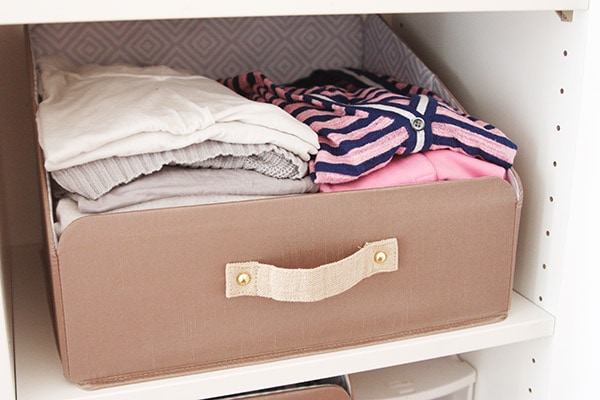 We organized Sarah's tops and sweaters into a single Rax Bin and color-coded them so they were easy to access. On laundry day, she can remove the bin and fold her items right into it, then replace it in the wardrobe.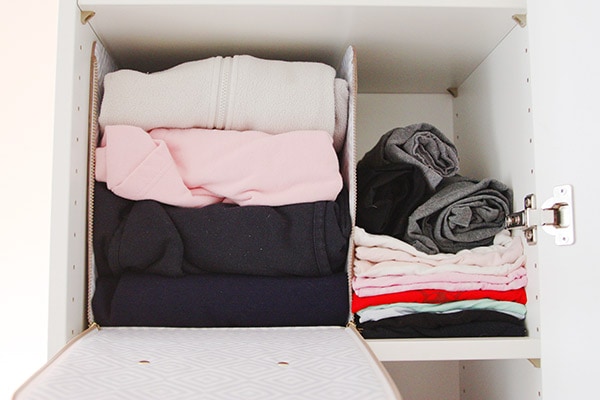 Sarah's fitness gear also has a new home – her hoodies and fleece running jackets are now organized and easy to access via the SOFI Zipper Tote, Small, while the leggings and tops are folded alongside. (BTW, don't you love the cute print on the inside of these SOFI boxes? It makes organizing that much more fun.)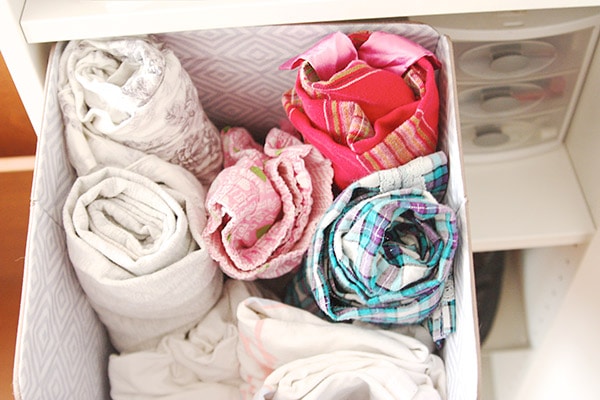 Sarah's pajamas and sleepwear are now rolled up and tucked away in a SOFI Brix Box, Small for easy access. Although we're showing them to you here, pajamas are generally not the most visually appealing items, so tucking them away helps give Sarah's wardrobe a streamlined look.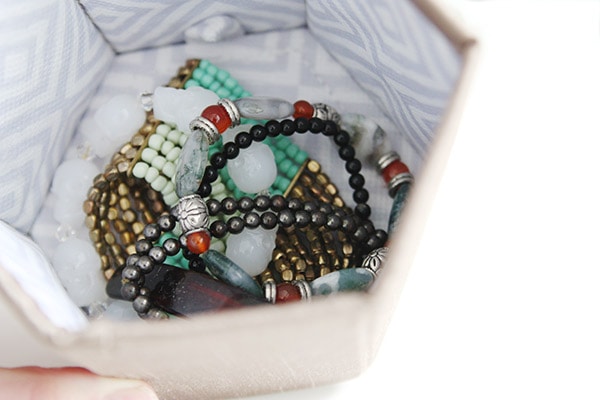 Finally, we used a SOFI Hex Box to store some of Sarah's loose bracelets. These little boxes are super versatile and can even be linked together with included clips. We just used one here but the possibilities for these boxes are endless.
What do you think?
As you can see, in just a few hours it's possible to transform a messy closet into a stylish, organized, functional space. Thanks to SOFI, Sarah's wardrobe now makes her smile every time she opens it.
We hope you enjoyed this makeover and here's hoping it will inspire you to transform your own space. Any comments or questions about the process? Leave them down below!
Disclosure: This post was sponsored by SOFI. The opinions, as always, are our own. For more information, please see our Disclosure page.