This is a sponsored post written by me on behalf of SOFIproducts.com. All opinions are 100% mine.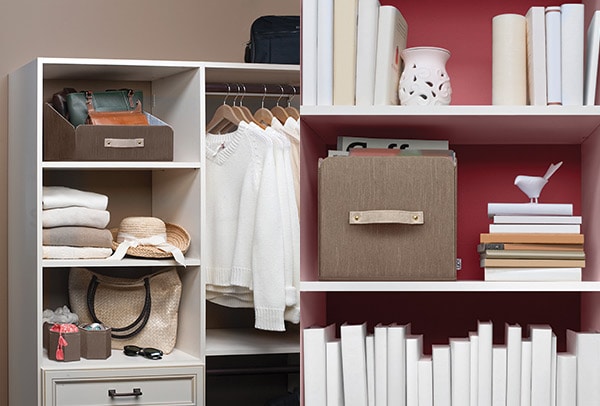 Here at CF, we're type-A organizing freaks. There's nothing we love more than a good closet clean-out and seeing all of our pieces perfectly organized – ah, bliss! With springtime rapidly approaching, it will soon be time to start clearing out your closet to make room for your brand new spring clothes.
Today, we've partnered with SOFI, makers of functional and stylish organizing products, to share some closet organizing tips and get you inspired to make over your own closet this season. Read on to learn more!
6 Closet Organization Tips for the New Season:
Monica Friel, organizing expert and president of Chaos to Order, provides tips for organizing your closet space into your own chic boutique for spring fashion:
1. Reimagine your closet as your personal chic boutique: Before you begin to organize, make sure you have cleverly-designed products to make your closet inspiring, vibrant and fun! The new line of SOFI™ home organizational products can help you makeover your closet. SOFI products feature stylistic touches like gold fasteners and zipper accents, geometric print interiors, in a sophisticated color palette to bring you inspiration every time you open your closet door.
2. Now, Be a Style Editor: Go through your closet item by item. Eliminate what feels drab while gathering ideas for pieces you can add to update your existing clothing collection.
3. Group Similar Items Together: The best way to know exactly what you have is to put like-items together. Use your style editor-eye to organize by type of clothing or style and then by color.
4. Celebrate the Season: Keep the clothes you're currently wearing accessible so that you don't have to waste time searching for the things you need. For quick access to clothes and accessories, use a SOFI Brix Box, Small with pull-out handles and open tops or a SOFI Zipper Tote, Small for quick, front-panel access to clothes and accessories. The SOFI Hex Box works great for jewelry and small items. And, take advantage of floor and shelf space in your closet with a SOFI™ Stax Shelf™ that makes the most of existing vertical and horizontal space.
5. Forget Last Season: Take time to get out-of-season clothes stored away. This will make your closet feel less cramped so you can easily see what you own before hitting the stores.
6. Organization is not a Destination: Organization is an ongoing process that requires efficient systems, maintenance and the good old-fashioned discipline of putting things back in place.
With Monica Friel's tips, you'll be on your way to having your own couture closet space!
Be on the lookout for a college closet makeover!
We're not done yet – next week, we'll be using SOFI products to reorganize a real college student's closet for the season. Check back next week for our full tutorial and get inspired to organize your own space!
Disclosure: This post was sponsored by SOFI. The opinions, as always, are our own. For more information, please see our Disclosure page.