This post may contain affiliate links, which means we may receive a commission if you purchase through our links. Please
read our full disclosure here
.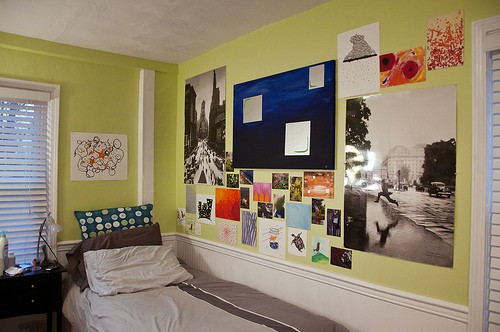 A few weeks ago, I stepped into my single room for the first time. The first thing I noticed was the four blank walls encircling me and my four huge moving boxes… and I couldn't wait to get started decorating.
I've got to be honest — nothing is as beautiful to me as a blank wall. Think of all the possibilities for even just one of those four walls! Whether your style is goth chic, preppy, or hipster, your walls are your biggest and best chance to really express yourself. Making use of overlooked spaces is the first rule to follow when you set out to decorate your dorm, and walls are definitely an underused area of prime dorm real estate.
In this article, we'll discuss three more ways to decorate your walls. We've already covered decorating your walls with photos and posters, so today we'll focus on some unique decor that the masses may not have heard of. As always, we've worked to feature inexpensive and DIY techniques whenever possible, to help keep your wallet happy. Ready? Let's get started!
Wall Decals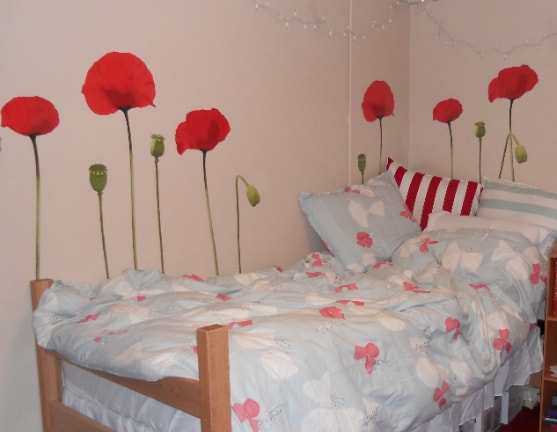 Wall decals are some of the least well-known and most underrated wall decor products on the market today. Usually made of vinyl, and occasionally out of fabric, wall decals are easily mounted, readily removed, and are such a clever way to make use of wall space.
Essentially, wall decals are giant wall stickers, and they come in countless varieties. After you stick them on, the design appears to be painted onto the wall. I can affirm that, since I have poppy wall decals in my room (see above photo), and visitors always ask me, mouths agape, how I got permission to paint my walls.
Wall Decal Shopping/Decorating Tips:
Wall decals do not damage walls as long as they are smooth and non-greasy, and vinyl is meant to be removable – this makes them perfect for dorms. If you're unsure about removal, though, test a small piece on a hidden corner and make sure it comes off.
To stick a wall decal on, start from the middle of the design with a cloth and press in circular motions outward until it's totally stuck on.
To remove a stubborn wall decal, use a hair dryer to warm it and it will peel off nicely.
Remember that humidity and water don't affect them! Just make sure to place them on clean, dry surfaces.
Consider the size of the decals before you purchase them. Look for designs that are complementary to your wall color, and that take up just the right amount of wall space.
Where to look for wall decals? Try AllPosters.com, Etsy, and Target.
Cute Wall Decal Picks: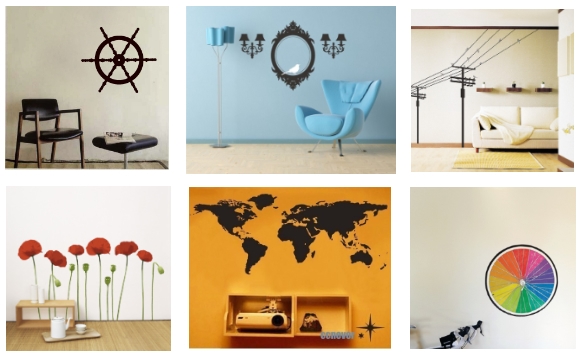 Product Information (left to right, top to bottom): Ship Wheel, Mirror and Lamps, Power Lines, Poppies, World Map, Color Wheel
Typography
I think typography is the coolest way to add flair to your walls. It's the easiest way to show what kind of person you are, by putting a favorite quote or word on the wall where everyone can see! You can even get them in vinyl and stick them on the way you would a wall decal.
Typography Tips:
Cut out words from magazine pages, newspaper pages, or even collaged photos. Anything goes!
Decide whether you want to stick to a font or to cut your own letters, like in the photo above. The typography in my room is in Helvetica, which is my go-to font for any project.
Use painter's tape to space the letters evenly, both horizontally and vertically.
Check out this DIY tutorial for making your own typography!
If you're doing a quote, check out quote websites for a brief one that you really like. On my wall, I have: "Everything has beauty, but not everyone sees it." The shorter your quote, the less work you have to do if you're cutting them out!
Attach them to your wall with Sticky-tac or double-sided tape. Sticky-tac won't damage your walls, and can make the letters pop off the wall a bit for some visual interest.
Try making letters out of random pieces around the house, like in this photo!
Canvas Prints
For my twelfth birthday, I had a sleepover with a few friends and asked my mom to get me a big sheet of blank canvas and some paint. We took it outside and splattered paint all over it, painted on our names and handprints, and after everyone went home, I wrote "Friends Forever" on the middle and hung it up in my bedroom. Six years later, this canvas is still on my wall, and it's my favorite part of my room at home.
Now that I'm at school, I still want to incorporate my love for canvas, but I want to make it a bit more mature. Gallery-wrapped canvas prints are the answer! You can get photos printed on them, or just purchase blank artists' canvases and paint on whatever you want.
Canvas Print Tips
Websites like Groupon and Tippr often have great deals on orderingphoto canvas prints. I got an 18″ x 24″ photo canvas print (gallery wrapped) for 50% off!
Gallery wrapped means that the canvas is wrapped around a wooden frame, with the image stretching onto the sides, top, and bottom. Museum wrapped means that the surrounding border on the frame is white, and the design is restricted to the front.
Buy some blank canvases and hang them at eye level in your room! Whenever you're feeling creative, throw paint (if you're brave) or just use markers and doodle whatever you like. At the end of the year, take it down and see how you've grown.
Canvas prints are excellent for tying your room's color scheme together.
Hang canvas prints with Command heavy duty poster strips.
What Do You Think?
Will you be using any of these tips? Have you ever seen wall decals, typography, or canvas prints in a dorm room? What sort of quotes do you like for use in typography? Have you ever tried making your own canvas artwork? What other wall decoration ideas do you have? Let us know with a comment!