If you're like me, you spend hours obsessing over Anthropologie's home decor section. It's all so dreamy and bohemian-chic — what's not to love? Unfortunately, all that gorgeous decor comes with a high price tag.
To help you get the look on a college budget, today I'm sharing 10 of my favorite Anthropologie home DIYs that I hope you guys will love as much as I do! These are all quick, chic, and affordable DIYs that will give any space that Anthropologie feel.
1. Painted Wooden Spoons from Earnest Home Co.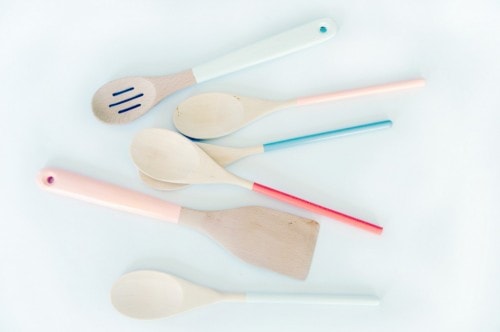 This DIY is great for anyone looking to add a pop of color to their kitchen! Earnest Home Company shows you step by step how to make these utensils. They're sure to elevate your space and make cooking fun again. Bonus: The tutorial even tells you how to make them dishwasher-safe.
2. Pom Pom Blanket from Vintage Revivals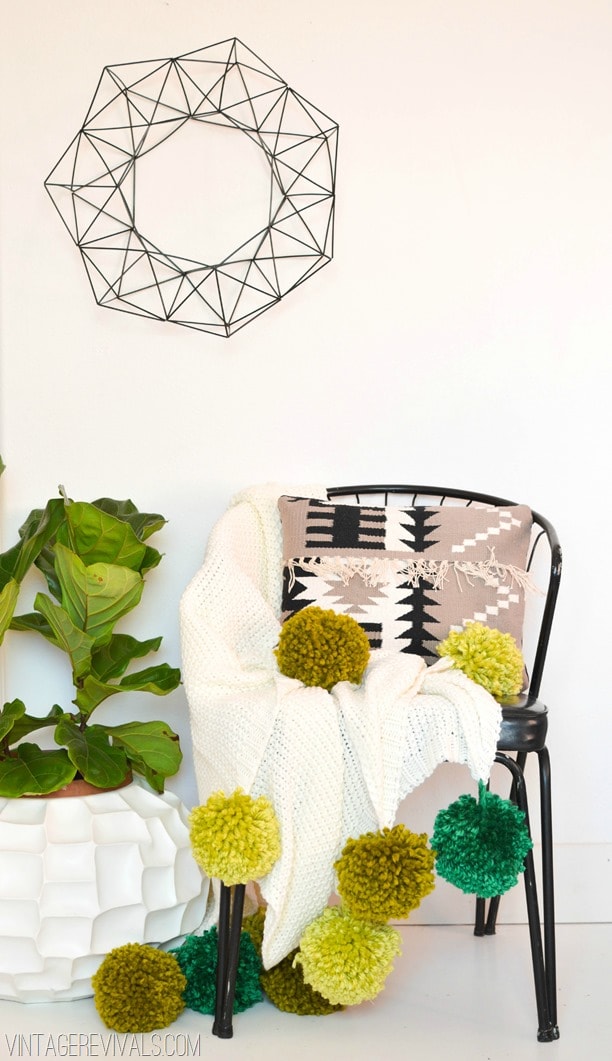 I am really loving this next DIY! Vintage Revivals created this oversized ombre pom-pom blanket and it's the perfect bohemian accent piece for a room. This is different than normal pom-pom blankets because they use embroidery hoops to get those super huge pom-poms. To customize it for your own space, you can mix up the colors and kinds of yarns you use.
3. Gold-Dipped Jewelry Tray from A Fabulous Fete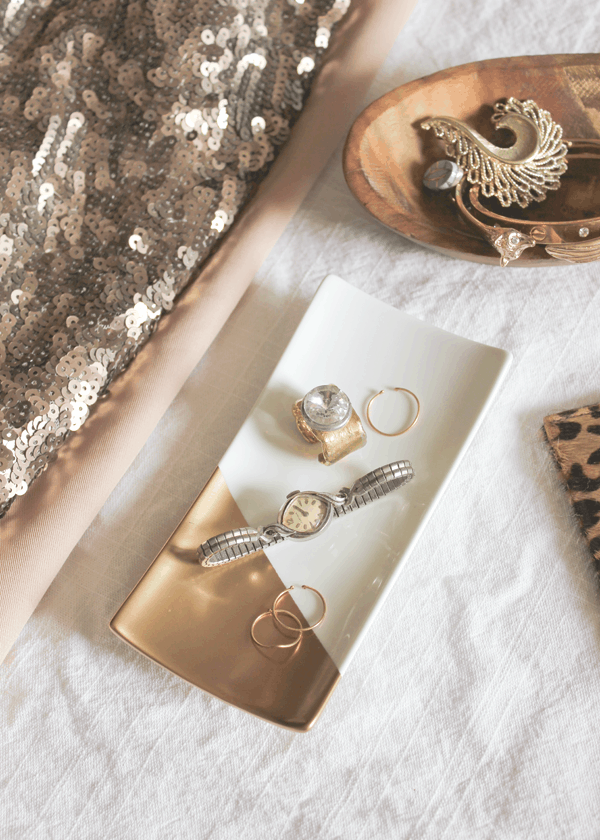 A Fabulous Fete made a super cute and chic DIY jewelry tray. With just a few steps, you can also have this adorable piece for your room. The tutorial shows a few different types of plates you can use, in case you want to mix it up. This tray is a perfect dupe for more expensive alternatives and would even make an amazing gift.
4. Leather Passport Holder from Always Rooney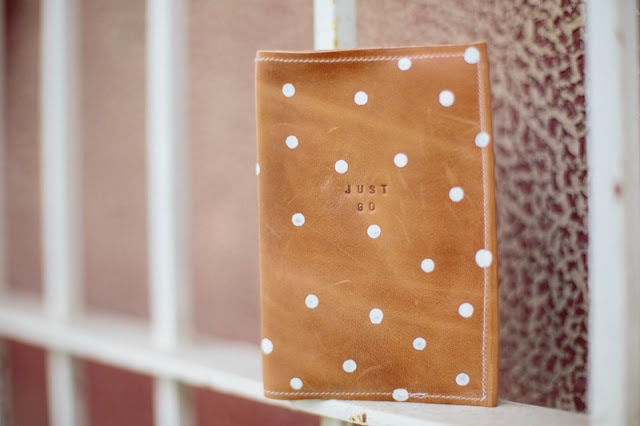 Okay, not a dorm-specific item but this was too cute not to include.
Are you a travel junkie? Well this DIY leather passport holder from Always Rooney is perfect for you! The polka dots add a flirty flair to a rustic piece that's most definitely airport-ready. If you have a trip planned with your gal pals, or if you have an awesome study abroad trip scheduled, you should definitely try this DIY out.
5. Marble Tray from Almost Makes Perfect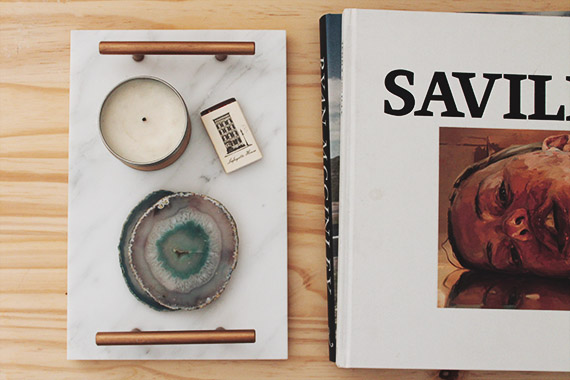 Marble trays are so in right now, so why not make your own? I have seen these in so many stores including Anthropologie and Target. It's a great piece for any space and can be used for makeup or even as a cheese plate when people come over! This is an easy DIY and can be customized as well.
6. Marble Dipped Vases from Sugar and Cloth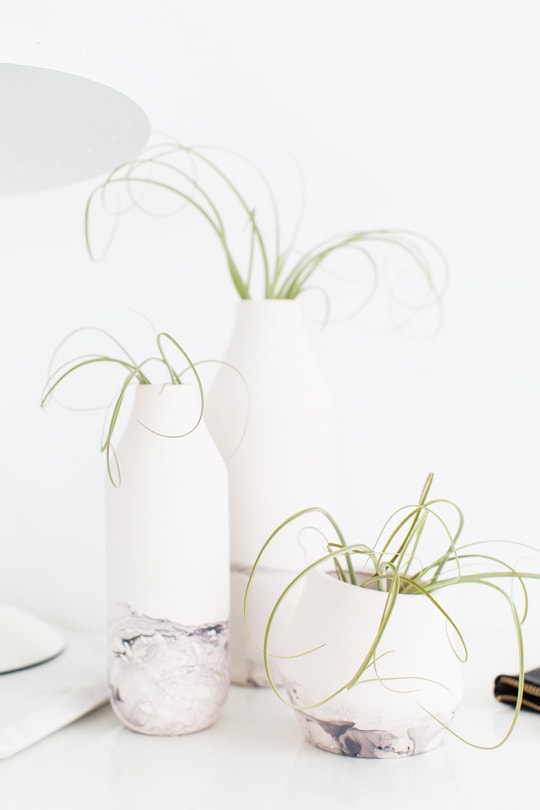 This next DIY is great for any plant lover. If you've been trying to mix up your space, these marble-dipped vases are the perfect solution. These will look great in a living room or a bedroom and should mesh with most any decor. Sugar and Cloth created a lovely detailed post on how to make these. You can choose what colors you want to make your marble effect or just go with a classic solid!
7. Stenciled Quote Pillow from Inspired by This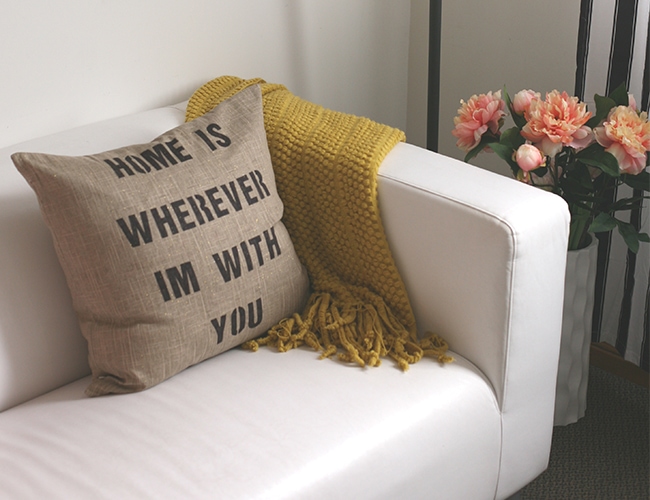 Accent pillows always add a new element to any space. This DIY from Inspired By This is the perfect example. This pillow gives off rustic vibes that tie together this whole space. This DIY is also very inexpensive and fun to make. You can try a fun color for the pillow cover to mix it up a bit or stick with a rustic looking burlap one as shown above.
8. Crystal Necklace Display from Julep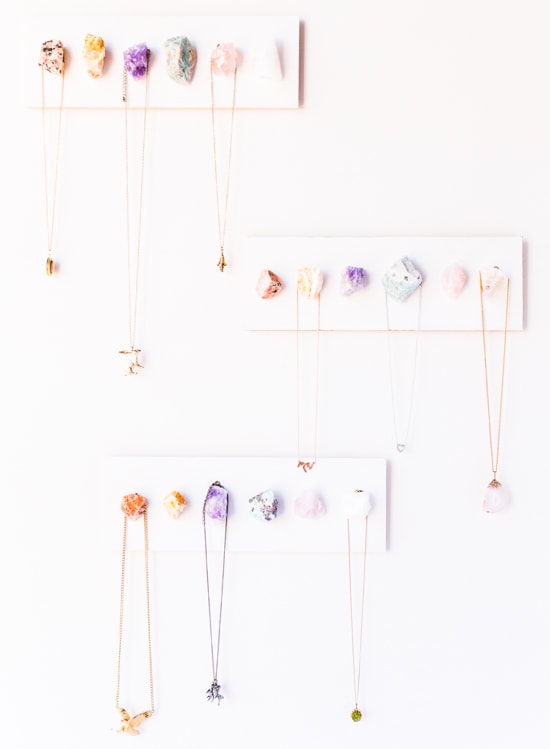 Looking for a new way to display your jewelry? This is the perfect choice! These crystal jewelry holders by Julep are a great addition to your room: They are boho-inspired and can hold many different necklaces or bracelets.
I really love these holders because they almost make your jewelry into a decoration for your room. It's a two-in-one deal!
9. Printed Bowls from The Lovely Drawer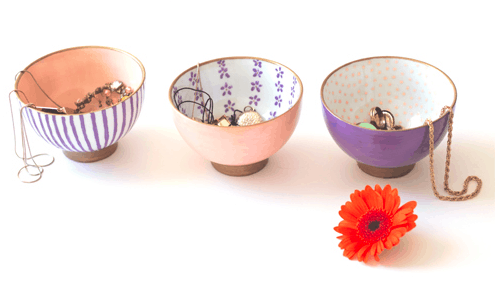 Anthropologie is known for their chic ceramic items. These DIY dupes from The Lovely Drawer are an affordable DIY option! They have an adorable color scheme and can be used for a variety of different things, including: holding jewelry, storing pens and pencils, or just holding paper clips on your desk. Mix it up by changing around the colors and patterns or just going with a solid design.
10. Ceramic Ring Cones from Almost Makes Perfect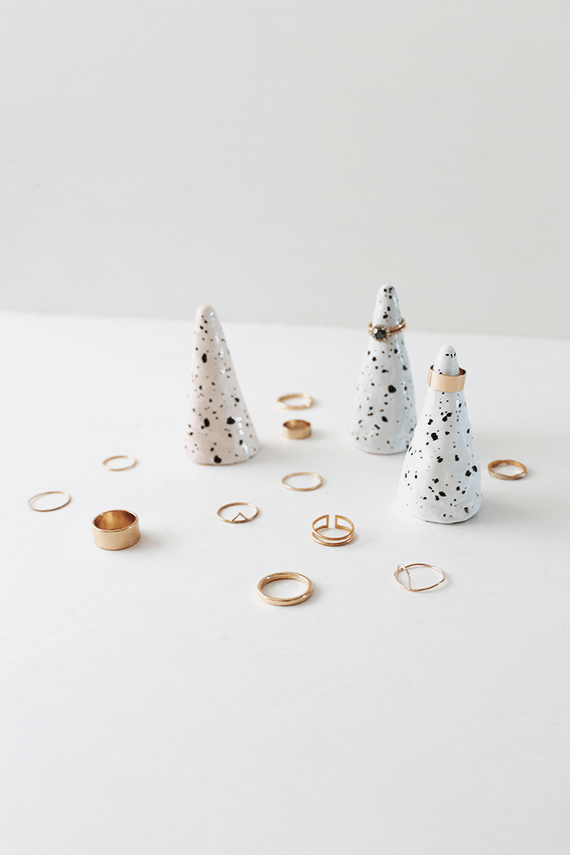 For all my jewelry lovers out there, this is another one for you! If you've got a ring collection you're working on, you need a cool way to display them all. These ring cones are easy to make and are very adorable. They can be made to fit different sized rings easily and Almost Makes Perfect tells you exactly how to do so!
I love the splatter paint design of these and they link you to another one of their articles where they show you exactly how to replicate it. So pretty.
11. Fringe Pillow from Earnest Home Company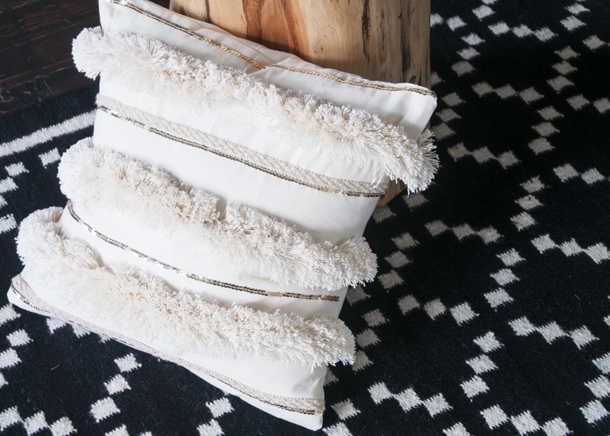 This is another awesome pillow DIY from Earnest Home Company. These people are obviously great at creating bohemian inspired decor and this awesome DIY tutorial is no exception. This quick and easy DIY will add the perfect boho aesthetic to your bed or couch. This one does require a little sewing or gluing so be ready for that!
Will you try any of these DIYs?
Are you as obsessed with Anthropologie's home decor as I am? Will you be giving any of these tutorials a shot? If you make one of these, make sure to tag us (as well as the site who created the project) so we can see your masterpieces! Or post them in the comments below: