Whether you're an aspiring chef or a dining hall regular, there are always those times when you're starving but aren't in the mood to make a trek outside. With a few dorm kitchen essentials, you can whip up a snack in your room, saving yourself the long walk and a few precious minutes.
Mini-fridges and microwaves aside, there are some smaller kitchen supplies that are wonderful to have on hand. Below, we'll share four dorm room kitchen essentials that suit everyone, whether you cook in your residence hall's kitchen or still aren't sure how to boil water for ramen. (Hey, it happens.) Check them out!
1. Non-breakable dishes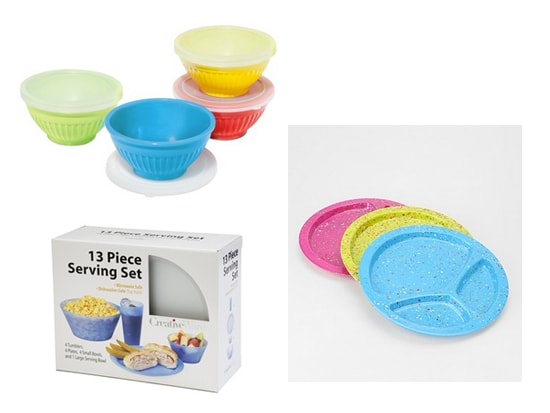 Product Information: Multicolored Bowls, 13 Piece Set, Divided Plates
I made the mistake of bringing glass dishes to school, and now I'm constantly worrying that one of them will shatter. With shatter-resistant and/or plastic dishes, you can bang them around all you want, and use them for multiple occasions. As a bonus, reusable dishes (even if they're plastic) are a lot more environmentally-friendly than disposable paper or plastic ones!
When shopping for dishes, look for materials like melamine, which is break-resistant. Corelle dinnerware, made of tempered glass, has the added bonus of being microwave-safe, which is a definite plus in college! Also, bowls with lids (or just good old Tupperware) allow you to store food in your fridge when your meal plan is running low.
2. Water pitcher with filter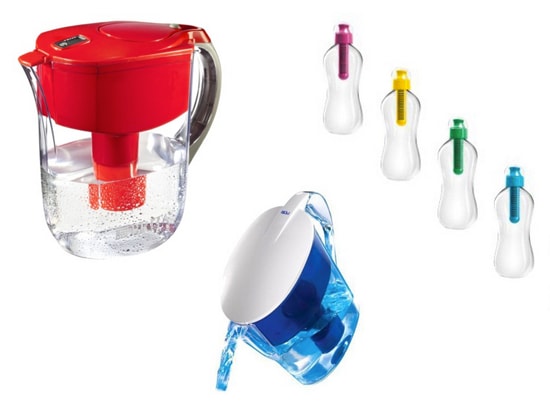 Product Information (left to right): Brita, PUR, Bobble
Brita pitchers seem to be the go-to water pitcher for most college students I know, but there are plenty of other options on the market! PUR, ZeroWater, and Mavea are just a few of the other brands out there. Tap water from the dorm bathroom sink can taste pretty terrible, so a filter pitcher is definitely a dorm room essential.
If you prefer your water cold, make sure you get a pitcher that fits in your fridge! And if you spend more time on the go than lounging in your dorm, a water bottle with a built-in filter might just be the perfect option for you. 

3. Electric kettle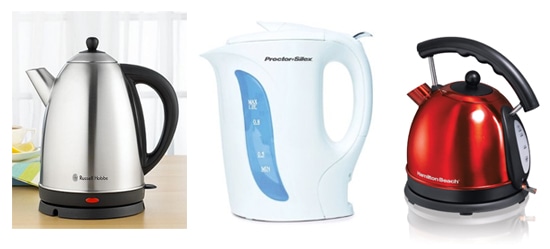 Product Information (left to right): Russell Hobbs, Proctor-Silex, Hamilton Beach
Forget diamonds, an electric kettle is a girl's best friend. Four minutes of heat and a trip to the water fountain later, your trusty appliance has suddenly opened the wide world of instant food up to you. Whether you're making instant noodles or a mug of hot tea, having nearly-instant hot water is a glorious thing. (Can you tell that I love my electric kettle?)
Plug-in kettles now come in a variety of shapes and colors, ranging from classic shapes (like the Hamilton Beach one, at right) to modern silhouettes. For even more options, Apartment Therapy did a great roundup of the best electric kettles on the market. Now you have every excuse to buy that really expensive bag of tea or coffee!
4. Travel mug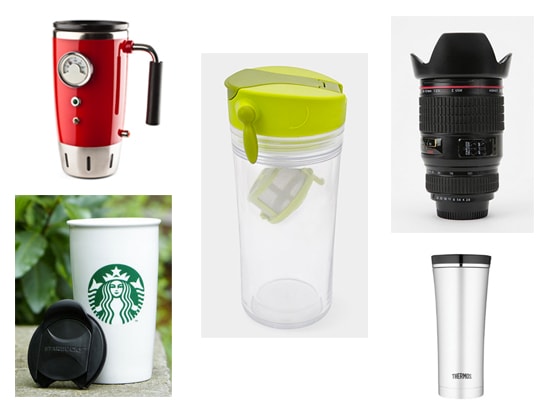 Product Information: Hot Rod travel mug, Starbucks travel mug, Tea Infuser, Camera Lens travel mug, Thermos
Chances are, you're running around all day from classes to clubs, internships, and social events. When you're busy, a travel mug can soon become the most important thing you grab every morning! Plus, there are countless styles for both tea and coffee lovers, and some mugs can even double as accessories.
For a classic style, try a sleek double-wall-insulated Thermos or a clean green-and-white Starbucks mug. Tea-drinkers, rejoice, because many travel mugs now come with built-in infusers! And, of course, the camera lens travel mug above is simply too awesome to miss.
What do you think?
What are your dorm kitchen essentials? What did you think of our list? Do you regularly cook your own food, or are you content with the dining hall options? Let us know with a comment!