This post may contain affiliate links, which means we may receive a commission if you purchase through our links. Please
read our full disclosure here
.
It's that time of the semester: Everyone's feeling burnt out, chugging endless cups of coffee, and staying up until dawn to study for exams that never seem to include the studied material. I don't know about you, but over the past week, my desk became a disaster area, and soon I was spending way too much time just searching for my study guides!
As soon as exam chaos ends, I always make sure to spruce up my desk with a quick and easy makeover. Whether you want to make your space more functional, incorporate bright colors, or have a clean and minimalist work area, there are endless options that are stylish and will keep you organized.
In this article, we'll talk about three different ways to give your desk a makeover, in hopes that it'll take your mind off of studying for a while (and help you organize your notes while you're at it). Let's get started!
1. Putting the Fun in Functional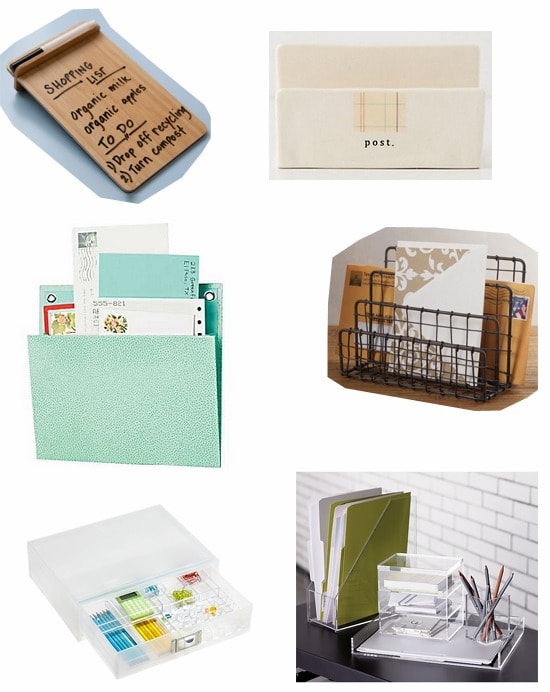 Product Information: Bamboo Board, Ceramic Mailbox, Wall Hanger, Wire Organizer, Acrylic Drawers, Clear Plastic Desk Set
Need to get organized? Look no further than the items pictured above. It used to be that the only products you could get to organize your desk were boring and cheaply made, but now there's no need to sacrifice fashion for function.
Go eco-chic with this bamboo dry-erase board — perfect for those "lightbulb" moments that pass you by unless you write your idea down (everyone knows what I'm talking about!) — or, for a vintage touch, try this gorgeous wire letter holder that does double-duty as a statement piece.
If you prefer delicate and feminine organization, this lovely mail holder from Anthropologie is a beautiful, creamy, ceramic piece, while the pretty blue wall hanger can hold everything from hard copies of term papers to receipts.
And for the ultimate in functionality, you can't go wrong with clear acrylic desk organizers that have an ultra-sleek and stylish look.
2. Colors On Colors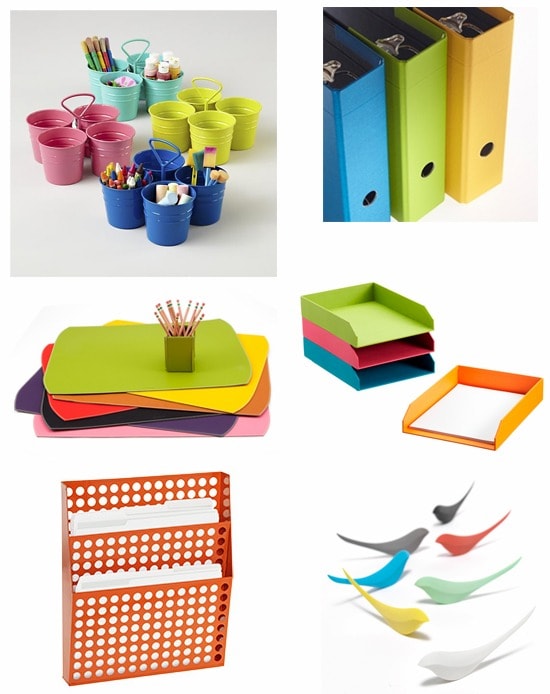 Product Information: Caddy, Binders, Blotters, Letter Trays, Wall File, Letter Openers
If you're tired of looking at that weird faux-woodgrain of the typical dorm desk, add pops of color to create a fun and fresh work space. In this case, the more color, the better!
If you're big on DIY, this tin caddy is perfect for hauling your supplies around. Or forgo the typical black binder and opt for colorful binders instead (bonus points if you take the wonderful advice of American Girl Magazine and color-code your subjects!), and complement them with a single-hued desk blotter and stacking letter trays to match!
Prefer to focus on just one color? This cut-out wall file is both bold and functional, and, c'mon, how cute are these bird-shaped letter openers?!
3. Perfectly Minimalist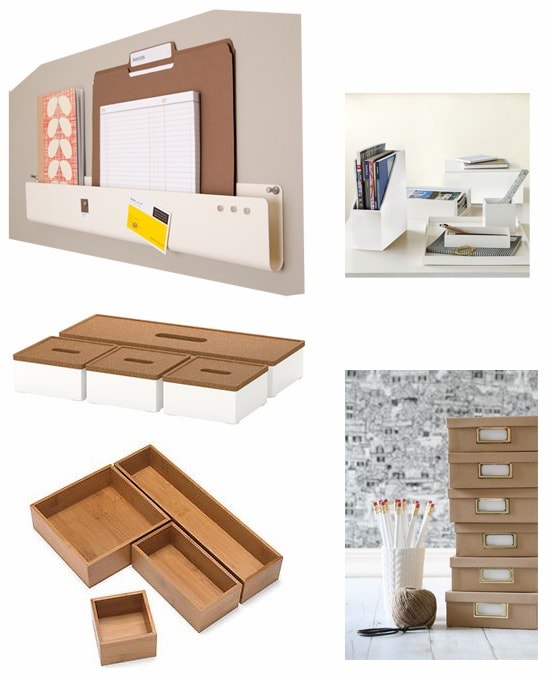 Product Information: Wall Organizer, Lacquer Office Set, Cork Boxes, Wooden Desk Set, Paper Boxes,
I'm a sucker for anything clean-cut and minimalist, so I wanted to feature items that fit that sensibility. The great thing about minimalism is that it keeps your desk from looking too cluttered — one or two of these pieces is all you need!
I love this wall strip organizer, perfect for either above your desk or as a catchall for your letters and papers when you come back to your room. These cork-topped boxes are also a lovely and functional way to keep things on your desk organized, as is this modular wooden desk set that can easily be interchanged or switched around. For the ultimate minimalist organization, paper boxes are sweet and can be readily decorated, and this white lacquer office set will streamline your workspace wonderfully.
What do you think?
Which makeover was your favorite? How do you keep your desk organized when the semester gets busy? Do you have any favorite desk organization products? Let us know with a comment!