To those CF readers who are just starting college – welcome to some pretty incredible years of freedom! For everyone else who's a seasoned pro – welcome back to you, as well!
No matter what phase of undergrad or post-grad you're in, you've probably been bombarded with back-to-school ads and emails filled with everything from sofa sales to friends trying to get rid of the IKEA dresser they bought four years ago.
As overwhelming as they can seem, there are definitely some gems in those promotional newsletters that can add real functionality to your apartment or dorm.
In this article, we'll detail 10 must-have dorm room essentials. And as a bonus, each one costs less than $20!
Combed and carefully selected after sifting through hundreds (if not thousands) of retailer emails, these items have demonstrated their great value over the years, and now is definitely the best, if not the most necessary, time for you to get prepped for another year of life away from home. Let's get started!
Essentials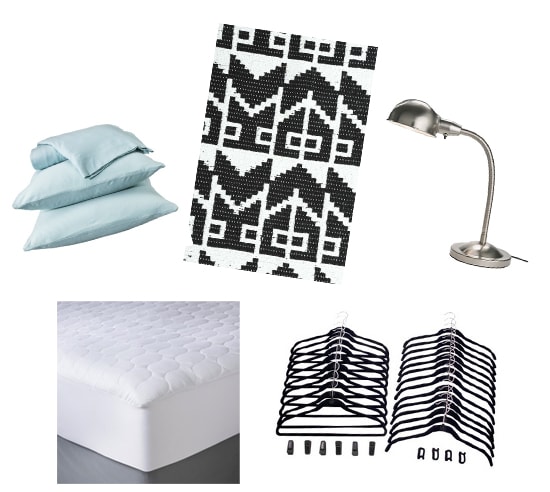 Sheets, Rug, Lamp, Mattress Pad, Hangers
Finding textiles under $20 can seem pretty daunting, but with a bit of ingenuity (and, of course, promotional coupons!), you can easily outfit your bed without breaking the bank.
Jersey sheets feel like your favorite t-shirt and don't cost an arm and a leg. You only really need one set – just be responsible about getting them out of the laundry the same day you wash them!
A geometric runner fits easily next to your bed and makes for a better landing pad than bare tile.
Light up your desk with a sleek office lamp that has an easy on-off switch and bendy neck.
Protect your mattress and add a bit of comfort with a simple mattress pad.
As cheap as plastic hangers might be, slimline velvet-covered hangers are much thinner and more classic. Get a set with clips and hang up all your skirts, too.
On Top of Your Game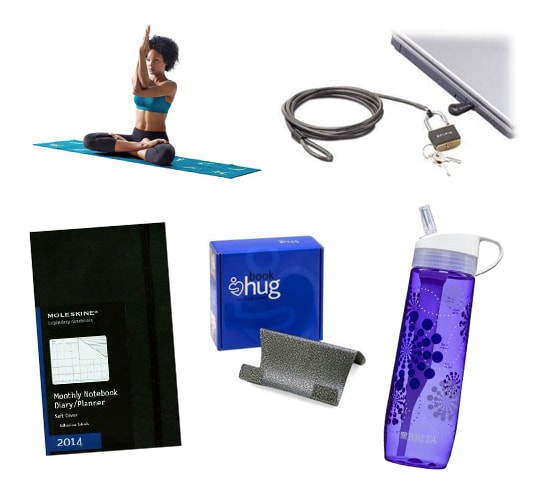 Yoga Mat, Laptop Lock, Moleskine Planner, Book Stand, Filtered Water Bottle
Staying healthy is so much more than exercising and eating right – keep your mental health in check and equip yourself to stay on top of your academics with the items below.
A yoga mat will help you greet and close each day with a meditative stretch. As a bonus, this one has yoga positions printed on it, so even newbies will be able to check their form!
Protect your laptop from potential theft with a simple laptop lock.
Keeping an agenda up-to-date (mine has the weather, assignments, meals, and daily outfits on each day) is a great way to stay organized and feeling in control. This classic Moleskine is organized weekly and monthly for easy planning.
If you don't yet have a book stand, these will change your life. No more craning over massive textbooks or trying to dodge the glare of a library overhead light.
Finally, keep your body healthy and stay hydrated with a Brita filter water bottle.
What do you think?
Did you like our product picks? What else have you gotten for college or post-grad life on a budget that has been absolutely essential? Anything we missed? Let us know with a comment!