First, congratulations are in order: Midterms are over! Whether you feel like you did well or just scraped through, it's still a cause for celebration. After a week or two of test anxiety, too many deadlines, and just the regular stress of life, it's time to slow down again.
That being said, your work isn't quite done: if anything, it's just starting. Most of the time, after the first half of the semester, we lose our motivations to keep studying and learning until finals, which leads to a mad, frantic dash during finals week. (Raise your hand if you relate.)
This week, we'll be covering how to bring our stress down but our productivity up after midterms.
First, Relax.
Whether that means you treat yo'self to a bath or to a quiet night in with friends, this is the time to slow it down a bit. Everyone has their own special way of doing that: be it a day of yoga and healthy eating, or sinking into bed and catching up on sleep.
My suggested formula for making the best of this time? Find something simple but important to do. It should also be something that you haven't done in a while.
Whenever I get past exam season part one, I take the time to clean my room (because I rarely clean during midterms unless procrastinating) and sleep. Cleaning my room is usually just a matter of picking up clothes, and well, everyone needs to sleep. Even though it's not a full-on self-care plan, easy tasks like that leave me more refreshed than any bath bomb.
Something simple but important, and something I haven't done in a while: it's as easy as that.
Now, Ease Back Into Work.
Start mixing your self-care with your study routine. That may seem counterproductive, but I've found that sometimes, self-care isn't all face masks and Netflix binging. Sometimes, it's organizing your notes so that you're not lost later during finals, or taking a few extra small breaks in between the new homework assignments.
This is the time to take things slow with yourself, yes, but don't treat "taking things slow" as "not doing anything at all." That is the first step into a cycle that, once finals come, will be hard to get out of, and we're trying to make it easier for later.
So, for now, do things in bite-sized pieces. Start early with studying: focus on sections day by day instead of one long drawn out study binge. Actually schedule the time to relax and time to study and watch things fall into place a little more readily.
An Outfit to Relax and Work In: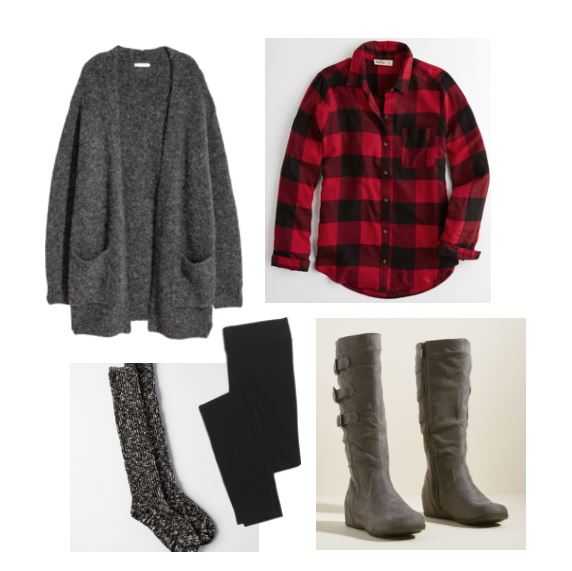 Products: Cardigan – H&M, Leggings – Madewell, Shirt – Hollister, Boots – Modcloth, Socks – American Eagle
Now isn't the time to shake things up. This time is for going back to the basics, and we see this by including fall mainstays like flannel and leggings.
Ramp up the coziness in your life now that things have slowed down by snuggling down in your favorite cardigan, and don't stress too much about dressing up by opting for leggings instead of jeans. (A quick but cute twist on this outfit would be layering a skirt over the leggings–jean or corduroy would be cute options!)
The boots and socks are another fall classic duo that you can switch up depending on your aesthetic. I went with a classic riding boot look. For a cute detail, have the socks peek out from over the tops of the boots. I went for warmth more than color with these socks but if you wanted another pop of color besides the flannel, just grab your favorite colored boot socks and go wild!
What do you think?
Are midterms over for you? How do you plan on recovering? What's keeping you busy this week, and what tips would you like to get? Let us know in the comments!