This post may contain affiliate links, which means we may receive a commission if you purchase through our links. Please
read our full disclosure here
.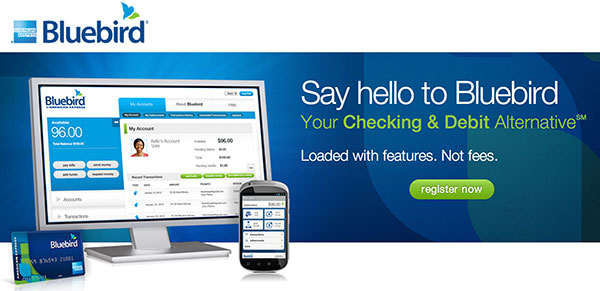 Although it's still technically summer, fall semester is around the corner, which means it's about time for back-to-school shopping! And to help you stay on budget while buying all of your fall essentials, we've teamed up with our new favorite money-management service – Bluebird by American Express.
About Bluebird & Why It's Perfect for Students
In case you haven't heard of Bluebird, it's a checking and debit alternative provided by American Express and Walmart that boasts extremely minimal fees (lower than most checking and debit accounts) and a host of premium benefits. (It's also FDIC-insured!)
When you sign up for an account online (with no credit check), they will mail you a Bluebird card. Then, you add as much money as you want to your account via a bank account transfer, direct deposit, or by scanning a check in their smartphone app. That's when the fun begins.
Bluebird not only gives you a debit card to use wherever Amex is accepted, but it also allows you to pay any bill, any time with their online service (saving you money on stamps and envelopes), write checks, transfer money to friends or family, and withdraw cash if needed from 20,000+ ATMs. This all comes with extremely minimal fees – check out their website for the full rundown! There really isn't a catch here.
In addition, your Bluebird card comes with FREEpremium American Express features like 24-hour roadside assistance, 90 days of purchase protection, fraud protection, and Entertainment Access, with early access and discounts to the hottest concerts and events in your area. Amazing, right?
How to Use Bluebird for Back-to-School Budgeting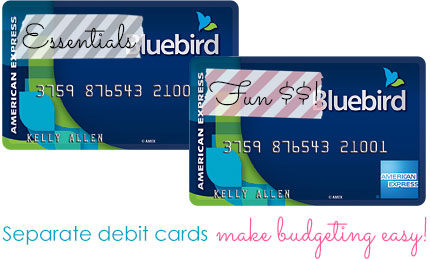 One of our favorite things about Bluebird is that it gives you the ability to create sub-accounts.
In college, when you're learning to budget, it's so easy to overdraw your account accidentally – I will admit, I've (shamefully) done this before! Bluebird, however, solves that problem.
Not only does Bluebird have no overdraft fees, but if you create a sub-account, you can have TWO debit cards – one for "Essentials" (books, food, school supplies), and one for "Fun Money" to spend on clothes, beauty, and going out! (I love the idea of using cute Washi tape to distinguish the two cards.)
Even better, managing these separate accounts is easy – you can create daily spending limits for your "fun" debit card, set up email alerts for each account, and track everything on the smartphone apps. You can even get your balance for each account via text.
What do you think?
Over the next few weeks, I'm going to be testing out Bluebird some more and will share some other uses for it in a future post! To test out your own Bluebird account, you can sign up in two minutes on Bluebird.com. (Or, you can buy a starter kit at Walmart!)
Now I want to hear from you – do you think Bluebird sounds like something you'd use? What service do YOU use to manage your money in college? How do you keep track of your budget? Let me know by leaving a comment below!
Disclosure: This post was sponsored by Bluebird. The opinions, as always, are our own. For more information, please see our Disclosure page.