This post may contain affiliate links, which means we may receive a commission if you purchase through our links. Please
read our full disclosure here
.
"DUN Dun dun". Three soft chimes can elevate my heart rate in seconds. If you're tech-obsessed like me, you know the feeling.
Subtler than an alarm clock blare but equally stress-inducing, the iPhone low battery notification is a dreaded noise for all college gals. It always comes at the worst possible moment – when you're typing an "I'm going to be late" text to your friend, almost done with your email requesting an extension on that paper, or worse, mid-conversation with your boss. UGH!
Want to rid yourself of those dreaded chimes for good? I've found the ultimate solution. The best part? You can win this college-life-saving device for FREE! Read on for the details.
Introducing: The PERI GoCharge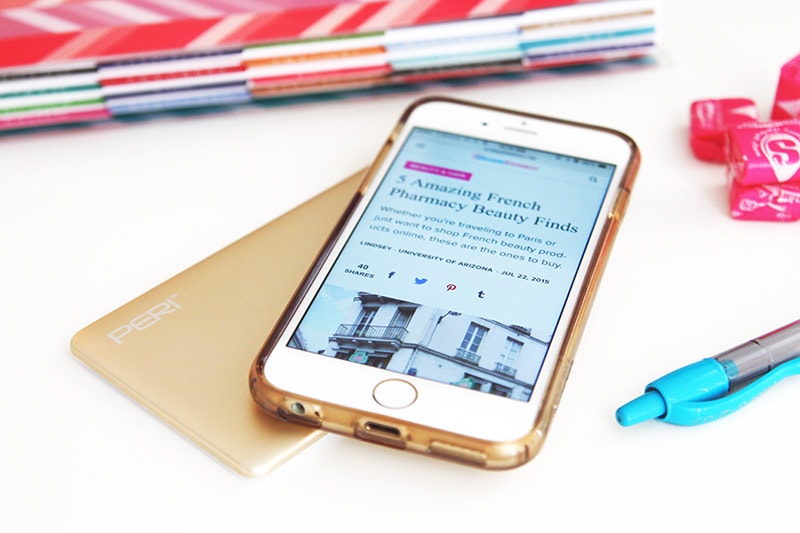 The folks at PERI recently sent me their new Gold GoCharge ($49.99), a 3200mAh power bank with an integrated Lightning cable for easy, on-the-go charging of the iPhone. The power bank can fully charge the iPhone on average 1.5 times on a single charge and the integrated lightning cable eliminates the need to carry additional cables – just throw it in your bag and go.
I had never used a power bank before so I was eager to try it. It took 3 hours to charge up the GoCharge, but after that, it was ready to go.
My phone always dies when I'm out on the town, so I chose a night out to test the GoCharge. I loved that it fit in my clutch, and that it matched my phone – two points to Gryffindor! When it was time to uber home and my phone battery was super low, I plugged into the GoCharge and was back in business. This is definitely my new handbag must-have.
PERI GoCharge Size Comparisons
For an idea of how small and thin the GoCharge is, here are some photos compared to my iPhone 6:
Basically, if your phone fits in your bag, the GoCharge will fit, too.
Enter to Win a PERI Gold GoCharge!
Now for the best part – enter to win your own! Five lucky CF readers will win a PERI Gold GoCharge (a $49.99 value). Use the widget below to enter. US shipping addresses only.
(See our official giveaway rules here.)
PERI Discount Code for CF Readers
If you want to scoop up one of these devices now, PERI has created a discount code just for CF readers. Enter "college fashion" at checkout on MyPeri.com to get 20% off the GoCharge plus free shipping.
Best of luck, guys!
Disclosure: PERI sent me the GoCharge for free. The opinions, as always, are mine alone. For more info, see our Disclosure page.