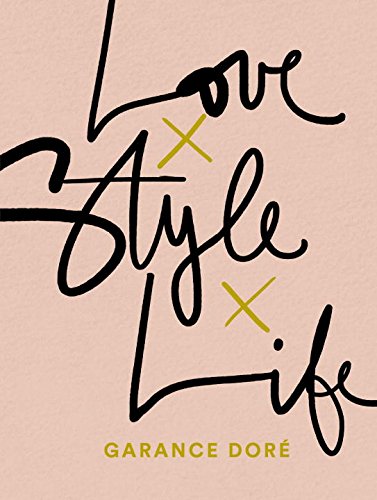 Are you reaching for a new career? Looking for love? Go on and dress for it. – Garance Doré
I've always loved fashion, ever since discovering my first style icon: Blair Waldorf. From lacy tights to expensive, form-fitting dresses, she was the epitome of class and beauty. Watching Gossip Girl not only inspired me to find my own sense of style (which is pretty similar to Blair's), but to also get to know designer fashion. An Ellie Saab dress with Manolo Blahnik shoes? Yes, please… if only in my fashion dreams.
One of the first fashion blogger books I ever purchased was Emily Schuman's Cupcakes and Cashmere. It's a great book for fashion beginners, with practical tips, outfit ideas, and a wardrobe-building guide.
Fast forward five years and I'm an avid fashion fan and have comfortably figured out my own style. So when I picked up Garance Doré's Love Style Life as an end-of-semester treat, I wasn't totally sure if it would be for me.
Like Emily's book, Love Style Life provides some general fashion and beauty tips, but what I loved most was that it was also very personal. Doré talks about love and life, and also digs deep to discuss the real reason why we love clothes: they make us feel good, and allow us to express our true (and dream) selves. It all comes from the heart, people!
What I loved…
– The photographs chosen for the book were amazing! I loved the classic, chic, street-style-inspired look of them.
– It's a great book for anyone who would like to learn more about creating a well-rounded wardrobe (although I'd recommend Schuman's book for a complete novice to the art of creating one's own style).
– As I mentioned before, I loved that Doré talked about life and love, and how they connect to fashion. For example, she discusses growing up and not feeling beautiful, and how she came to eventually embrace her quirks. It's great to see someone writing about the not-so-vain aspects of fashion.
What could have been improved…
Although I thoroughly enjoyed Doré's book, I could have done without a lot of the comparisons between New Yorkers and Parisians. (Doré spent most of her life in France before moving to NYC.) I know this is something she often covers on her blog, but it felt like she was re-hashing old content here.
Last thoughts
Knowing yourself is knowing the distance between your dream self and your real self. – Garance Doré
I completely recommend Love Style Life to recent college graduates who'd like to shift their wardrobe from dorm chic to career woman, or for a fashionista who'd like to read a unique fashion book from a favorite blogger. If you're a fan of Garance's, you can't go wrong with this. It would also make a fun gift for a fashion-obsessed pal.
Of course, you can also check out Doré's blog for more interviews and tips!
How do you use fashion to heal or express yourself? Let us know in the comments!