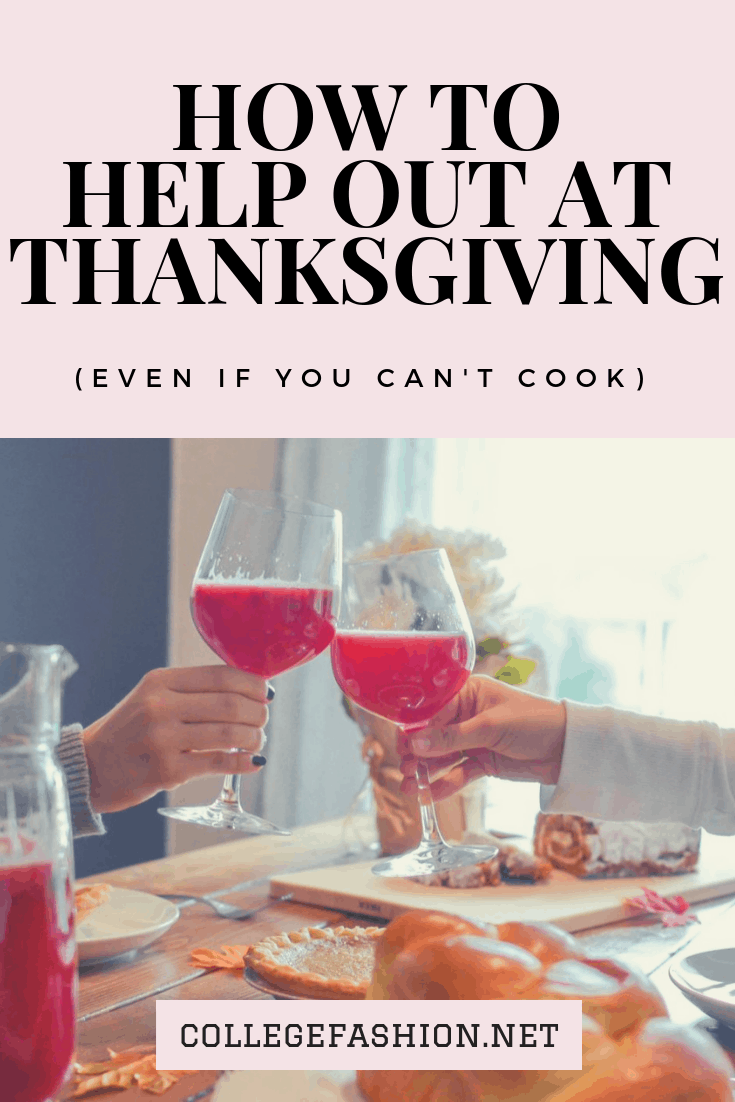 You know how when you come home from college and you fall into the same rhythms with your family that you had in high school? Even now, as an adult in their mid-twenties, I find this happening to me, and no more so than during family holidays like Thanksgiving.
I used to come home for Thanksgiving and spend most of the day on the couch reading or watching TV while my family prepped for the meal, but in the last couple of years I've wanted to be more helpful and contribute more to the holiday. It can feel a little awkward and strange to step from one role to the other, especially during times that are usually so bound by comfort and tradition, and Thanksgiving can be very tricky to help with if you're not hosting or very handy in the kitchen.
The good news is, there is a lot that goes into making a holiday meal successful, and there's a ton you can do as a guest both to lessen the work of your host and to feel a little more like an adult during the holidays. Here's how to help at Thanksgiving this year, even if you can't cook:
Be the Snack Queen
You know that the Thanksgiving gathering doesn't start with the meal; you're showing up hours beforehand to spend time with family, maybe watch the parade, the Harry Potter marathon, or some sportsball. Depending on how your family does the thing, you may not be eating until 5 or 6, and snacks between breakfast and the main event are often the last thing that anyone is thinking about – until they're hungry.
A very easy way to help with Thanksgivings is to take thinking about this off your host's plate and provide the midday snacks. This doesn't have to require more than heading to the grocery store before showing up – hummus, chips, salsa, and crudités will always be a home run. If you want to get a little fancier, try making a dip, roasted nuts, or even chex mix at home. You might even get away with not having to do the dishes (see below).
Bring the Fun
The timing of Thanksgiving is almost always weird. If your host is making a huge meal during the day and having tons of people over, chances are, they don't have a ton of time to entertain their guests. I think this is why a lot of people end up watching TV on turkey day.
Of course, there's nothing wrong with a tradition like that, but sometimes people get a little restless and bored between arriving and the meal itself. This year, try organizing a board or card game tournament, a Thanksgiving themed Minute to Win It, or Family Feud with family trivia. Not only will the time before (and after!) the meal fly by, but you might make amazing memories or a longstanding holiday tradition with your loved ones.
Watch the Kids
Depending on the size and age of your family, Thanksgiving may come with a giant gaggle of kids of all ages. Chances are, their parents are part of the cooking/cleaning/entertaining frenzy, and they would probably relish a little help in the childcare department.
Offer to watch Harry Potter with your younger cousins, read the same picture book over and over again to your nephew, play dress-up with your kid sisters. Better yet, organize turkey-day-themed crafting (cute centerpieces, anyone?) or coloring sessions, puzzles, or games (see Bring the Fun) that will turn up the holiday cheer, all while giving you some Cool Aunt ™ cred. The kids will love you, the adults will thank you, and you won't accidentally take a nap out of sheer boredom while everyone is watching football.
Do the Dishes
Yep, the worst chore on a regular shmegular day is even worse on the most epic meal of the year. But if you're not cooking, (and like, it's your mom or grandma who is doing all of the cooking) you should at least help with the dishes. Full stop. Pour mom/grandma/gaggle of aunties a glass of wine, put on a hallmark movie, and let them put their feet up while you handle the mess.
Of course, you shouldn't have to tackle the mountain of dishes on your own – enlist your least kitchen-savvy siblings, cousins, and friends for KP duty after the meal is over. Shoot for three comrades-in-arms: one of you to wash, one of you to rinse, one of you to dry, and one of you to put away.
…Or, You Could Cook
Before you panic and show up to Thanksgiving with a 25 pound turkey, let me just say this: not everything you eat at Thanksgiving is super complicated – in fact, a lot of it incredibly simple. Have you ever made mashed potatoes? Because even the fanciest mashed potato recipes are pretty easy.
If you want to bring food to pass for Thanksgiving, reach out to your host and ask if there's anything you can bring – an additional dessert, a salad, a side, a cranberry thing – and chances are, they would be happy to have one less thing to worry about for the dinner.
And be honest with yourself about your time and your cooking skill. This is an okay time to stretch yourself if you have the time to explore, but if you're rushing through your holiday, something simpler may be a better choice. But who knows? You may cook something that could end up being a longstanding part of your family's tradition, even if it is simple.
What do you think?
What are your family's favorite Thanksgiving traditions? What do you do to help out during the holidays? Let me know in the comments below!