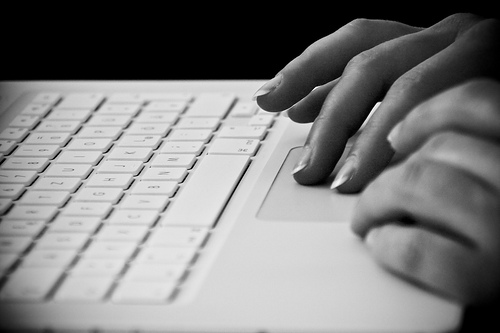 Spring Break is rapidly approaching, and while for some of you that seems like the ideal time to begin applying for summer jobs and internships, wouldn't you rather be able to simply enjoy your time off? Maybe you'll have already secured your job for the summer – think about how great that will feel! (Or maybe you're waiting to write for us – here at CF, we start accepting applications April 1st...)
So, let's have some forethought and get down to business now. We're already into the thick of the semester, so it might not be easy to carve out time for job applications, but in the long-run, your job experience will likely be far more interesting to your employer than that 10-page paper you're working on.
First things first: We need to work on your résumé. So delve into the depths of your saved documents and dust off that résumé you put together at the last second for your previous job. Here are some tips to start fresh or refine what you already have:
Update your design.
Hiring managers and recruiters will likely only glance at your résumé for a couple seconds, which means it's crucial to make an impression on them immediately. The first thing they'll see – before even reading it – is what it looks like. Consequently, you want your résumé to look clean and professional, while still representing who you are.
Here are some résumé design tips I follow:
I tend to gravitate toward fonts such as Garamond and Perpetua. It's easier for the human eye to read a serif font (fonts with the little feet on the letters, like the title of this post) so I recommend choosing one for the body text of your résumé. From there, some people choose to offset their headings with a sans serif font (without the little feet, like the body of this post).
Streamline the text. Don't make the reader do a lot of work to find the important things in your résumé. I recommend listing your position titles on the far left, and using a hanging indent to separate it from the rest of the text. This way, your reader can scan down the left side of your résumé and easily pick out the positions you've held. I've heard a strong argument for using hanging indents instead of bullet points, as bullet points can quickly clutter the page. Of course, this is up to you, but a great rule of thumb when it comes to résumés is to only include things which are absolutely essential and purposeful. If you think your bullet points (or anything else on your résumé) are accomplishing something that nothing else can, then go for it.
Use bold and italics wisely. Using bolded fonts and italics is a great way to break up the monotony of your résumé's body text. Similar to making sure everything you include is essential, also make sure your design choices not only look good, but also serve a purpose. If you make something bold, don't do it arbitrarily. If you make something italic, make all similar items italic, also.
Add your personal touch. This part should be of your choosing, hence "personal touch." I chose to elaborate the design of my name at the top, which you can do with your font choice, adding color, or maybe designing a small symbol to represent you as a brand. There are plenty of ways to differentiate your résumé from the others, just remember to keep it professional.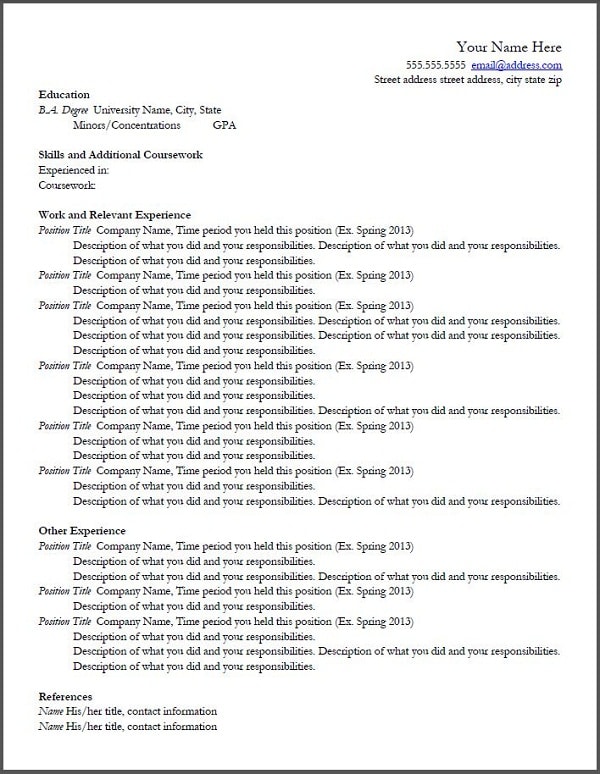 Organize your content.
Remembering that we only have a short time to catch the attention of your reader, you'll want to organize your résumé in a way that presents the most crucial information at the top. Then, you want to organize your information as follows:
Header. This includes your name, your phone number, permanent physical address, and email address. A note about email addresses: Choose a professional email (not [email protected], for example), that also isn't your work email, if you have one. It's a good idea to have a professional, personal email account, anyway.
Education. Include the name of your university, what your degree is/will be, graduation/expected graduation date, and GPA. The absence of your GPA will invite employers to assume it's really low. (If this is you, though, that's fine! GPA is not everything and you don't have to include a super low one.)
Skills and additional coursework. Here is where you can list any programs you have experience in, such as Microsoft Office, the Adobe Creative Suite, or something else tailored to your major. Also, this is a good place to include courses you've taken outside of your major that may be relevant to the job you're applying for. You don't need to list all the classes you've taken for your major (maybe include a select few from your major) or general university requirements – your employer has already seen what your major is, and assumes you have or will take those classes.
Work and relevant experience. This is where you list the past and current positions you hold. I love titling this section "work and relevant experience" because you can list anything you've done that applies to whatever you're applying for, whether it's a job, volunteer work, or something you did on your own. Describe what you did using active verbs; write a little bit about what you learned. The general rule is to use present tense for current jobs and past tense for past jobs. One to three points for each position is fine.
Other experience. Your other experience section acts as the catch-all; whatever you didn't list above, you can put here. For example, if you're applying for a journalism internship, but you've worked at Starbucks for the past couple years, here is where you list Starbucks. It's good to list jobs you've had for awhile, because even if they don't relate to the position you're applying for, it shows the employer that you can hold a stable job and be a solid, dependable employee.
References. This section is optional, depending on how good your references are and if you have space on your résumé. Make sure to always ask before you use someone as a reference! Another option is to write, "References available upon request" or something similar at the bottom of your résumé instead of typing out all the names and contact information.
What do you think?
Do you have other recommendations and suggestions for us and your fellow college students? How did you design your résumé? Do you know other tips about building a résumé? Share them!