Between the costumes, the candy, and the scary movies, Halloween is a really exciting time of year. But as fun as this spooky holiday is, it's hard not to think about how eating mass amounts of candy will affect you the day of and even the day after.
Although indulging on this special day is totally okay and expected, if you want to be a little healthier, we've got your back. Here are some healthy Halloween treat recipes and healthy candy swaps for those of you looking to avoid a sugar rush and inevitable crash.
Healthy & Easy Halloween Treats
1. Little Apple Monsters
Even if you choose to lay off the candy, Halloween shouldn't be just like any other day, so here's an idea for a healthy, festive snack.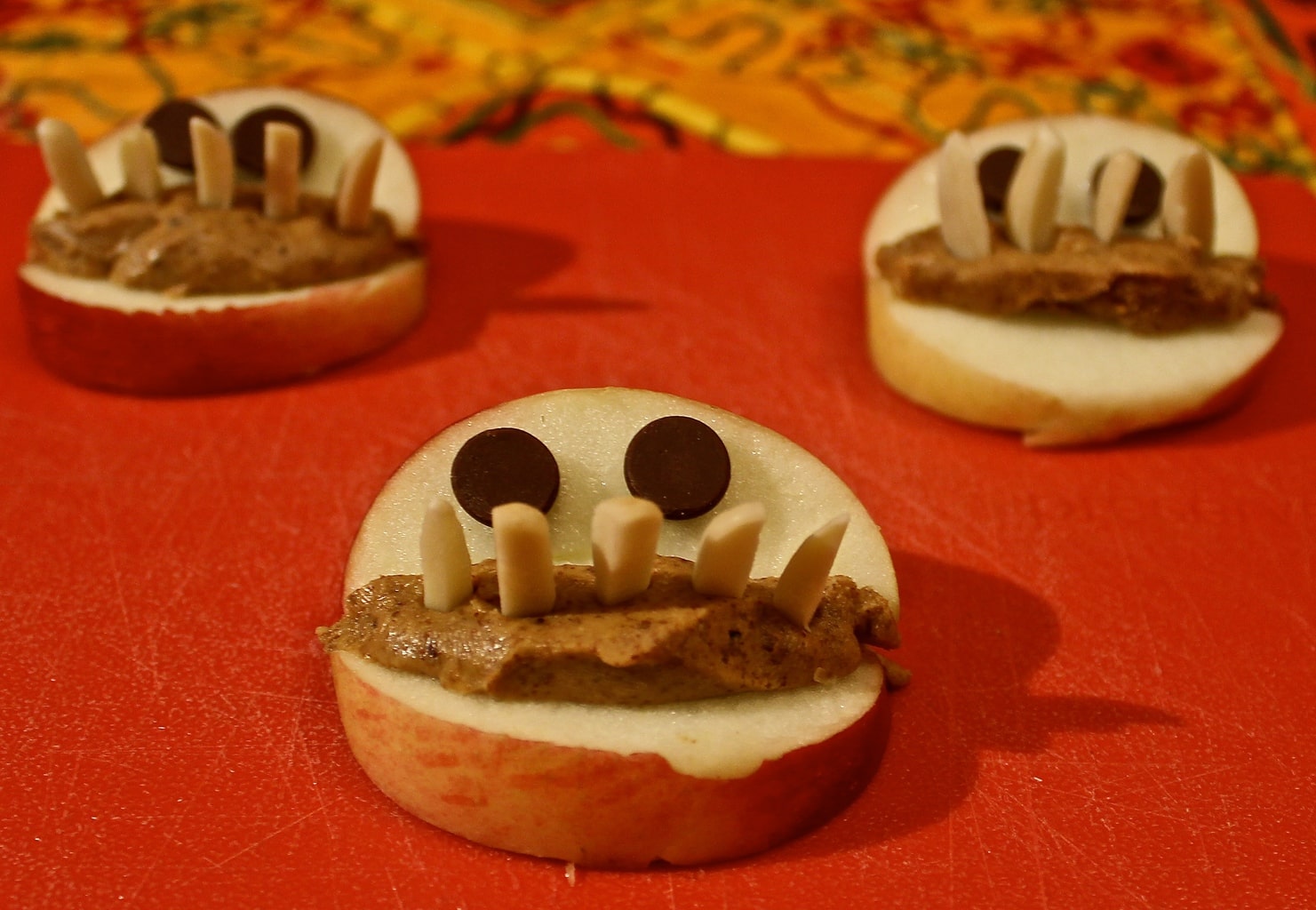 What You'll Need:
Apples, cut into slices
Almond butter (or your favorite nut butter)
Slivered almonds
Chocolate chips (I used semisweet!)
How to Make It:
Place one apple slice flat on a plate and then spread the back edge with some of your nut butter. Stick another apple slice into the nut butter so that the two apple slices look like an open mouth. Last but not least, stick some slivered almonds vertically into the nut butter to add teeth and then stick two chocolate chips into the upper apple slice to add eyes. Bring these to a Halloween party and your friends are bound to get excited about how cute they are!
2. Ghostly Bananas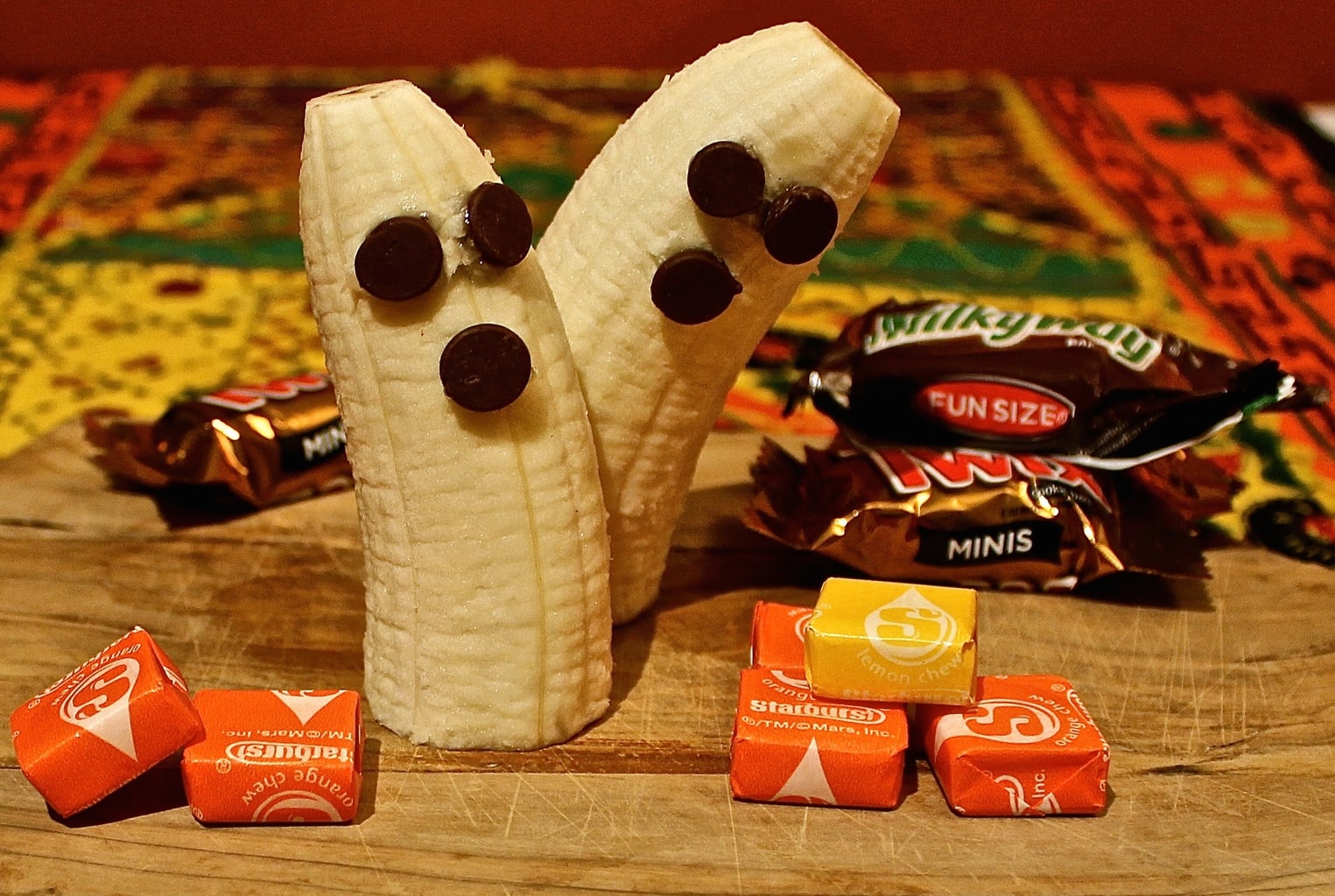 What You'll Need:
Bananas
Chocolate chips (I used semisweet!)
How to Make It:
These are crazy easy to make, and did I mention that they're also really healthy and delicious? I know, enough said. For these guys, slice a banana in half and then stick two chocolate chips into the top of the banana to make eyes and add one more chocolate chip underneath those two to make a ghoulish mouth. Then simply enjoy your naturally sweet candy bar!
3. Fruity Pumpkins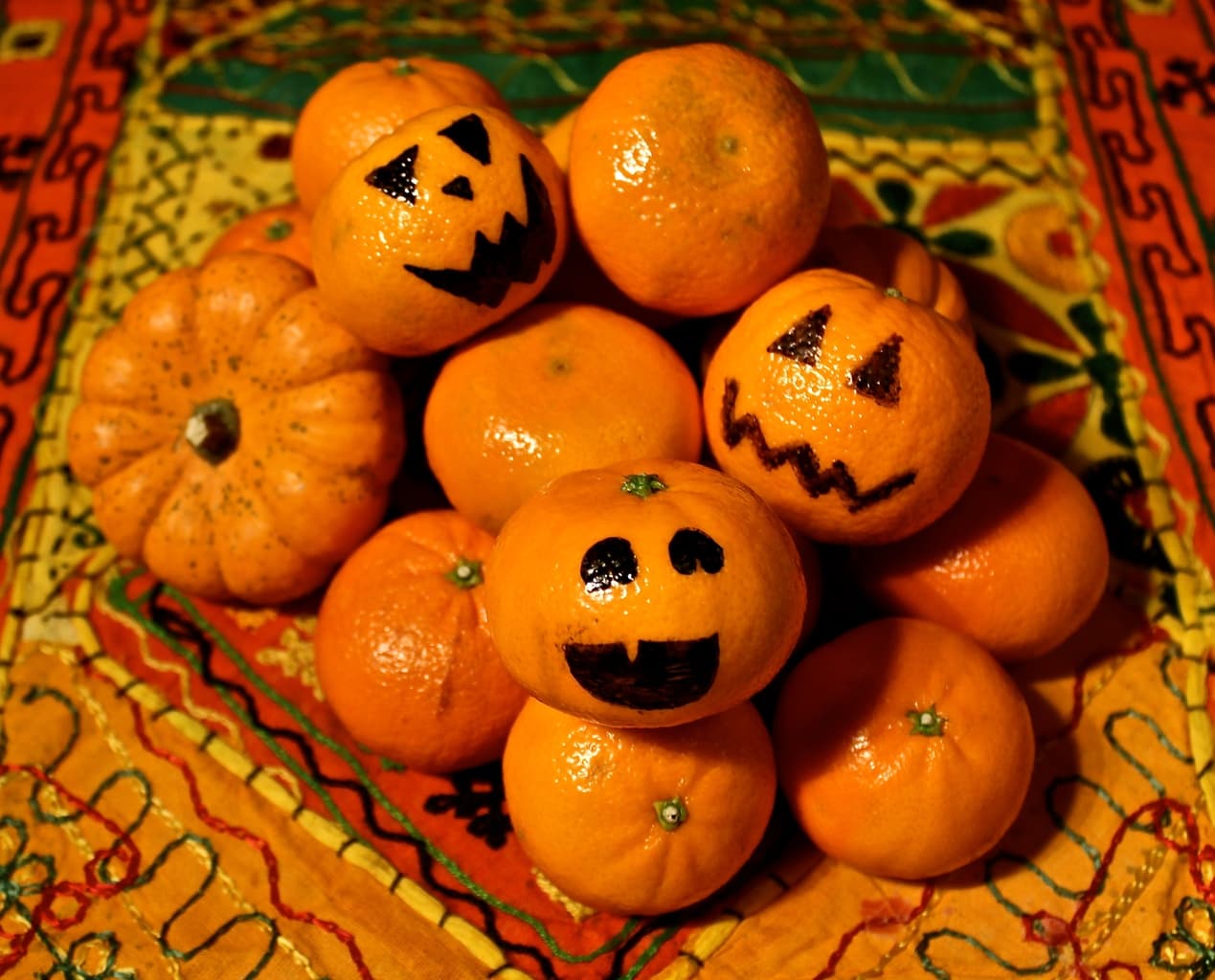 Ok, ok, you got me. These aren't real pumpkins. However, clementines make a great sweet treat and they're perfect for Halloween because they look just like a mini pumpkin, both with skin and without!
You can make them look even cuter by having a "pumpkin" decorating party with your friends – use a sharpie to make a face on the peel. (You're removing it before eating anyway.) Clementines are easy for you to carry around on the go, and they'll give you a nice burst of vitamin C. What more could you ask for?
Healthy Swaps
Of course, not all of you will want to make something healthy on Halloween. You want the candy and you want it now. If you'd like to make your candy snackfest a bit healthier, here are two suggestions!
4. Fun Size Candy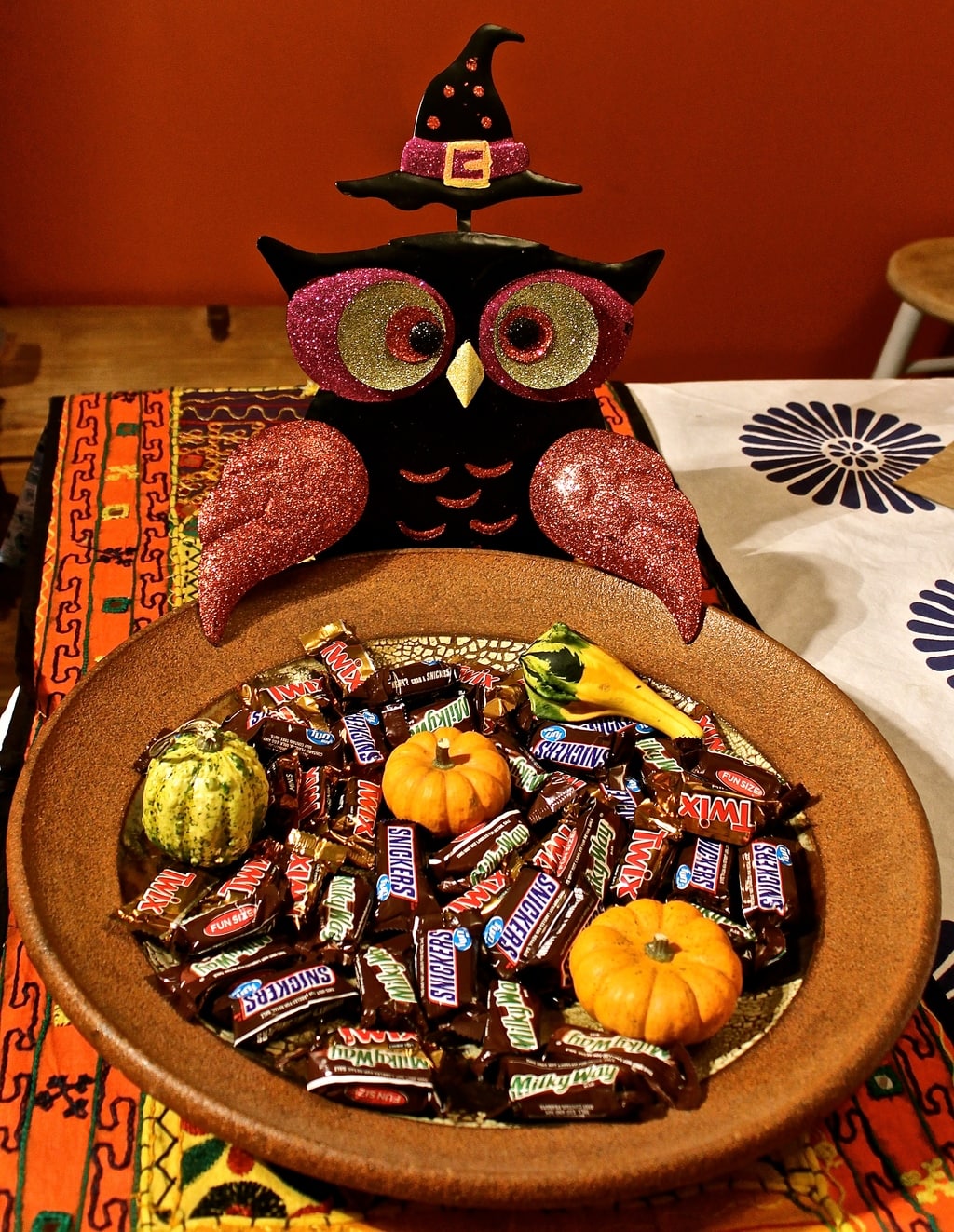 This is an obvious one. As we all know, when faced with a full candy bar, it's really hard to stick to "only eating half" like you planned. That's why fun-size candy is a great option. These treats are portion controlled and will allow you to satisfy your sweet tooth without overdoing it.
Take a look at the nutrition facts for one of the candies that came in the fun size bag I bought: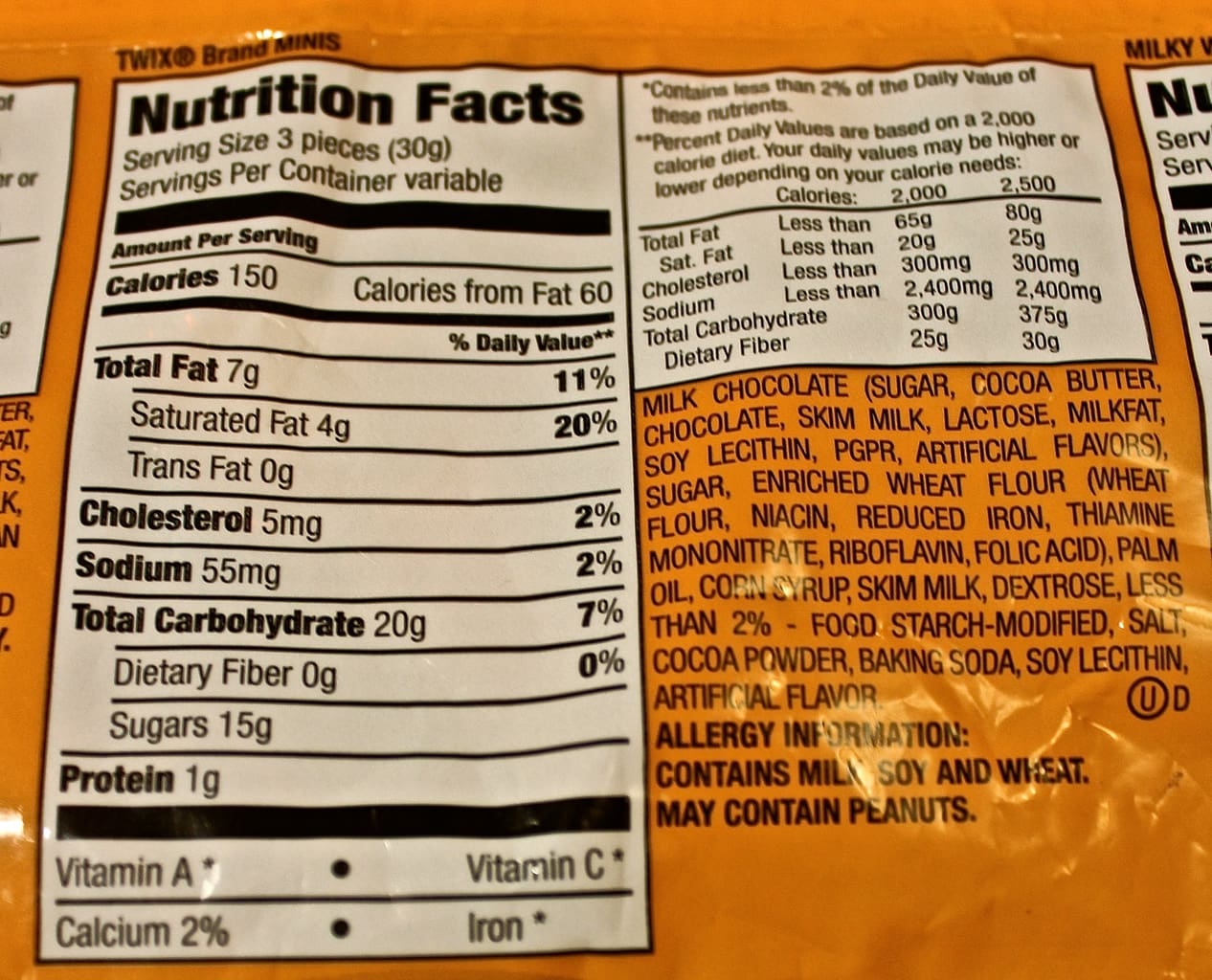 If you love TWIX® bars, try having 3 fun size minis instead of a two full-size candy bars (1 regular pack). You'll save yourself 100 calories, 5 grams of fat, and 9 grams of sugar, not to mention 45mg of sodium and 14 grams of carbohydrates!
Eating fun-sized candy is a sneaky way to be a little healthier. You still get to indulge in your favorite sweet treats and won't even realize you're making a smarter choice. Sounds like a win-win to me! Just be careful you don't end up having half of the fun size bag by the end of the day, which is a very real possibility.
5. A Healthier Peanut Butter Cup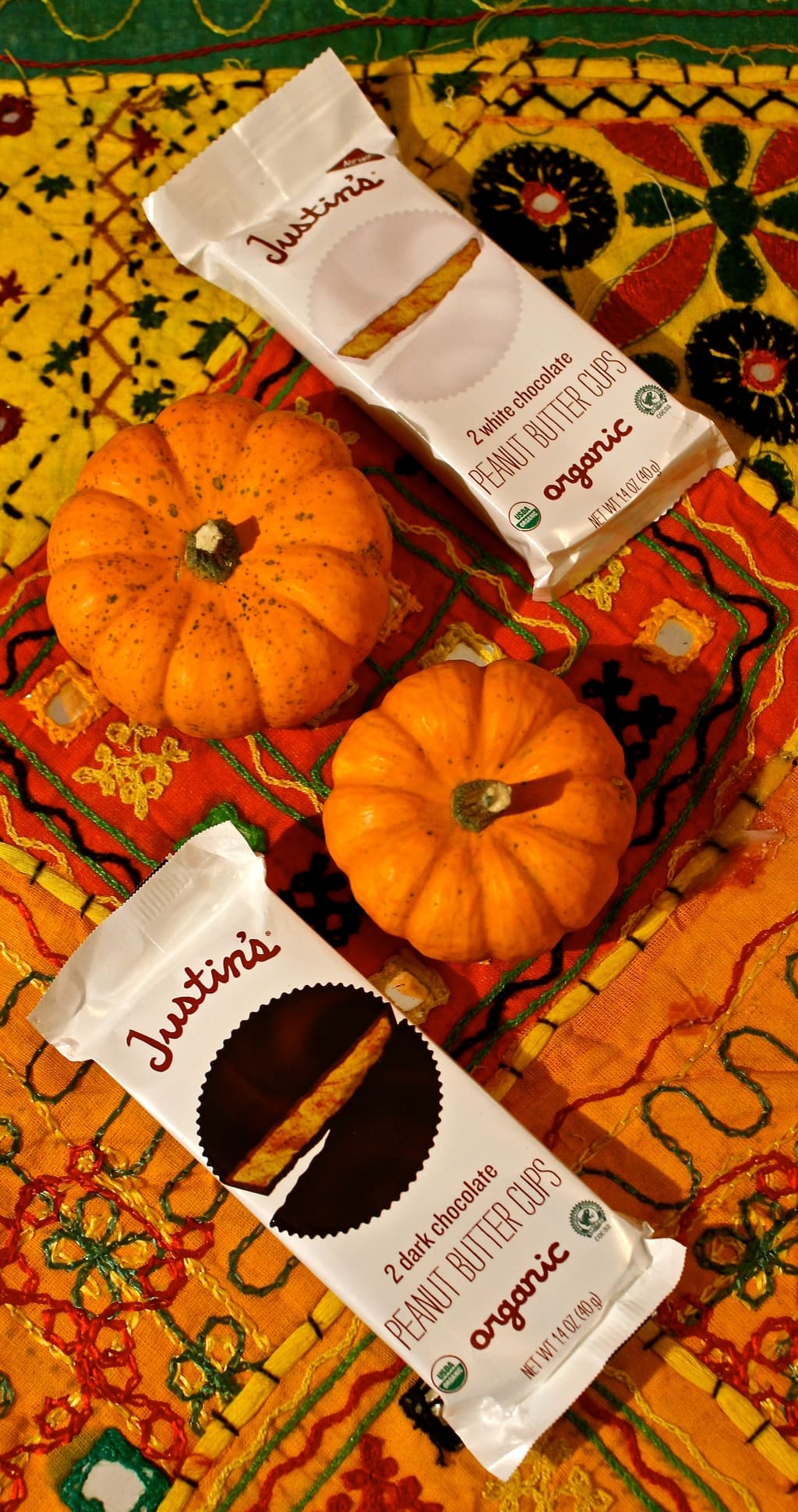 I have a real weakness for Reese's peanut butter cups. No matter how hard I try to stick to my healthy treats, their allure is always too overpowering. However, I've found a new alternative that gives me the same warm feeling and joy that Reese's does, but this one is a little healthier.
Enter Justin's peanut butter cups. These organic treats come in dark chocolate, milk chocolate, and white chocolate and are now even available in as minis! I highly recommend the dark chocolate cups. They're made with quality ingredients, including organic dark chocolate and organic peanuts, and the dark chocolate will even give you a little antioxidant boost. Yum!
6. Other Ideas: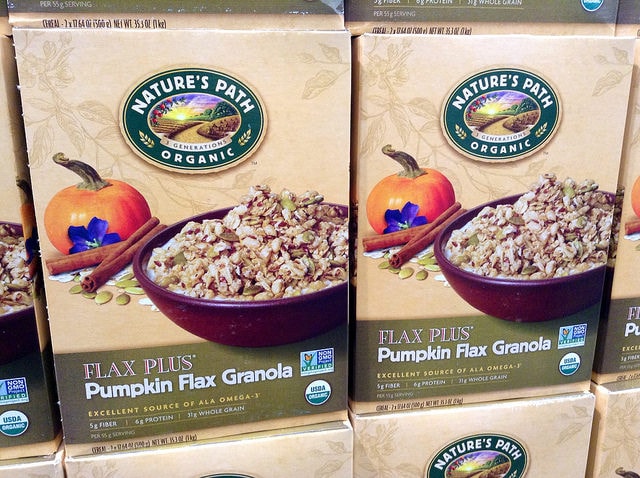 Some other healthy treat ideas include dark chocolate covered nuts and pumpkin flavored granola either plain or with skim or almond milk. Just be sure to check the sugar level on the granola so you don't end up having more sugar than you would have gotten from a candy bar!
What Do You Think?
How do you stay healthy on Halloween? What are you planning on munching on this year? Let me know in the comments! I'd also love to hear what you think of these ideas if you give them a try.
In the meantime, I wish you all a safe and happy Halloween. I hope it's filled with lots of sweetness, lots of spookiness, and lots of fun!