Editor's Note: This is part two of Caitlyn's ongoing series about her day-to-day experiences attending fashion school at FIDM in Los Angeles. The purpose of this series is shed some light on what fashion school is REALLY like – it's a lot different from what you see on The Hills!
In case you missed the first part in this series, check out Diary of a Fashion School Student: Introduction.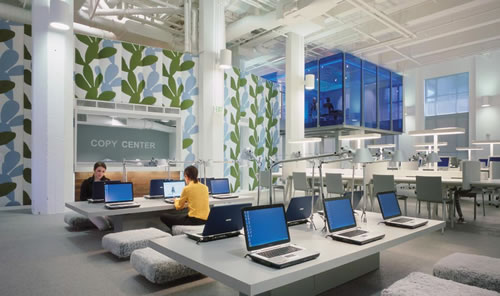 When people find out I'm in fashion school, they automatically assume I intend to be a fashion designer. When I was younger, I used to draw the same conclusion: fashion industry = fashion design. Even as a kid, I never wanted to make clothing; I just liked being around clothing. It took me a while to discover that it was possible to translate my love of fashion into a career that didn't involve designing clothes.
After spending time in high school considering non-fashion career options like politics and psychology (which were not for me), I finally came across FIDM and had the glorious realization that I could be in the fashion industry without even having to pick up a needle and thread. Suddenly, it all made sense for me.
Fashion School Majors – The Basics
The truth is, despite attending fashion school, I'm about as far from being a fashion designer as possible. I can hardly sew on a button and my sketching skills are par. My major, Merchandise Marketing, is creative in the sense that it involves buying, selling, and marketing clothing to consumers. This major picks up where fashion design leaves off: as soon as the clothes are made, we figure out how to make them sell-able.
My major is one of the most versatile that my school offers. The program produces a large amount of fashion buyers, which, oddly enough, is something I have no interest in. Instead, there are many other routes I can go after finishing at FIDM: planning and allocating, working for a magazine, selling, writing, styling, etc. Pretty cool, right?
And I'm not the only student here who's studying to become something other than a fashion designer – The Fashion Institute of Design and Merchandising offers 20 majors including Knitwear Design, Film & TV Costume Design, Interior Design, Merchandise Product Development, Apparel Industry Management and Textile Design. It wouldn't be difficult for any fashion guru to find their niche in this school.
Style 101: Fashion Schoolwork
Here at FIDM, our class schedule differs quite a bit from your typical college. Each class meets three hours at a time, once a week, for ten weeks total. So as you can imagine, there is a lot of schoolwork. FIDM runs on the quarter system which means an entire semester's worth of work, studying and projects are crammed into ten week increments. It gets intense.
All of the classes I've had thus far have been very project-oriented. Like most students, we must keep up on our reading outside of class, but most classes focus more on major projects and presentations than essays and exams. The hallways are lined with massive window boxes to ensure the student work is showcased in proper lighting. FIDM also teams up with many companies to do student projects, so it's common to see Fender guitars with Graphic Design student work on them, Cadillac-inspired couture gowns and original Christian Dior sketches while walking to class.
What I've Learned…
Before we go, here's a short list of things I've learned thus far at FIDM:
The fine art of jogging in heels; never to wear arms full of bangles on days when there is a lot of note-taking; how to paint gingerly in order to not get any on my clothes; that time management (and a Filofax) is key to success; that going to shopping centers on a weekly basis is part of unwritten homework; that smartphones are essential (since we seem to always be discussing the importance of mobile shopping and apps); that the library has every issue of Vogue and Harper's Bazaar from the 1920s; the proper way to balance my books, FIDM bag, art project, coffee and exposing student ID all while teetering on platform shoes; to always plan enough time to walk around whatever movie may be filming in the campus park; and that "Have you ever seen Lauren Conrad?" is the first question everyone asks when I say I attend FIDM.
Now it's your turn!
Now that you've read about what classes and majors are like at fashion school, I want to hear from you! Would you ever consider attending fashion school? What kinds of majors would you be interested in? Do you have any questions for me about my major? I'll try my best to answer your questions in the comments or a future edition of this series!