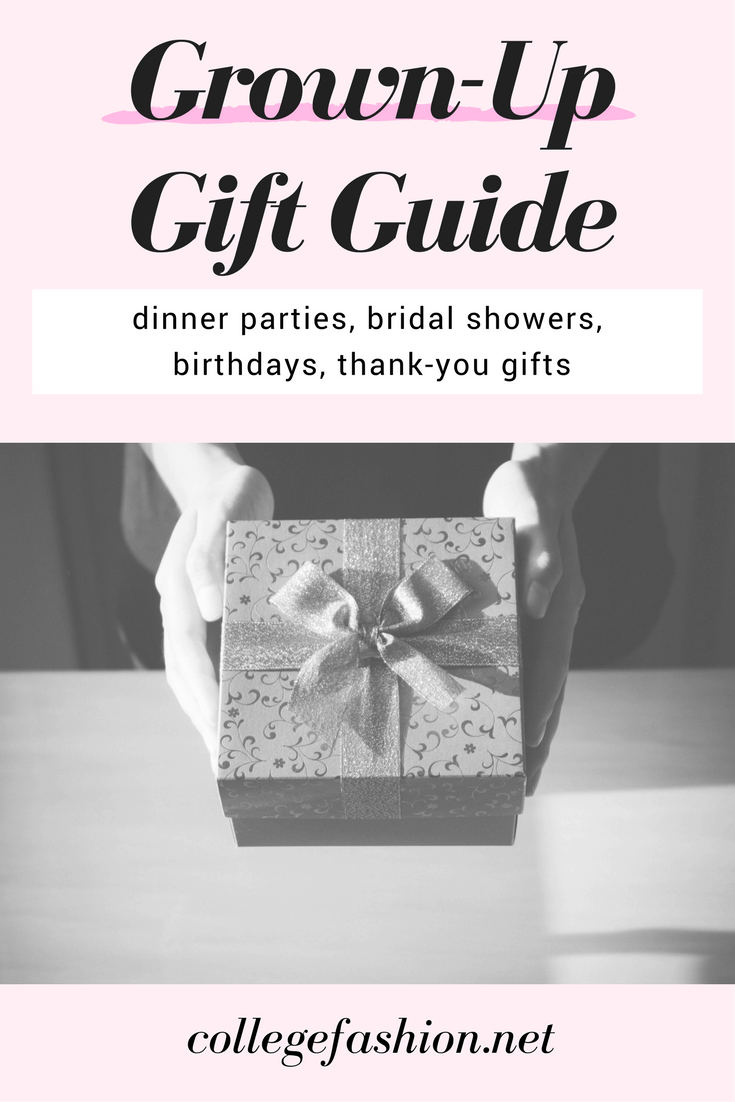 Whether you're just entering college or recently graduated, you're guaranteed to have to buy at least a few gifts per year. Birthdays are predictable (as long as you're on top of your calendar!), but eventually you'll have to deal with friends getting engaged or one-off parties.
Not sure what's an appropriate gift for these more grown-up scenarios? Look no further for some classy and thoughtful gift ideas!
Dinner Party Gift Ideas: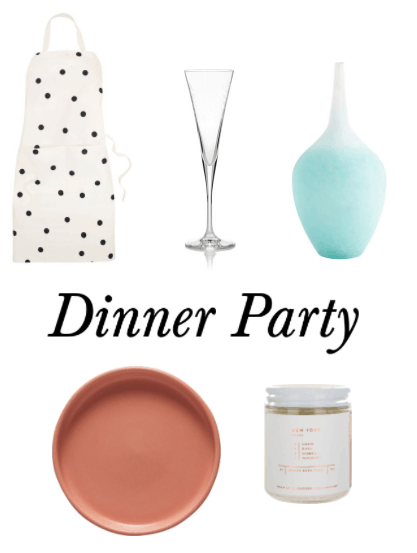 Products: Apron – Kate Spade, Champagne Glass – Barneys, Ombre Vase – Zinc Door, Roam Candle – Anthropologie, Serving Tray – Burke Decor
While my circle of friends doesn't often throw formal dinner parties, I've noticed them growing in popularity recently.
What constitutes a "formal" dinner? For me, it's a step up from inviting friends over for pizza. This might be a housewarming party where the host has cooked something, or even a potluck that required advance planning.
Respect your hostess' time and effort by reciprocating with a small gift. For your friends who actually enjoy being in the kitchen, a cute new apron, serving tray, or linen towel set would be perfect. You can also play it safe with candles or champagne glasses (because who doesn't need these?).
If you really have no idea what your hostess will appreciate, step up your flower game by throwing in a cute vase.
Bridal Shower Gift Ideas: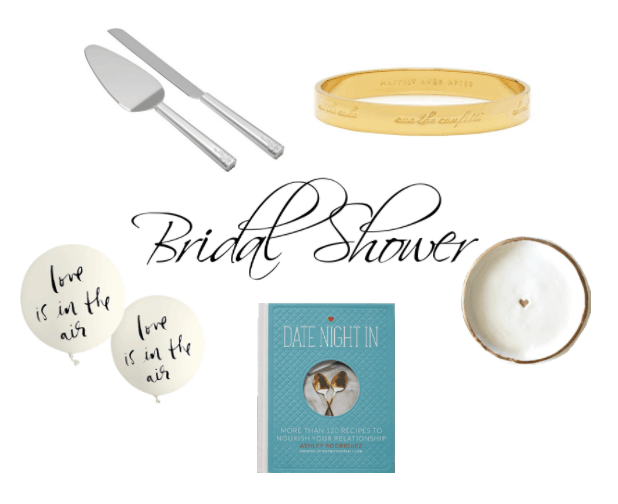 Products: Cake Knife – Nordstrom, Bridal Bangle – Lord + Taylor, Engagement Dish – Etsy, Date Night In Cookbook – Anthropologie, "Love is in the air" Balloons – Kate Spade
If you're like me, you know at least a few people who are getting married soon. By your last year of college/first year out of college, bridal showers will be regular occurrences on your calendar.
Here's the general rule for bridal shower gifts: If the bride-to-be already has a registry and you know she'd appreciate you not going off-script, plan to stick to that list (it also eases the shopping ten-fold).
If not, or if you want to add some surprise flair, invest in something that is practical for the future couple. A cake knife might seem like a very specific present but is dead useful in its specific scenario. A dedicated ring dish or couples cookbook also shows some extra thought.
Want to get fun items that could be part of the bachelorette party? Bridal balloons, a bridal bracelet, or perhaps a sparkly tiara are all options (assuming you know the bride well and think she'd appreciate this).
Grown-Up Birthday Gift Ideas: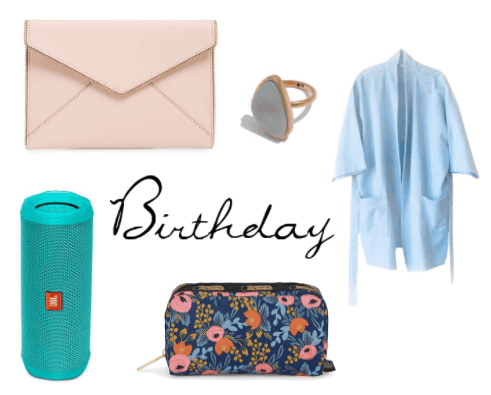 Products: Rebecca Minkoff Clutch – Nordstrom, Jewel Ring – Madewell, Turkish Bath Robe – Domino, Cosmetic Bag – Rifle Paper Co., Waterproof Speaker – Macy's
As you get older, traditional birthday parties become uncommon. Likelier is a group going out for dinner or hitting up a bar. You don't necessarily need to get a present, but if you're celebrating a close friend it's always nice to show you care.
You probably have some idea of what to get your friends for their birthdays. But what about the girl who seems to have everything?
A new clutch, backpack, or makeup bag are basics most girls will love (remember to get a gift receipt!). Does she like to accessorize? Look for rings, bracelets, and other baubles in her favorite color or birthstone. Is she constantly updating her Spotify playlist? Try waterproof speakers, new headphones, or even a vintage record.
Really not sure and need to mix it up? Try a plush robe, bath salts, or incense to help her relax.
Thank You Gift Ideas: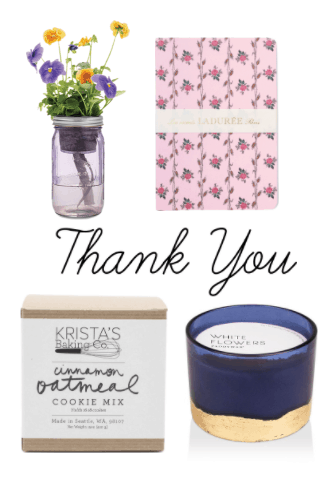 Products: Flowers, Notebook – Amara, Paddywax Candle – Amazon, Cookie Mix – Amazon
Were you sick and she came over to take care of you? Did she pass along notes for the week you were on vacation? Go above and beyond the thank you note for someone who went out of their way for you.
Thank you gifts don't have to be big, and the easiest thing to do is to pick up some flowers. Other fun options are candles, notebooks, nail polishes, and even baking mixes!
What are your go-to gift ideas?
What's your go-to gift when you're not sure what to bring? Let me know in the comments!