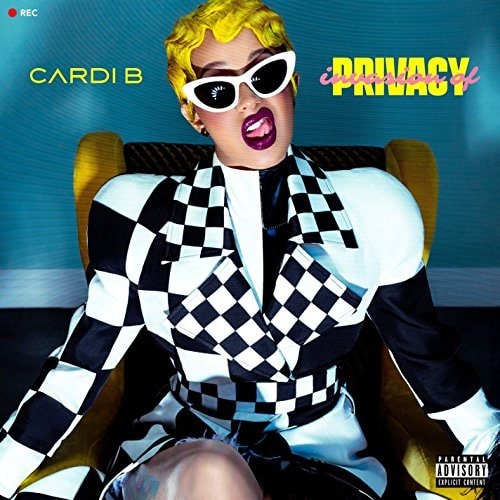 Oftentimes in music, especially in mainstream hip-hop, women are the ones being sung about, not the ones singing. And, like in politics, we see women's thoughts, feelings, and bodies are being discussed by men in power. Though relationships are inspiring to artists of all kinds, which partially explains this phenomenon, women are often reduced to objects in these songs, rather than people with their own thoughts, opinions or stories. So it's a big deal to see a woman in hip hop stepping up and speaking out.
https://www.instagram.com/p/BhPMjAmBRkH
Obviously female artists cannot speak for all women, and many women may relate to men's songs as well, but when someone like Cardi B comes out with an album that ultra-empowering, it feels damn good. Indeed, Cardi's debut album "Invasion of Privacy" is finally here and it's well worth a listen by women everywhere.
Cardi B's album speaks of her rags-to-riches story as well as claps back at any "one hit wonder" talk her haters speak of. "They said by now that I'll be finished, hard to tell / My little 15 minutes lasted long as hell, huh?" she scoffs in her album finale, "I Do" featuring SZA (another woman in the game, yes!).
It is important for women to feel empowered when listening to music written by another woman. Cardi's hard-edged persona and extreme confidence give me confidence to be myself no matter what. She does talk about relationships a lot, but makes it very clear on "I Do" that she doesn't need a man, she'll leave your "texts on read" and your "balls on blue." (You can tell I like the last song.)
And this is an important message to send to women who may feel that they always need a boyfriend or is upset when a guy doesn't text them back. We don't need to value our self worth on whether or not a guy likes you back. And these messages are especially important to be reminded of while going through college, a time in your life where you are constantly comparing yourself to those around you who may or may not be in relationships, dating or single and complaining about it.
Another good lyric that goes along with this theme is in, "Best Life," featuring Chance goes: "I'm my own competition, I'm competin' with myself." Cardi is telling women not to compete with others and instead to strive for continuous self-improvement. This is an awesome lesson to learn as a woman in college.
Singing along to lyrics that shout out these truths is exciting and fun because they're funny and outrageous, sure, but also brash and empowering. Plus, they're written and performed by an amazing woman!
And, while some of the lyrics are cute and sassy per Cardi B's normal personality, a lot of them, too, are gut wrenchingly emotional and honest. She sheds her hard-edged persona and presents herself at her most vulnerable. "Be careful with me / My heart is like a package with a fragile label on it," Cardi says on "Be Careful," showing that she is not the invincible character she appears to be.
These compelling lyrics reminded me that while it is awesome to be a tough women, it is okay to be upset too. There is nothing wrong with being sad over heartbreak, or with people talking poorly about you. It is normal and important to feel out your emotions and this album proves that.
Overall, Cardi's album is awesome inspiration for college girls everywhere. Her words speak to the issues we're all experiencing and run the gamut from empowering to refreshingly raw. Her album covers the spectrum of a young woman's experience, and for this I think it's a must-listen this spring.
What did you think of Cardi B's new album?
Have you given the album a listen yet? If so, do you like it? Do you find it as empowering and awesome as I do? Let me know in the comments.