Jessica is a senior ready to conquer her last year of college and join the fashion industry. She was a ray of sunshine when I spotted her in her mustard yellow cardigan, strolling across campus.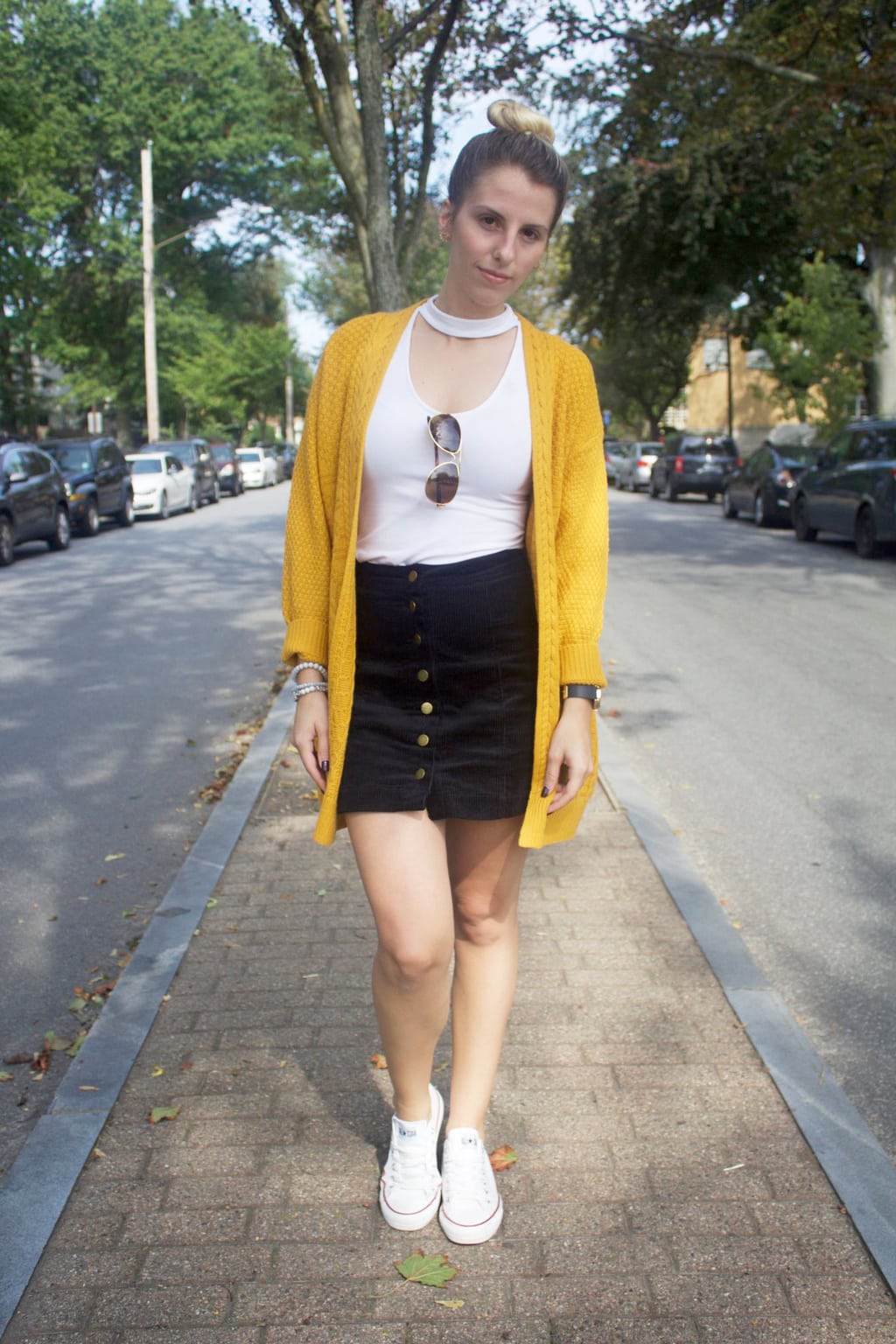 Jessica 101
Name: Jessica
School: University of Bridgeport
Year: Senior
Major: Fashion Merchandising
Hometown: Enfield, CT
Let's Talk Fashion
Who or what inspires your style? "Fashion influencers and bloggers inspire my style. Ever since fashion has taken over social media by storm, I've found it to be such an accessible way to get style inspiration."
Where do you like to shop? "Online is my favorite shopping platform. It offers a wider variety of stores to shop, rather than whatever stores are in a mall setting. UK based stores such as ASOS and Missguided are top on my shopping list right now."
How would you describe your sense of style? "I would describe my sense of style as… 'depending on the day.'  I don't have one taste when it comes to style. I may want to be edgy and wear all leather one day but then the next wear a simple blouse and flats."
Why did you choose this particular outfit? "I chose this particular outfit because I'm all about comfort, while [still] dressing trendy at the same time. I also currently have a sneaker addiction where I'm trying to incorporate them into every outfit… even if it's a corduroy skirt!"
What fashion advice would you give to other students looking to improve their style? "Advice I would give to other students is to really get in touch with your personality and how you can incorporate that into your style. The second you know yourself, picking out outfits will then just come natural."
What are your favorite trends right now? "My favorite trends right now are fall based florals; that being dresses, blouses, and bottoms. Patterns are always hard around this time of year, so I think bringing darker floral patterns in the mix adds some spunk into autumn attire. Patterned ankle boots are also something I'm currently obsessing over. [They make] an outfit some much more appealing."
Do you have any favorite fashion designers? "Rebecca Minkoff and Balmain are two of my favorite designers. They have [totally] opposite clothing which is why they are my favorite. Rebecca Minkoff is a simple more classic look while Balmain reminds me of a night-out edgy look."
What do you do for fun? "For fun I love to travel. Being able to experience new cultures, food, and atmospheres makes me feel whole. I also have a blog, Jess Overdressed, where I post about fashion, food, travel, and everything else that makes my soul happy."
If you could raid anyone's closet, who would it be, and why? "This is a tough question, mainly because there's too many closets I would love to raid. But if I could choose one person, I would probably raid Olivia Culpo's. She's a fashion influencer who goes to almost every fashion event known and must have a closet full of beautiful pieces I would love to get my hands on."
Elements of Jessica's Outfit
1. Slouchy Cardigan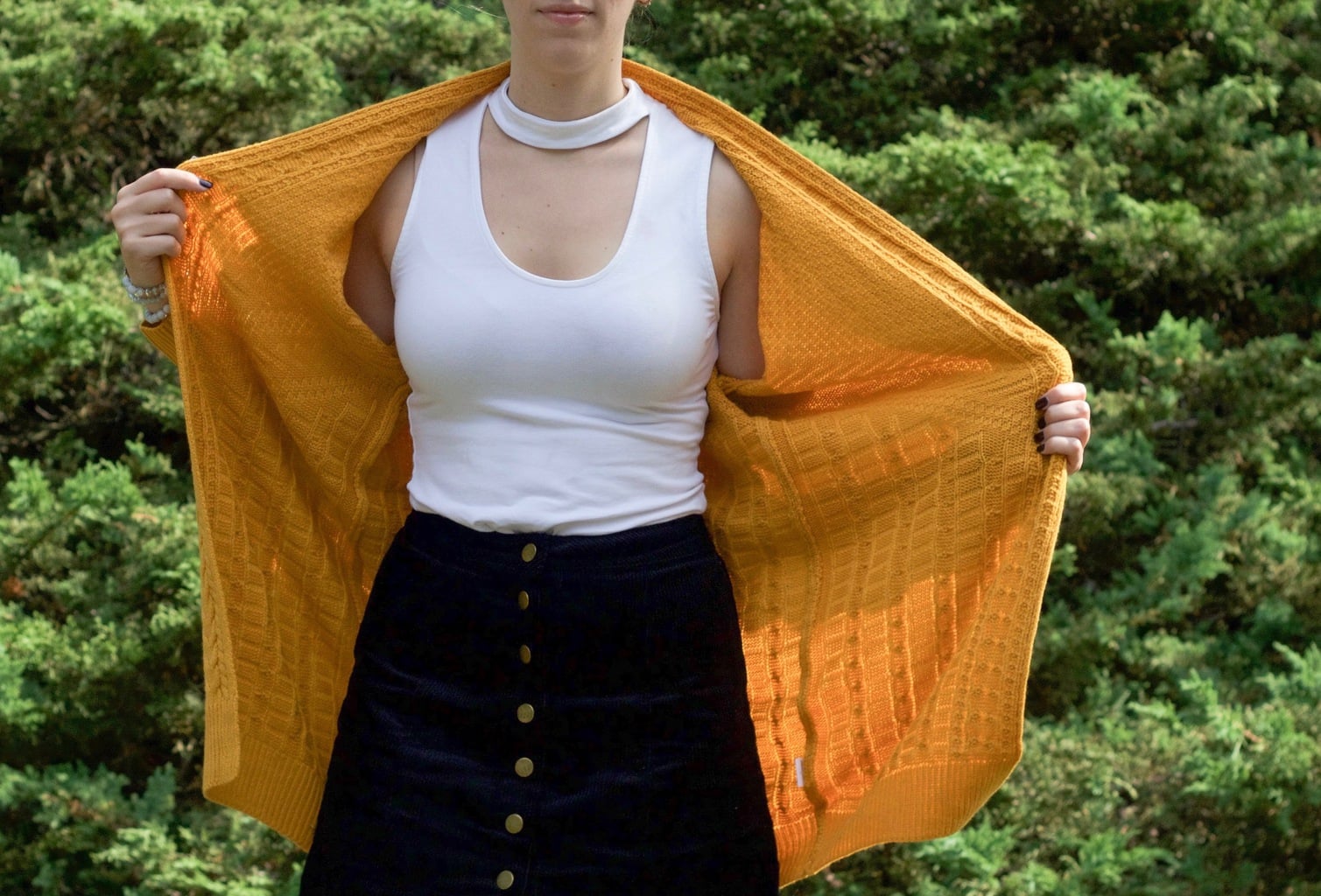 There is no better fall transition color than mustard. This slouchy mustard cardigan gives Jessica a stylish layer of warmth as temperatures begin to drop. I asked her if I could borrow her sweater and keep it forever, but she said no.
2. Button-up Skirt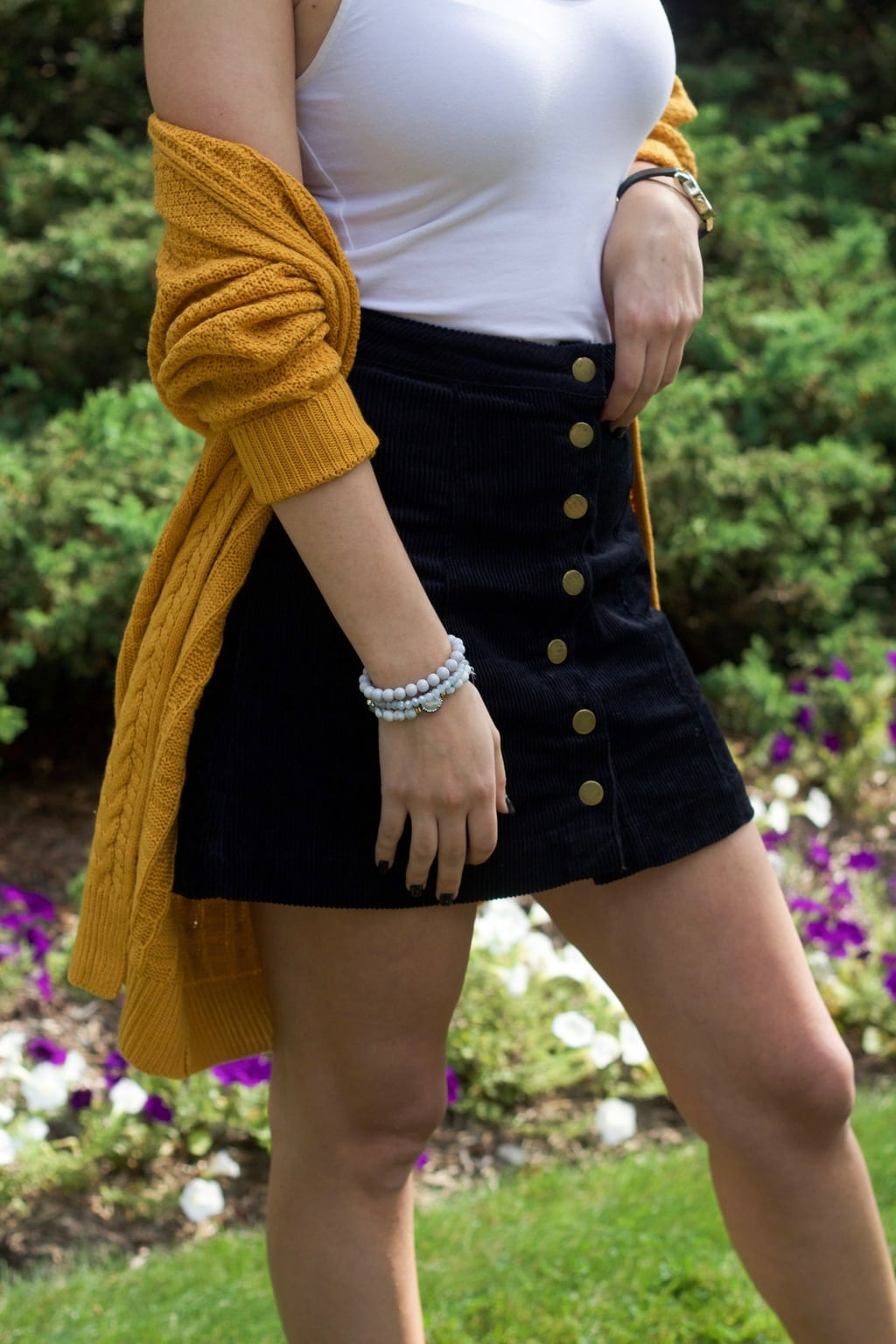 This saucy button-up skirt steals the show. It's straight out of the 1970s with its corduroy fabric and high-cut waist. Flower child vibes for days.
3. Cutout Top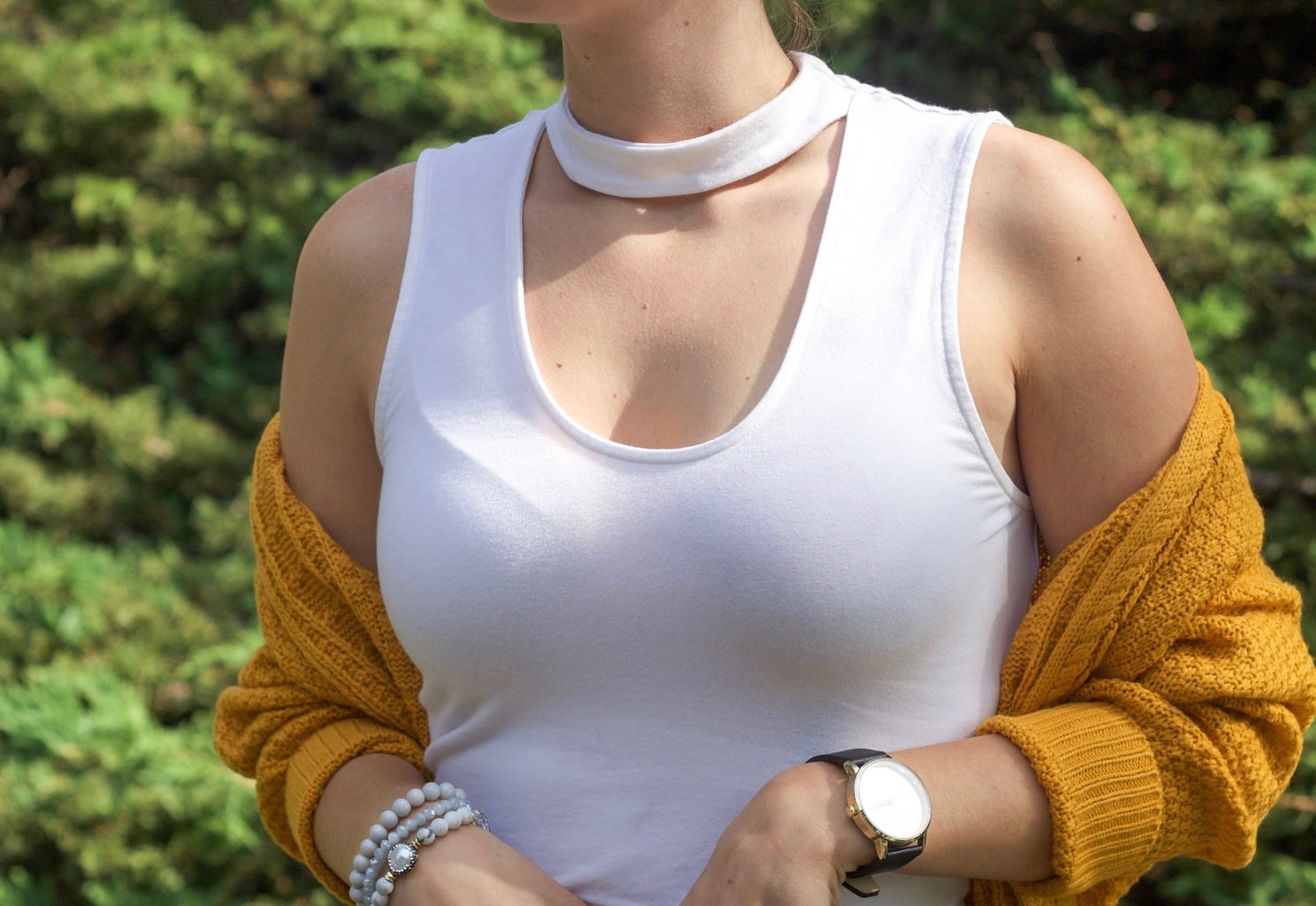 Jessica is the master of mix-and-match. Zooming ahead 20 years from the 1970s skirt, this '90s-style cutout shirt works flawlessly with her look. The mock-choker neckline is so fabulous. Just another reason why Jessica is the the most stylish student on campus this week.
What do you think?
Would you wear her outfit? Are you obsessed with her corduroy miniskirt? Let us know in the comments below!