Aren's outfit popped against the lush greenery while she sought warmth inside our University's greenhouse. She looked put-together from head to toe in classic casual attire with an urban spin. Being a creative soul, it is no wonder Aren has an eye for fashion. This look achieves the ultimate goal of being stylish while keeping her comfortable.
Aren says, "I like to feel good in what I wear. It makes my day sometimes to feel good in what I wear!" Props to you, Aren.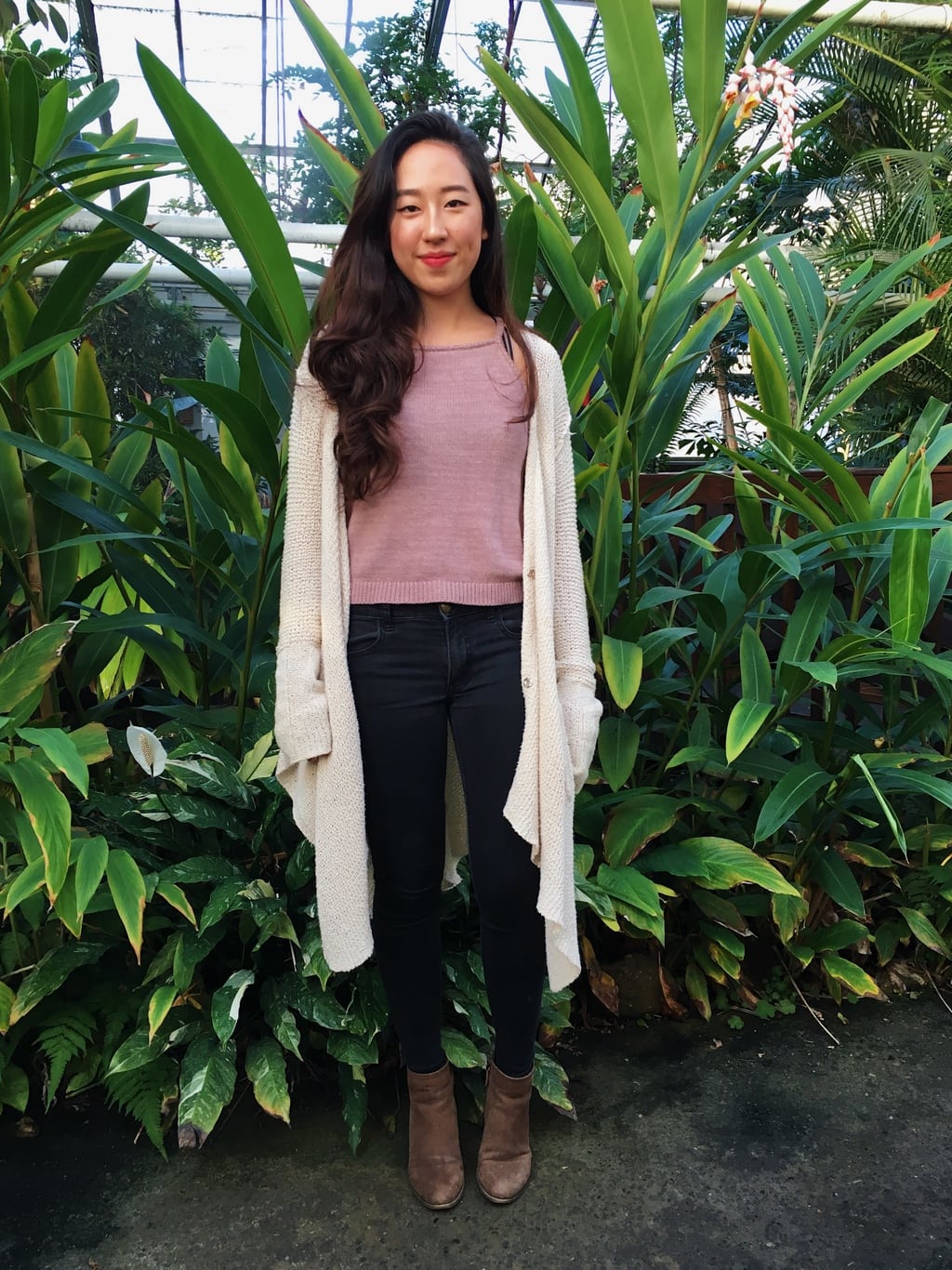 Aren 101
Name: Aren
College: University of Massachusetts Amherst
Year: Sophomore
Major: Journalism and Communication
Hometown: Seoul, South Korea
Let's Talk Fashion
Who or what inspires your style? "There isn't a specific source of inspiration for me. Sometimes it's just my daily mood. If I feel super lazy, I would go for a lazy outfit. It's not really like 'oh, I'm inspired by this person or this picture…' I mean, that happens too, but it's just more rare. [My style] is just, like, a day-to-day life."
Where do you like to shop? "I like to shop wherever. I don't really limit myself to the stores that I go to, but I think the ones that I visit the most would be Marshalls, Pacsun, [and] Banana Republic. I never go [to Banana Republic] for the sake of going, I usually only go if there is a sale because I refuse to pay full price for some clothes."
How would you describe your sense of style? "I would say it's simple, but I like to add my own twist to it. I like pairing [together various] jewelry [pieces] that I own. You can probably see outfits like mine anywhere else, but every person has a different feel when they wear a certain type of outfit. I think it's important, especially in college, for outfits to be comfortable."
Why did you choose this particular outfit? "I thought it was kind of nice that you can layer the tank top [with the cardigan]. You don't have to only wear [tank tops] in the summer, you can wear [them] in the winter if you layer them. It's [a] comfortable [outfit] but it doesn't look lazy; it's put-together. You can still look good while you are wearing something super comfortable."
What fashion advice would you give students looking to improve their style? "I would say don't be afraid to stand out or look different. I think it is important [for] whatever outfit you wear [to reflect] your own sense of style because everyone is unique on their own. So [wear] whatever makes [you] feel good. I think comfort is also really important, especially for college students, because you have to walk around the campus a lot and there [are] a lot of activities to do. You don't have to copy anybody else to look good! Choose clothes that actually fit you right. Don't limit yourself to a size."
What are your favorite trends right now? "I've seen a lot of corduroy skirts. They look really cute and they still keep you warm. [They] suit the season right now. [I also have been seeing] a lot of cozy sweaters and fleece sweaters. [They are] super comfortable and I really like the way they look."
Do you have any favorite fashion designers? If so, who? "Someone who never lets me down is Stella McCartney for Adidas. I really like her designs. If I could choose any activewear, I would choose her clothes."
What do you do for fun – do you have any unique hobbies or interests? "I'm really into being creative in general. I really like calligraphy. I use [it] everywhere from birthday cards to journals. It's part of my job, but I also really like making crafts. I like making my own jewelry for friends or family. Recently I have been into working with leather materials [making] leather card holders or leather pouches. I work at the [University's] student union craft center. I am a metal smithing coordinator. I work with…silver, bronze, and copper. Daily I work with members who come into the craft center and [I] help them with their own projects and teach them [what to do] step by step. I also make my own projects for display and sell [them] in the boutique. It's a fun job. I love it!"
If you could raid anyone's closet who would it be and why? "I really like Kate Middleton. I really like all her outfits. [They are] so pretty and really elegant. [Her style is] very classy. I love it! All her outfits look so great."
Elements of Aren's Outfit
1. Knit Cardigan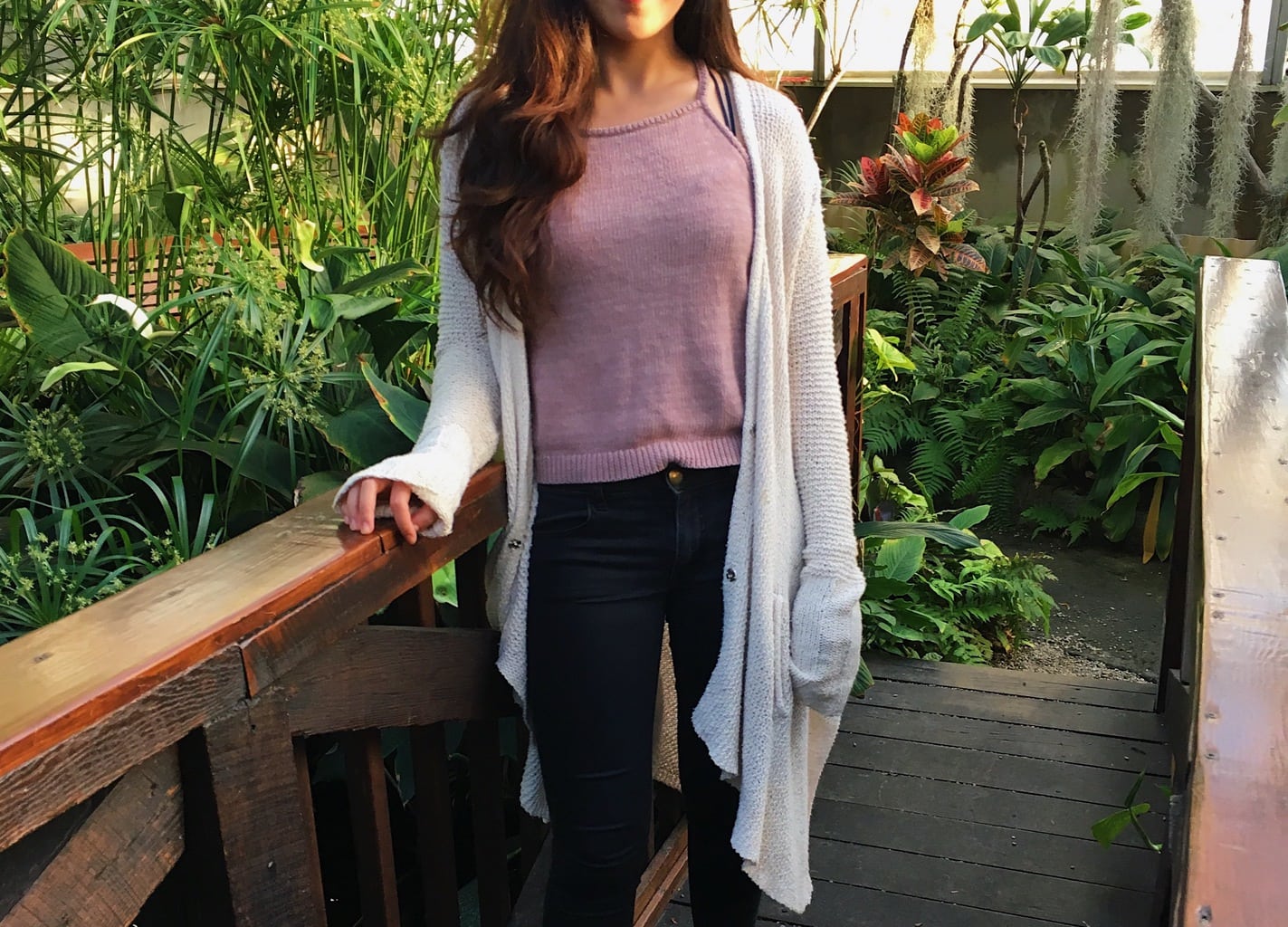 This Free People cardigan is a neutral necessity. It's guaranteed to be your most comfortable and cozy piece to layer with this winter. Aren and I share a mutual obsession over this bohemian-inspired brand!
2. Dark Wash Jeggings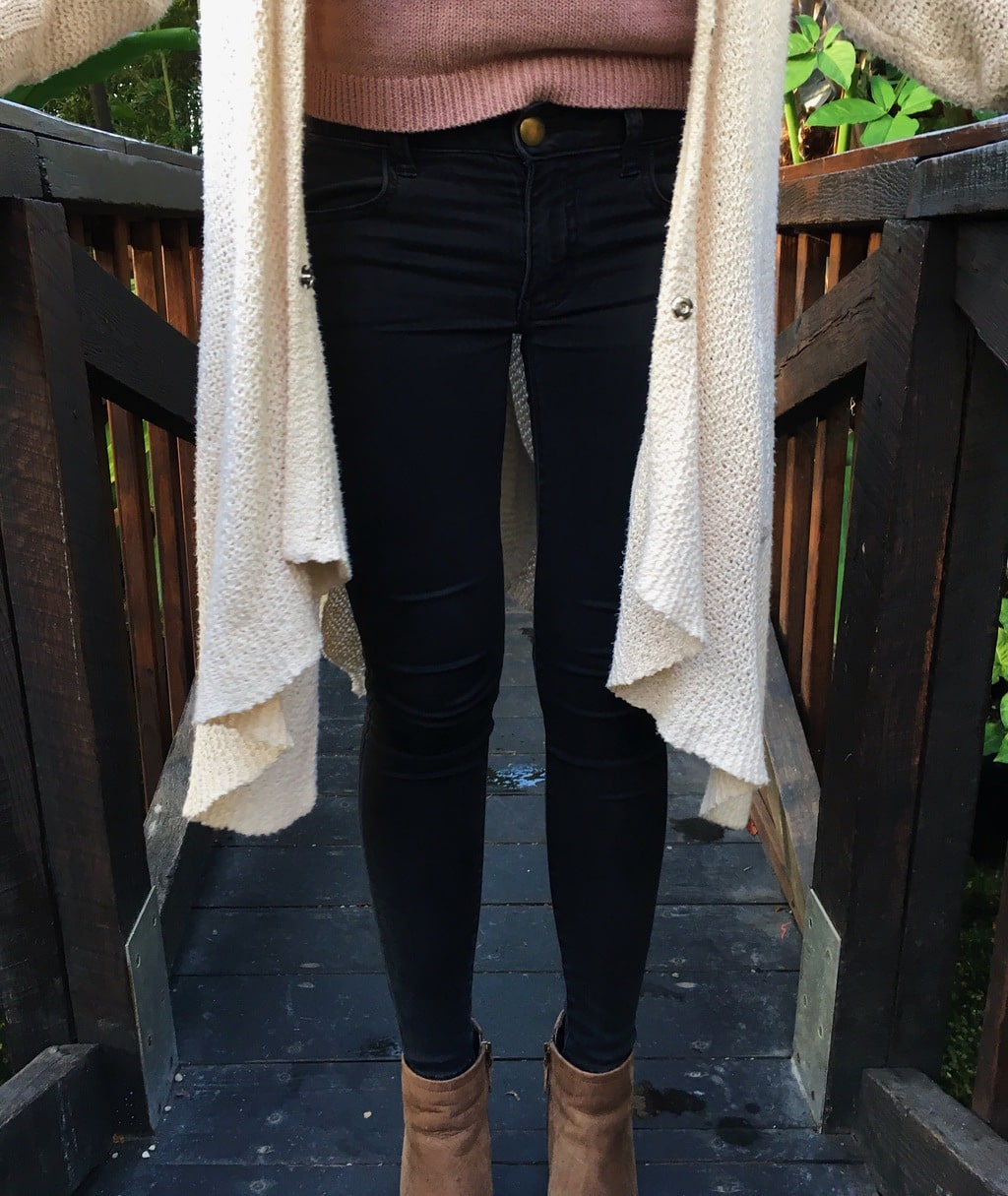 The dark wash on these American Eagle jeggings ties Aren's whole outfit together. They flawlessly match her mauve square neck tank and tan booties! There's nothing better than a perfect pair of jeggings!
3. Ankle Booties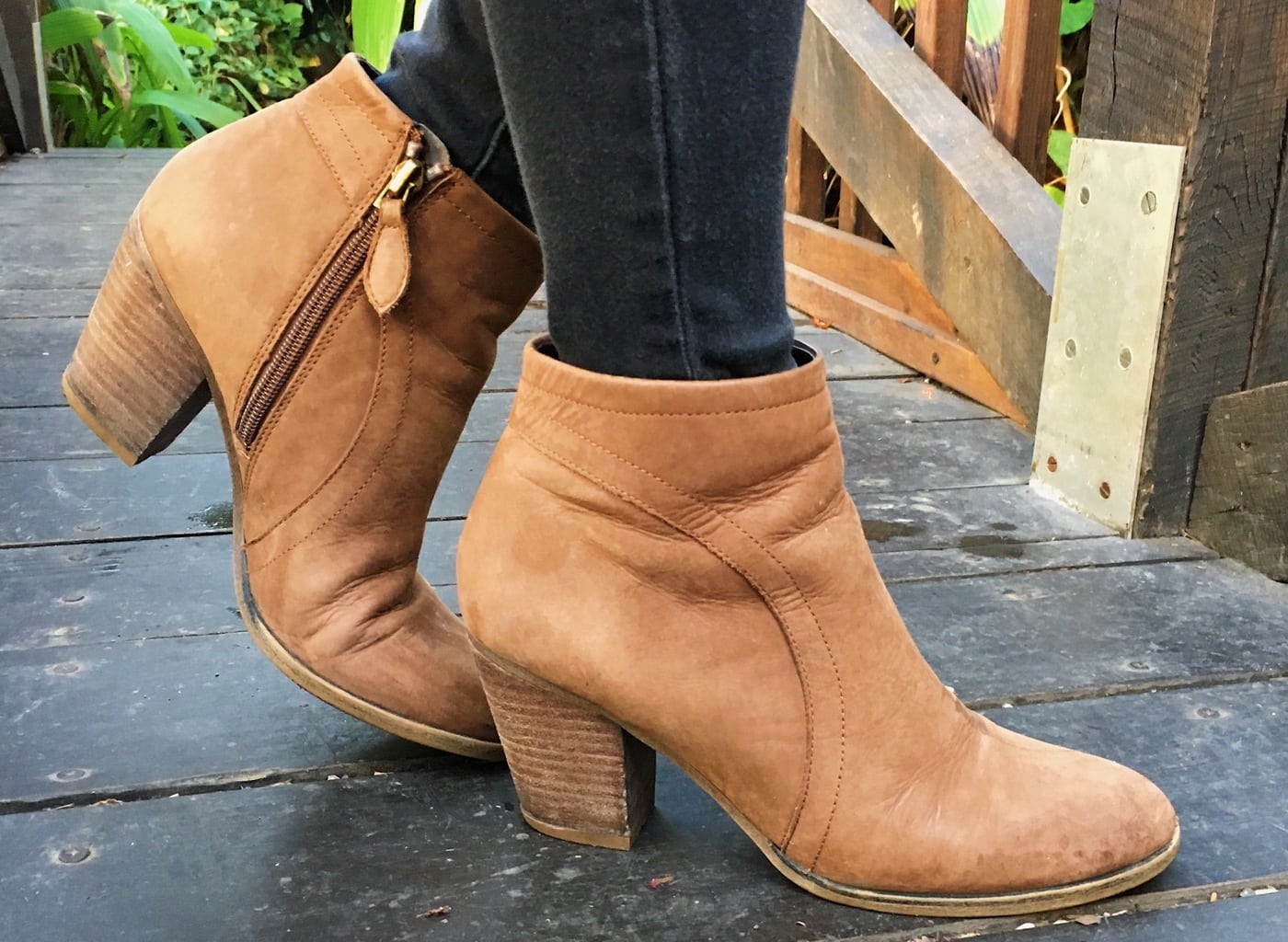 Aren knew she had a major find on her hands when she spotted these tan booties. These small, chunky booties are a comfortable substitute for high heels! Bonus: They instantly give her extra height!
Now we want to know what you think!
Are you as obsessed with Aren's cardigan as we are? What's your favorite piece to layer with? Let us know below!