On a dreary day, Lauren created an outfit that was equal parts stylish and comfortable. Her cozy cardigan and scarf kept her warm, while distressed denim jeans and buckled booties added a little flair. Keep reading to learn about her fashion philosophy.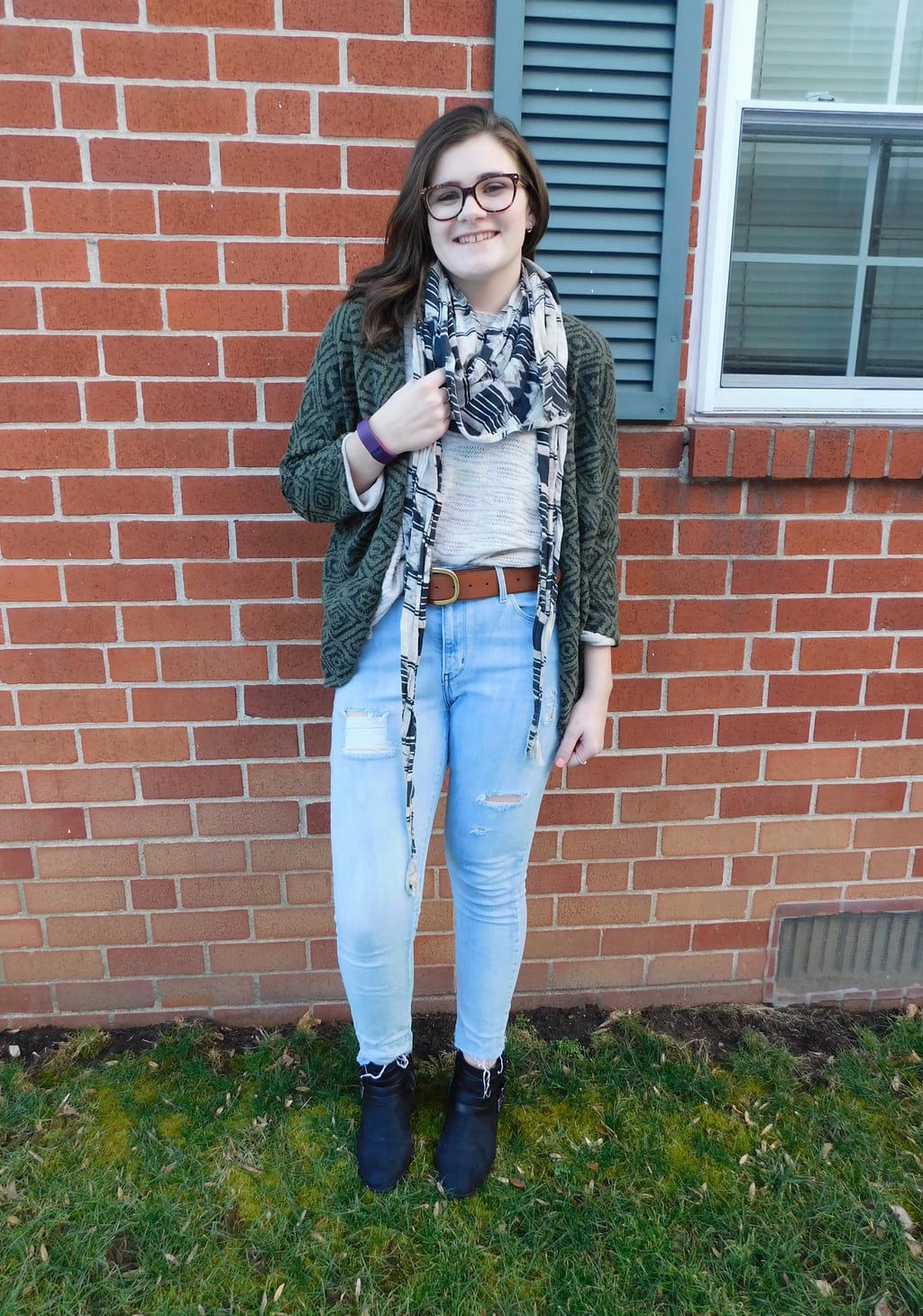 Lauren 101
Name: Lauren
School: Thomas Jefferson University
Year: Junior
Major: Fashion Merchandising and Management, emphasis in Value Chain and Innovation
Hometown: Bridgewater, NJ
Let's Talk Fashion
Who or what inspires your style? "The internet, Pinterest, and people on campus. I want to look stylish but like an adult. I don't want to look like a high schooler."
Where do you like to shop? "Lord & Taylor, Macy's, and Forever 21."
How would you describe your sense of style? "Edgy bohemian."
Why did you choose this particular outfit? "I like layers and small accessories like scarves."
What fashion advice would you give to other students looking to improve their style? "An outfit should always have an accessory to look complete, like a scarf, head wrap, jewelry, belt, etc."
What are your favorite trends right now? "Flared sleeves and off-the-shoulder tops."
Do you have any favorite fashion designers? If so, who? "Vince Camuto and Michael Kors."
What do you do for fun – do you have any unique hobbies or interests? "Sewing, painting, and bowling."
If you could raid anyone's closet, who would it be and why? "Harry Styles, because he has great statement pieces."
Elements of Lauren's Outfit
1. Sweater + Cardigan + Scarf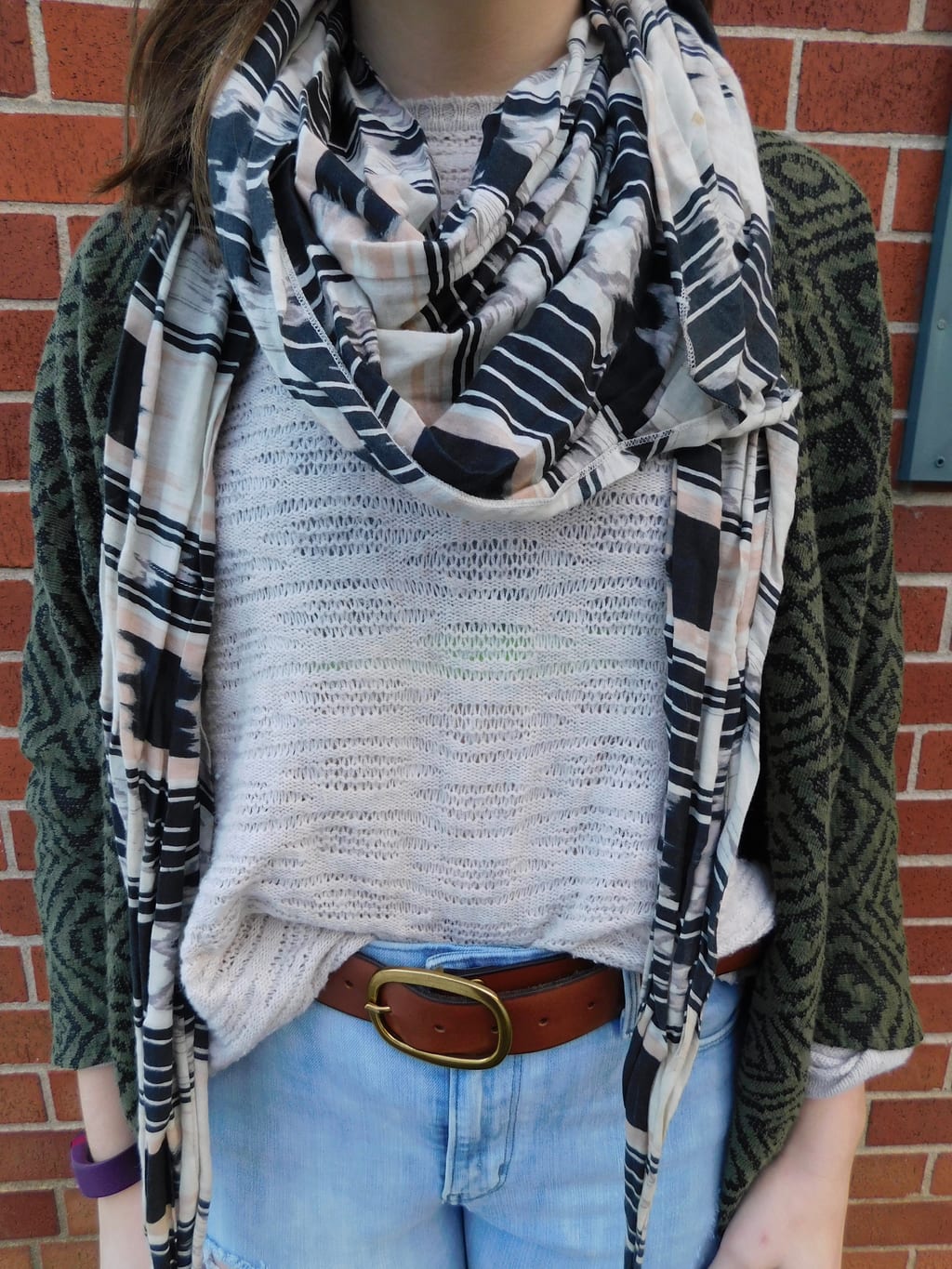 This cream sweater by American Rag is great for layering because it's not too thick to put under another piece. The green and black diamond-patterned cardigan adds a subtle color and pattern, but keeps Lauren's look cozy and casual.
2. Distressed Jeans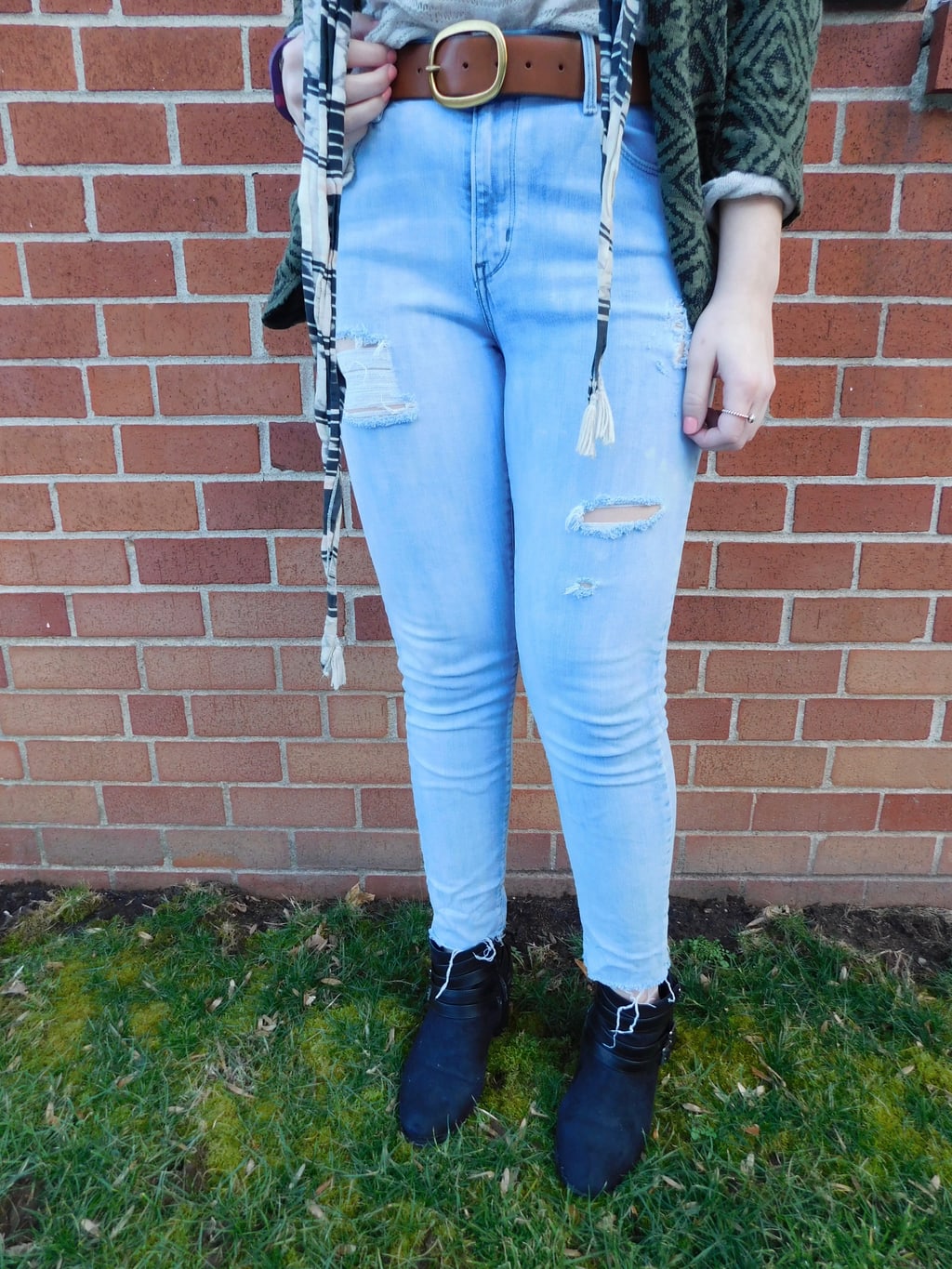 Denim is the right choice to go with this outfit. Lauren chose to wear her staple Levi's. Lauren is a true DIY-er; she distressed them herself!
3. Black Buckled Booties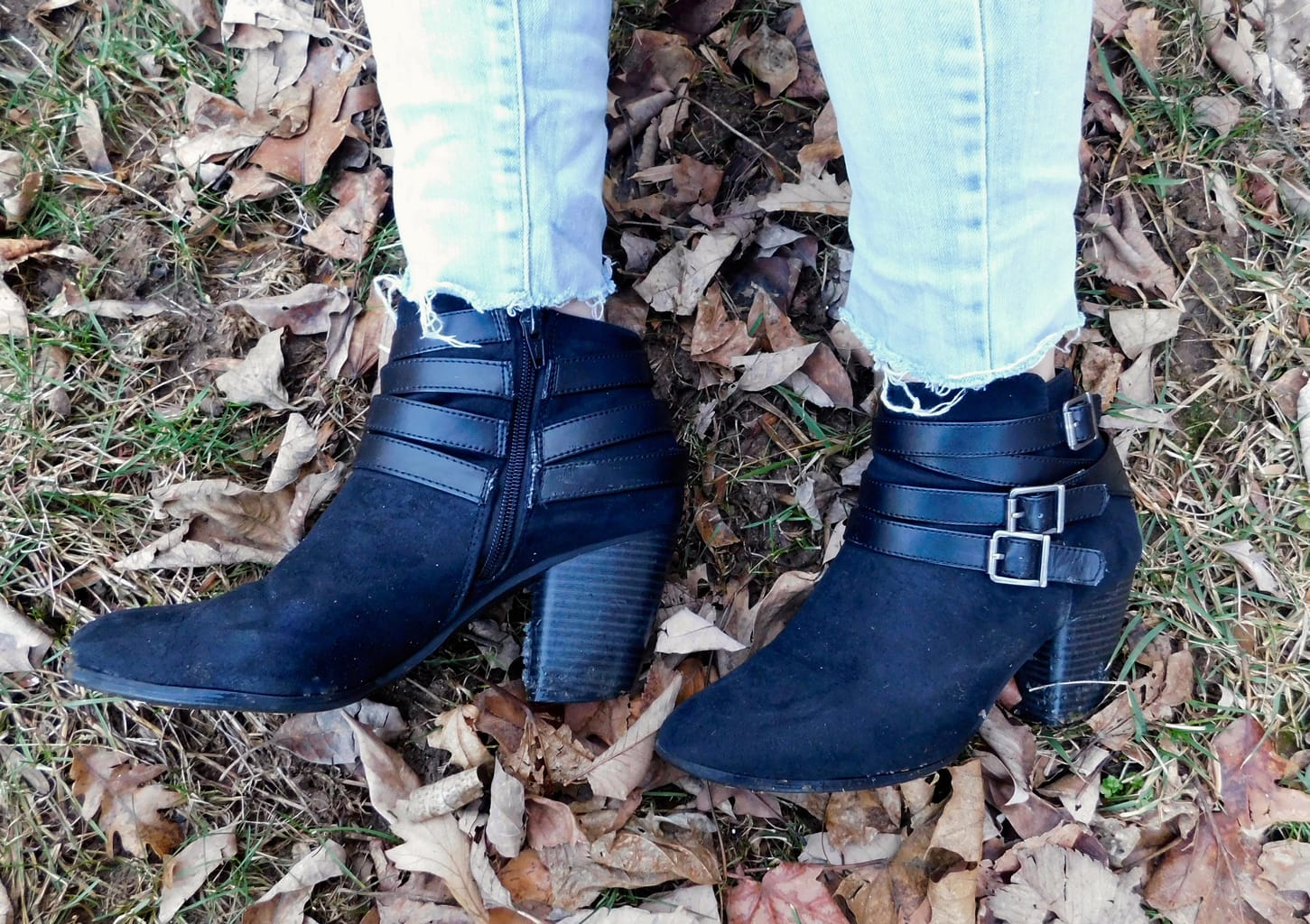 These black heeled booties give a bit of edge to Lauren's otherwise bohemian outfit. The suede and strappy buckles toughen up the glam silhouette of these everyday shoes.
4. Black & White Scarf + Jewelry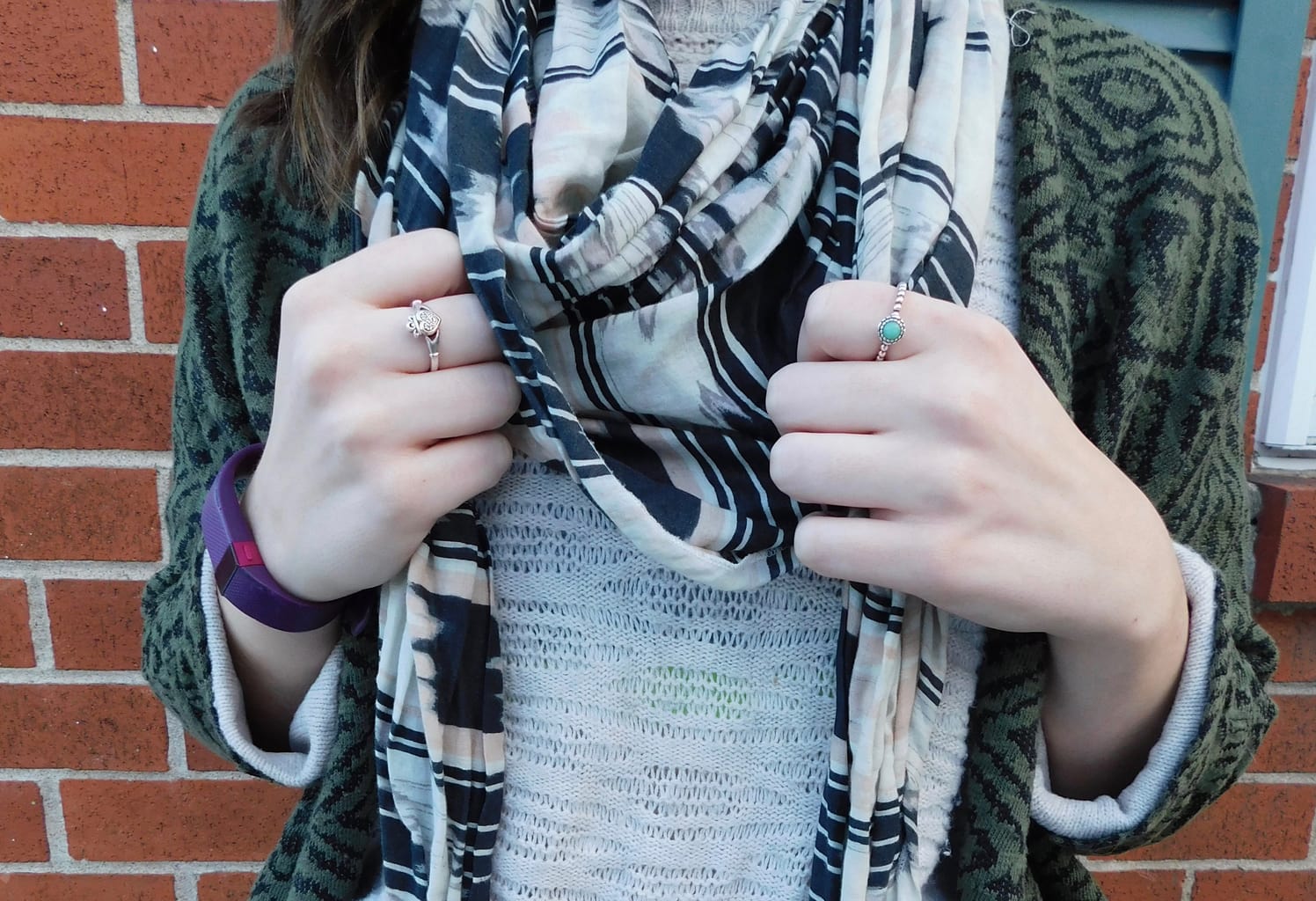 Lauren's black and white striped scarf from American Eagle puts the finishing touch on this outfit. Her mixed metal rings give a polished look to her whole ensemble.
Now we want to know what you think!
Do you dress boho or more traditional? Would you wear her patterned scarf? Comment below and share your thoughts.