Cold winter weather finally arrived at West Virginia University's campus just in time for classes to pick back up for spring. I spotted a fellow classmate and fashionista, Sonora, rocking a show-stopping, colorful look that can't be missed.
Between the white walls of the FDM design studio and the winter wonderland outside, it looked like the world had became Sonora's backdrop.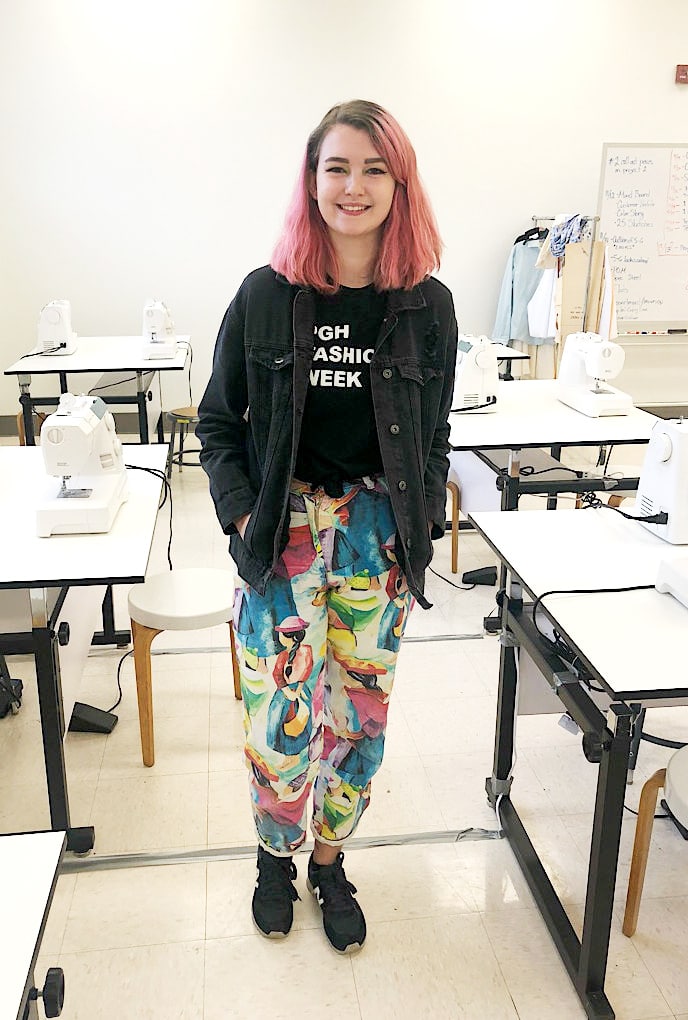 Sonora 101
Name: Sonora
School: West Virginia University
Year: Sophomore
Major: Fashion, Dress, and Merchandising
Hometown: Charleston, WV
Let's Talk Fashion
Who or what inspires your style? "Anybody inspires my style. More specifically, regular people I see on the street and around town are who I tend to take ideas from."
Where do you like to shop? "I love thrift shopping. I'm always on a tight budget, so stores like Goodwill or Southern Thrift are where I get my favorite pieces."
How would describe your sense of style? "I would describe my sense of style as [a] cozy, indie college student."
Why did you choose this particular outfit? "I chose this outfit because the weather made me want to wear something colorful and fun. A lot of times how I feel affects my choice of dress, and yesterday's warm weather made me want to dress cheerful and bright. I started with the pants and then laid out different shirts to see which one would match the best. This is how I chose my PGH fashion week tee. Then I found a black jacket to keep myself warm."
Do you have any favorite trends? "My favorite trends right now are high-waisted pants, bright colored hair, and black chunky ankle boots."
What fashion advice would you give to other students looking to improve their style? "Some advice I'd give to other people is to be as bold as you want. It's hard to get past insecurities sometimes. I was terrified to wear these pants the first time, but once I got over my fear of judgement they became one of my favorite things to wear. And I get so many compliments!"
What do you do for fun? Do you have any unique hobbies or interests? "I like to go to live shows and see bands, go hiking and camping, and I've recently picked up reading and journaling."
Elements of Sonora's Outfit
1. Dark Denim Jacket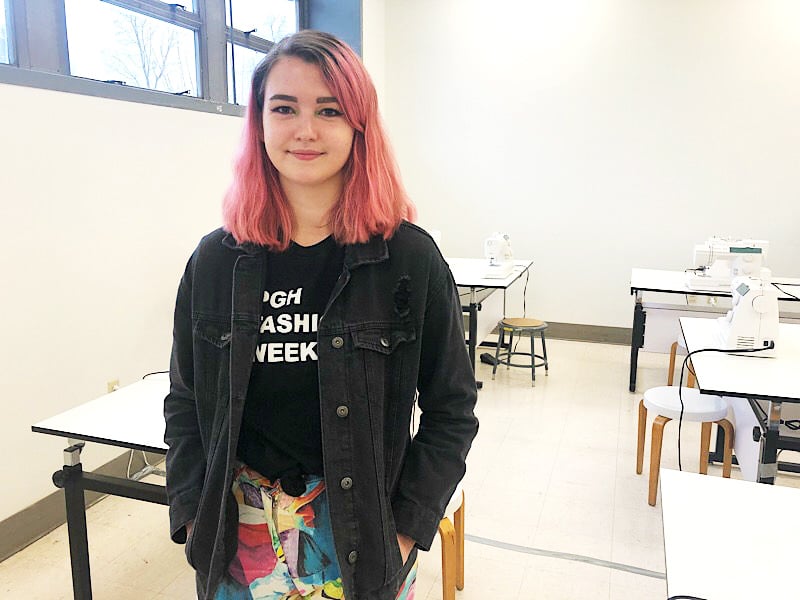 Sonora's Forever 21 jacket is nearly seven years old, and she mentioned getting it on the sale rack for a steal! I loved hearing about her views on fast fashion as a rising fashion design student. "Although fast fashion prices are nice, nowadays I don't buy from places like that because they are terrible for the environment." However, this jean jacket really adds a nice texture to her overall ensemble and has clearly been a staple in her wardrobe for years.
2. Basic Tee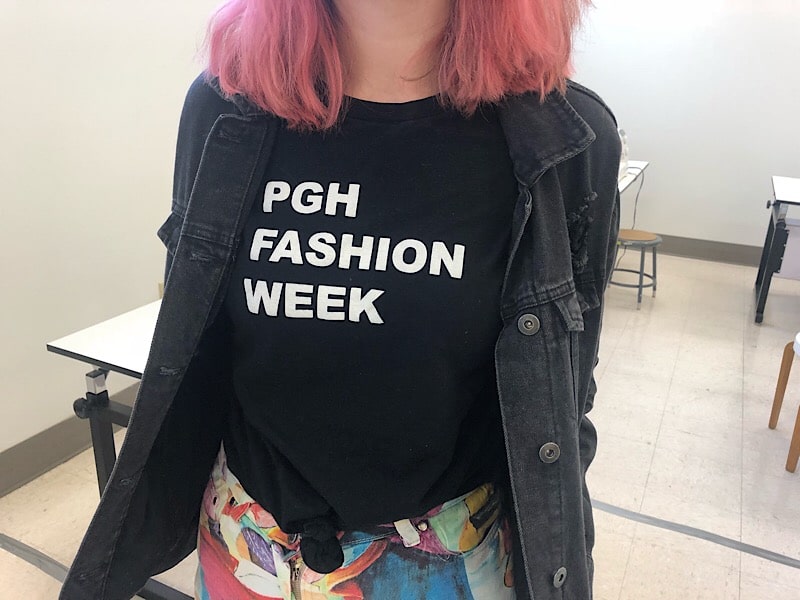 Sonora and I discussed her experience last semester assisting at Pittsburgh Fashion Week. "I got to volunteer for 2018 PGH Fashion week through WVU's fashion business association," she said, "I checked in models, worked with designers, and hair and makeup artists. One of the coolest things about this experience was steaming some dresses for the show. I got to really look at and feel the designs that were on the runway. I love having this shirt to remember that and show everyone that I was a part of the event."
There's nothing quite like a beloved graphic tee to throw on when completing an outfit. Sonora is able to take her memory of PGH FW and turn into a conversation piece for years to come.
3. Bright, Colorful Jeans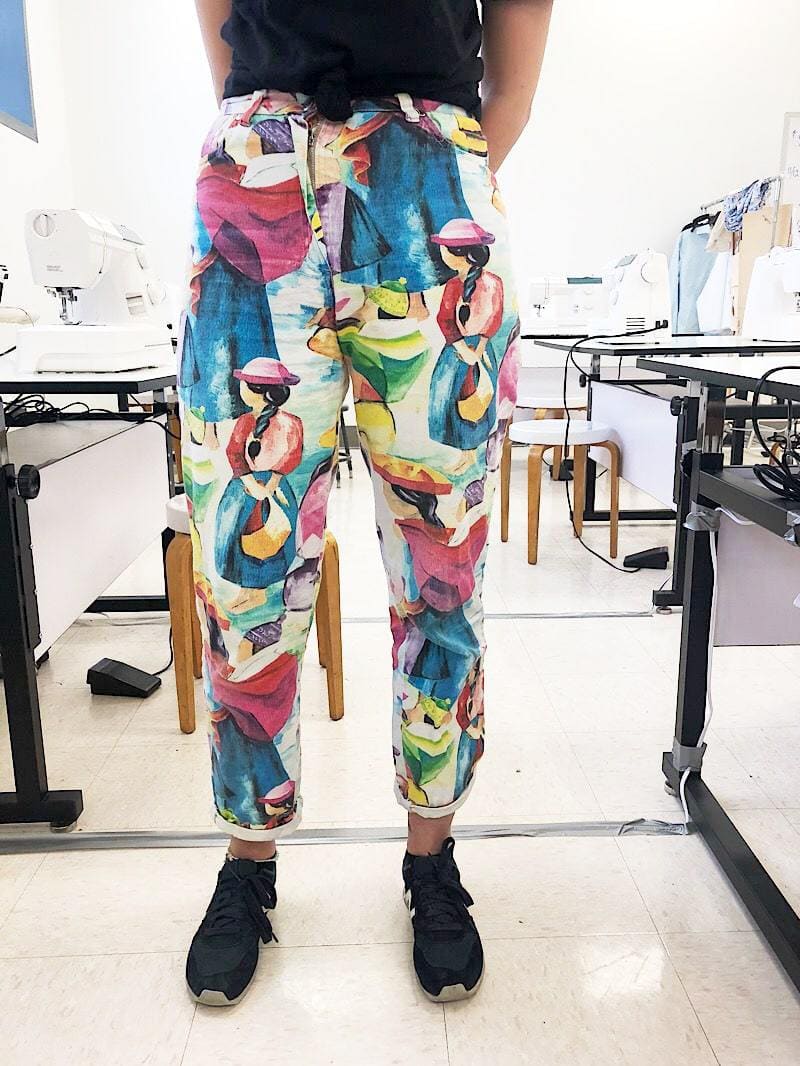 Have you ever seen jeans like these? The detail in the patterned artwork is mind-blowing. From far away, they seem like a geometric design but as you get closer, you see the figures and shapes displayed on the jeans.
Sonora gave these jeans the space to tell their own story. Pairing them with neutral colors (aside from her killer hair, of course), she allows these pants to really pop! Sonora even declares that she nearly fainted when she saw them the day she found them at a local thrift shop.
Now we want to know what you think!
Would you wear Sonora's funky jeans? What is your favorite graphic tee from an event? Let us know below!