Nia's outfit is giving me major Coachella vibes. Her denim-on-denim action made me double-take when I saw her look… and that was before I noticed her body chain! How could I have passed by without stopping her?
Nia carefully accessorized her outfit without overdoing it, a trick that many people (including myself!) haven't mastered. From her funky hat to her stylish shoes, Nia brought her fashion A-game when choosing every piece.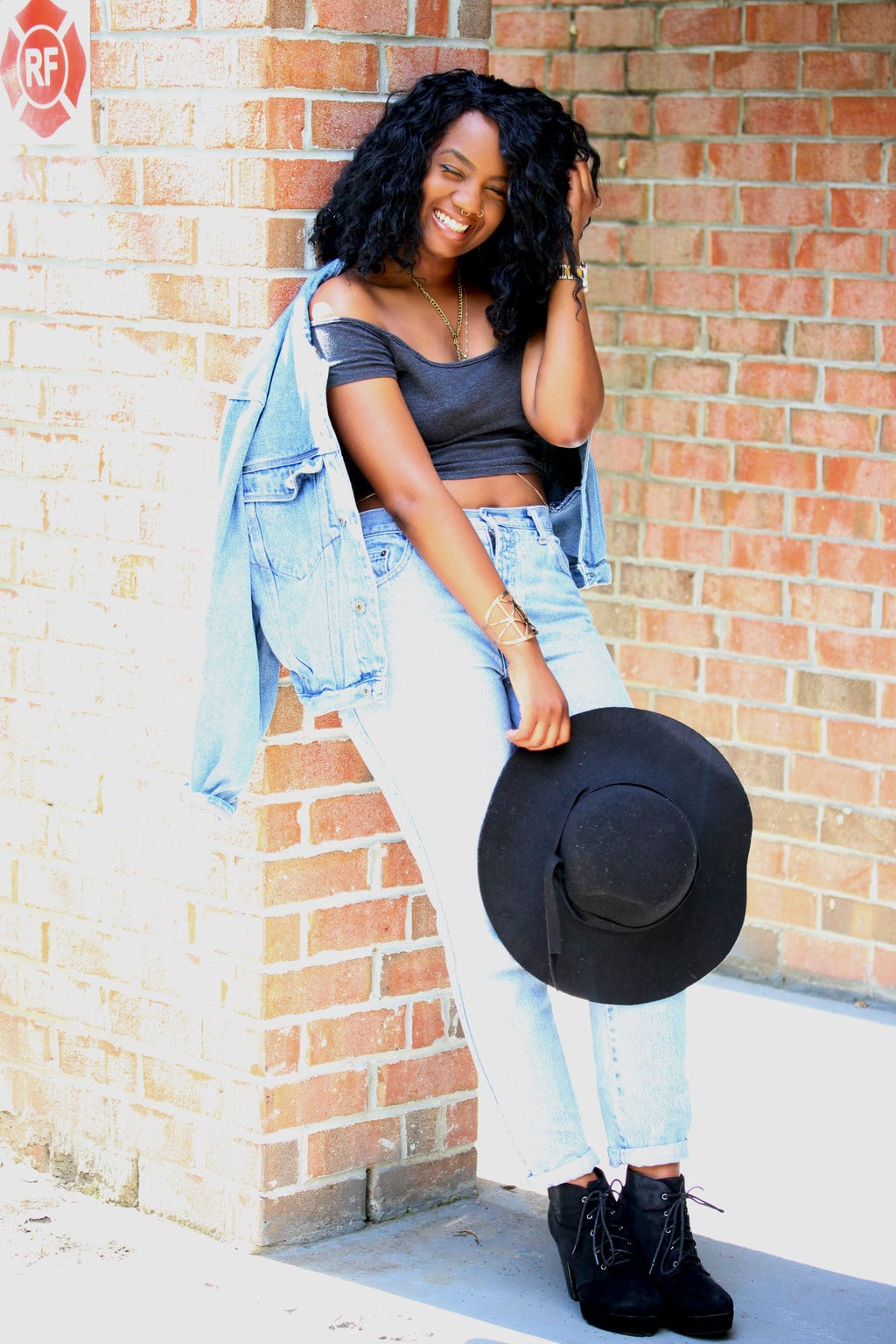 Nia 101
Name: Nia (pronounced: Ny-Ya)
School: University of South Florida
Year: Junior
Major: International Studies
Hometown: Miami, FL​
Let's Talk Fashion
Who or what inspires your style? "Other people inspire my style mostly. I love seeing innovative fashion through street styles found at Afropunk festivals or open mic nights. It fuels my creativity."
Where do you like to shop? "I like to shop at the thrift store when I'm not sure what I'm looking for. But if I know the exact look [or] piece I'm going for, I usually search Amazon."
How would you describe your sense of style? "I think my sense of style changes depending on what I'm trying to convey with my look. I like to celebrate Afro culture through bold statement pieces such as head wraps and traditional cloth such as kente."
Why did you choose this particular outfit? "I chose this particular outfit because I'm most comfortable in jeans. I love the jean-on-jean look from the '90s."
What fashion advice would you give to other students looking to improve their style? "My biggest fashion advice is to create idea boards. [When] you see styles or looks you like, save them and create portfolios. It's easier to go back and recreate looks that way."
What are your favorite fashion trends right now? "My favorite fashion trend is the throwback thrifted mom jeans paired with bold head wraps."
Do you have any unique hobbies or interests? "I love hanging out at open mic nights in my spare time."
If you could raid anyone's closet, who would it be and why? "If I could raid anyone's closet it would [be between] Rihanna and Keke Palmer. I think their [styles are] so nice and they always look trendy and futuristic."
Elements of Nia's Outfit
1. Floppy Hat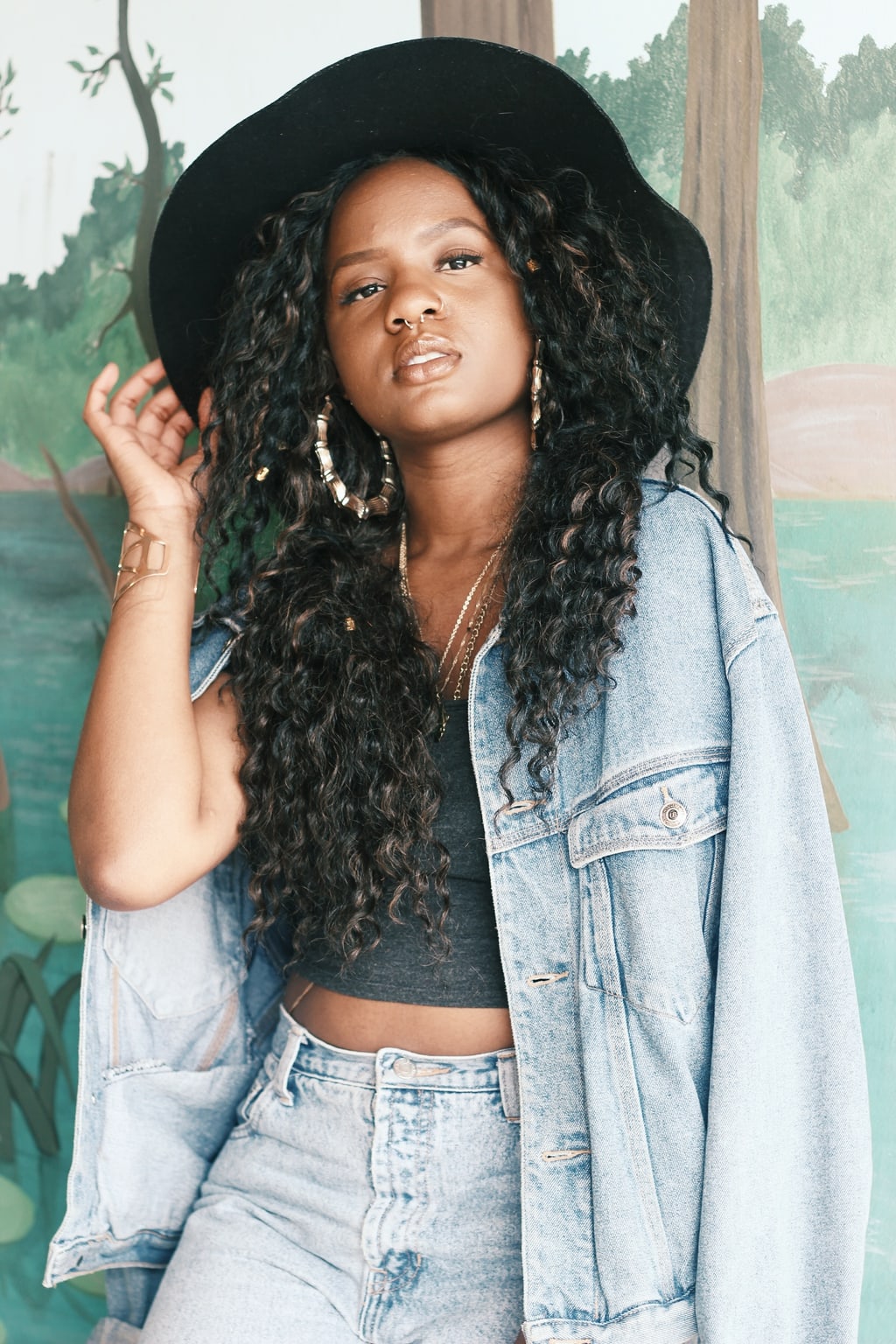 Apart from the denim-on-denim action, Nia's wide brim hat also caught my attention. Without the hat, her outfit would have been missing a certain something. The wide brim is slightly retro, so it matches her look.
The best part? These hats are available everywhere, even at big box retailers like Target, so they're totally affordable.
2. Crop Top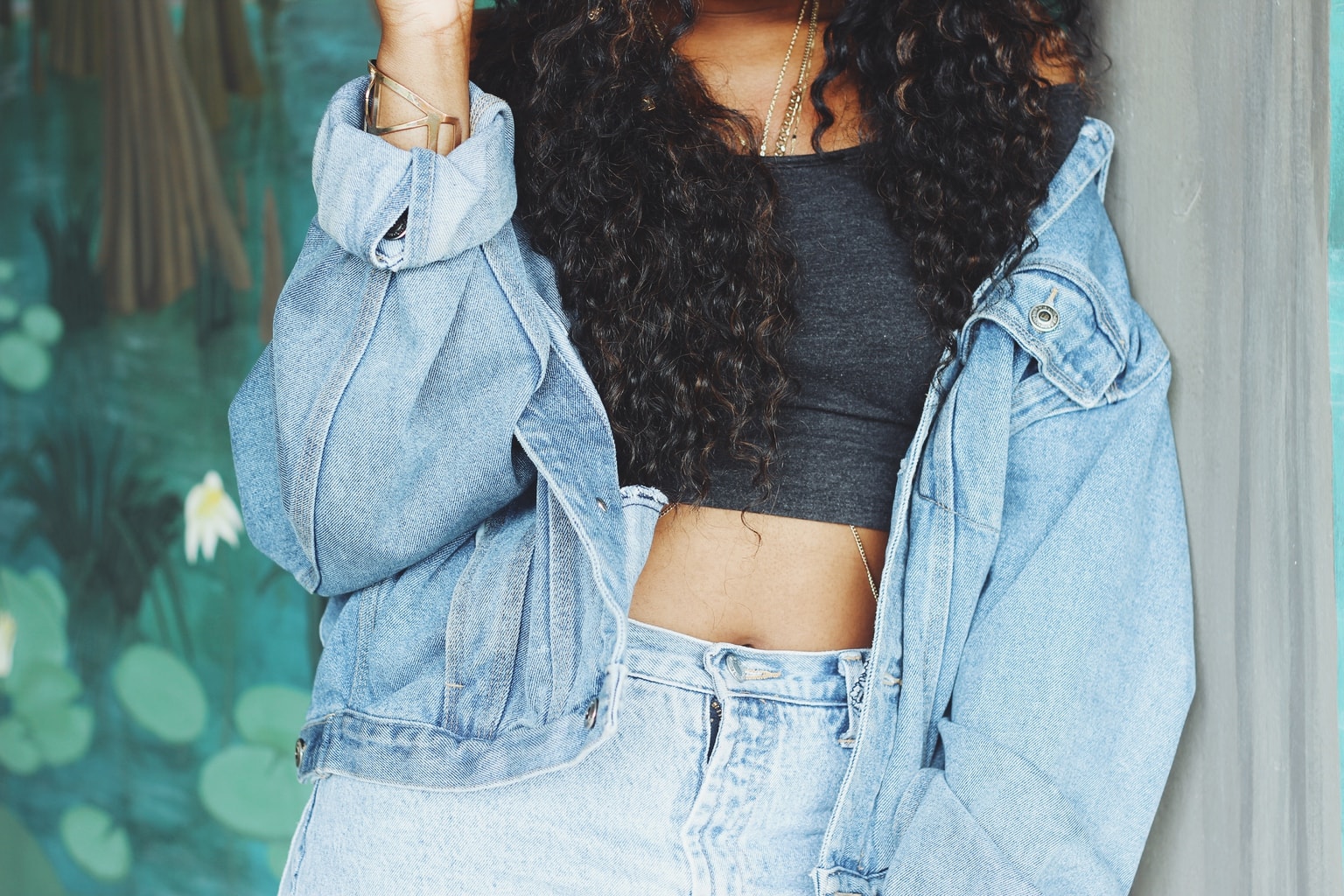 For a school outfit, I love the low-key crop top Nia chose. It's not bright, so it won't attract much attention, and it's simple enough to go with everything. Although it shows some skin, it's still modest.
Because of the insane heat here in Florida, sometimes showing a little extra skin is needed in order for us to breathe. Nia does just that without revealing too much.
3. Mom Jeans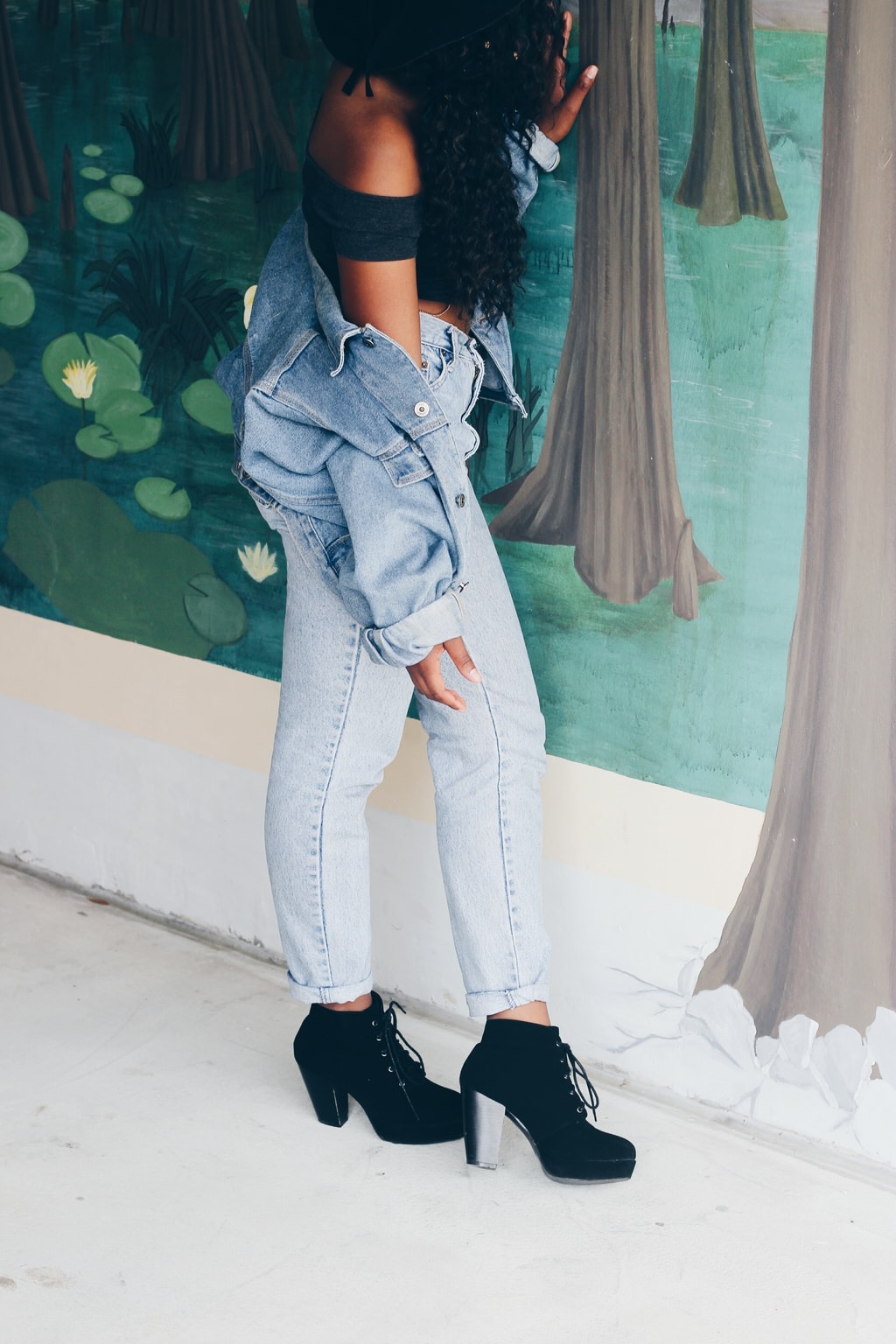 Good 'ol Goodwill, always coming through with the perfect pair of mom jeans. You can't go wrong with them, no matter what you pair them with. Plus, they give that throwback to feel to any outfit. Moms always knows best.
Want a pair like Nia's? It may take some digging, but if you search your local thrift stores, you're sure to find some vintage mom jeans of your very own.
4. Body Chain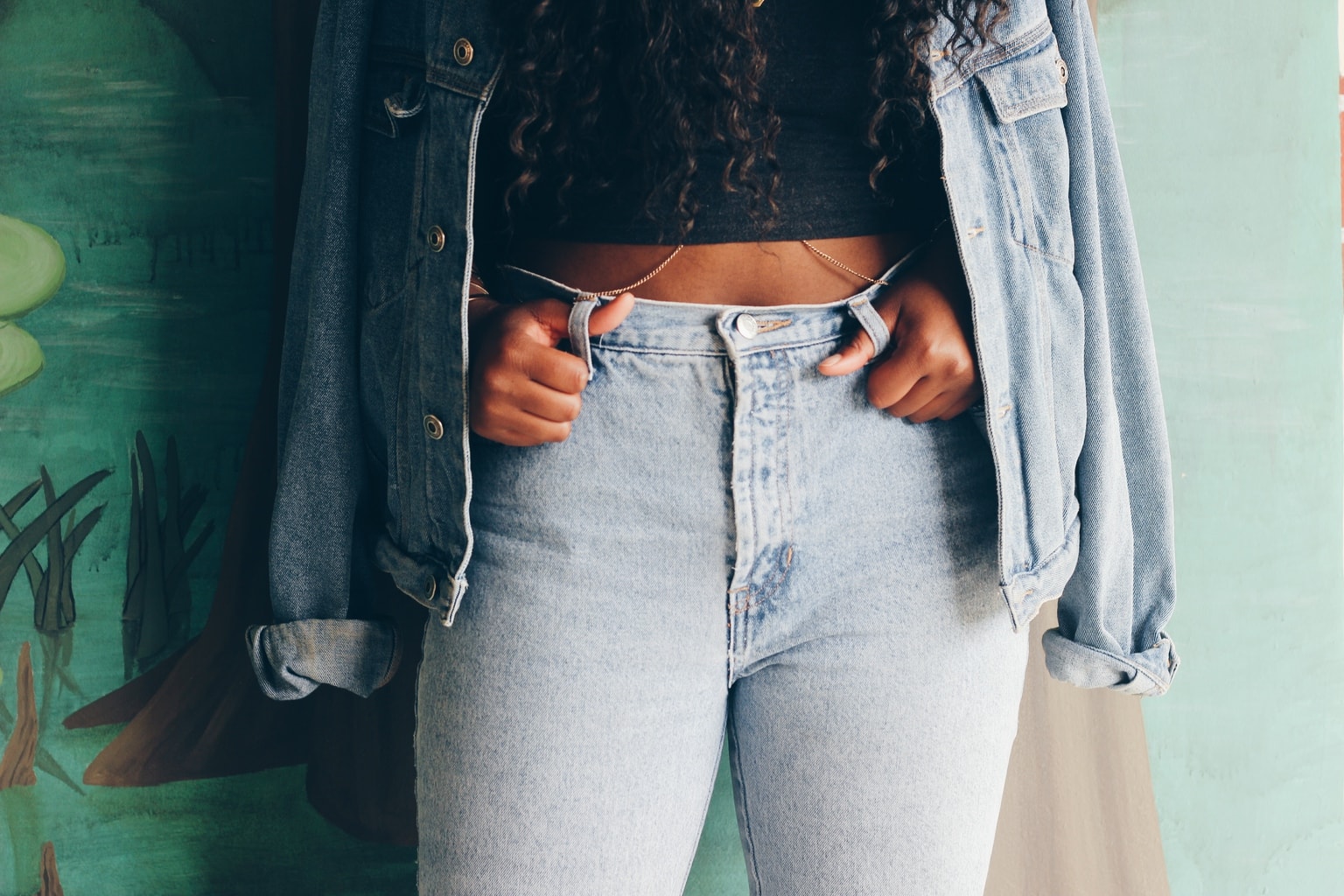 Body chains are the ultimate sexy accessory. Although you can't see when she has the jacket on, once Nia takes it off, you see her body chain peeking through her crop top. It doesn't get any sassier than that, ladies and gentlemen!
5. High-Heeled Booties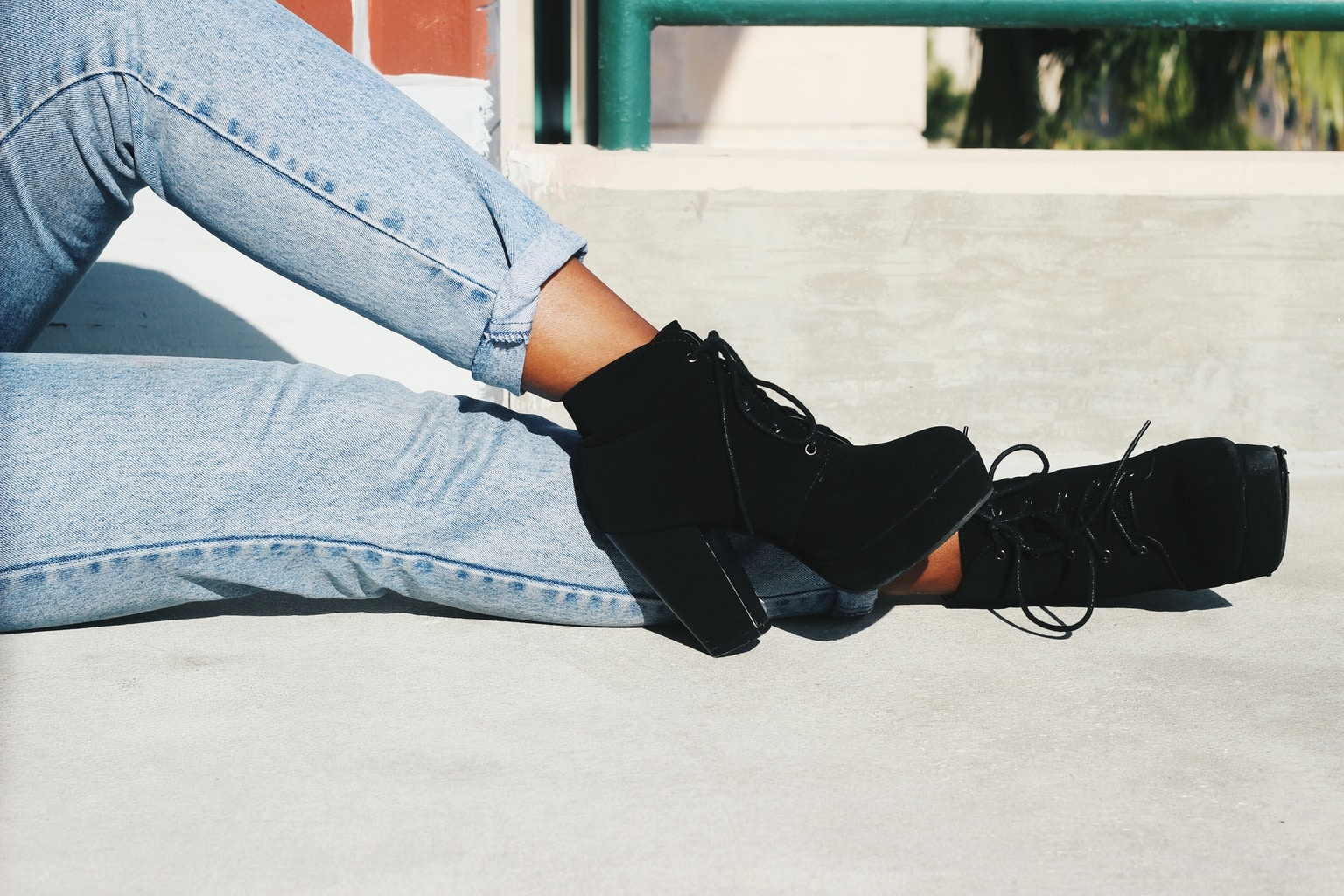 Nia's high-heel lace-up booties make a statement of their own. I love that she didn't opt for simple sneakers with this look — while those would have been cute, these boots take her look over the top.
Nia's platform booties have chunky heels which are crucial in college — they provide needed stability to withstand walking from one end of campus to the other.
Do you love Nia's style?
Would you wear this look to a festival? Do you ever wear mom jeans? Comment below and share with us!