I've seen Martha around in lectures usually sporting loud, unconventional colors and interesting clothing combinations. After weeks of missing opportunities to talk, I finally got to snag this interview with her at a house party of all places!
Martha's personality matches her outfit (and her place): loud and colorful, with a hilarious sense of humor. Today she expresses her eclectic style with a trendy outfit that has '80s nostalgia written all over it.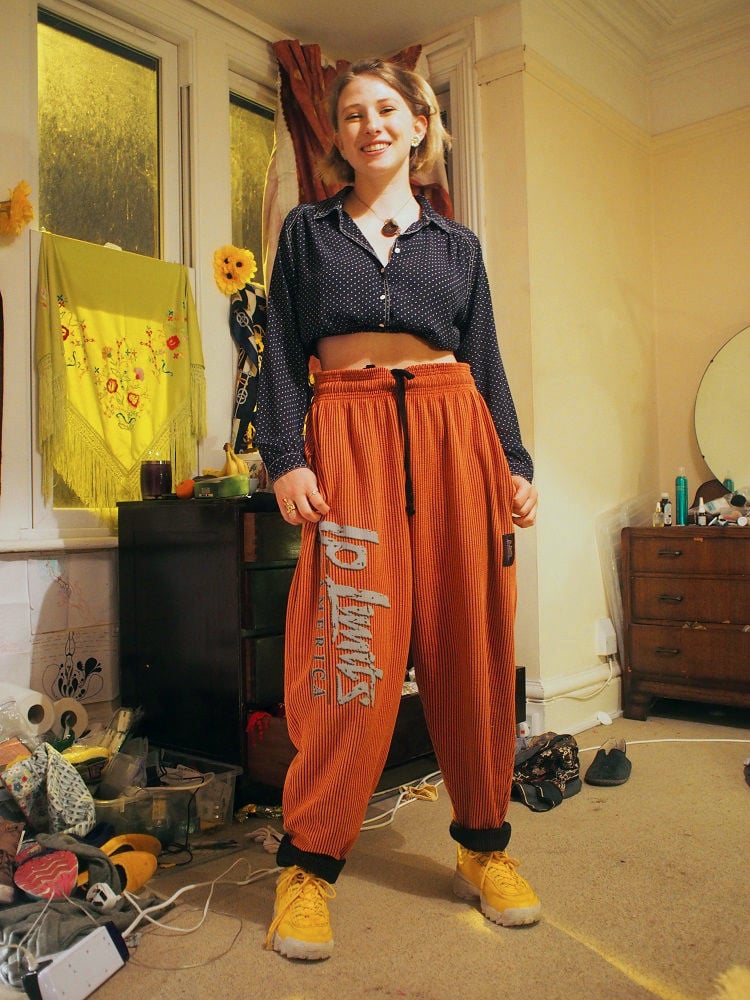 Martha 101
Name: Martha
Hometown: London and Singapore
School: St. Peter's College, University of Oxford, England
Year: Second Year
Major: Spanish (Literature)
Let's Talk Fashion
Who or what inspires your style? "My moods mostly! I generally go for bright colors as they cheer me up. I like wearing clothes that remind me of certain people or of certain activities. I dance flamenco and love the outfits traditionally worn for that, so that probably influences my love of high-waisted bottoms and billowy cropped shirts and bright colors and patterns.
I really like '80s fashion; I think Pretty in Pink counts as a style influence. The aggressive accessorizing and bizarre combinations of thrift shop items are a definite win for me… I also love getting '80s stuff for the shoulder pads!"
Where do you like to shop? "I actually kinda hate shopping so I avoid it as much as possible by stealing clothes from my dad or my grandparents' garage. I buy a lot from a vintage market near my college. I don't really like online shopping as the amount of choice is kind of overwhelming."
How would you describe your sense of style? "It varies lots! I tend to go between extremes, so either very girly and classical with a lot of long dresses and skirts, or the kind of clothes I'm used to wearing back home [in Singapore] where breakdance/skater scene is quite big, so more baggy stuff and bright trackies and sneakers."
What fashion advice would you give to other students looking to improve their style? "Probably to just go through their existing wardrobe and think of different ways to wear what they already have… as a student this is more realistic than buying a new wardrobe, and it's surprising how often we forget about the existence of half the clothes we own."
What are your favorite trends right now? "I don't know what the youths like! Chunky trainers I feel are coming back in, I like that. Fleeces are now considered cool in certain contexts which is confusing but very convenient."
Do you have any favorite fashion designers? If so, who? "I don't really know any fashion designers to be honest. I have some friends with great style which is maybe the closest thing."
What do you do for fun – do you have any unique hobbies or interests? "I mentioned before I do flamenco which I love. I also do a lot of other dance styles. My favorite is probably dancehall as the music is so fun and I associate it with pool parties back home and practicing dancehall with my best friend. I love latin dance like salsa and bachata too. I also love painting and going to art museums."
If you could raid anyone's closet, who would it be and why? "The 'why' would definitely be an elaborate seduction plot where the subject would be lured to my home under the guise of returning the kidnapped clothes. So probably my flamenco teacher, who is very cute!"
Elements of Martha's Outfit
1. Collected Necklace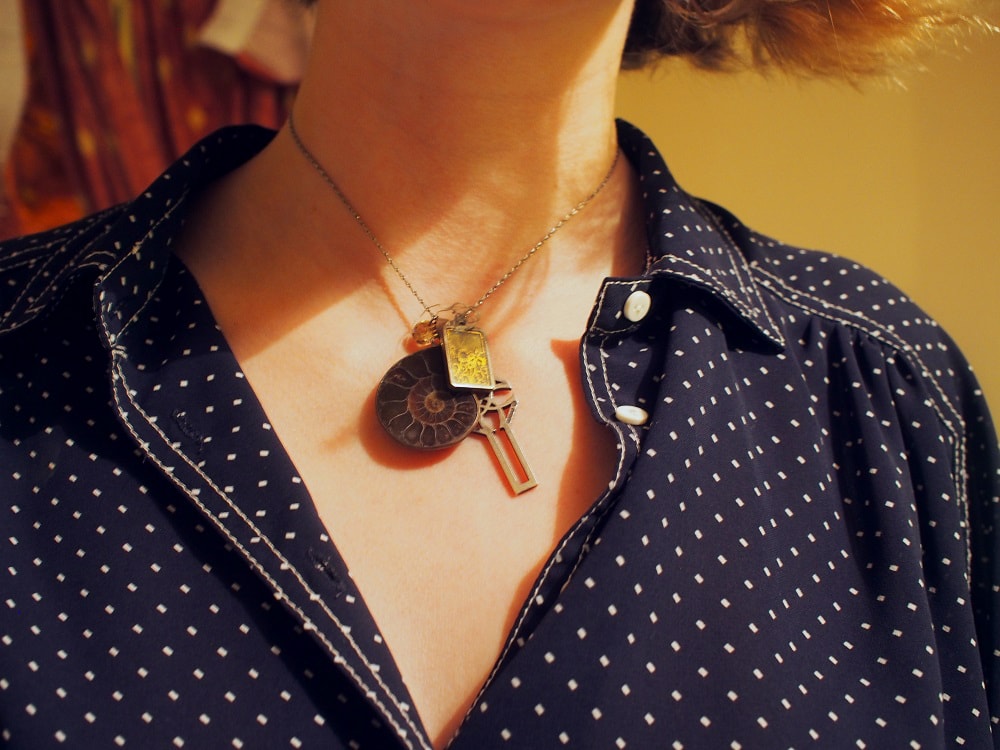 The first thing I noticed about her Martha's outfit was her jewelry. This DIY necklace is a personalized statement piece that she created herself. It stands out alongside the femininity of her polka dotted button-up.
2. Yellow Sneakers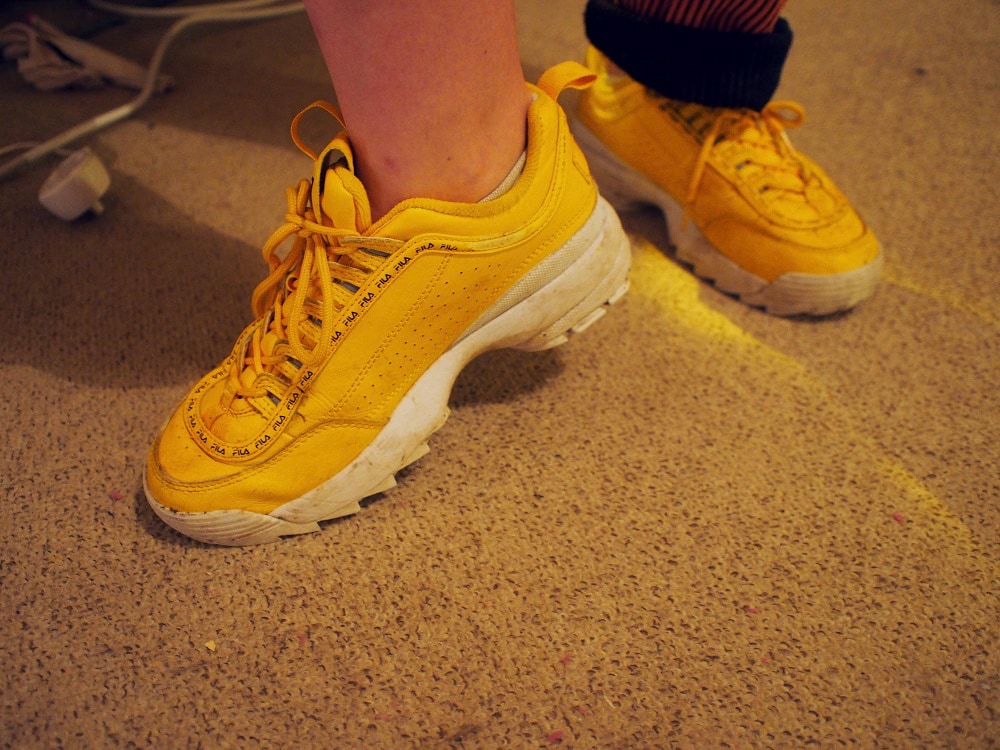 Martha stands on-trend with these chunky yellow sneakers. They add some extra height and another splash of color to go with her blue top and orange pants. Martha is bold with her color choice and it 100% works for her.
What do you think of Martha's look?
Would you wear this outfit? Do you dig her track pants and yellow kicks? Let us know below in the comments.